Updated: The coffee industry is a constantly evolving and developing world. One of the driving forces behind coffee innovation is the classic challenge of delivering convenience without sacrificing quality. As a long time coffee reviewer, I absolutely love the ingenuity the industry keeps churning out in the quest for the best and most convenient coffee. I recognize convenience is a big deal in coffee. But as just mentioned, it historically comes at the cost of quality. Java House coffee with their cold brew concentrates has made tremendous strides to change that. In this Java House review, we'll take a closer look at their cold brew pods to see just how successful they've been.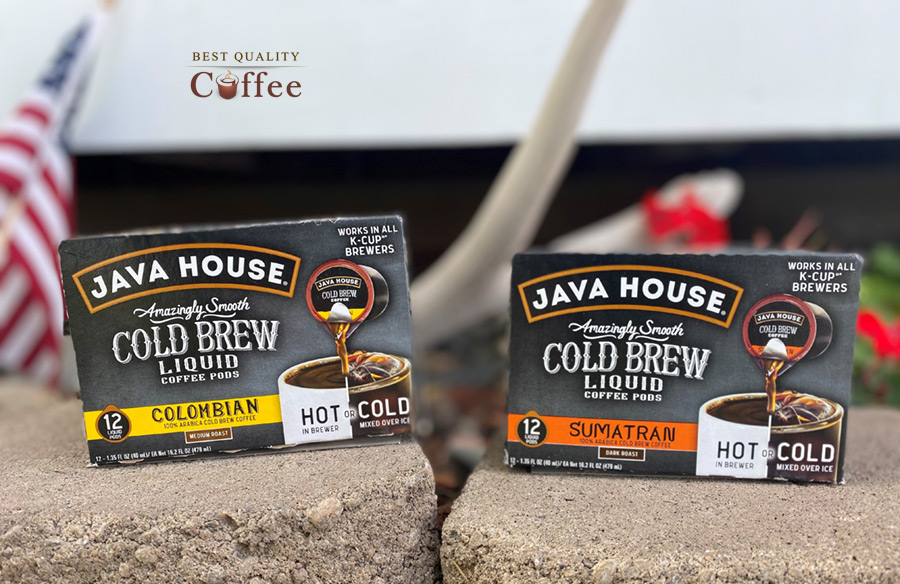 Skip directly to the Java House Coffee review
Java House sent me their cold brew coffee pods for a completely honest assessment of their product.
What is a Cold Brew coffee pod?
Before jumping right into this Java House Coffee Pod review, let's cover of the basics of cold brew coffee pods. The idea of a coffee pod is already familiar to many. But a cold brew coffee pod can leave some a little confused. Basically, it's coffee concentrate that's been created via a cold brew process.
Coffee beans that are cold brewed are steeped in cold or room temperature water for anywhere between 5 – 24 hours. In the case of Java House, these beans are steeped for a minimum of 12 hours.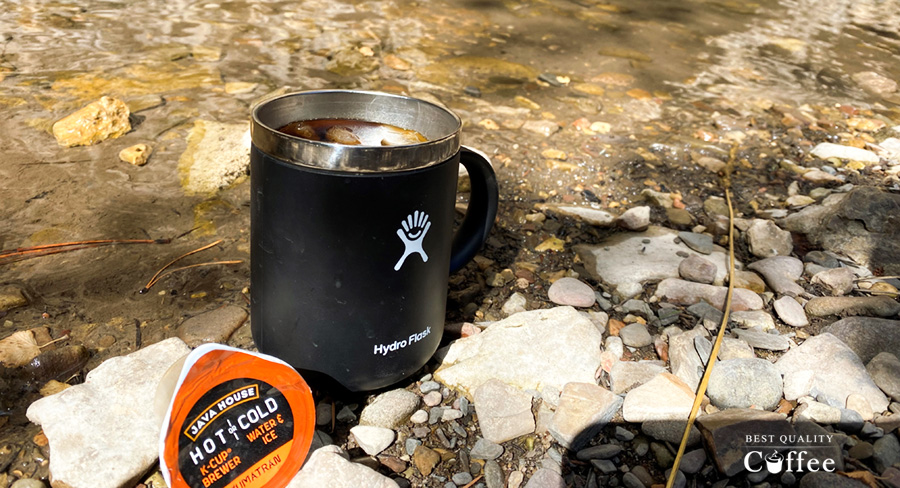 Cold brew concentrate in particular has a very high coffee to water ratio. Where as your typical brewing method calls for a 1:16 ratio of coffee to water, cold brew concentrates are often made with a 1:4 ratio. The result is a much stronger coffee with a very potent flavor. Additionally, the caffeine content is higher than coffee brewed through standard methods.
For those who monitor their caffeine intake, you might be wondering how much caffeine is in a Java House coffee pod. Each pod contains about 145 – 175 mg of caffeine which is more than average.
Being that coffee is all about chemistry, brewing methods matter. The cold brew process steeped and slow brewed. Therefore, the beans themselves undergo a different extraction process. The final cup of coffee is generally less acidic but much smoother and sweeter.
The final concentrate is put into a pod that can be prepared with either hot or cold water. The fact that it's called a cold brew coffee pod can lead people to mistakenly believe that it can only be used with iced coffee.
Most coffee lovers know that even good beans can produce bad coffee if brewed wrong. Whether it's over extraction or under extraction, incorrect brewing can completely destroy your coffee experience. The idea of burnt and bitter brews make my mouth pucker and smack in dissatisfaction just thinking about it. Java House addresses this by the very cold brew process described above.
Java House Coffee Pod Overview
Convenient – Take these Java House cold brew pods on road trips, camping or hiking. These pods even meets TSA carry on guidelines so you could enjoy great cold brew coffee on the plane by just adding it to water.
Sugar free and no Artificial Flavors (this applies to only their non flavored coffee). As such, this coffee is keto friendly.
Versatile – This coffee can be enjoyed either hot or cold or even in Keurig K-Cup Brewers.
Cold Brewed – Cold water steeped in small batches for 12 hours for optimum smoothness.
Bold Flavor – Sourced from 100% Arabica beans this cold brewed coffee packs a punch with a flavor that's as robust as it is smooth
Naturally lower in acidity compared to regular coffee
Java House Cold Brew Review: The Taste
Even as a self-professed coffee snob, I appreciate the K-Cup phenomenon and have even become more interested in coffee concentrates lately. That being the case, the opportunity to review this coffee was actually very timely. I see the challenge in developing flavor and maintaining consistency when using either dissolvable micro-ground beans or coffee concentrate liquids and powders. I can recommend some absolutely fabulous concentrates and have tried others that left a lot to be desired.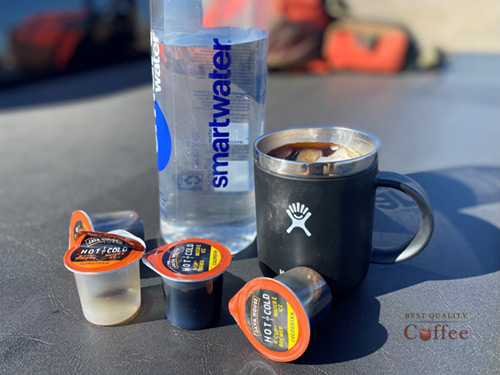 If you're familiar with my previous posts, you'll know I try and spend a good amount of time with a given product before writing my reviews. I've been drinking Java House coffee pods for a while now (1 week+) and have spent enough time to feel comfortable giving an honest assessment of their brew.
The most notable quality of this coffee is its smoothness.
Many companies tout a smooth brew but this cold brew coffee pod is a new level of smoothness. It's not bitter in the least and that's something I think all coffee lovers will appreciate. Its ultra smooth flavor with its natural sweetness makes this brew very easy to drink, even for those who aren't big coffee drinkers in the first place.
Wandering Bear is another popular cold brew coffee that is often compared to Java House. Many reviews note that Java House coffee is much smoother citing that Wandering Bear has a somewhat bitter aftertaste. I've never tried Wandering Bear myself so I couldn't say from personal experience. But I can attest to the fact that Java House is a wonderfully smooth and delicious coffee.
Related Link: On the market for some instant coffees that will give you convenience and full flavor in a single package? Check out our selection of quality instant coffees.
Java House Cold Brew Selection
Java House Coffee Pods are available in 4 different flavors: Ethiopia, Colombia, Sumatran, and Decaf. The fact that Java House offers a decaf is a huge bonus. Their coffee is so enjoyable that sipping on this decaf cold brew in the evenings would be a great way to end a day.
Java House also has a separate line of flavored cold brew coffee pods in partnership with Kauai Coffee. These specific brews contain both natural and artificial flavors and sources Hawaiian coffee grown in volcanic soil.
Lastly, Java House offers their ready to drink cold brew on tap.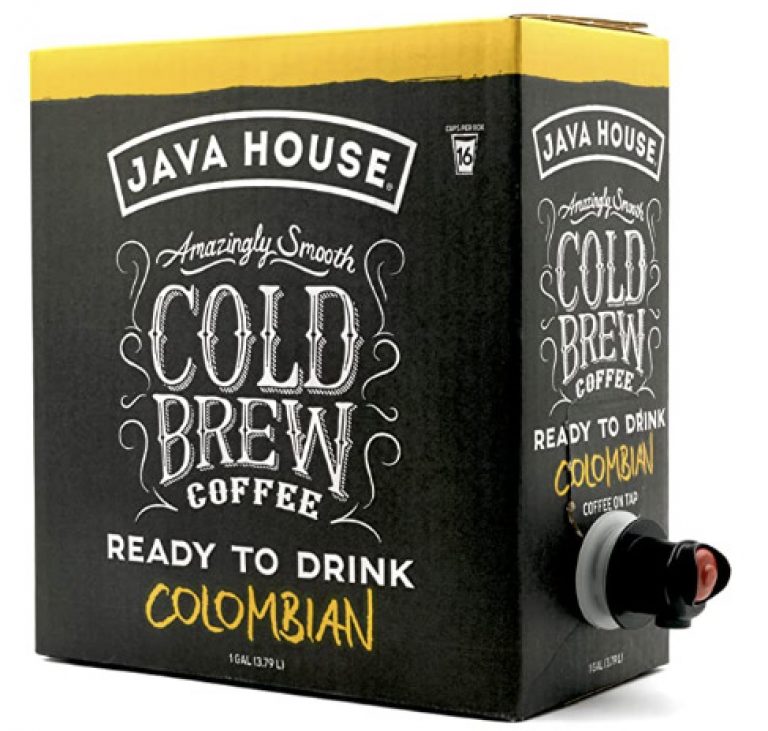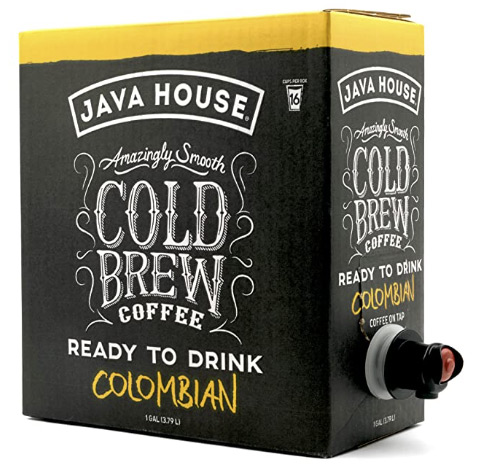 Java House Coffee Pod Review: Convenience
Coffee from concentrate isn't anything new. Companies like Cometeer and Jot have helped paved the way for coffee concentrate that's as delicious as it is convenient. However, Java House offers a new take on this concept. These cold brew pods are sized and shaped to fit all K-Cup brewers. In my opinion, they fit even better and more snug than traditional K -Cups.
In the past, I've experienced clogging in some brewers from standard coffee pods and K-Cups that have an ultra fine grind. Not so with Java House because it is a liquid concentrate that basically runs with the brewer's hot water into your mug.
While certainly convenient, I actually only used my Java House pods in my K-Cup brewer twice. I recognize the liquid concentrate just needed either hot or cold water, dependent on what type of brew I was after at the time. I preferred heating my own water over using the machine.
I have tried both frozen and powdered coffee concentrates, but have never tried it in liquid form. One of my Best Quality Coffee colleagues had a chance to review Jot coffee which is a concentrate coffee and he absolutely loved it. I've observed that the frozen form typically tries to maximize freshness where as the powdered form often focuses on maintaining an authentic flavor profile. However, in the case of powdered forms the powder still needs to be stirred until dissolved, which can create some issues when making an iced cup of coffee.
Java House's liquid form serves as a great in-between. The pods obviously seal in freshness and the liquid instantaneously mixes for a fantastically quick brew with a dynamically rich taste.
As mentioned, the pods are a pre-measured concentrate size. For both the Java House Colombian, Ethiopia, and Sumatran beans an 8 or 10 oz cup of coffee measures perfectly for the pod concentrate size. If you were looking for a bigger cup or perhaps a cold brew with added milk or flavoring, their cold brew on tap would allow you more freedom in mixing that perfect cup or jug of coffee.
The trend toward making cold brews at home has been increasing in popularity. Yet the reality is, for most of us, we simply don't have the time. That's why premade cold brew K Cups and coffee pods such as those made by Java House are such a welcomed addition to my coffee rotation.
Related Article: Making Cold Brew at Home
Who is Java House
Now would be a good place for me to add a quick note about the actual company. Java House is a company based in Indiana with 5 stores spread throughout the state. The brand has been exclusively serving quality cold brews since 2019. It's safe to say that their mission is razor focused on delivering the best cold brew product (s) possible. Judging by the quality of the Java House cold brew K Cups I tried, they're perfecting the art of the cold brew and then some. They have plans to add two more coffee bars by the end of 2022.
Java House Coffee Review: Final Thoughts
When I am travelling throughout Big Sky Country or better known as Montana to the rest of the world, I usually pack a small cooler. Since discovering Java House coffee pods, the ingredients and equipment I need to make a quality coffee on the go have been drastically simplified.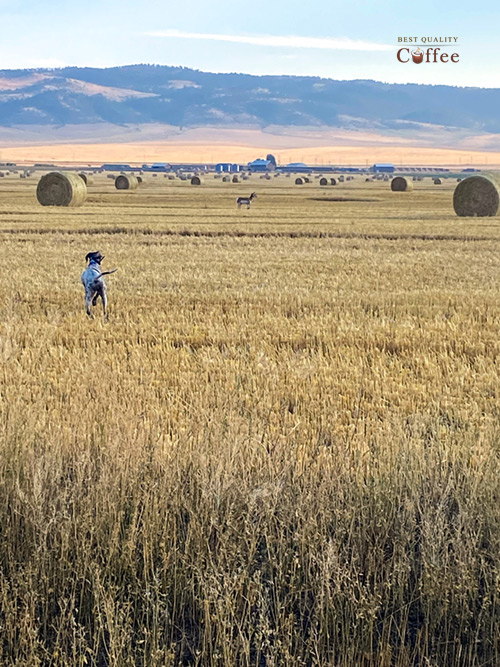 I now just throw in my favorite insulated mug, a few Java House coffee pods, and some ice in the cooler. Then when I want a refreshing cold brew I just peel the pod, pour on ice, add the right amount of fresh, cold water and within moments I'm enjoying a really great cup of cold brew. Other times, I simply heat some water and peel and pour in my Java House pod. Both ways produce an impressive cup of coffee that's convenient, flavorful, and without compromise. Additionally, it's one of the smoothest cold brews available.
In my opinion, it's companies like Java House that are keeping the industry's technological advances moving forward. Their liquid concentrates offer what we coffee snobs who are on the go desperately need. Quality and convenience…while sacrificing neither. It's hard to be a self-described coffee snob and then settle for an inferior cup of Joe when time or travel disrupts my coffee routine. Thanks to Java House I can enjoy premium coffeehouse-quality coffee anytime, anywhere.
Currently, Java House cold brew is offering Free Shipping on orders over $30.
FAQ for Java House Cold Brew
How much caffeine is in a Java House Cold Brew
160 mg
Do I need a K Cup Machine for Java House Coffee Pods
No, you do not. Because Java House Coffee Pods are a liquid concentrate, all you need to do is add hot water (or cold water if you're making a cold brew). Using a K-Cup machine is just one way of adding water.
How do you use Java House Cold Brew
To enjoy cold, peel open a pod, pour over ice, add 8 oz. of water and enjoy.
What are some benefits to drinking Cold Brew
There are many reasons to drink cold brew over regular coffee. Cold brews are naturally sweeter than regular coffee and typically lower in acidity. Because a cold brew is made from steeping coffee beans in cold or room temperature water for anywhere between 5 – 24 hours, a totally different kind of flavor extraction takes place. The result is an especially smooth and mildly sweet coffee that's usually free of any bitterness.
Does Java House Cold Brew have any sugar or artificial flavorings? (this does not include their Kauai Coffee)
No and No
How much caffeine do Java House Cold Brew Decaf Coffee Pods
Despite being called decaf, decaffeinated coffee beans contain marginal amounts of caffeine. Java House Decaf coffee pods contain 10-15mg of caffeine each.
What process does Java House use to decaffeinate their coffee?

Java House uses the traditional decaffeination method.
Do Java House Coffee Pods contain any carbs?
No, they do not. They are keto, IF, and paleo-friendly.
Unique Cold Brew Options
The cold brew market is expanding rapidly with new companies offering their own unique twists. Javahouse Cold brew pods are a simple illustration of this fact.
However, if you're looking for a cold brew that provides an even more unique experience, consider Oaza. This brand adds electrolytes and nootropics to their coffee to give you extra hydration and mental focus. This especially important because caffeine is a diuretic and stimulates the production of urine. As a result, a person can be depleted of electrolytes while also becoming dehydrated. The creators of this product, developed Oaza cold brew specific for this reason.
Another option for those searching for a unique cold brew experience should check out Fire Department Coffee (FDC). They offers a world's-first spirit infused ready to drink cold brew that delivers decadent flavors of Whiskey and Bourbon.