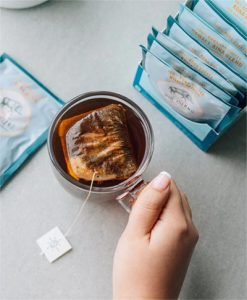 Steeped Coffee or also known as a coffee brew bag is a fantastically new and convenient delivery form that's been gaining traction in the coffee industry.
In the same way you would steep a bag of tea, you can now brew coffee  by using steeped coffee bags or brew bags. This efficient brew method gives you all the efficiency of portable coffee without having to sacrifice quality. In our humble opinion, it's one of the more innovative delivery forms to have graced the specialty coffee industry in years.
Simply drop the brew bag into hot water, and within minutes, you'll be treated to an impressively full-flavored and fresh cup of Joe. The longer you steep the coffee, the stronger the coffee will be.
Our top pick for the best steeped coffee is none other than Big Island Coffee Roasters (BICR), an award-winning roaster known for producing exquisite Kona coffees.
To learn more about this brew method, check out our full guide on coffee brew bags and steeped coffee.
Showing all 36 results
As mentioned earlier, "Steeped coffee" or "Brew bag coffee" is a relatively new brewing method that has caught the attention of coffee enthusiasts around the world. It offers a unique twist on traditional coffee-making, providing both advantages and drawbacks for those seeking a flavorful and more importantly, quality cup of joe.
Pros:
Convenience: Steeped coffee offers a hassle-free approach to brewing. It's essentially like a tea bag for coffee, making it perfect for on-the-go or when you're short on time.
No Equipment Needed: Forget about expensive coffee machines or grinders. Steeped coffee requires no special equipment, simplifying your morning routine.
Flavor Extraction: The steeping process can lead to a smoother and less acidic taste compared to traditional brewing methods, highlighting the nuanced flavors of the coffee beans.
Eco-Friendly: The single-use steeped coffee bags are often biodegradable, reducing the environmental impact associated with disposable coffee pods.
Cons:
Limited Control: Unlike other methods, you can't adjust variables like water temperature or brew time with steeped coffee, potentially affecting the final taste.
Less Aroma: Some of the aromatic compounds found in freshly ground beans might not fully develop in steeped coffee, leading to a slightly muted aroma. This "con" is true for any ground coffee and not just steeped coffee.
Portion Size: Steeped coffee bags come in predetermined sizes, which might not suit those who prefer stronger or weaker brews.