Best Coffee Mugs / Cups
For some coffee lovers, the only thing more important than coffee is the coffee mug out of which they drink this magical brew. To that end, we've assembled a large collection of epic coffee mugs to choose from so you can express your inner coffee lover. Below are some of our top picks from the best coffee mugs on the market.
Cute and Functional Double Glass Mug with a Dog design

Made from borosilicate glass that's ergonomically shaped

The golden brim adds a luxurious touch of class

Available in 3 different colors

Perfect for the zen coffee or tea lover

Featuring a gorgeous white and gold color palette

Choose your specific zodiac sign

Height 3.9 inches - Comes with a mug, lid, and spoon
Showing 1–56 of 1782 results
It's all about the "Mug Life" as it's affectionately referred to. A coffee mug is more than just a simple ceramic vessel to hold your favorite hot drinks. It's also a grand expression of your inner coffee lover. Choose from our wide selection of customized and personalized coffee mugs and let your personality shine!
Whether your coffee mug has a hilarious quote or inspirational message on it, we're certain you'll find a one-of-a-kind coffee mug that will speak to your caffeinated heart. We've curated a list of some of the best coffee mugs on the market to express your unique coffee-loving personality. Be sure to check out the highly unique mugs from Creature Cups which have an intricate sculpture of an animal resting inside the cup.
Here at Best Quality Coffee, we've been long time fans of the series Avatar: The Last Airbender. It's a kid-friendly classic and we highly recommend it. As such, anyone who is already a fan of the series will appreciate this Appa Avatar Mug!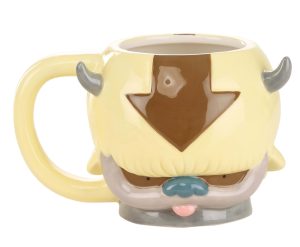 While most of these mugs are microwave and dishwasher-safe, please check the product descriptions to confirm.
For coffee enthusiasts, the best coffee mugs are more than just a vessel to hold their morning brew. They're an extension of their personality, a statement of style, and a way to make a statement.
Choosing the right coffee mug can be a daunting task. With so many options available, it can be overwhelming to decide which one is the most accurate reflection of your inner coffee lover. However, a stylish coffee mug can be more than just an aesthetic choice. Here are a few benefits of choosing a stylish coffee mug:
Reflects Your Personality
Your coffee mug can and does say a lot about you. Are you a minimalist who prefers a clean, simple design, or do you gravitate towards bold, colorful patterns? Do you prefer a classic ceramic mug, or are you drawn to the sleek, modern look of a stainless steel tumbler? The best coffee mugs can reflect your personality and style, and make a statement about who you are.
Boosts Your Mood
As strange as it may sound, but enjoying one of life's simplest pleasures out of your favorite coffee mug can really boost your mood.
Makes a Great Gift
A stylish coffee mug is not only a great addition to your own collection, but it also makes a fantastic gift. Whether you're looking for a thoughtful present for a friend or family member, a stylish coffee mug makes for an excellent gift.
Elevates Your Coffee Experience
For coffee connoisseurs, the best coffee mugs can enhance the coffee-drinking experience. A well-designed mug can highlight the aroma and flavor of your coffee, while also providing a comfortable grip and temperature control. From double-walled glass mugs to insulated stainless steel tumblers, there are many options available to elevate your coffee-drinking experience.
In conclusion, the benefits of choosing a stylish coffee mug go beyond just aesthetics. From reflecting your personality to enhancing your coffee experience, the right mug can make a statement and bring joy to your daily routine. So, the next time you're sipping your morning coffee, take a moment to appreciate the mug in your hand and consider how it reflects your personal style. Who knows, you may just discover a new favorite coffee mug that adds a little extra happiness to your day.