Why is it that we coffee lovers love coffee so much? Of course it has a lot to do with flavor, aroma, and caffeine. However, I think we can all agree that it's also the more indirect effects of coffee that make us true lovers of the magic brew. Coffee brings people together, enhances your own quiet time, and makes a beautiful sunrise or pristine landscape even more exquisite when seen just above the rim of a steaming cup of coffee. These sublime experiences are exactly what Don Grissett and Bryon Friel had in mind when they formally started Expedition Joe Coffee about five years ago. In this Expedition Joe coffee review, we take a closer look at the results of their efforts.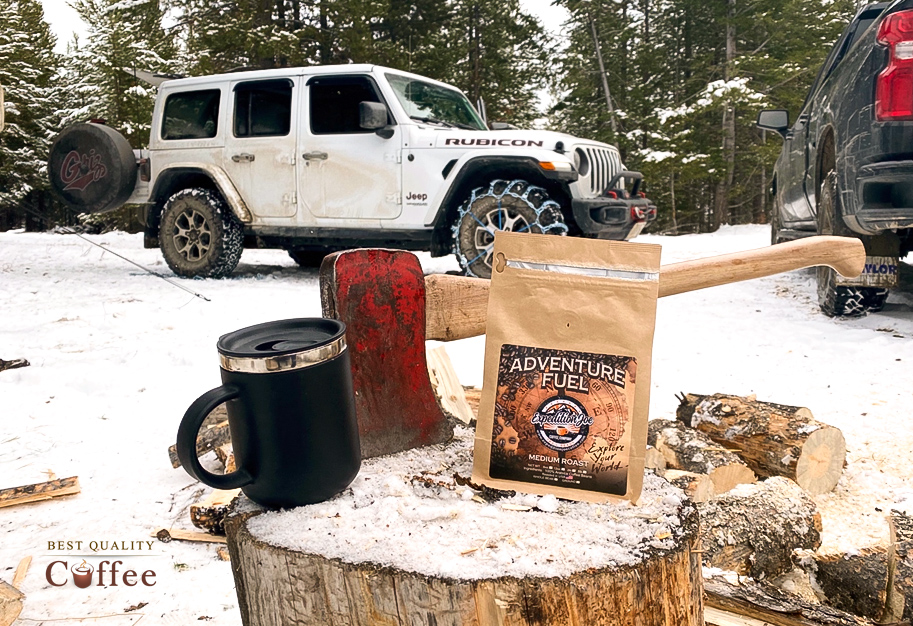 Now I will undeniably state; no type of ethereal coffee experience can overcome bad coffee. Thankfully, Expedition Joe Coffee has decades of coffee business experience to pull from.
Expedition Joe Coffee Review: Worth it?
Having said all this, let's just right into this Expedition Joe coffee review.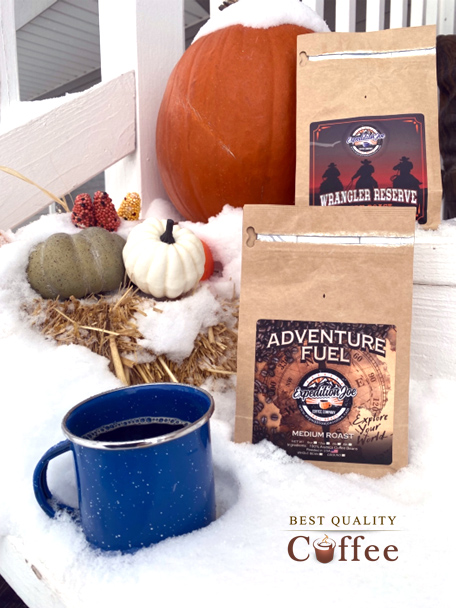 As a brief overview, Expedition Joe sources the select Arabica beans from around the world and produces some wonderfully distinct beans. These beans are then roasted in small batches right here in America. Expedition Joe produces very calculated flavor profiles meant to satisfy a wide range of preferences.
I've been sipping Expedition Joe's whole been Adventure Fuel medium roast and Wrangler's Reserve dark roast for the past few weeks. I like to spend more than just a week with a given brew before writing a review.
I would say the quality of this coffee is obvious. There's a notable crispness in flavor that's typically found in Third Wave coffee and specialty coffee.
I discovered this from the warmth of my kitchen and couch. But that's not how Expedition Joe recommends you enjoy their coffee. So I took my Adventure Fuel and Wrangler's Reserve on the road to share with some friends.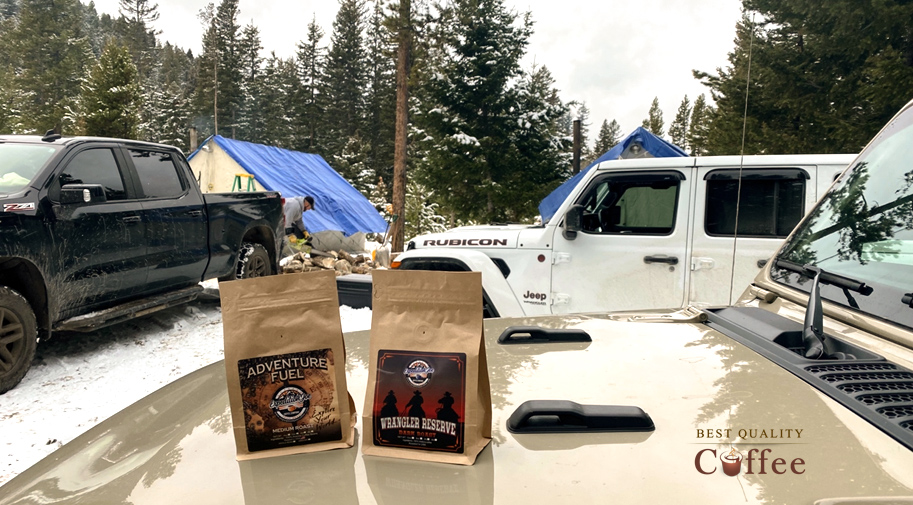 At 7,000 feet elevation with a blizzard in the forecast, we worked hard to set up camp, cut firewood and chain up the Jeeps. With the temperature in the single digits, we enjoyed several breaks sipping french press brewed Adventure Fuel and it was exactly the fuel we needed for the work. I brushed off the comments from friends about how good the coffee was knowing the coffee was just one part of the experience they were enjoying. However, when rustled from my sleeping bag the next morning with requests to make some more of that "great coffee", I knew Expedition Joe's quality bean was a much bigger part of the equation for them.
When you consider the coffee experience, it is necessary to consider where your coffee comes from. The Adventure Fuel is a blend of Ethiopian Sidamo and Papua New Guinea beans grown at elevations similar to my campsite. The natural flavors of beans grown in these very different places complement each other in a special way. This blending is not the result of a "shot in the dark". Rather, as mentioned earlier, it's calculated and intentional. Adventure Fuel is a great illustration of the experience and intimate coffee knowledge that the folks at Expedition Joe coffee clearly have.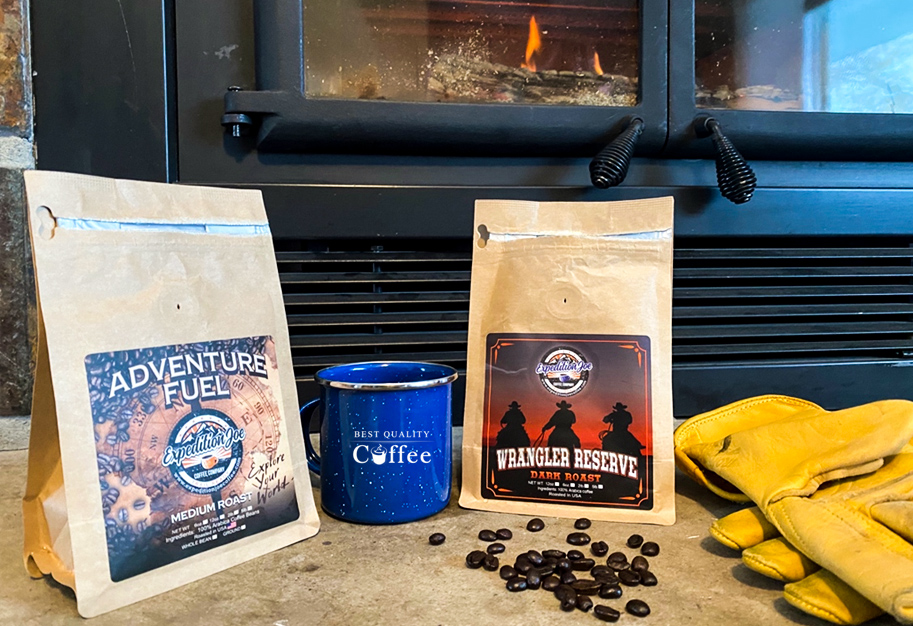 Selection
Expedition Joe Coffee offers over a dozen different blends in a variety of roasts to choose from. And for those coffee lovers looking to reduce their caffeine intake, they'll be pleased to know there's a decaf version too.
Lastly, all of their coffees are available in 100% recyclable coffee pods. These pods are compatible with Keurig brewers and other universal coffee pod makers.
Final Thoughts: A Coffee Experience Worth Having
For all my appreciation of this coffee, Expedition Joe (Bryon and Don) introduced me to two coffee concepts that have left an impact.
First, the very best coffee producers consider their work as artisanal. Bryon and Don are craftsman, artists, and masters in their trade and these facts are reflected in the coffee they've produced. You only get here with a certain desire and expertise. Moreover, it should come as no surprise that they're veterans as well.
Note: Expedition Joe Coffee also made our list of best veteran coffees.
Second, is the concept of Third Wave Coffee or generating a product that puts quality and overall experience at the forefront of all other motivations. Expedition Joe has done just that. They have combined a great deal of knowledge and experience with a mission to produce coffees that speak to your soul. Of course, that intimacy is most profound when you take Expedition Joe along on your own adventure. Then you truly have the full coffee experience, just like me and my friends had on that snowy mountain.
In closing this Expedition Joe coffee review, I will say these final words.
Thanks Expedition Joe, I lift my mug in gratitude.
Use this Expedition Joe Coffee discount code to get 10% off your entire offer: Best10