For better or worse, coffee and acidity go hand in hand. Coffee's naturally acidic properties are what give your brew that distinctly tart, bright, and sometimes acrid taste. But for those with a sensitive stomach, these same properties in excess can cause issues such as irritable bowel syndrome (IBS), acid reflux, heart burn, etc. Needless to say, this can result in a love / hate relationship with coffee. But coffee lovers with stomach issues don't necessarily have to give up their morning cup of Joe. Enter the world of the best low acid coffees curated and roasted to be gentle on your stomach but strong on your taste buds.

In this article, we've compiled a list of literally the best tasting low acid coffees the industry has to offer. We'll also go into depth about what to look for in low acid coffees as well as ways to naturally reduce the acidity of your coffee. Don't let the idea of "low" acid have you believe that it's "low" flavor. The following selections are excellent examples of full-flavored coffees that are non-acidic and easy on your stomach.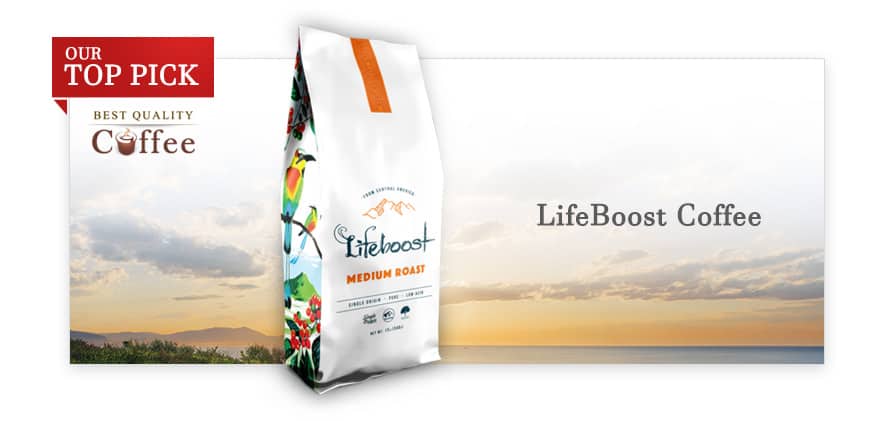 At a glance (scroll down further for detailed low acid coffee reviews)
20% Off with Code: BESTQUALITY

Intense flavor yet very smooth

High elevation / single origin coffee beans

Single Origin coffee sourced from Mexico

Refined sweetness but easy on stomach

Specialty Grade coffee sourced from microlots

70% less acidic than regular coffee

7x more antioxidants than green tea

Royal Kona Private Reserve

Very smooth with subtle sweetness

Volcanica Coffee Low Acid Brew

Blend of beans known for low acidity

Beans grown at low altitudes

Mommee Coffee Low Acid Half Calf

Incredibly delicious and unique-tasting coffee.

Includes 3-5 servings of vegetables
Best Low-Acid Coffees of 2023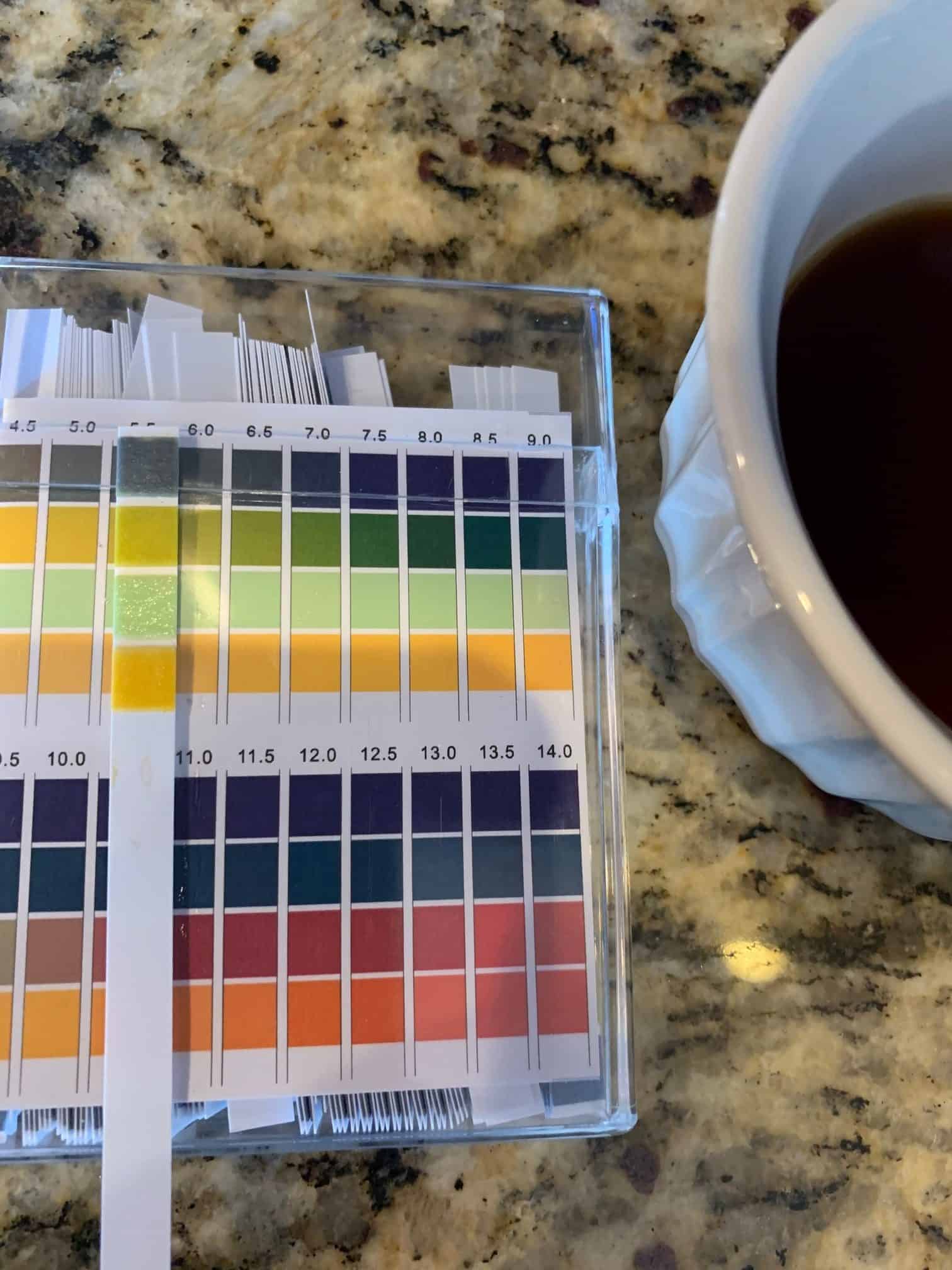 Starting off this list of full-bodied and flavorful low acid coffees is Lifeboost Coffee. It's our top pick for best non acidic coffee for many reasons beyond just being Fair Trade certified and 100% USDA Organic. It's a little pricier than some of the other coffees on the list but having tasted the coffee ourselves, we can say it's well worth the price. The company name was created by Dr. Charles Livingston and is derived from a desire to improve health and quality of life through the use of only the purest ingredients. That being said, all of Lifeboost's coffees are low acid and consequently, very smooth. Lifeboost sells a wide range of flavors designed to excite the senses without agitating the stomach. The image on the right displays the measured pH of Lifeboost Coffee which stands at an impressive 6 (click photo to enlarge). This is one of the rare companies that will actually tell you the pH levels of their low acid coffee. Check out our Lifeboost Coffee review for the full details.
100% Organic and Mycotoxin-Free
Fair Trade Certified
Very Clean Flavor, Smooth, and Complex Flavors
Variety of Roasts (Light, Medium, Dark)
Use code: BESTQUALITY for 20% off

Fabula Coffee's Dark Roast in particular a delicious organic single origin coffee that has a well-earned spot on this list. Fabula's dark roast coffee is grown in a region called Cajamarca which is located in Peru's northern highlands. Grown at extreme altitudes of up to 2,400 meters, Fabula Coffee is able to deliver a special bean that's low acid and high in flavor. While all of Fabula Coffee's offerings are considered low acid and easy on the stomach, we specifically chose their dark roast since dark roasted beans tend to be naturally lower in acidity. Use the following Fabula Coffee discount code to enjoy a 15% discount off of your order: Promo15
Organic and Non-GMO
Intense flavor yet equally smooth
Single origin beans grown at very high elevation to minimize acidity

While all of Spirit Animal Coffee's are considered low acid, we specifically selected their Lempira offering for this list. It's undoubtedly a cut above the rest with its refined sweetness and signature smoothness. Those new to the world of low acid coffee often wonder whether they have to sacrifice their coffee's flavor in order to make it more stomach-friendly. That is absolutely not the case, and this particular coffee is a shining example of that. Unlike many of the other coffees you'll find on this list, this brew is a light / medium roast. It's full of flavor and has a refined sweetness to it that's a joy to drink. If you're interested in learning about Spirit Animal Coffee's offerings, check out our Spirit Animal Coffee review.
Sourced from high elevation microlot
Refined sweetness
Light / Medium Roast

Out of the Grey Coffee's Sumatra Mandheling continues our list of full-flavored low acid coffees. It's an exquisite single origin coffee that's impeccably smooth and punctuated by a long syrupy aftertaste. We have yet to come across a coffee offering from Out of the Grey Coffee that hasn't thoroughly impressed us. Sumatra beans tend to be dark roasted and are known for their less acidic qualities. Out of the Grey Coffee's Sumatra is a perfect fit for those who prefer a full-bodied, bold, and most of all smooth experience. This dark medium roast coffee is 100% organic and embodies what low acid coffee should taste like.
100% Organic
Full-bodied
Dark Roast
Very Smooth with syrupy aftertaste
Buy Out of the Grey Coffee Sumatra

Like the other coffees on this list, Magni Coffee offers a deliciously full flavored yet low acid coffee experience. Sourced from small batch high altitude farms using shade grown techniques, Magni Coffee has been able to create low acid brews worthy of the specialty coffee denotation. The taste of their brews is best described as rich, nutty, and smooth. Their coffee is chemical-free, organic, and produced using Fair trade farming practices. They offer a light, medium, dark and even decaf roast.
100% Organic and shade grown
Rich, Nutty flavor
Available in light, medium, dark roast
Sourced from high altitude small batch farms

For all our K-Cup and coffee pod users out there, Maud's Coffee is definitely worth checking it. It earns a definitive place on this list of great tasting low acid coffees. Not too long ago, one of our long-time reviewers had to take a break from coffee since the acidity was aggravating her stomach. Her frequent Starbucks trips were now a thing of the past. Fortunately, she discovered Maud's Coffee's Organic Sumatra brew and not only was she able to start drinking coffee again, but she also discovered her new favorite brand which she drinks almost every day till this day. Maud's Coffee Sumatra single origin brew is USDA organic and Fair Trade Certified. This brew is incredibly smooth and teeming with a rich, robust, and earthen flavor. This coffee has virtually no bitter aftertaste and is very easy on the stomach making it one of the best low acid k-cups on the market.
USDA Organic and Fair Trade Certified
Recyclable K-Cup Compatible Coffee Pod (no wasteful plastics)
Strong flavor
No bitter aftertaste
Buy Maud's Sumatra Coffee Pods

I'm usually not a fan of flavored coffees, but Puroast's coffee was just too good to pass up. And of course, it's low acid too. This coffee contains 70% less acidity than the average coffee while offering 7 x the amount of antioxidants than green tea. As a huge bonus, this coffee delivers a very natural and clean-tasting Hazelnut flavor. It doesn't taste artificial like some other flavored coffees. After trying this coffee myself, I'm not surprised why this is a fan favorite for millions of coffee lovers who prefer coffee with low acidity.
70% less acidic than other coffee
7 times the antioxidants of green tea
Very smooth and natural Hazelnut flavor
Buy Puroast Low Acid Coffee Hazelnut

Wildcrafter Botanical Coffee is unlike the other coffees on this list. This premium coffee is also infused with nutrient rich botanicals including mushrooms. While this may sound strange to the average coffee lover, I'd personally recommend keeping an open mind when it comes to this coffee. It's not what you might think. When I tried this coffee for this first time, I was shocked. It actually tastes nothing like herbs or mushrooms. Instead, I was treated to a very deep-flavored coffee that's gentle on the stomach. Drinking this coffee was a shockingly pleasant experience for me. For more details, definitely check out read our full Wildcrafter review.
USDA Organic and Fair Trade Certified
Nutrient rich coffee that delivers health benefits
Smooth while still complex in flavor
No bitter aftertaste

Next on our list is Royal Kona's Private Reserve Medium Roast coffee. Kona coffee in general is well-known for its immeasurably smooth flavor and low acidity. However, not all Kona is equal and the Kona market is often marked by questionable claims made by scrupulous brands. Royal Kona is the complete opposite of this approach and has firmly established themselves as one of the most reputable Kona coffee providers in the market. Their Private Reserve Medium Roast is a full-bodied brew that offers a tantalizing rich and an unbelievably smooth coffee experience. At $19.99 / 7 oz, this premium low acid Kona coffee is worth every penny.
100% Authentic Kona Coffee (no blend)
Medium Roasted
Extremely Smooth with subtle sweetness
Highly reputable company within the competitive Kona industry

Volcanica Coffee has literally put together a coffee made for this list. Their premium low acid coffee is a flavorful blend of Brazilian, Sumatran, and Arabica coffees grown at lower altitudes. This particular blend brings together the best of various coffees known for their lower acidity. This is an excellent choice if you're looking for a very smooth and flavorful tasting experience. Use our exclusive Volcanica Coffee discount code and coupon to get you 12% off your entire purchase. Code: BESTQ12
Unique blend of coffee beans known for low acidity
Grown at lower altitudes
Smooth
Buy Volcanica Coffee Low Acid Blend

This brand of coffee, as its name suggests, was formulated specifically as low acid coffee for expecting mothers. This includes all stages of pregnancy from conception, pregnancy, breast feeding, and beyond. Given its target audience, it should come as no surprise that their products are 100% organic. The women behind this brand believe you don't have to give up one of life's choice luxuries just because you're pregnant. Their coffees which are available with varying levels of caffeine have already won over the hearts of both the new coffee drinkers and veteran connoisseurs.
100% Organic
Coffee specifically made for expecting mothers
Only half of the caffeine
Woman-owned coffee company

Bio Coffee is considered the "world's healthiest coffee" and "best alkaline coffee". As an avid coffee lover who's been drinking Bio Coffee every day for over a year, it's become a staple in my morning and afternoon routines. In my opinion, this is hands down the best flavored low acid coffee out there. The only catch is that it's decaffeinated. Truth be told, that's the only reason it's not listed at the top of this list. If you're a coffee lover than can go without the caffeine and want a full-flavored low coffee, I'd strongly recommend checking out Bio Coffee. Bio Coffee is 100% organic and made of premium Arabica beans infused with a healthy dose of wheat grass, probiotics, and preboitics. The wheat grass is the primary ingredient which actually changes the pH of your body making it less acidic. This coffee takes low acid coffee to the next level. Outside of the coffee being extremely healthy for you, it also has a deliciously rich, smooth, and nutty flavor. Check out our full Bio Coffee Review for more details.
Alkaline Coffee
Incredible flavor unlike any coffee you've likely tried
Includes Wheatgrass and vegetables (but you don't taste it)
No Caffeine (this may be a plus for some and not others

This is the priciest coffee on this list but that doesn't mean it's not worth the price tag. This is best for the coffee connoisseur or lover who appreciates the best quality coffee, and doesn't mind paying for it. Geisha is a unique variety of coffee with origins in Ethiopia. In more recent years, this highly sought-after bean has been cultivated in places like Panama and Costa Rica. Volcanica Coffee, a brand known for its high grade beans, has made a delicious low-acid coffee with their Costa Rican Geisha offering. What's notable about this coffee is how well balanced it is. You can taste a wide variety of exotic flavors with each sip. As we mentioned before, low acid coffee has a stigma of not tasting as full and vibrant as regular coffee. However, Volcanica Coffee's Geisha variety is proof positive that low acid coffee can have just as much depth and flavor range as any coffee out there.
Highly-prized Geisha coffee beans from Ethiopia
Vibrant flavor
Deep flavor and well-balanced
Buy Volcanica Coffee Costa Rica Geisha
What is Low Acid Coffee or Non Acidic Coffee
This concludes our list of the best low acid coffees on the market. Now let's take some time to discuss low acid coffees in general.
As mentioned at the start of this article, the best low acid coffees are curated and roasted to minimize the natural acidity of coffee. There's a common misconception that low-acid coffees have less flavor and robustness than a regular brew.
That's a complete myth.
Low-acid coffees, as demonstrated by the list above, are just as impressive, full-bodied, and enjoyable as their acidic counterparts. In fact, the best low acid coffees will arguably taste even better since there's an added element of smoothness and an absence of bitterness in many of these top brands. The best low acid coffees will be strong on the taste buds but light on the stomach.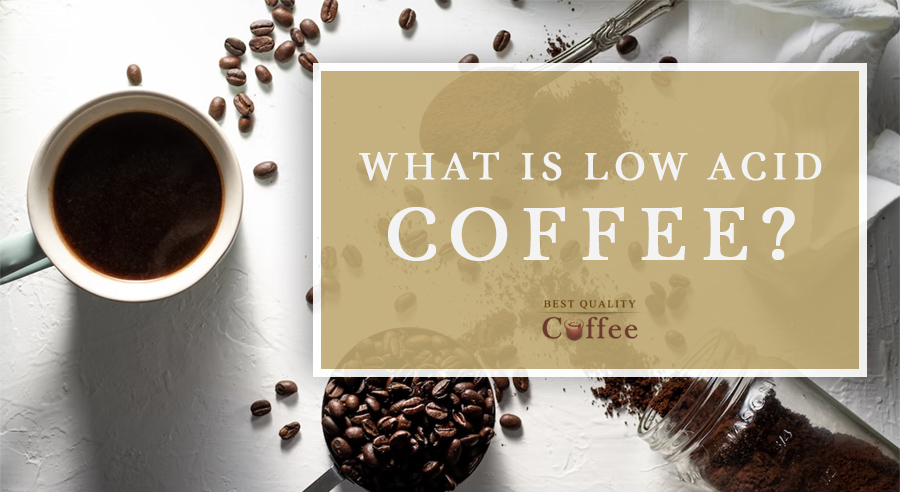 Acidity in the context of coffee can refer to two different things.
First, acidity can be used to describe an actual flavor profile. If you've ever tasted coffee that has a sharp citrusy flavor, then you'll know what I'm referring to. Often times Ethiopian coffees with their naturally bright and floral flavors fall into this category.
The second use of acidity refers to pH levels as determined by the pH scale. The scale ranges from 0 – 14 with 0-7 being considered acidic and 7-14 being basic. Countless studies have shown that your body's pH is critical to your overall health and well-being. An overly acidic body as a whole is frequently the source of many health issues.
According to NIH, most coffee falls within the 4.85 – 5.10 making it acidic. For those who care to know more, coffee contains 9 major acids. They are: chlorogenic, quinic, citric, acetic, lactic, malic, phosphoric, linoleic, and palmitic
Ways to Lower Coffee's Acidity
Because coffee is all about chemistry, there are many factors that can affect the acidity of your coffee. The best low acid coffees will take all of these factors into consideration in producing the gentlest yet most flavorful cup of coffee possible.
Choose Your Coffee Bean Wisely
Coffees grown at high altitudes tend to be more acidic. Typically, your best flavored low acid coffees will be grown at low altitudes which is one of the reasons why there are so many Sumatran varieties on this best low acid coffee list. In addition to Sumatran beans, Brazilian and Central American beans also tend to be low in acidity.
Beyond choosing a low acid coffee bean based on geographical origin, there are two main types of coffee beans: Arabica and Robusta. If you're looking for the low acid coffee, you'll want to avoid Robusta beans at all costs. Robusta coffee beans are hardy beans that contain much higher levels of caffeine and acid than their Arabica counterparts.
Roast Choice
Dark Roast coffees frequently taste less acidic than lighter roasts. However, the reason for this isn't because dark roasts are inherently less acidic. The result a 2010 study found that dark roast coffee tends to be gentler on the stomach than light roasts. Dark roasted beans which are naturally subjected to a longer roast time product an ingredient that prevents hydrochloric acid build up in the stomach.
Cold Brews
Cold brew coffees typically have lower acidity than regular hot coffee. Cold brew is subjected to a different brew process in which coffee beans are left to steep in cold or room temperature water for anywhere between 5 – 24 hours. The result is a coffee that's naturally sweeter and naturally less acidic. Some of the most best tasting low acid coffees will be cold brews.
Use a Larger Grind Size
Believe it or not, grind size can influence a coffee's acidity. Smaller grounds, compared to coarser grounds, can make your coffee more acidic. The reason for this is that smaller grounds have more exposed surface area and can result in more acid being extracted during the brew process.
Increase Brew Time
Coffee beans subjected to an extended brew time typically have less acidity. This is demonstrated to the extreme by our cold brew example mentioned above. But if you're not a fan of cold brew coffee, then we suggest going with a French Press which users longer brew times than other brew methods. Bonus: if you brew at a lower temperature, that will also help minimize your coffee's acidity.
Drink your Coffee Black
Milk and sugar are highly acidic. Drinking your coffee black is the way to go if you have a sensitive stomach and plus, it's much healthier for you.
Go Decaf
I realize the word decaf may be unpopular amongst coffee lovers, but the truth is that decaf coffee is mildly less acidic than it's caffeinated counterpart. Caffeine has been known to generate acidity in the stomach thereby causing potential issues in those with sensitive stomachs. It's a common misconception that decaf coffee beans lack flavor and texture. Although that may have been true many decades ago, the decaffeination technology has come a very long way with full-flavored decaf being a real thing.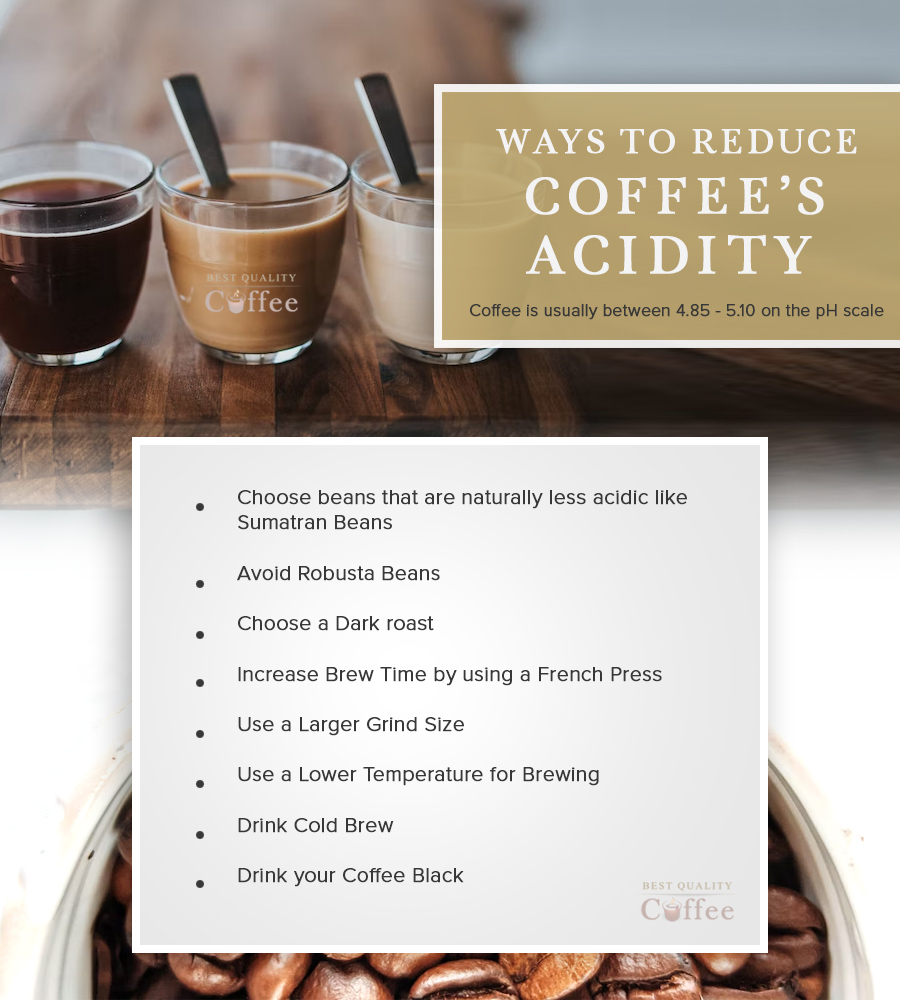 Bonus Fact: Some coffee lovers don't know this, but CBD or Hemp coffees are often classified as low acid because CBD has been known to neutralize the effects of acidity. Check out our top picks of the best CBD and Hemp coffee brands.
Best Low Acid Coffee: Final Thoughts
There was a time when having a sensitive stomach meant you had to give up coffee entirely. Fortunately, with the advent of low acid coffees, that's no longer the case. There are certainly times when coffee should be completely removed from one's diet. As this is not meant to be construed as health advice, please be sure to check with your doctor or healthcare provider.
We'll be updating this list of best low acid and stomach-friendly coffees regularly so keep checking back for new recommendations. If there's a flavorful low acid coffee you think should be on the list, please let us know in the comments below.
Want to Turn Your Coffee Alkaline?
As a side note, even if you prefer not to drink low acid coffee, there are ways to reduce the acidity of the coffee you currently drink. It involves adding just a dash of baking soda to your morning brew. Check out our article on turning your coffee alkaline for more details. It's often the simple things that can have the greatest impact.