Buying a super automatic espresso machine represents a sizable investment. And any responsible buyer would do well to research the available options before making the purchase. These super automatics are the crem dela crème of espresso machines and typically cost many thousands of dollars. And yet, today we cover one that's priced well under $1k offered by Terra Kaffe called the TK-01. This product is very attractively priced but is it worth your money? In this Terra Kaffe espresso machine review, we help you answer that question.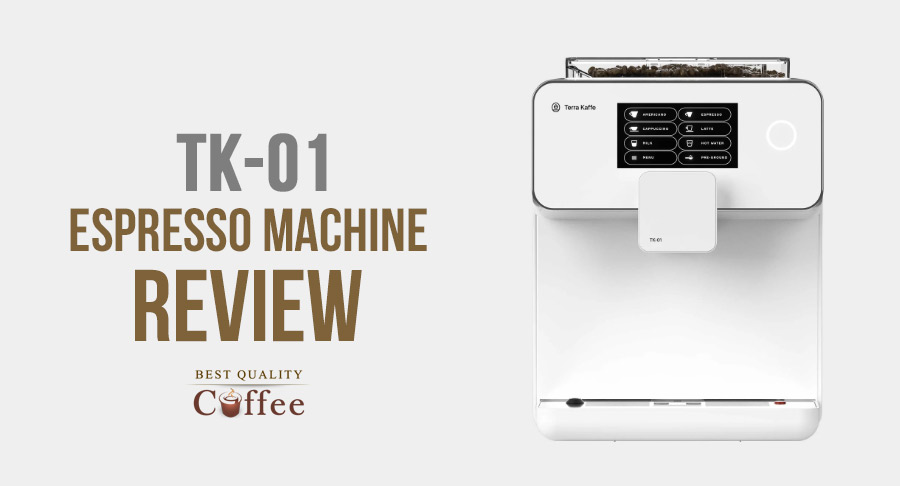 Many people who are looking for a super automatic espresso machine are looking for both quality and convenience. The process of making espresso can get pretty technical, complicated, and downright, "nerdy". So the super automatic machine takes the hassle out of the process and simplifies it into the push of a button. It's worth keeping this mind as we go through this review.
Who is Terra Kaffe?

Before jumping right into this Terra Kaffe espresso machine review, let's go over some basic information about the brand as some of you may not have heard of Terra Kaffe. Terra Kaffe was founded in 2017 by Sahand Dilmaghani and is currently based in Brooklyn, New York. While the brand offers a variety of coffees, their flagship product is their TK-01 automatic espresso machine. The company sells direct-to-consumers which is in part why they're able to offer such a product at such a competitive price.
Terra Kaffe Espresso Machine Review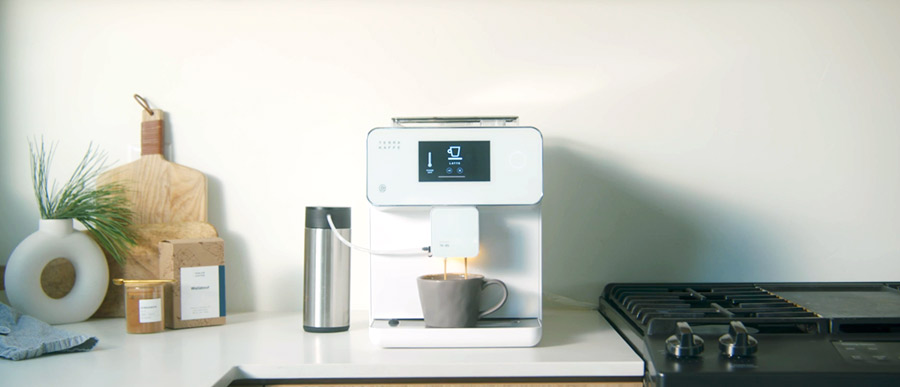 Main Features of the Terra Kaffe Espresso Machine
Model: Terra Kaffe TK-01
Boiler Type Thermoblock
Pump Type Vibratory
Water Reservoir: 57 fl oz
Bean Hopper Capacity: 12oz (a dozen 1oz shots)
How's the Espresso and Cappucinno?
Let's start with what matters most: the espresso.
The TK-01 extracts a solid shot capable of meeting the standards of most coffee connoisseurs. The shot is as rich and smooth as it is velvety. As other hundreds of other reviews have confirmed, the espresso is exceptional.
Beyond this is where things can naturally get subjective depending on where you land on the "espresso snob scale". Personally, I'm not an espresso connoisseur and yet I think I have a palate fine-tuned enough to discern between a good and bad shot. While the TK-01 isn't going to make a cup of espresso that will win worldwide competitions, I think it will still satisfy those with high espresso standards. And that's still saying something for an espresso that you made by just pushing a button. You're welcome to interpret that as you will.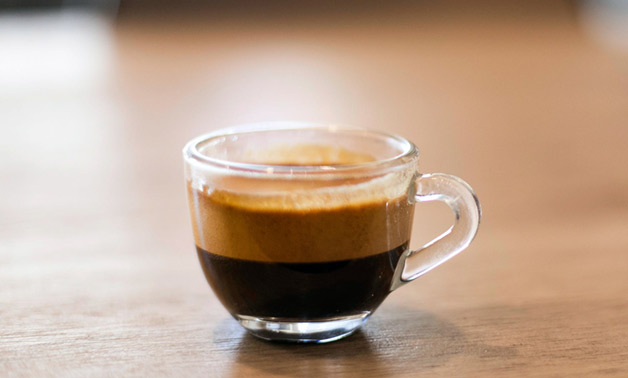 This machine can also make cappuccinos, lattes, and flat whites. This is where the variable mix settings come in handy. As someone who can be particular about my milk-based drinks, having customization options goes a long way.
Having said this, it's worth drawing specific attention to the cappuccino this machine produces. It's phenomenal thanks to the machine's efficient onboard milk frothing features.
Terra Kaffe TK-01 Design and Usability
One of the most obvious and impressive characteristics of this machine is its elegant design. It's modern, sleek, minimalistic, and downright gorgeous. Because of this, it's a piece of kitchen equipment that enhances the décor as opposed to detracts from it. Every detail from the easy-to-use interface to the thoughtful locations of the frother seemed very intentional…in a good way.
I appreciated how all the features of this machine were neatly contained in a well-designed package. For example, there are integrated doors that span both sides of the machine. One door is used to conceal the water tank while the other contains a removal brewer and bin for disposed pucks. There are no blatantly protruding features which make the machine difficult to store.
Speaking of which, the TK-01 isn't bulky like many other super automatic espresso machines. Upgrading your espresso machine often comes at the expense of counter space. Fortunately, the TK-01 doesn't put the buyer in this dilemma and fits nicely under standard cabinets with still plenty of space to fill a bean hopper. I like the fact that the TK-01 offers a sizable hopper without adding any additional height to the actual machine.
One aspect of the design that's really appealing is the ground coffee chute. For those such as myself who drink decaf, you can use this chute for your pre-ground decaf. This is convenient because you don't have to change the beans in your hopper. While I'm not sure if the designers created this intentionally for such usage, I still found it to be a convenient bonus.
What Drinks Can the TK-01 Make?
The menu of the Terra Kaffe TK-01 espresso machine is intentionally limited. This isn't necessarily a mark against it though as the machine was designed to focus on the basics. The TK-01 makes an espresso, Americano, latte, and cappuccino with ease. If you're looking for a wealth of options when it comes to drinks, you may want to look elsewhere.
In addition to its coffee-making capabilities, the TK-01 has hot water for tea or hot chocolate and steamed milk on tap. The machine requires no warm-up time for these features. I was pleased to note that the milk and coffee are mixed only in the mug as opposed to in the brew head or hoses. This ensures the most sanitary and hygienic user experience.
What about the TK-01 Coffee Grinder?
The built-grinder is solid and allows you to pull a great shot of espresso with a nice layer of crema. However, like the grinders in many super automatics, you should know that it's not capable of a truly fine espresso grind. This is because the fineness of such a grind would clog or choke the brew group.
As such, this isn't a mark against the TK-01 but still something a buyer should be aware of when buying super automatics in general. If you're making espressos, I'd recommend starting off on the finest setting.
Customizations for the TK-01
The TK-01 allows you to dial in your espresso by offering a number of extraction settings. Such customization options include temperature, dose, volume, and hot water volume.
I also appreciate the customization that this automatic espresso machine gives you when it comes to foam. With the twist of a dial, you can seamlessly switch from "foamy" to "silky". I'm personally a fan of separate milk frothers but that doesn't keep from appreciating the convenience of one that's built-in.
The TK-01 is available in two colors: black and white
Is the TK-01 Espresso Machine Easy to Use and Clean?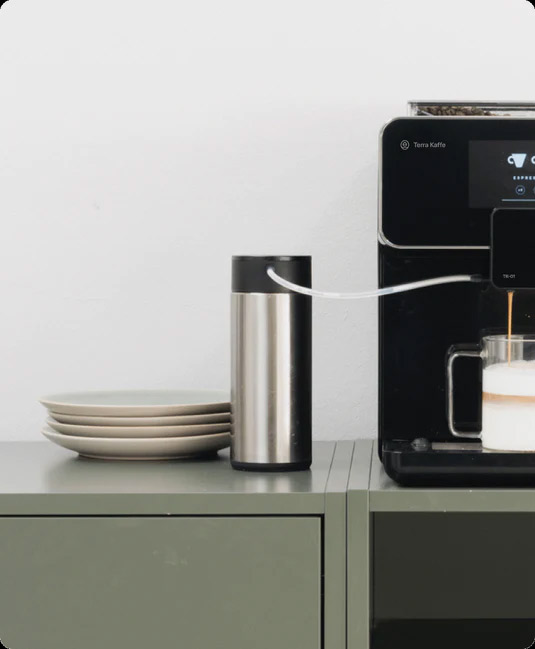 This espresso machine is mind-bogglingly easy to use. Everything about this machine is user-friendly and will appeal to any buyer who doesn't want to fuss with knobs and dials. Just push a button and within seconds, you'll be treated to coffeehouse-quality espresso.
Additionally, this espresso machine is relatively easy to clean. It has a cleaning cycle for the milk steamer that runs frequently. Even the area where the brew group is located is easily accessible. The integrated water filter is also very efficient and reduces the need to descale the machine frequently.
That being said, there are some areas of this machine that will need regular cleaning such as the puck disposal bin, the removable brewer, and the drip tray. Terra Kaffe recommends cleaning the removable brewer once a week. Also, when cleaning this removable brewer they recommend that you hold it upright as you wash it.
Terra Kaffe Review: FAQ for TK-01
What are the dimensions of the TK-01?
The TK-01 measures 17.3in deep x 10.6in wide x 14.0in high.
What is the Terra Kaffe espresso machine's water tank capacity?
57 fl oz
What is the bar pressure of the TK-01 brew unit?
The TK-01 delivers up to 19 bars of pressure with a 19 Bar Italian pump system for optimal flavor extraction of your espresso.
Does the TK-01 espresso machine come with a warranty?
The TK-01 espresso machine comes with a 1 year / 3000 brew limited warranty. Warranty coverage includes labor, parts, and free shipping to and from our repair center. This warranty does not apply to any unit purchased outside of Terra Kaffe or an authorized dealer, repaired outside our repair center network, or subject to any misuse, negligence, or accidents. The warranty is void upon resetting the cup counter, and does not apply upon failure to adhere to care and maintenance instructions provided by Terra Kaffe. Terra Kaffe will honor any preceding manufacturer's warranty offered at the time of purchase.
How much does the Terra Kaffe TK-01 cost?
It's currently being listed at $825
Terra Kaffe Espresso Machine Review: Summary
What we liked
Sleek, streamlined, elegant, and efficient design
Very easy to use while still offering a number of extraction options
Makes exceptional espresso and milk based drinks with the push of a button
Great balance of convenience, quality, and output
What could use improvement
Puck disposal bin can fill up quickly (10 espressos)
Milk frother requires frequent cleaning
Water tank and bean hopper could be larger
Terra Kaffe Espresso Machine Review: Final Thoughts
As you might have already been able to tell by this Terra Kaffe espresso machine review, this is a purchase worth its weight in gold. Let me summarize why.
$825 is not a small amount of money.
Yet in the world of super automatic espresso machines, it's extremely reasonable. In fact, it's so reasonable that some people would be understandably skeptical of the quality based on its low price.
However, it's an impressive workhorse of a machine that produces excellent espresso and even better cappuccinos. It's efficient as it sleek. It may lack some of the features of the more expensive super automatic espresso machines on the market, but what it does, it does exceptionally well. It's ease of use is also another major selling point that shouldn't be overlooked.
If you spend $5 or so a day on a coffeehouse espresso, you'll quickly get fulfill your return on investment just after 5 months. Not bad.
This is a great machine for those who care about good quality espresso but simply don't want to fiddle with all the intricate variables required to make it. As a note, Terra Kaffe is in the process of releasing another version of the TK-01 appropriately named the TK-02. We'll have more details on that model when it's released. It's also worth mentioning that Terra Kaffe offers a 30 day trial for their espresso machine as well.
Tip: If you're in the market for a super automatic espresso machine but simply can't fit it within your budget, you may want to consider a factory refurbished espresso machine.