Single Serve Coffee Makers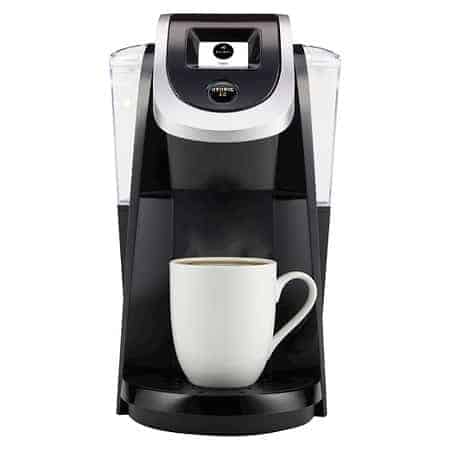 Single serve coffee makers represent a new era of convenience for coffee lovers. Many single serve coffee pod makers were based on the original concept of the K-Cup introduced by Keurig back in 1998. Single serve coffee pods are the name for generic K-Cups Pods not issued under the Keurig name.
The benefits of using these highly-efficient brewing machines are many.
Showing all 30 results
Single serve coffee makers are convenient
As their name suggests, single serve coffee makers are very convenient. You simply add a coffee pod, press a button, and voilà – you have a freshly brewed cup of coffee. No measuring, no mess.
Single serve coffee makers are also great for small spaces since they don't require a lot of countertop real estate. And since they only make one cup at a time, there's no need to worry about wasted coffee if you can't finish an entire pot.
Single serve coffee makers are easy to use
A single serve coffee maker is incredibly easy to use. You just need to insert a coffee pod into the machine and it will brew a fresh cup of coffee for you.
Single serve coffee makers come in different sizes with the distinguishing factor being the capacity of the water tank. Be sure to choose one that best fits the demands of your environment. For an even more efficient experience, we recommend getting a single serve coffee machine that has a large water tank or water reservoir.
One disadvantage of using a single serve coffee maker is that you have to keep it clean and maintained properly. However, doing so is not difficult.
Check out our guide for descaling a single serve coffee maker.
Single serve coffee makers make it easy to control the strength of your coffee
Single serve coffee makers will typically have buttons that allow you to easily adjust the strength of your coffee. This is basically done by changing  the amount of water used to make your coffee. Stronger coffee will have less water and weaker coffee will have more. If the strongest coffee setting is still not strong enough, you can opt for using two coffee pods instead of one.
If you're on a tight schedule or just don't have the time to wait brew a cup of coffee, then a quality single serve coffee maker may be well worth an investment? The technology has come such a long way that you no longer have to sacrifice quality for convenience.
Single serve coffee makers have become so popular and widespread that they're largely responsible for the dramatic rise of coffee consumption over the last few decades.
Single serve coffee makers deliver true convenience. Using coffee pods means you don't have to grind your coffee, measure it, and then manually brew it. Lastly, these types of coffee machines reduce the brewing process to merely pressing a button.
The world of single serve coffee is also home to a plethora of delicious flavors with more and more being released by the day. With new coffee pods and K-Cup flavors being introduced every day, you'll be able to enjoy them in full by using one of these incredibly efficient coffee makers.
Check out our list of the best coffee pods for coffee snobs.