Disclaimer: Included in this article are affiliate links from which the owner of the site receives a small commission for generated sales.
It's a well-established fact that there is a direct correlation between your body's pH levels and health. When a body's pH is alkaline, cancer loses its ability to thrive. Unfortunately, the most popular foods and drinks in available today's society are acidic. Included on this list, is easily one of the most widely consumed beverages on the planet: coffee. Whether you enjoy brewed medium roasted coffee or coffee pods, there's no need to fret as the following article will show you a very simple, cheap, and effective way to turn your coffee alkaline. Additionally, we'll cover some simple ways to make your coffee less acidic.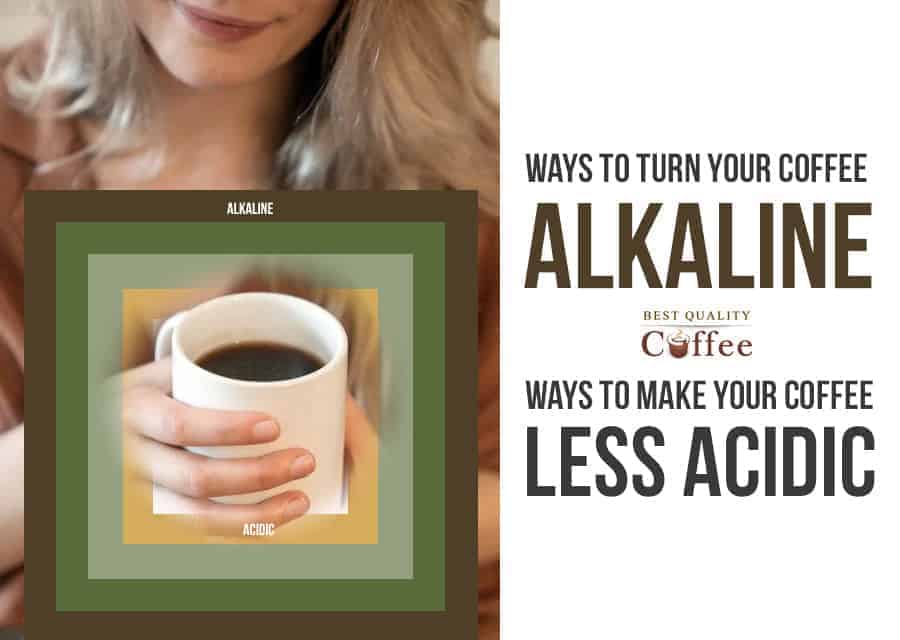 The magic ingredient isn't some fancy pill or special concoction that you need to purchase. It's probably already sitting in your refrigerator. In order to turn your coffee alkaline just using baking soda which is also known as sodium bi-carbonate. While generic baking soda will work, we recommend using aluminum-free baking soda.
Related Article: Coffee that is easy on your stomach
Personally, I'm the type that appreciates visual confirmations. If you're like me, first purchase some pH test strips (even beyond this coffee alkaline test, it's good to have them as they can help you stay in tune with your body.) Make your morning cup of coffee and briefly dip your test strip into it. Compare the color to the chart that came with your pH test kit and you'll immediately see that your coffee is acidic.
Now drop a small pinch of baking soda and thoroughly stir it into your coffee. Remember, only a pinch is needed. If you're using a teaspoon to measure it out, then you're already using WAY too much baking soda. Retest the coffee's pH with a new strip and you'll see that your coffee is now alkaline! With this simple tip, your coffee's chemical composition has completely changed for the better.
One might naturally ask, "What happens if I add cream to my coffee." Milk is slightly acidic. While it's not as acidic as coffee itself, it does increase the overall acidity. But even if you add generous amounts of cream to your coffee, you'll find that a small pinch of baking soda is more than enough to keep your coffee on the alkaline side of your pH test strip.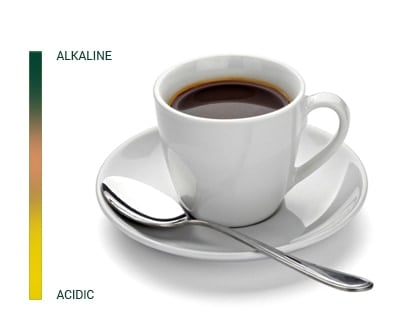 Often times the best solutions are the simplest ones. Using baking soda to turn your coffee alkaline is no exception. What's great about using this tip is that in addition to normalizing the pH of your body, you don't have to compromise the flavor of your coffee. In fact, you won't even notice a difference in the taste.
Using baking soda in coffee has become a normal part of my coffee experience. Many coffee drinkers will even take a dash of baking soda with them to turn their coffee alkaline when they're on the go.
Other Things You Can Do To Make Coffee Less Acidic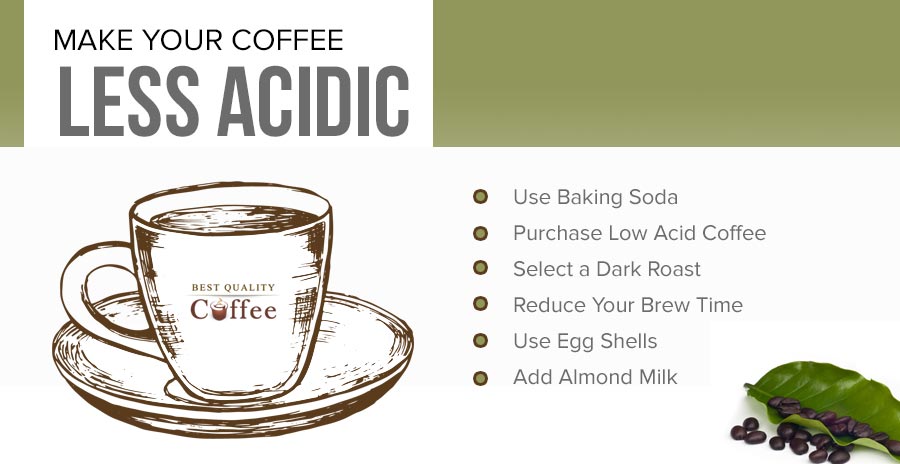 Purchase Low Acid Coffee
Low acid coffee is coffee that's grown and roasted in a manner to minimize the acidity of your brew. Low acid coffee companies source coffee beans that are naturally less acidic. Don't be fooled though. Low acid coffee doesn't equate to low flavor coffee. In fact, some of the best and most robust coffees on the market are low acid. Said coffees are kind on both your stomach and taste buds. While these coffees don't specifically turn your body alkaline, they certainly are easier on the stomach.
Our personal favorite low acid coffee is Lifeboost Coffee. It's rich, robust, smooth as can be, and literally one of the best tasting coffees we've tried to date.


For more recommendations, check out our list of the best low acid coffees on the market.
Purchase Dark Roast Coffee
Light roast coffees are typically the most acidic roast. Try selecting a dark or medium dark roast for a smoother less and acidic coffee experience.
Reduce Your Brew Time
As a general rule, the longer your brew time the more acidic your coffee will be. When coffee beans are exposed to water for longer periods of time, more acid is extracted into your brew. Of course you don't want to cut your brew time too short or else you'll under extract your coffee.
Add Egg Shells to Reduce Coffee Acidity
Yes I know this sounds weird and possibly gross. The chemistry behind using egg shells to reduce the acidity of your coffee is simple. Egg shells contain calcium that's alkaline. This alkaline component neutralizes the acidic characteristics in coffee beans. As a bonus, egg shells can also help with reducing any of coffee's natural bitterness so they're helping on both a pH and flavor level.
Crack two eggs together and salvage just the cleaned egg shells. Crush them to a relatively find grind and mix them in with your coffee grounds when you brew your coffee. Strange as it may sound, you'll be pleasantly surprised by the resulting cup of Joe.
Add Almond Milk
It's been suggested by some that adding milk with help neutralize your coffee. However, being that milk is slightly acidic, it won't make your coffee any more alkaline. Almond milk on the other hand can make your coffee less acidic. This is because almonds are naturally alkaline. Another benefit of using almond milk is that it's very low in calories with about 45 calories per cup.
Try Alkaline Coffee (different than Low Acid)
Beyond being more than just low acid, certain coffee brands help your body become alkaline. One such brand is Bio Coffee, and it's something I've been drinking religiously for the past 5 years. It's branded the world's healthiest coffee. As someone who pays attention to my body's pH levels, this has been a tremendous blessing in my life. Outside of it tasting phenomenal, Bio Coffee is true alkaline coffee made from 100% Arabica Coffee beans and Wheat grass. Wheat grass is the important ingredient here and is a super food that offers a wealth of health benefits. Consuming the proper amounts of wheat grass can help your body enter an alkaline state.  Check out our full Bio Coffee review for more details.

As this article hopefully illustrates, there are many ways to turn your coffee alkaline or at the very least, make it less acidic. And you can do all of this, without compromising the coffee's overall flavor and texture. Coffee on its own already confers many health benefits. Reducing coffee's acidity makes the world's greatest drink only healthier.