In 2014, just 16% of coffee roasters were owned by women; by 2019, that figure has risen to 25%, and it continues to rise year after year. In this ultra-competitive coffee industry comprised of predominantly men, more and more women owned coffee brands are leaving their mark. As a result, it's refreshing to see an under-represented demographic make a permanent impression and crafting a sustainable route in one of the world's largest industries.
In this article, we cover the top women owned coffee brands worth checking out.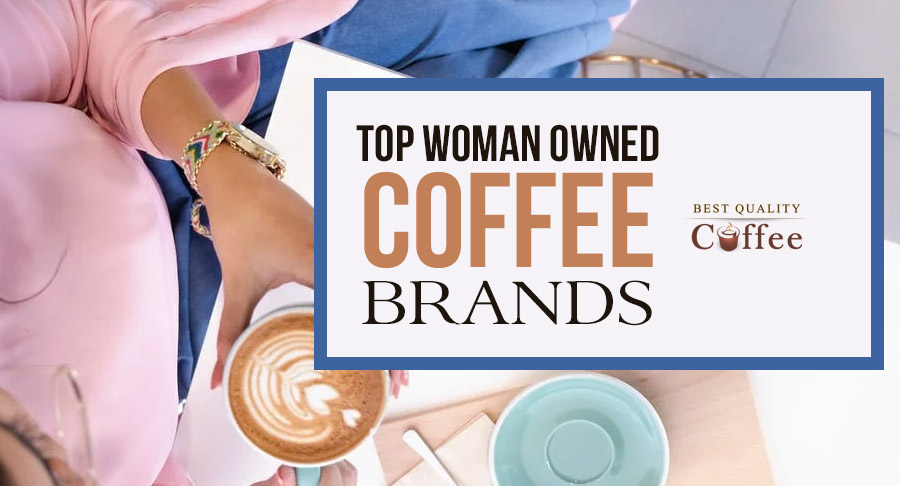 Female Owned Coffee Brands Worth Trying
Nguyen Coffee Supply
Starting off our list is Nguyen Coffee Supply. Founded by Sahra Nguyen in 2018, Nguyen Coffee Supply is the first Vietnamese specialty coffee company. That's no simple feat.
Nguyen is not only a thriving entrepreneur, but also an environmental activist. Her coffee cultivation revolves around the preservation of nature.
Furthermore, Nguyen bypasses any middleman and works directly with her coffee bean source, Mr. Ton, a 4th generation farmer from central Vietnam. The beans are delivered straight to Nguyen's headquarters in Brooklyn, New York, where they are roasted and prepared for distribution.
Nguyen's utilization of Robusta coffee beans in premium, high-quality brews is one of her most remarkable successes. Some consider Robusta to be a lower-quality coffee bean when compared to Arabica, but Sahra begged to differ.
She set out to challenge the stigmas, crafting some of the most beautiful coffee brews created from 100% Robusta beans.
She has received various prestigious honours, including the Rising Star Award, and has been featured in numerous media publications, including the New York Times, VICE, the Wall Street Journal, and Forbes.
Sahra Nguyen is a brilliant example of a woman owned coffee company challenging the status quo. "For the People's Grind," the company's slogan, which promotes equal opportunity for all.
Nostalgia Coffee Roasters
Founded by Taylor Fields, Nostalgia Coffee Roasters is a relatively new company, which launched in October of 2018.
Fields' concept was simple: she wanted to capture the essence and ambience of your favorite corner coffee shop into a cup of coffee in the comfort of your own home. The coffee is intended to deliver both an energetic flavor along with comforting and nostalgically familiar vibes.
Nostalgia Coffee began as a mobile business at San Diego's Lane Field Park and rapidly became a local favorite.
However, when Covid became more intense, Fields realized it was time to refocus her business and begin roasting and marketing her brand to a larger market.
Fields began collaborating with coffee roaster Brandt Rakowski to create their first espresso blend, Memory Lane, which quickly became one of California's highest rated coffee blends.
Aside from creating high-quality coffee, Nostalgia Coffee puts a focus on ethically obtaining its beans. They are adamant about paying employees a living salary while also ensuring that women and minorities are given equal opportunities within the company.
Brewpoint Coffee Roasters
Melissa Villanueva is the founder of Brewpoint Coffee. This unique story started back in 2013 during a time when Villanueva wanted to pursue her dreams over enjoying the security of a desirable corporate job. You could describe it as an inner passion to pursue "more". This deep desire to go on a road less traveled is what started it all.
"I was looking on Craigslist for an espresso machine, and ended up buying a coffee shop instead,"
From such beginnings that were equally unexpected and humble, the company is a true success story.
Today, the company has three coffee shops, a wholesale roastery, and a premier event space. The company has been listed in Forbes, Fast Company, Sprudge among many other notable publications. Brewpoint Coffee has also won awards for Business of the Year and Best Coffee Shop in IL.
Laidrey Roasters
Up next on this list of top women owned coffee brands is Laidrey Roasters, brainchild of Gacia Tachejian. Despite the fact that they are a brand-new roaster having debuted in the summer of 2021, they've quickly gained a commanding position in the coffee industry, both in terms of quality and café experience.
Their growing popularity can be attributed to their distinctive seasonal blends that've become real crowd pleasers within the coffee community.
Laidrey sources premium coffees from around some of the most renown coffee-growing regions in the world.
In addition to selling incredible coffee, Laidrey Roasters provides a variety of private event options, including corporate hosting, weddings, and private parties. They also works with restaurants, other coffee shops, and a host of public markets to distribute their coffee beans at wholesale prices.
Furthermore, Laidrey provides a variety of programs that assist others in achieving success in the industry, such as menu development workshops, equipment training, and much more.
Tandem Coffee
Kate Herling, the founder and CEO of Tandem Coffee, had a vision for coffee that was not only delicious and ideal for your health, but also better for the environment.
Herling states that the concept for the company came to her while she was four months pregnant. She needed to stay hydrated during her pregnancy, but she didn't like drinking plain water and didn't want to resort to flavored drinks that are filled with notoriously unhealthy sweeteners and additives.
This is when Tandem Coffee was born.
Tandem was created based on three simple ideologies:
Keeping her clients happy and healthy by ensuring that her beverages would keep them not only energized, but also hydrated.
Sourcing and maintaining coffee using sustainable methods, eliminating waste, and minimizing carbon footprints to the greatest extent possible.
Implement ethical business practices that benefit those involved in the supply chain and beyond on it. Not only does she support her local community by donating a significant portion of their revenues to local charities, but she also ensures good partnerships with farmers through transparent business operations. Every step along the journey, everyone gets fairly compensated.
This might very well be the most "guilt free" cup of coffee you've ever experienced.
Every bag of coffee includes certifications proving that all products and packaging were sourced responsibly. Herling's mission includes protecting biodiversity throughout cultivation and building close ties with farmers while producing the highest quality beverages possible.
Tandem Coffee has pledged that by the end of 2022, all goods will be 100 percent recyclable/compostable, and distribution operations will be carbon negative.
Bean and Bean Coffee
Rachel and Jiyoon Han are a mother-daughter team that started their first café in New York in 2008. However, they have subsequently expanded their operations into four successful locations since then.
One of the most astounding things about this mother-daughter duo is that both are Q Graders, a certification which is the coffee equivalent of being a wine sommelier. To put this into perspective, there are only about 300 Q graders in the United States.
Bean and Bean work diligently to provide equality by closing the gender gap in the industry. They observed that women make up around half of the coffee industry's workers, yet earn less than their male counterparts.
From all the steps that take the coffee bean from the farm to your cup, they take the initiative to employ women and provide them with proper wages and positions of authority inside the company. On the coffee side of things, we've had the pleasure of trying their exotic Geisha coffee and were floored by its quality and flavor.
They do not, however, stop at gender equality; they also ensure that farmers are not underpaid by offering proper compensation through certified fair trade business ethics.
Lastly, Bean and Bean actually take precautions to obtain their coffee using environmentally friendly techniques that preserve biodiversity. They make the most of the resources that are readily available without jeopardizing the environment.
Equator Coffees
Equator Coffee is well-known specialty coffee roaster and brand known for not only its spectacular coffee, but also its deep commitment to Fair Trade and sustainable practices. Even as far back as 1999, the company had joined Fair Trade USA as one of the pioneers of establishing equitable pay for coffee farmers.
Since its inception in 1995, the company has grown into a household name amongst coffee connoisseurs with 9 locations in California. In 2001, the company became the first coffee brand in California to officially qualify as a Certified B Corporation. A B Corporation is a private certification awarded only to companies that have passed rigorous standards for social and environmental performance.
Did we also mention that we love their coffee. We've had a chance to try a number of their offerings and can say from personal experience their coffee is exceptional. Read our full Equator Coffee review for more details.
Simpli Press French Press
Jenni Morse is the founder of Simpli Press which is uniquely-designed French Press brewer that's as innovative as it is elegant. It's the recipient of the New Product Award at Coffee Fest and its award-winning design looks to enhance the quintessential French Press brewing method. The product was engineered on every level to brew supremely robust coffee while being easy to use and easy to clean.
However, like many of the woman-owned coffee brands on this list, Simpli Press is more than a company selling a product. Driven by a desire to empower women in business, Morse donates 10% of the company's net profits to women and children in the coffee industry along with those involved with STEM and entrepreneurship programs.
Noting the disproportionately low number of women patent holders (13%), Morse has made it her mission to help foster equal opportunities for the under represented segments of the coffee industry.
Woman Owned Coffee Brands: Final Thoughts
The importance of brand identity cannot be understated, especially in the coffee world. So while the companies listed above are in fact marketed as women owned businesses, make no mistake that their brand identity is first and foremost founded on delivering a quality product. These woman entrepreneurs in the coffee industry have proven their ability to forge a path of success where none previously existed.
Having a Suggestion for this Women Owned Coffee Brands list?
Have you had a chance to try any of these woman owned coffee brands or do you have any additions to recommend? If so, we'd love to hear your feedback in the comments below.