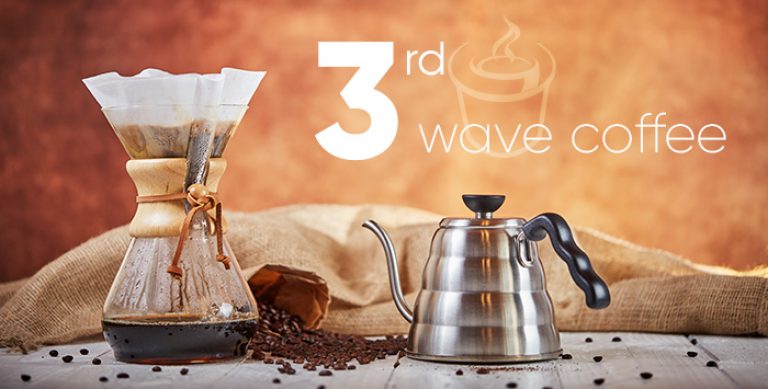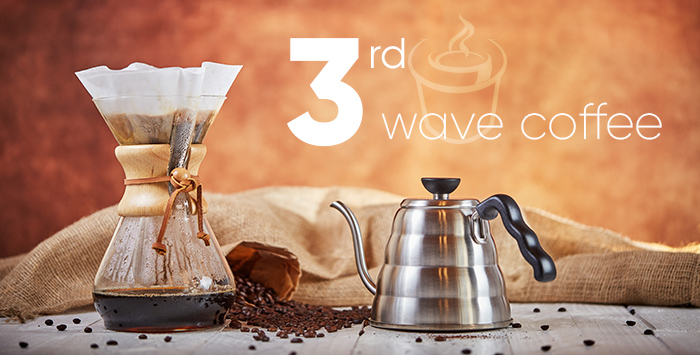 In Europe, coffee is meant to be savored, sipped, and enjoyed, often brewed in an ornate urn or French press and served in tiny demitasse cups. In fact, the French refer to poorly brewed drip coffee as "jus de chausette" (sock juice). Americans, however, often make or order ample supplies of their favorite bitter or overly sweetened brew and gulp it down without a second thought. Due in large part to the to the rush of the caffeine-powered millennials with specific tastes, coffee trends are evolving. If you're a coffee drinker, you may have heard of the term third wave coffee thrown around your social circles. American coffee habits have survived three distinct waves which represent chapters in the storied history of coffee development. Third wave coffee is currently a growing national movement that has already changed the coffee's global personality. But what are these waves and what do they mean for the future of coffee lovers nationwide?
First Wave Coffee
The first wave of coffee consumption began in the 1800s when farmers and snake oil salesmen alike took their turns at becoming legitimate entrepreneurs. Coffee was a special crop that was practically ready from the field to pot, so it was an affordable solution for converting perennial harvests into serious profits. While coffee connoisseurs may find many mass-produced drip perk brands lacking in taste and substance, early household names, catchy slogans, and the invention of instant coffee set the coffee industry in the right place so it could later take the world by storm.
Second Wave Coffee
Once the 21 century hit, coffee's integral part of global lifestyles couldn't be ignored or dismissed. However, there is a difference between being part of a lifestyle and being a lifestyle on its own. First wave coffee was crucial to introduce the crop and to supply million of consumers around the world with ample supplies of the caffeinated goodness. However, the first wave began losing power toward the end of the 20th century as there was no real hook to ensure new generations with changing tastes continued drinking the bitter brew.
The second wave of coffee was born out of a global outcry for better tasting coffee options. Coffee was ready for a serious face lift and the latter was already occurring in Seattle. Using the upscale standards of the wine industry as inspiration, the quality of the beans and established roasting techniques were overhauled. Specialty beans, flavors, and European-style brewing techniques and words such cappuccino, espresso, latte, and French Press entered the American scene.
Before long, Starbucks literally became the poster child of second wave coffee, and other companies followed suit. Suddenly, brick-and-mortar coffee houses not only dotted the American landscape, they consumed it. Daily coffee consumption and socializing went hand-in-hand and the modern coffee haunts evolved into hot spots. Second wave coffee turned American's daily habit into an experience. However, the fancy names, dessert beverage options, and high-end lifestyle associated with the daily habit began to wane. Thus, the door to a new wave opened.
Third Wave Coffee
Continuing into the third wave requires a lot of momentum, energy, and creativity most second wave baristas just can't muster. The term "artisanal" conjures mental images of original folk ware and artwork, exquisite edibles created with the utmost care and artistic flair, and tiny cups of caffeinated beverages in a Parisian cafe or trendy European bistro. It took a while for Americans to demand the quality of coffee and caffeinated beverages that their European brethren live, eat, and breathe. But it finally happened, hence the birth of the Third Wave Coffee Movement.
The third wave of coffee focuses less on the fanciness of the presentation and complexity of the terminology. What it does focus on is the quality of the product. Using a "grass roots" approach, companies like Herkimer Coffee to treat coffee more as an artisanal food source than a commodity. Herkimer coffee, like many other companies that embody the third wave mindset, is a great example of a company that stayed small to maintain its quality of coffee and relationships. They stayed true to what they do best and care about most. Check out our Herkimer Coffee review to learn more about this unique coffee company. This approach is reflected in improvements on every level of production from growing and harvesting to industry relationship building and roasting techniques. "Micro roasting" is a new technique discovered in third wave coffee. The difference can be highlighted in a simple but effective comparison to store-bought canned beer versus microbrews. New brewing devices and techniques have added to the overall enjoyment and flavor enhancement of the Third Wave Coffee Movement.
Best Third Wave Coffee
In order to truly appreciate Third Wave Coffee for what it is, you can't just read about it. Experiencing the subtle tasting notes and irresistible aroma is the only you'll know for yourself. As such, we've selected some of the best Third Wave Coffees available on the market for your sensory pleasure.
Lifeboost Coffee Dark Roast

Complexed flavor with smooth aftertaste

Low acidity with very full flavor

Get 20% off with code: BESTQUALITY

Caramelized Sugars, Nutty, Chocolate, Rich notes

Sourced from Peruvian highlands

Get 20% off with code: BQC20

Dark chocolatey and citrusy with extremely refined notes

Sourced from Honduras and Ethiopia
Will There Be More Waves?
Coffee has come a long way over the past two centuries. From its introduction to stay-at-home housewives and heyday as a household name found in every kitchen pantry to its social power via fancy brew hot spots, coffee's personality has received many face lifts over time. The third wave is a less trendy way to enjoy coffee by those who truly care about flavor, quality, and environmental impact. So will there be a fourth wave? Oh, yes, and likely more. As long as the world continues to finding more ways to enjoy its favorite brew, why wouldn't you want to continue riding the wave?