For this Simpli Press review, we look at a number of the key benefits of this innovative French Press coffee maker. [Updated 7/23/22]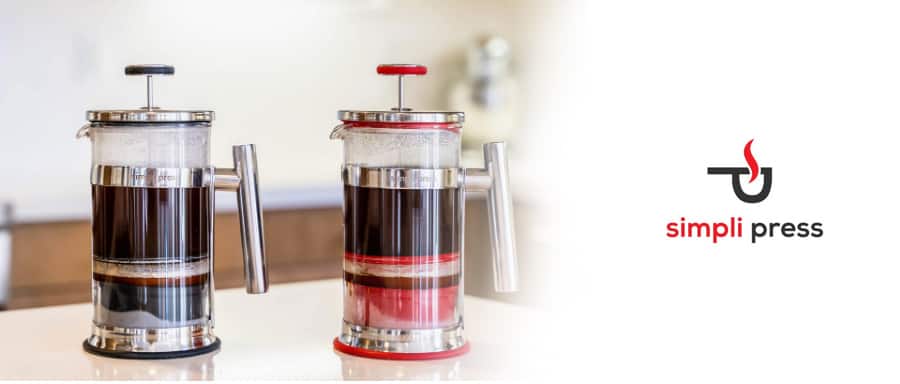 The French Press is a very popular brew method among coffee lovers and for good reason. Because this method involves the coffee grinds being fully submerged in water, the final cup of brew delivers a certain richness not found in other methods.
The biggest drawback of the French Press is that the cleanup can be messy. Additionally, coffee grounds can spill everywhere and getting every last singular ground out of the French Press can be tedious on even a good day. If I'm being honest, while I love the taste of a robust French Press coffee, the reasons listed above are why I often go with other brew methods.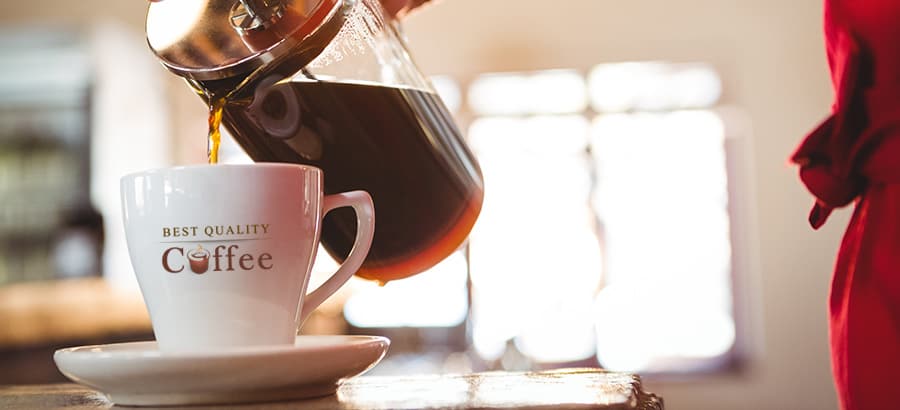 It's in this area of need in which one company called Simpli Press has sought to make an impact. Manual brewers such as the French Press are loved by connoisseurs who appreciate being able to control brewing variables such as steep time, water temperature, and water pressure. The benefit of being able to really dial in a cup of coffee comes at the expense of convenience.
The main goal of this company was to develop a product that maintained all the positive qualities of this brew method while making the cleaning process easier.
Related: Tips for making the best French Press Coffee
Simpli Press Features
The Simpli Press comes with the following features:
Comes with a premeasured coffee basket (30g line and max gram line)
Comes with dual laser-etched filter capable of steeping fine grounds
34 oz vessel
Features patented Easy Catch System in which coffee filter, basket, and plunger system can be lifted up together for easy cleaning
Easily make grit-free coffee
Made with no plastics
The Easy Catch System is one of the most unique qualities about this French Press. It's a convenient system where the coffee filter, basket, and plunger can all be moved together. The grounds can be dumped and the containers and its pieces washed. I know the feeling of trying to clean up a regular French press plunger after brewing, and it's definitely not as easy as what Simpli Press offers.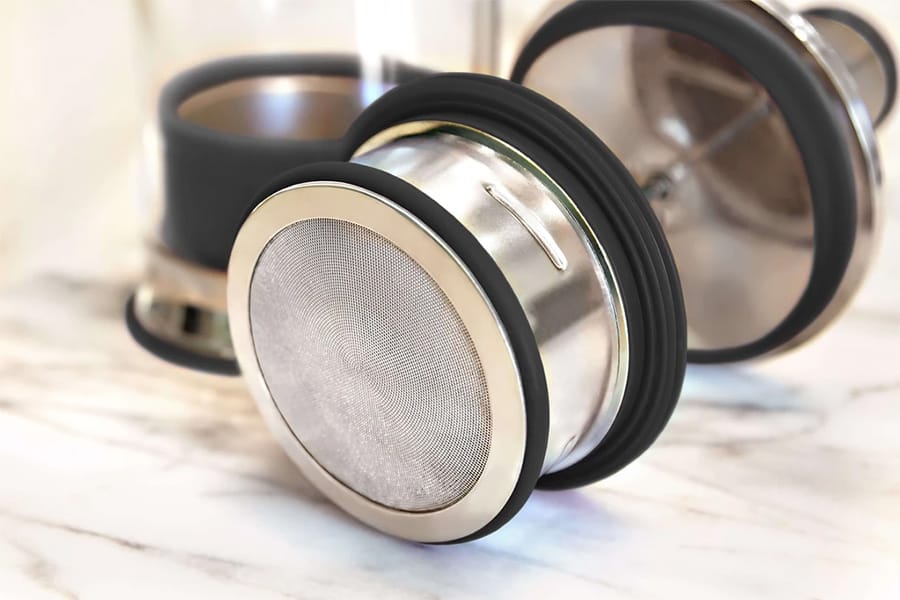 Another convenient thing about this French Press is that it comes with a coffee basket doubles as a measuring cup. As someone who values ingenuity and good design, I really appreciate this. It's just one less thing to bring out when I go through my morning coffee routine.

Simpli Press Review: How is the coffee from a Simpli Press?
Ok, so it's easy to cleanup. But how's the actual coffee?
Simpli Press makes exceptionally smooth coffee absent of bitterness. The secret lies in the Simpli Press filter. Simpli Press comes with a dual laser-etched filtration system that allows for the use fine grinds similar to those used in espresso machines. Being that brewing coffee is all about chemistry, these finer grounds result in a fuller flavor extraction and an ultra smooth cup of Joe. This is contrary to your average French Press that can only support coarse grinds. Many other Simpli Press reviews out there have confirmed similarly positive results.
This specific filter also serves another benefit. Because the filter openings are so small, it means gone are the days of those annoying grinds sneaking through the filter and into your fresh brew. Anyone who's ever used a French Press will deeply appreciate this.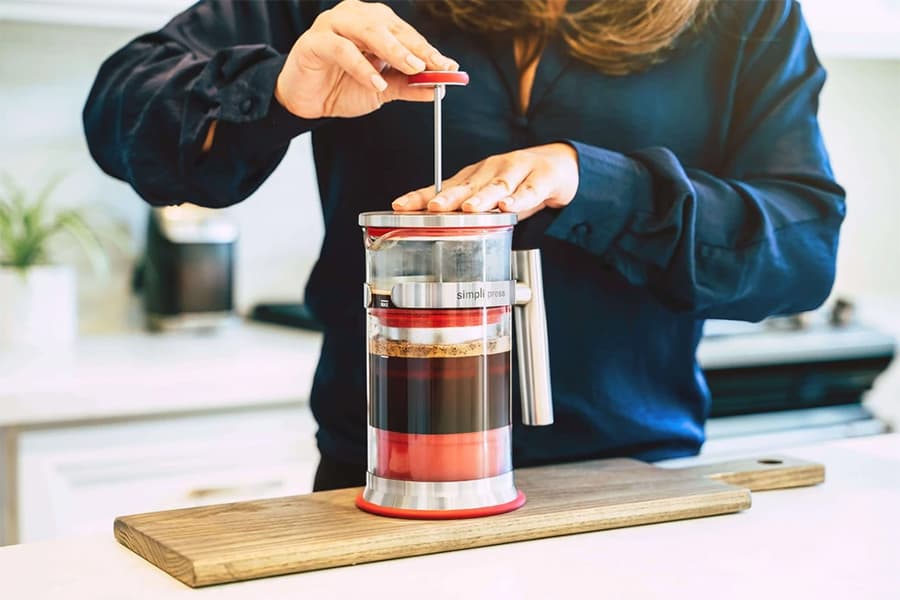 Combine this with the added richness that comes from this method of brewing, and you've got yourself an exceptionally refined and robust cup of Joe.
Many Simpli Press users have also been sharing that they've made their best cup of coffee yet using this particular French Press. Those who take their coffee seriously, will tell you that the choice of brew method is often times even more important than the choice of beans. I think Simpli Press is a testament to the fact that quality brewers help make quality brews.
Simpli Press Review: Craftsmanship
I appreciate the extra level of quality and care they put into the materials of this French Press. The brewer is weighty and feels very durable when held. Meanwhile, the various parts of the system have fit perfectly with each other making the any assembly and disassembly super quick. The Simpli Press is made from only glass and stainless steel. Those concerned about BPA's and exposure of plastics to extreme heat, you can rest assured knowing this is a plastic free brewer.
With the Simpli Press, you don't need to use paper filters. While that's not one of the product's main selling points, it's still nice to be doing our part in reducing our environmental footprint.
Did you know you can also make tea with this brewer? While I'm a coffee lover through and through, I do drink jasmine or green tea on occasion. The versatility of this device shines in serving as both a coffee and tea brewer.
As you can see, the benefits of the Simpli Press brewer are many. With its host of convenient features combined with sturdy construction, it's certainly not your average French Press.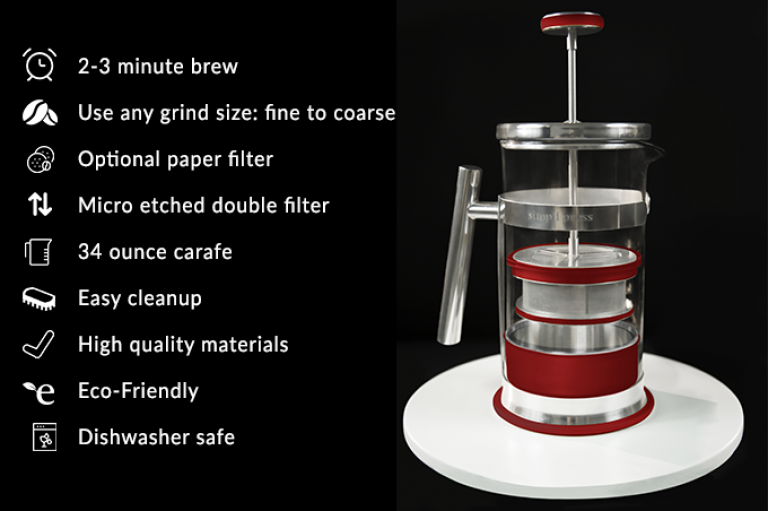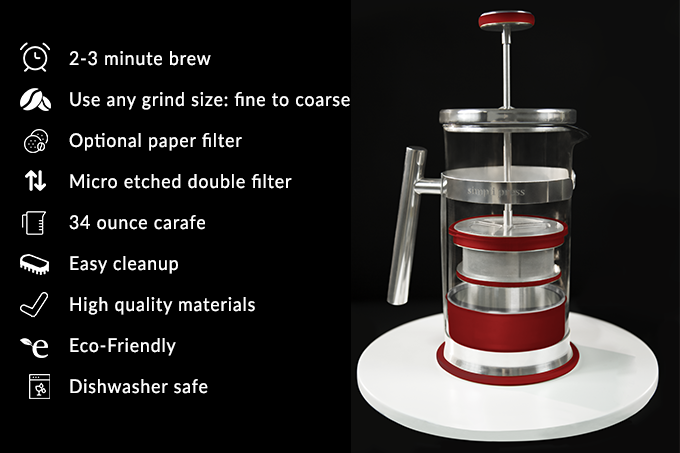 Simpli Press: Final Thoughts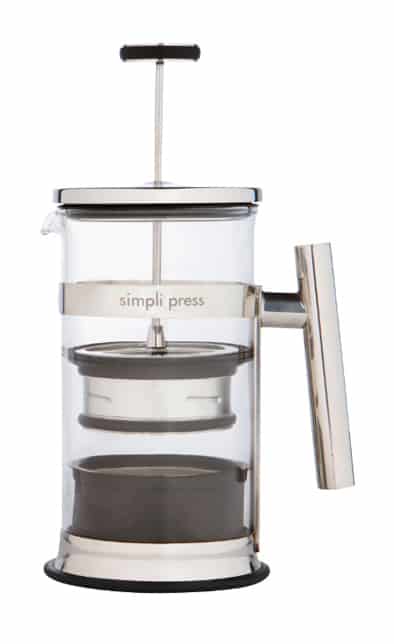 In closing this Simpli Press review, this product delivers exactly what you'd expect from high-end French Press. We acknowledge that this French Press is more expensive than most. However, as is the case with so many purchases in life, you get what you pay for. And as the saying goes, "life's too short for bad coffee."
The company clearly went to extra lengths to ensure the release of a quality product that does what it says and more. The weighty feel to the pieces reflect a solid craftsmanship I'd come to expect out of a high-end French press. It makes one impressive cup of smooth, rich, and complex coffee while effectively taking the the chore out of cleaning the brewer.
It's a kitchen tool that's as beautiful as it is effective. Yes, there's a slight learning curve required to get used to operating this brewer, but it's well worth the investment as you'll be producing a richer, deeper flavored coffee in minimal time.
What originally started as a Kick Starter project back in 2019 has matured into a promising brand looking to boldly redefine a brewing method that's been around for almost a century. So in answer to the question we posed in the title of this article, "Is Simpli Press one of the best French Press makers available?" We say yes.
If you're interested in purchasing what we consider to be one of the finest French Presses out there, use the following Simpli Press discount code / coupon to get 10% off your entire order
Sorry, no coupons/deals found.
Bonus Tip: Did you know that coffee made in a French Press is typically less acidic than coffee made from other brew methods.
Related: Article Tips for making the best French Press Coffee