There are two main species of coffee: Robusta and Arabica. Those terms may seem foreign or even intimidating to you. But we're here to break down their differences and definitions simply. Being that there are two main species of coffees, it's common for coffee lovers to speculate on their differences. In this article, we'll go over the real differences between Robusta and Arabica coffee. More importantly, we'll explain why these differences matter.
Later in this article, we'll also give you our top picks for the best Arabica coffee beans and best Robusta coffee beans.
Robusta versus Arabica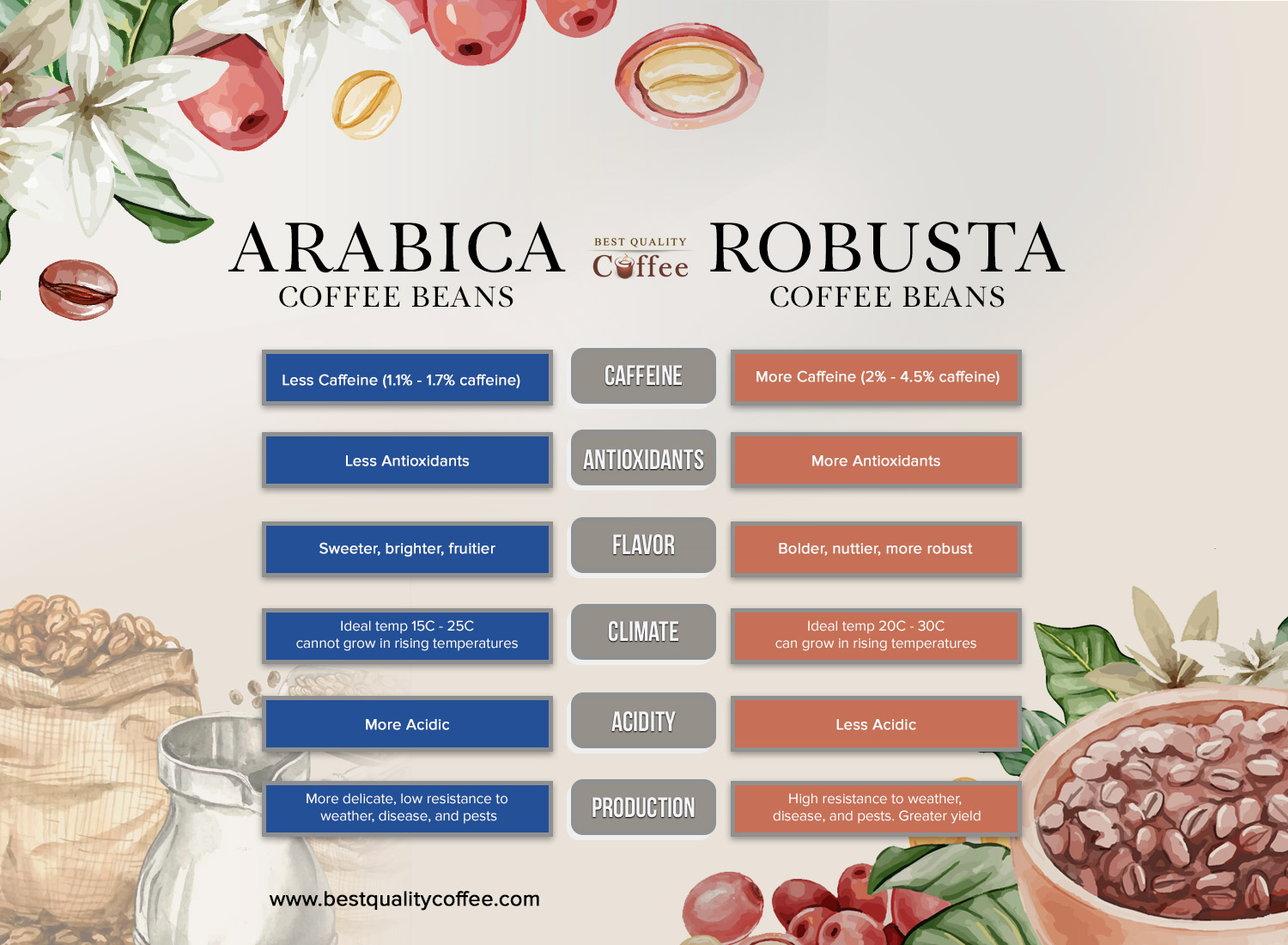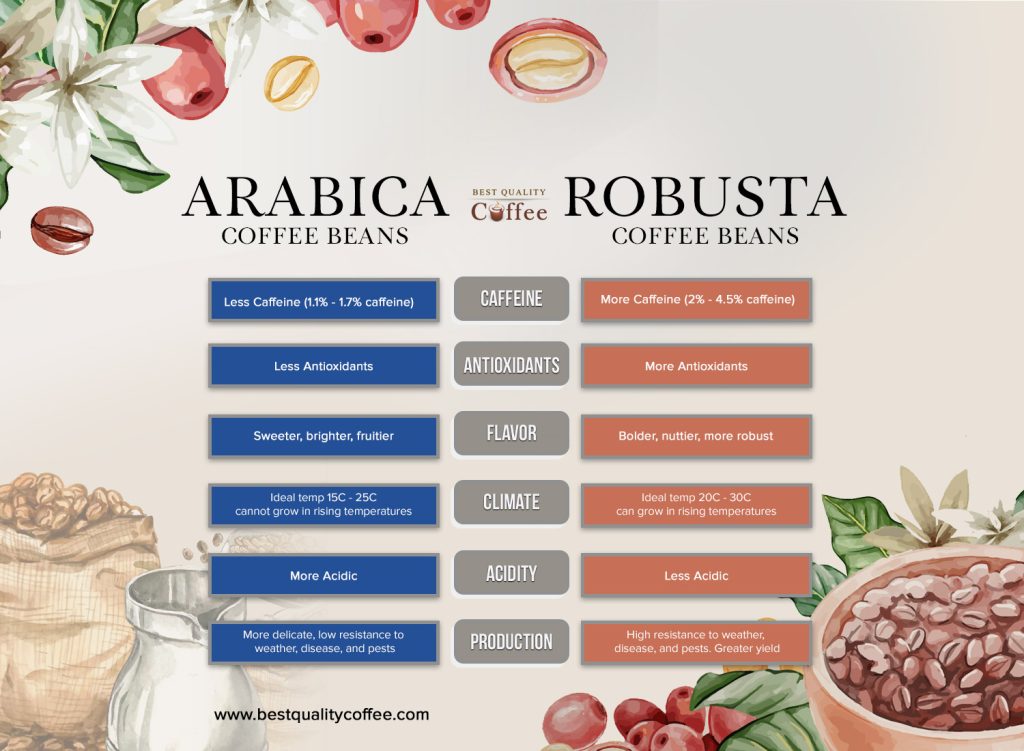 It should first be noted that Arabica is the bean of choice when it comes to specialty coffee or Third Wave Coffee. When looking at a bag of premium coffee, you may notice it says "100% Arabica Coffee Beans". These types of coffee beans are invariably selected for their sweeter characteristics which coffee lovers overall tend to appreciate. Knowing this, it would be easy to simply assume that Arabica beans are "better" than Robusta beans. But that's not necessarily always the case as we'll illustrate in this article.
Caffeine Content
Robusta has almost twice as much caffeine as Arabica. Mind you, the daily recommended amount of caffeine is 400mg which amounts to about 4 cups of regular coffee. However, if those 4 cups are made from Robusta coffee, you'll well exceed 400mg.
Related Article: Am I Drinking Too Much Coffee?
This extra does caffeine probably explains why Robusta is more likely to be found in Italian espresso. People want their espresso to pack a caffeinated punch, and Robusta delivers. Robusta is also preferred by many espresso lovers because it produces superior crema, or froth on the top. In these areas, Robusta definitely beats out Arabica if you're talking about purely caffeine content.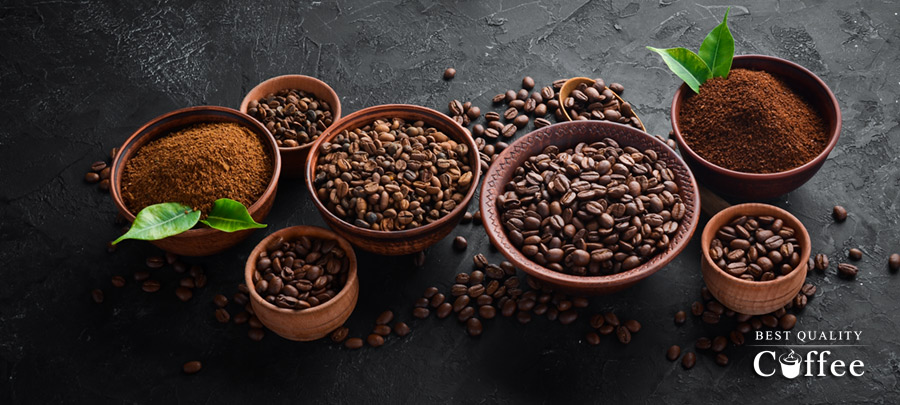 Taste
Looking at taste, the winner is clearly Arabica, which naturally contains more lipids and sugar than Robusta giving it a more pleasing taste. Robusta is low in acidity but high in a refined bitterness. Mind you, this type of bitterness is not necessarily a bad thing as many coffee lovers appreciate a sharper taste in their morning brew.
This doesn't mean that Robusta doesn't make a quality coffee; there are high-end Robustas out there, but Arabica is still more likely to comprise the top and highest quality coffees in the world.
100% Robusta coffees are often found in instant coffee. Having said that, specialty instant coffees which is an upgrade to standard instant coffee is likely to source Arabica or a mixture of the two.
Moreover, there are many coffee brands that leverage the benefits of both bean species. For example, a Vietnamese coffee called Nam Coffee uses a 70% Arabica / 30% Robusta blend for a delightfully sweet, smooth, yet very robust (no pun intended) brew. Robusta is often used creatively in blends to infuse the brew with an extra kick of robustness.
Acidity
Robusta typically will have lower acidity than Arabica beans. This is due to a variety of factors such as their ideal growing conditions and climate. It's often said that Robusta beans will be "strong, nutty, and robust" while Arabica beans will be bright, citrusy, and fruity. Of course, it will also depend on which specific variety of bean you're comparing and what region they were grown in. For example, an Arabica bean grown in Jamaica versus Brazil will yield very different levels of acidity. Sumatran coffee is known for its low acid characteristics.
If you're looking for low acid coffee, check out our full list.
Production and Growth
Moving on to ease of production, we see that Robusta coffee is cheaper to produce and easier to care for. Approximately 25% of coffee grown worldwide is of the Robusta variety. The remaining 75% is made up of Arabica beans. Arabica coffee plants take longer to mature, but Robusta trees grows taller. Since Robusta is easier to grow and more disease resistant than Arabica, it has especially high yield. By virtue of its increased caffeine content, the Robusta plant is more resistant to pests making it a hardier crop than its more delicate Arabican countepart.
Brazil is the largest producer of Arabica Coffee while Vietnam is the largest producer of Robusta.
Physical Appearances: Shape
Robusta beans have a more circular shape than their Arabica counterparts. Arabica beans are more oval.
Cost: Arabica versus Robusta
Robusta is cheaper to produce and Arabica more expensive. But if you're looking at global coffee production, Arabica brings in more revenue overall as there is simply greater demand for it. This fact is largely attributed to the taste of these beans. As we mentioned earlier, Arabica beans offer a more complex, sweeter, and refined flavor. These are characteristics that are highly valued by those who prefer Third Wave and Specialty coffee. In short, most people think Arabica coffee tastes better than Robusta.
Having outlined some of the key differences between Robusta and Arabica beans, it's now time to go over our top picks that are certain to give you an authentic experience with both species.
Best Arabica Beans
Brilliant floral notes of Hibiscus, lime, tangerine

Low acidity with very full flavor

Get 10% off with code: BESTQUALITY

Caramelized Sugars, Nutty, Chocolate, Rich notes

Sourced from Peruvian highlands

Get 20% off with code: BQC20

Incredibly clean and robust flavor. Ideal for coffee purists

USDA Organic and Fair Trade Certified Guatemalan coffee

20% offf by signing up for newsletter
Best Robusta Beans
Single origin Peaberry Robusta beans

Imported from Vietnam, roasted in Brooklyn

Flavor Notes: Scotch, Grapefruit, Zest, Bitter melon

Balance of Arabica / Robusta

Convenient Single Serve Pour Over packs

Flavor Notes: rich chocolate and nutty undertones with a smooth finishNew List Item

Flavor Notes: Citrus, Hazelnut, Cacao and full bright and punchy flavors
Arabica Versus Robusta: Final Thoughts
As you can see, there is no "better" when it comes to comparing Arabica and Robusta beans. Most coffee connoisseurs who focus on flavor profiles alone will choose Arabica. At the same time, those who enjoy a strong espresso shot with an extra boost of caffeine may often choose the Robusta beans. Either way, I would suggest trying out both to see which is a better fit for your taste buds. Personally, I appreciate a mix of Arabica and Robusta.
Fun fact: There's actually another lesser-known coffee bean known as the excelsa coffee bean. It's considered a variety of the Liberca genus.