For the last week or so, I've been spending time with some specialty brews from Pure Origin Coffee. As per its name, it's a brand that places a premium on transparency when it comes to sourcing their coffee. Coffee companies who play an active role in the sourcing process typically produce an impressive and noteworthy cup of Joe. So how is their coffee, and do they live up to their namesake? In this Pure Origin Coffee review, we find out.
Pure Origin Coffee Review
Pure Origin Coffee sent me three different coffees each sourced from three different growing regions – Peru, Kenya, and Indonesia. These coffees are all single origin coffee beans which means each bag contains only beans grown from the same farm or geographic region. In other words, these are not blends. For those who may not know, single origin coffee typically delivers a higher quality coffee experience than blends.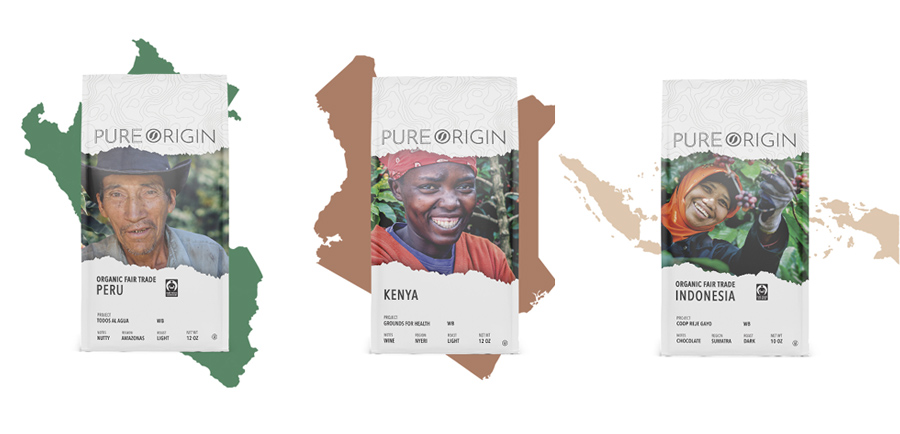 Packaging
Before jumping right into this Pure Origin Coffee review, allow to mention a few things about the packaging. Pure Origin does a lot to enrich the coffee drinking experience and their brand from a visual standpoint, is very professional. They use things like Augmented Reality, coffee farmer stories, and personal packaging to help tell the story of where your bag of coffee came from. It is a true "pure origin" story that unpacks a lot of information about your coffee and why you should be drinking it. I appreciated all of the extra details they added to help connect the customer with the actual farmer who grew the very beans in their bag.
Coffee Taste: Peru
This was my favorite coffee of the three and its noteworthy for a number of reasons. As a light roasted bean, it yielded exceptional nutty flavors. I ground the beans in a burr coffee grinder then brewed the coffee in a drip coffee maker. I drank the coffee black and the end result was a truly delicious cup of coffee worthy of any connoisseur. The nuttiness of the coffee gave it a bold and smooth taste to it that I loved.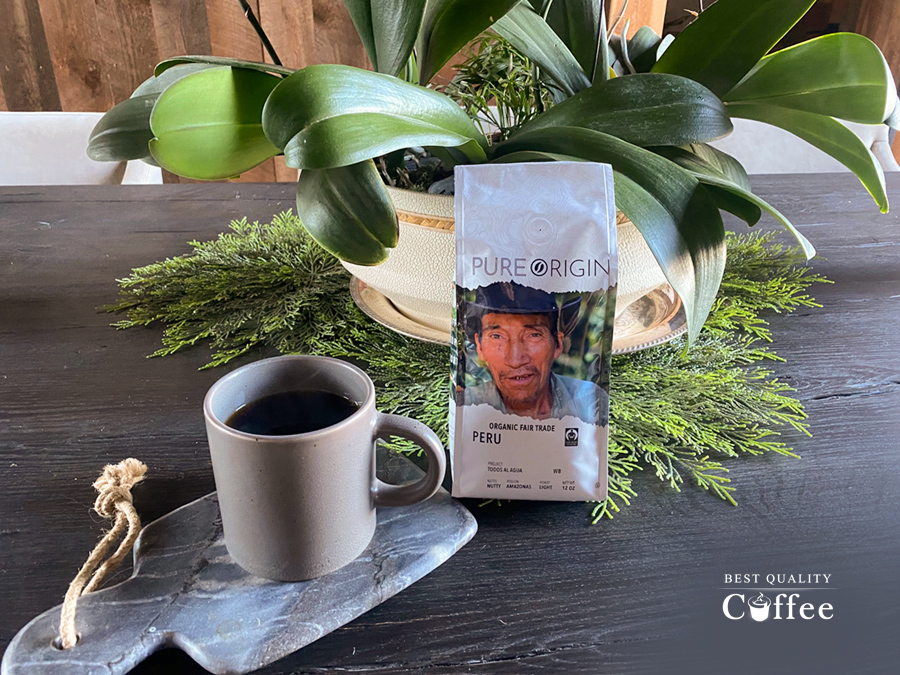 It was rich and light and was the perfect way for me to start my morning. Sometimes with lighter roasts, the coffee loses a sense of its boldness. However, this was an exception and my taste buds were much happier for it. I went back for a second cup and the second cup was just as good as the first. This coffee was also certified "Organic Fair Trade" and you can really taste the difference between organic coffee and regular coffee.
Coffee Taste: Kenya
Their Kenyan coffee was also very impressive. It was my second favorite coffee. Make no mistake, it is still a fantastic cup of coffee. It's just that I fell in love with the Peruvian blend so much that my heart had been completely won over.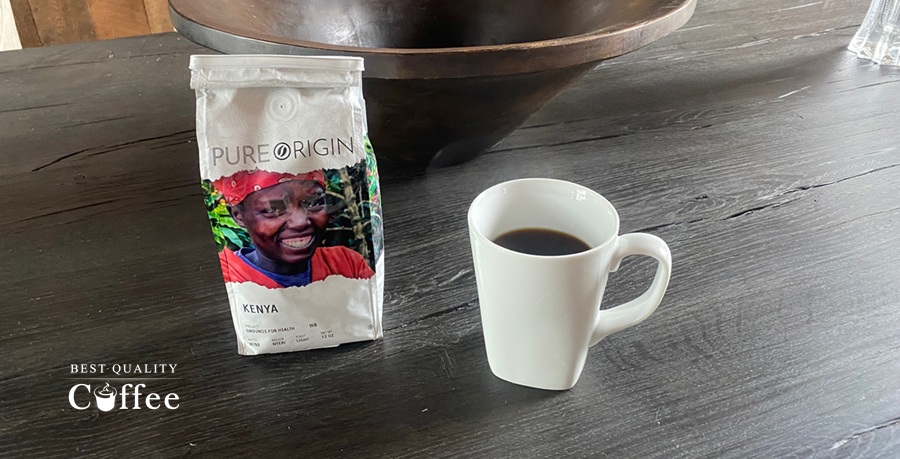 This coffee was grown in the Nyeri region of Kenya and is also a light roast with notes of wine. Like many coffees sourced from Africa, this brew had a delightful winey flavor. And what could be better than combining wine and coffee together?! The end result is a delicious cup of coffee that I drank black after brewing it in a drip coffee maker and grinding the whole beans to a fine blend. Each sip kept me coming back for more and the complexity of the wine notes in the coffee created a unique and pleasant coffee experience. If you are looking for a great coffee with complex full bodied flavors, this is the coffee for you.
Coffee Taste: Indonesia
This was another "Organic Fair Trade" coffee and although it is still a really strong and quality coffee, it was admittedly my least favorite of the three. This coffee is a dark roast, with notes of chocolate, grown in the Sumatra region of Indonesia.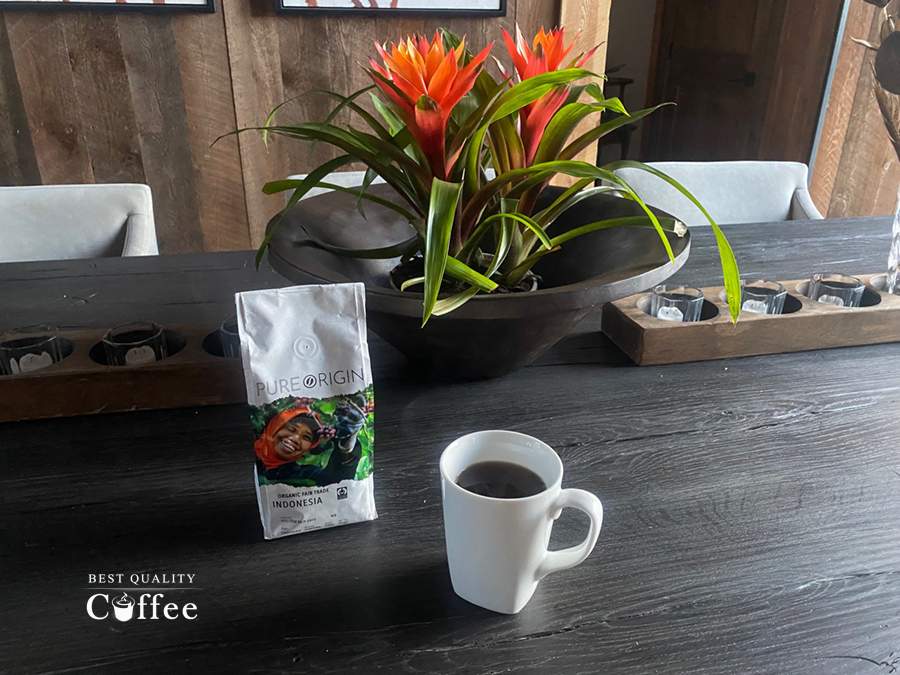 I have tried a lot of coffees from the Sumatra region, and for me, there was something missing in this dark roast. There was a boldness in flavor that I've come to expect out of a dark roast that just seemed to be lacking in this particular brew. Don't get me wrong, it is still a really great coffee, but it just wasn't quite up to the level of the Peru and Kenya bags. I drank the coffee black and still savored the experience. I definitely picked up the chocolate notes. I just wished the whole experience was bolder.
Being that coffee is all about preferences, someone who likes their dark roasts a little milder in flavor may appreciate this Indonesian coffee more than myself.
Pure Origin Coffee Review: Closing Thoughts
In closing this Pure Origin Coffee review, I believe this a brand certainly worthy of your hard earned coffee bucks. Their high standards for sourcing coffee along with their commitment to sustainability amount to a product that is what Third Wave Coffee and the Specialty coffee movement is all about. Pure Origin is a really unique coffee company that's clearly doing a lot for their farmers and the environments in which their beans are grown. Of the three coffees that I tested, two of them were certified organic fair trade which in and of itself shows they really care about the quality of their beans. If you have unusually high standards for coffee and are looking for a new brew to satisfy your coffee-loving heart, Pure Origin Coffee is a great choice.
Rating: 4/5
Use the following Pure Origin Coffee discount code to get 15% off your purchase:
Code: PURE15