Kona coffee is regarded as some of the most expensive coffee in the world. It's cultivated in the slopes of Hualalai and Mauna Loa in the northern and southern Kona Districts of Hawaii. Technically speaking, only coffee from these districts can be officially considered as real "Kona" coffee. The uniquely favorable coffee-growing climate makes for an exquisite coffee bean that is unmatched on levels of taste and quality. As with any market niche, there's often a mixed bag when it comes to quality. Some Kona Coffee brands use low quality Kona while others use very low amounts of Kona. We believe that in order to truly enjoy the experience of Kona coffee, you need to buy 100% pure Kona from the right company. One such company that has earned a name in the Kona coffee world is Lion Coffee. Check out our Lion Kona coffee review below to see why.

Lion Coffee started in 1864 bringing more than 150 years of coffee wisdom to the table. Their long-standing presence in the Kona coffee industry speaks to the company's ability to stand tall and firm in a highly competitive arena. Lion Coffee prides itself on using only premium Kona coffee beans and offers a Kona experience that's genuine in every sense of the word.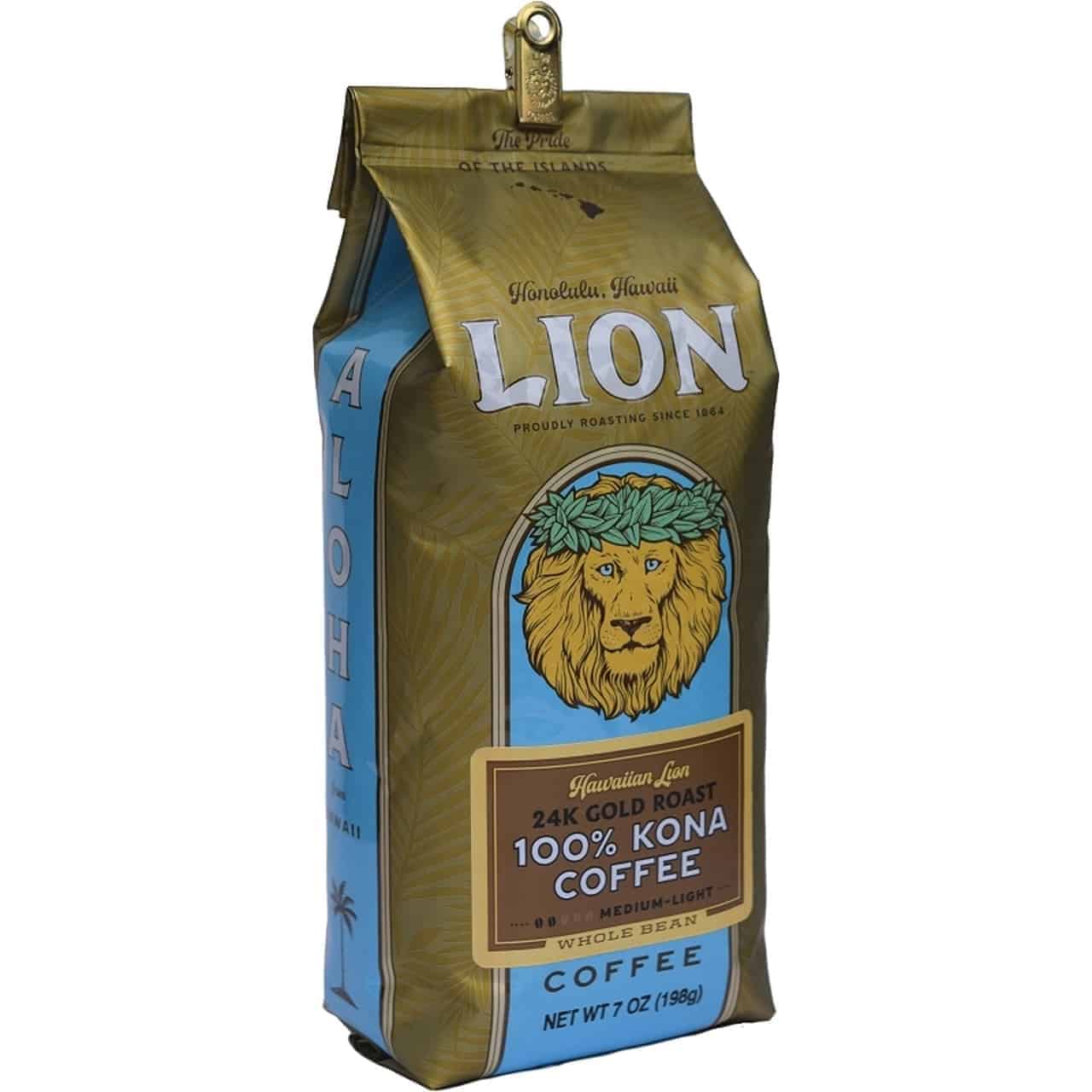 Now onto the coffee itself. First up we have something for dark roast lovers. The Lion Coffee Kona French Roast is nothing short of a Kona coffee masterpiece. It's wonderfully balanced and delivers an authentic Kona coffee experience. To describe this blend as smooth, dark, and rich would be an understatement. The Lion Coffee Kona French Roasts takes on these particular qualities and enhances them 10 fold. As most coffee lovers know, French Roasts are naturally on the darker side and so with that comes the risk of an overly bitter aftertaste. While this bitterness is sought out by some, it also can be overwhelming for others and ruin an otherwise good drinking experience. The Lion Coffee Kona French Roast addresses this issue by combining the best of both worlds. Kona coffee itself is often known for its incredibly smooth characteristics which serve as the perfect balance to the natural bitterness of a bold french roast. We highly recommend this blend for anyone looking for a dark roast Kona coffee experience.
If a dark French Roast isn't your preference, Lion Coffee offers a light medium roast version of their 100% Kona blends. The Lion Coffee Kona Blend is made from the best of Kona coffee harvests right from the Kona coast. As noted earlier in this Lion Kona coffee review, it's important to know exactly where your Kona beans come from. As one of Lion Coffee's top-selling products, this Kona blend will literally have you redefining what you consider to be high-end coffee. Interestingly enough, there are many non-coffee drinkers who converted into full time coffee lovers after having tried Lion Coffee Kona blend. Even as a light medium roast, it's unquestionably strong but without the bite.
At the end of the day, Lion Coffee offers some of the best in pure Kona coffee products. Within minutes of putting these into your favorite coffee brewer, you'll be teleported to the relaxing and soothing Hawaiian coasts while sipping on your 100% pure Kona cup of coffee.
As many people already know, the world of exotic Kona coffee can often be a mixed bag. Some companies offer as little as 10% real Kona in their blends. Check out our full Kona coffee guide for more tips on what to look for when shopping for Kona coffee.
If you'd like to leave a Lion Kona Coffee Review, we'd love to hear from your experiences.
What's the Best Roast for Kona Coffee?
The answer to that question will depend on your personal preference. A light roasted K Cup will allow more of the bean's natural flavorings to express themselves. Additionally, any additives or artificial flavors are likely to be more distinct. Dark roast K Cups tend to mask a brew's overall flavor with a smoky taste. This isn't a bad thing however as many people love dark roast coffees for this very reason.