[Updated 1/11/2023] Believe it or not, there are many coffee lovers out there who've never heard of Kona Coffee. What was once a little-known type of specialty coffee has catapulted itself into global coffee stardom. The following guide will discuss what Kona coffee is, why it's so special, and recommendations for buying the best Kona coffee on the market.
Best Kona Coffee at a Glance
| | | |
| --- | --- | --- |
| Cinnamon, caramel, plum, a hint of cacao and cedar. Deeply sweet and rich | This full-bodied, Private estate reserve, is superbly aromatic and smooth | Robust flavor with coveted sweet spots and smooth low acidity |
Making up just 1% of the world's coffee beans, Kona Coffee is both rare and a favorite amongst coffee connoisseurs. The following companies represent some of the best Kona coffee beans in the industry that are certain to be worth your hard-earned coffee bucks.
Best Kona Coffees of 2023
Starting off our list of the best kona coffee beans on the market is none other than Big Island Coffee Roasters. This company has won more awards than any other craft roaster in Hawaii. And considering how competitive the world of Hawaiian coffee is, that's saying a lot. Their Peaberry Kona delivers the quintessential Kona experience with its light medium roasted brew.
The company sources Grade 1 Extra Fancy Kona beans which is the highest quality Kona bean possible. The final brew yields distinct notes of cinnamon, caramel, plum, a hint of cacao and cedar. It's also deeply sweet and rich.
Formed in 1968, Royal Kona produces exceptionally high quality Kona coffee that's earned a position in virtually every fine-dining and upscale hotel establishment in Hawaii. They offer coffee that's 100% Kona along with the option for a 10% Kona blend. We tried Royal Kona's Medium Roast Private Reserve and loved how smooth and earthen the coffee was. It lives up to its namesake of being called "Royal". If you're palette likes smooth and silky, it's sure to welcome Royal Kona with open arms.
As another well-established name in the Kona coffee game, Lion Coffee offers 100% Kona blends designed to harness the full flavor and depth of Kona coffee. Their Kona coffee comes in two different roasts including a light / medium Gold Roast and a dark French Roast. Lion Coffee's Kona beans are marvelously balanced in flavor and offer an amazingly smooth coffee experience.
Carta Coffee Merchants is another company on this list that produces a phenomenal cup of Kona brew. We've had the privilege of trying a variety of their brews from their popular Captain's Roast to their lighter but more complex Meridian Roast. Even though all of the brews used the same Fancy or Extra Fancy grade Kona, I was amazed by the nuances of flavor between each flavor. All of their coffee is made from 100% pure Kona and grown in small-batch farms. Definitely worth checking out if you're looking to get the real deal Kona coffee experience.
Volcanica Coffee's Kona Blend is rated as "Extra Fancy" and offers 100% pure Kona so you can rest assured that you're getting the full authenticity of a true Kona experience. Volcanica Coffee's Kona brew is also considered low acid so it'll be gentle on your stomach. In 2006, Volcanica's Kona brew was recognized by Food and Wine magazine as one of the top 10 in the world.
Tips for Shopping the Best Kona Coffee Beans
What is Kona Coffee?
Kona coffee has appellation status, much like all good Italian cheeses and French wines. It can only be grown on the slopes of two volcanoes known as Hualalai and Muana Loa in Hawaii. This area which is known as the Kona Belt is only a 30 mile stretch of land that's 1 mile wide. With such little land within these areas, it's no wonder Kona is one of the rarer and more expensive coffees.
Kona uses Arabica beans and owes it's reputation to the unique growing environment on the Hawaiian mountainside. The last volcanic eruption in 1801 covered the slopes in lava, and has created a volcanic soil bed which is surprisingly high in nutrients. The volcanic mountains in this range can be anywhere between 500 – 3000 feet in elevation. This coupled with the sunny mornings, cloudy afternoons and mild nights of Hawaii, makes its ideal climate incredibly hard to replicate elsewhere.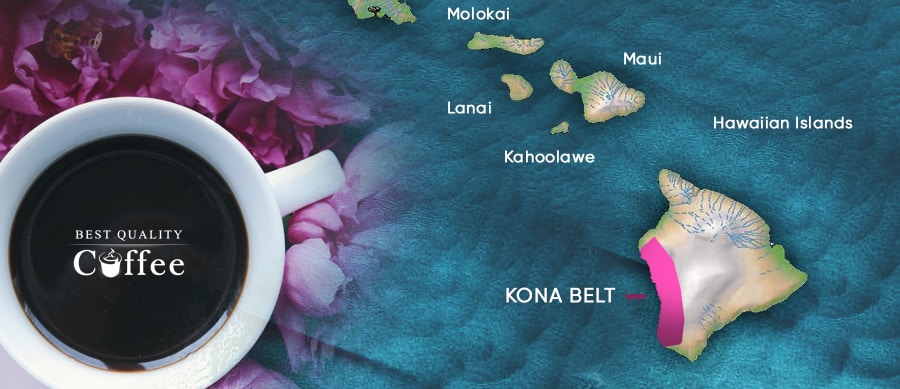 Kona also benefits from being hand picked by generations of coffee farmers which produces better quality coffee than the traditional machine picked and processed beans. One of the things you'll discover as you shop the best Kona coffee is that not all Kona coffee is authentic. You can't always trust the marketing on a package unfortunately. As a case in point, there was a recent Kona coffee labeling settlement that took place which required large retailers allegedly making false claims about the authenticity of the Kona beans they were selling. The moral of the story is that you should do your due diligence in making sure you're buying the real thing.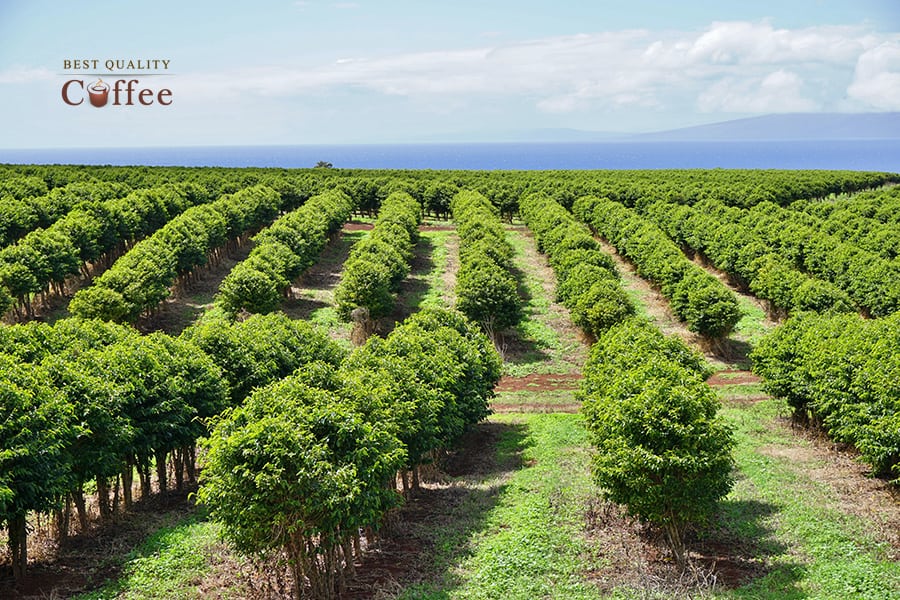 What does Kona Coffee Taste Like?
A good cup of Kona will typically be light, sweet and fruity with nutty undertones. A good Kona brew will be incredibly smooth as well. It should have an aromatic and smooth finish.
However, all Kona is not created equal and as a result, shopping for the best Kona coffee isn't always as a straightforward as you might think.
Stick with 100% Kona
Firstly, much like a good Scotch, it's better to buy from a single source rather than blended. A lot of the 'Kona' coffee beans/ground sold in shops will be a blend, and only have to contain 10% Kona beans. Obviously, having the full 100% will make for a much richer and more authentic Kona coffee experience. I'm of the mindset where if you're going to spend the extra money on exotic coffee, you might as well go all out if you can. At the same time, it should be noted that just because there's more Kona doesn't mean it tastes better. Every coffee lover has their own specific taste profiles so the best Kona coffee for you may look very different than your coffee-loving friend.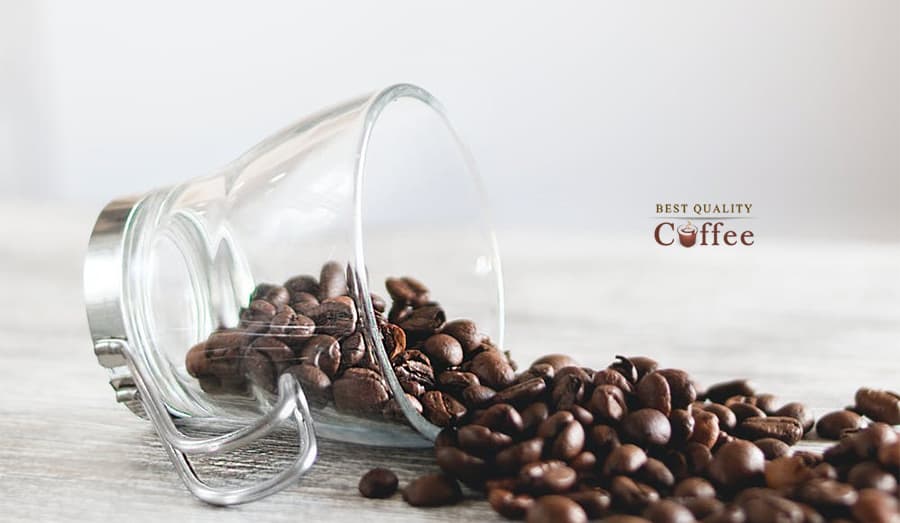 The next thing to be aware of when shopping the best Kona coffee is the grading of the beans. All Kona beans are graded by the Hawaiian agricultural society and are rated based on; size, shape, moisture content and the number of defects.
Kona Coffee Bean Grading:
Extra Fancy – this is the best of the best, with the largest and most moisture rich beans
Fancy – one step down, this coffee still contains highly graded beans.
Kona number 1 – this one has smaller beans but contains the same moisture content as the top two tiers.
Kona Select – this grading has no specifications on bean size
Kona Prime – if there's no grading label, then it's probably prime. This is the more affordable version of the bean.
Aiming for Grade 1 Extra Fancy will always remain your best option. However, don't get too caught up on the grading though, and just buy the best beans you can afford. I would simply just suggest going with 100% Kona so you can get the full and authentic experience.
Differences in Kona Grading
Unless you are buying pure Kona coffee, you should pay attention to Kona's HDA grade.
"Kona extra fancy", "Kona fancy", and "Kona no. 1" are all the same in the grading of cleanliness, color, and roasting qualities.
All three types of coffee beans have a good clean flavor, with no defect in their grading.
The "Kona Select", "Kona Prime", and "Hawaii No. 3" have the same color but with slight variations when compared to the former three.
How Kona Coffee is Graded
Kona coffee is graded on a 100-point system. The highest grades are awarded to coffee beans that are the most uniform in size and shape. Moisture content is also taken into account when grading Kona coffee. Beans with a higher moisture content are typically given a lower grade.
Where is Kona sold?
Kona coffee can be purchased directly from Kona roasters or coffee brands. It's rare for Kona coffee beans to be sold in cafes.
How to Brew Kona Coffee
When it comes to Kona coffee, great care should be taken to ensure that you're getting the full multi-sensory experience that such an exotic coffee offers. As such we'd recommend brewing Kona coffee using a French Press or a Pour Over to maximize the extraction process. We'd also recommend using a digital scale to ensure the proper coffee to water ratio.
What is Kona Peaberry?
Kona coffee is already considered one of the rarest coffees on earth. Kona Peaberry is even rarer. Peaberry varietals make up only 3 – 5% of harvests.
Typically, the fruit of a coffee plant has two seeds. But sometimes, a wonderfully tasty mutation occurs in which only a single seed grows. As a result, this single seed becomes the sole recipient of all of the plant's precious nutrients yielding an incredibly desirable flavor and aroma.
Peaberries are all hand sorted and require separate roasting which only adds to the price tag of this exotic bean. That being the case, the Kona peaberry represents a supremely rare varietal that is truly the "holy grail of specialty coffee".
Is Kona Coffee Worth the Price?
This is kind of a trick question. Whether a particular coffee is "worth it" or not will entirely be based on the preferences and budget of the person. That being said, here are a few of my thoughts based on my experience with some of the best Kona coffee beans out there. And I've been fortunate enough to try many.
If you like a smooth coffee with complex flavors, then you owe it to yourself to try Kona at least once.
If your budget is tight, then wait for holiday sales to buy your Kona coffee. Most brands will offer some type of discount that will make buying Kona coffee beans even more attractive.
Buy a sample bag of Kona if you're interested in trying Kona beans but don't have a lot to spend.
Kona Coffee History 1813 Till Now
As we've demonstrated in this article, Kona coffee beans are among the most sought-after beans in the world. To fully appreciate why the demand for this rare bean is so high, we need to look at Kona coffee's history.
The first coffee trees were brought to Hawaii in 1813 by Swedish naturalist Peter Joost van Limburg-Brouwer. He planted them in Captain Cook's Garden, near Kealakekua Bay on the Big Island. It's from these original trees that all of Hawaii's current coffee trees have descended.
In 1828, 15 years after the first coffee trees found there way to Hawaii, Chief Boki, Oahu's governor at the time brought back 10 coffee trees from Tahiti and planted them on Oahu. These became some of the first commercial coffee trees in Hawaii. Coffee production began to spread to other islands, as people realized that this new crop could be profitable.
By the mid-1800s, there were more than 600 plantations growing coffee in Hawaii. The industry continued to boom as Kona's notoriety continued to grow by leaps and bounds.
Today, Kona coffee is still grown on the Big Island of Hawaii. It is one of the most expensive coffees in the world, due to its limited supply and incredibly high demand. Kona coffee is known for its rich flavor, smooth texture, and wonderfully complex tasting notes.
Best Kona Coffee: Final Thoughts
If you're looking for the best Kona coffee beans, look no further than the list above. These coffees brands have all earned a sterling reputation amongst a very hard-to-please and discerning community. It's no surprise that any coffee this rare doesn't come cheap. Nor should it. If you can afford it, I think it's worth every coffee lover's while to try Kona coffee at some point in their coffee journey.
Related Article: Best Exotic Coffee