Most kitchen appliances run on electricity, including the oven, stove, kettle and coffee maker. Without power, cooking food and perhaps more importantly, making your morning cup of coffee is decidedly more difficult. If you're someone who can't kick off their day without a boost of caffeine, a nonfunctional coffee maker can add to your stress amidst a power outage. Thankfully, you can make freshly brewed coffee manually. In this article, we'll go over a number of ways you make coffee without the use of electricity.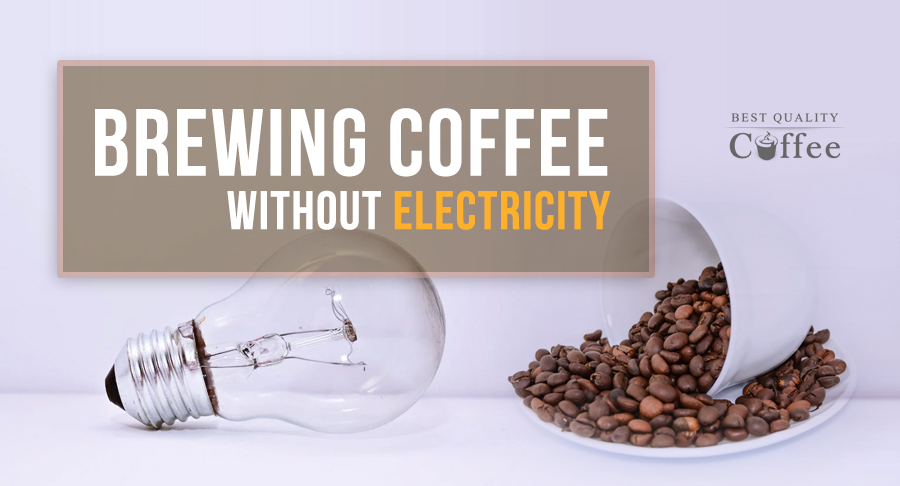 Making Coffee Without Power
There's no need to worry about skipping your morning cup of Joe during a power shortage. Solving the problem of brewing coffee without power requires considering two things:
Heat source: Finding a heat source is the first obstacle if you prefer hot coffee.
Brewing method: There are several brewing methods to get a caffeine boost in the morning, even when the electricity is out.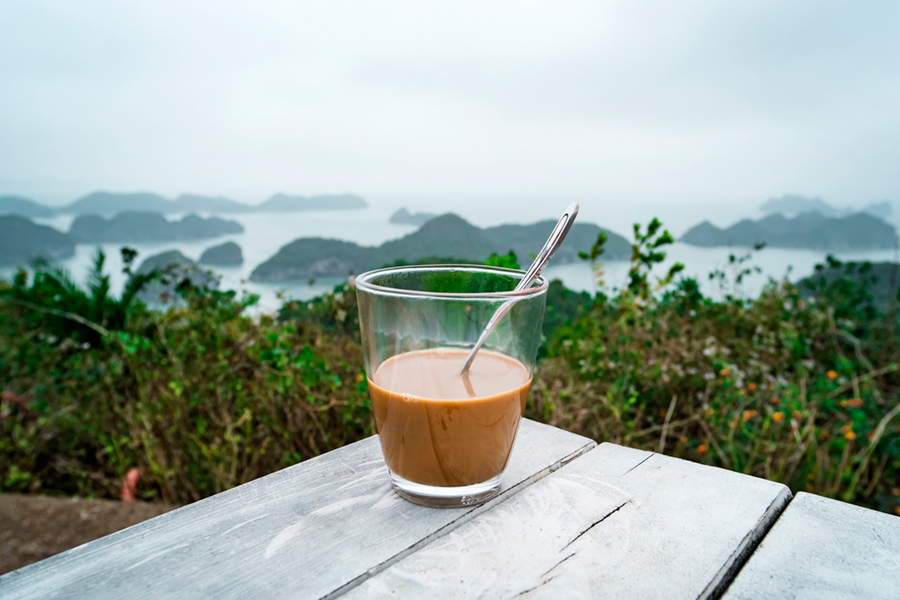 Using Different Heat Sources
You can use a backup generator to power your home or business during a power outage, but a generator can be an expensive solution. If it's not an option, here are other ways to boil water for your coffee.
Battery-Operated Coffee Maker
An effortless way to make coffee is with a battery-operated coffee maker. It can save a bad day, especially if the outage is expected to last for hours. The best thing is it's portable — you can use it at home and easily bring it to the office to make your co-workers' day. It's quick to clean and can make freshly brewed coffee whenever you need.
Battery-powered coffee makers come in various models, sizes and brands. The manufacturer provides product descriptions that include the maximum number of cups you can brew before charging the coffee maker or replacing its batteries. A good choice is a brand that can make 12 to 14 cups on average.
Gas Stove
If your home has a gas stove, you can manually light it to cook meals and make coffee during bad weather, which causes 80% of power outages and can last for days. Brewing coffee using a gas stove can feel unusual, especially if you're used to using electrical appliances, so you'll want to be cautious about handling the hot pot or kettle to avoid burning.
Light up the stove to start boiling water in a kettle or pot. Once boiling, turn off the stove. Use gloves or oven mitts to remove hot water from the stove.
Camp Stoves
Camping gas stoves are multipurpose tools useful during days without power. A set comes with a burner and gas cylinder you must assemble. Once connected, double-check to ensure there's no leak. One way to check is by spraying soapy water on the gas connector. If the water bubbles, the connection is loose and you'll need to tighten it. Once secure, you can boil water for coffee.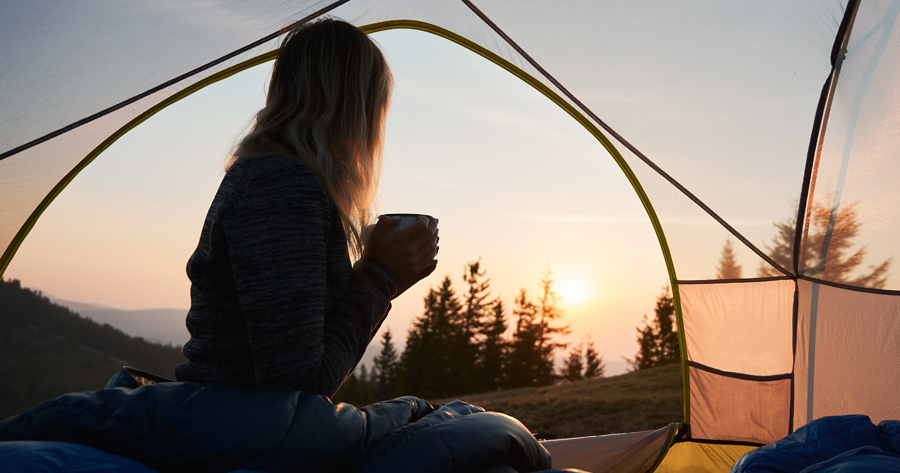 Camping gas stoves are small enough to be carried anywhere. They're an affordable alternative to making coffee during times of power disruption.
Campfire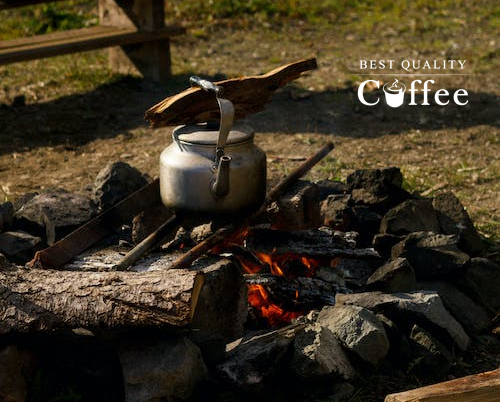 If you want to go the classic route, campfires provide a charming coffee-making experience. However, this option is only possible if you're in an area where starting an open fire is allowed. You'll need pieces of wood and a match or a lighter to start a fire.
Use any pot or available heating container to boil water. Protect the fire and speed up the boiling process by placing windbreaks around it. Once you have the boiling water, you're a step away from making your delicious coffee.
Related Article: Making Coffee While Camping
Charcoal Grill
Charcoal grills are a staple in many homes and an excellent alternative to boiling water for your coffee. Use it the same way you would a stove, but exercise extra caution. Unlike a concentrated stove's flame, grill flame covers a larger area — sometimes the entire grilling space. Watch the flame levels as you boil water, and use padded gloves to handle the pot.
Candles
Tea candles make a good substitute for electric kettles or coffee makers when all else is unavailable. A tea candle's fire may seem too weak to do anything, but using multiple tea candles can generate enough heat to increase the water's temperature. However, there's a caveat — longer boiling time. You need patience before you get a tasty sip of your coffee. When you use seven tea lights, expect to have hot water in 20 minutes. It could be faster if you use more candles.
In the end desperate times, call for desperate measures. Having to wait a few extra minutes in order to drink your magic brew is a small sacrifice to make.
Ways to Brew Coffee When the Power Is Out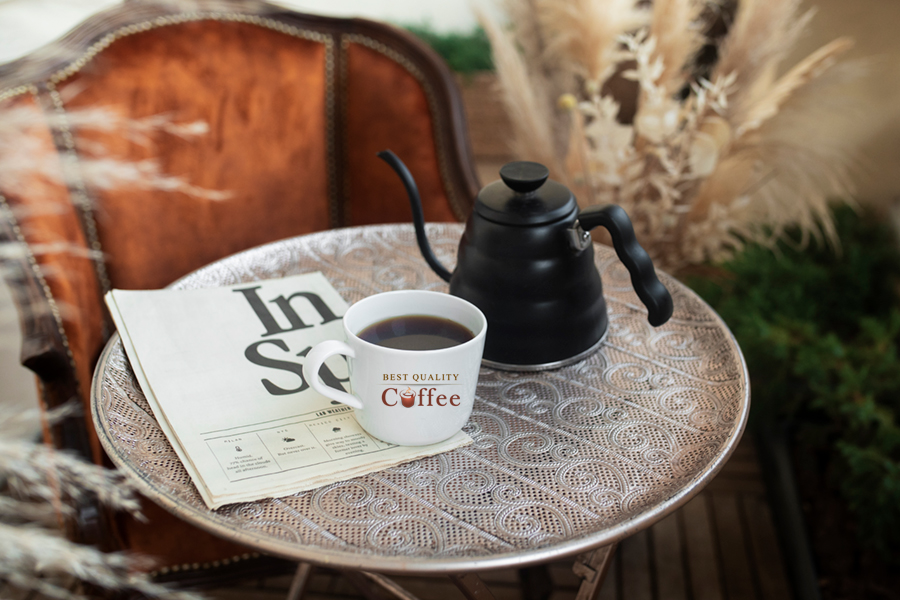 Once you have hot water, you're golden as the saying goes and making coffee is straightforward. Here are some electricity-free brewing methods and tools that will ensure your caffeine-fix when the power is out.
A French Press
Skillfully using a French press can turn ordinary coffee into gourmet coffee. It's the easiest way to extract the aromatic and rich coffee drink from the beans. French press comes in different sizes. A smaller one is convenient during power outages.
To brew your coffee, start by pouring some hot water into the French press to preheat it for a few seconds. The glass will absorb the heat and ensure your drink stays hot for longer. Empty the French press, then slowly add coffee grounds and more hot water. If you want a more robust flavor, add more coffee. Let it steep for a few minutes. Push the plunger down gently to separate the grounds from the liquid. Enjoy hot with an electricity-free snack like biscotti.
AeroPress: Manual Brewing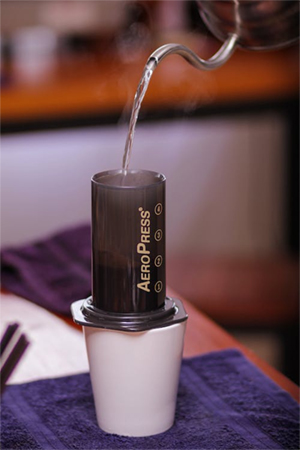 An AeroPress is a lightweight coffee-making tool you can take anywhere. For many coffee lovers, it's an invention that's on par with "sliced bread". It makes several cups of incredibly robust coffee and does so without the need for electricity.
Start brewing by adding coarse ground coffee into the AeroPress. Freshly ground coffee tastes the best, and grounds similar to the size of rough beach sand are ideal. It's all about having uniform grounds.
Pour in boiled water, stir well and attach the plunger. After a few minutes, remove the plunger and give it a second stir to increase extraction. Reattach the plunger and gently press to push the liquid through the filter paper — and there you have your fresh coffee.
Pour-Over Coffee
Pour-over coffee, also called hand-brewed coffee, has an identical brewing process to drip coffee. However, pour-over coffee helps you achieve an optimal taste, as you can control the extraction process when pouring hot water onto the coffee grounds. Pour-over brewing gives you control over variables such as water pressure and temperature on a more granular level.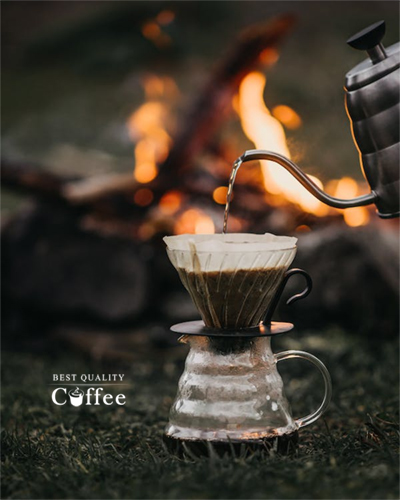 To start, pre-wet the filter by pouring hot water on it. Use a coffee mug or glass to catch the excess fluids. The purpose of this is so that your coffee doesn't taste like paper. Next, add coarse-ground coffee to the filter. Take your kettle with hot water and gently make your first pour into the coffee ground, starting at the center and spiraling it out to the rim. The coffee will filter into your mug.
Expect the coffee grounds to rise. Wait a few seconds, then start the second pour using the same strategy — from the center out. After you finish pouring the hot water, remove the dripper and throw away the filter. Enjoy a beautiful, bold, delicious cup of coffee.
Turkish Coffee
Turkish coffee is brewed using a small metal pot with a long handle called a cezve. You need powder-fine ground coffee because it's not filtered — instead, it becomes part of the drink. Unlike traditional brewing methods, you combine coffee with cold water and boil them together twice.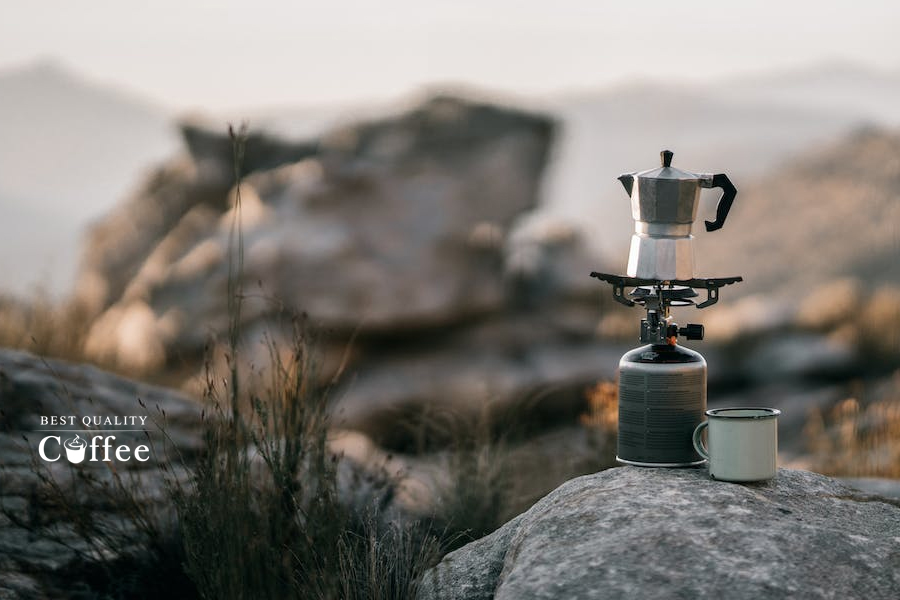 Add 2 tablespoons of extra fine ground coffee, 5 to 6 ounces of cold water, and sugar to the cezve. Stir until the sugar is dissolved. Place the cezve on the stove top or available heat source. As it warms up, the coffee will rise and produce foam.
Before it boils, take the cezve out of the stove and spoon out the foam to each serving cup. Put the cezve back into the range for a second boil. Once done, pour the coffee into a small cup. Let the grounds settle for a few minutes before taking your first sip.
Instant Coffee
No article about making coffee when the power is out would be complete without at least a mention of instant coffee. For diehard coffee lovers, instant coffee can brighten up the mood during power outages.
Instant coffee has carried a stigma over the decades as being diluted and just lacking in overall flavor. However, with coffee technology being where it is, this is simply no longer the case. Sure, it may not beat out the best whole bean specialty coffee out there, but it can sure come close. And when the power is out and your options are limited, it's even more of a lifesaver. We've highlighted some of the best instant coffee brands below that are certain to deliver a surprisingly enjoyable coffee experience.
Superior flavor and incredibly smooth (no bitterness)

100% Colombian Arabica Coffee

Complex flavor notes sourced from sustainable coffee

Convenient & Compostable packaging

100% pure Colombian Arabica instant coffee
Making instant coffee is naturally quite easy. Start by boiling some fresh water. Add your desired amount of instant coffee granules into the mug, then pour hot water to dissolve. Stir well and mix some milk and sugar if desired. Serve and enjoy.
Cold Brew
If you're looking for a hassle-free method to get a caffeine boost without electricity, cold brew gets the job done. Contrary to its name, you don't actually need "cold" water to make it. You can actually use room-temperature water as well, making it a viable option for electricity-free coffee. It's easy and perfect during hot weather. All you need is coarsely ground coffee beans. Put them in a container or a jar and add cold or room temperature water. Let it steep overnight. During this time, the beans are infused with water producing a very strong and deeply-flavored brew.
Related Articles: Best Cold Brew Coffees
In the morning, strain and pour some into a glass with ice. Enjoy a smooth, concentrated and icy coffee cup every time. Naturally, a cold brew involves prep time so if your power unexpectedly goes out, it's not something you can just make in short time.
Making Coffee Without Power Is Simple
In conclusion, mastering the art of making coffee without power or during electricity outages is a valuable skill and one that all coffee lovers should have for a rainy day. In this article, we've explored various methods, from manual brewing like French presses to alternative heat sources like campfires.
As many of you know, making coffee is a simple matter of chemistry. All you need is hot water and a way to filter out coffee grounds. It's not magic, although the beans themselves are magical. Most household appliances operate on electrical power, and during a power outage, you may not be able to indulge in your beloved coffee ritual. Fortunately, if you follow the tips above and prepare ahead of time, you'll never be left without a fresh cup of coffee.