It's not uncommon for coffee lovers to share their social circles with others who also appreciate the world's most magical drink. After all, birds of a feather flock together. If your friends share the same of love for coffee as you, you may want to consider hosting a coffee tasting or a "cupping" party. This kind of social venue can be an enjoyable and educational way to explore the different flavors and nuances of a good cup of Joe.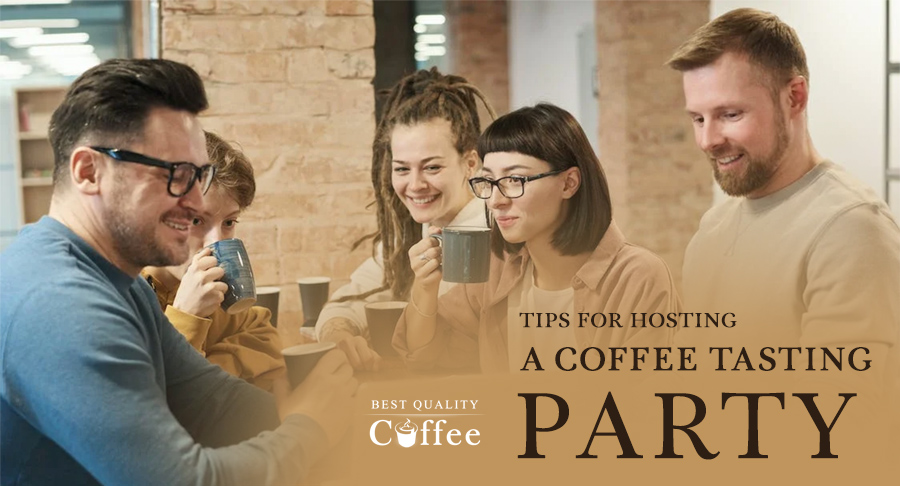 If you want to wow your guests, use these tips and tricks for you to create an unforgettable coffee-cupping event:
Send Out Invitations
Create a guest list of people interested in coffee and send out invitations. The guest list can include both newcomers and veterans in the coffee space. Bringing together coffee lovers of all types always makes for colorful and enlightening discussion about America's favorite beverage.
Include pertinent information such as the location, date, and time of the coffee tasting, plus anything else your guests need to know. For example, you could say it is a blind-tasting event or a coffee and food pairing event.

Choose A Variety Of Coffees
Choose your coffees carefully to include a range with different flavor profiles, roast levels, and origins.
Coffee flavor is highly subjective and there is no one roast that's better than another. However, a light roast will definitely allow more of the coffee bean's natural flavors to express themselves. Dark roasts, on the other hand, will have a smokier and slightly more bitter flavor due to their being roasted for a longer period of time. I'd personally recommend getting a light, medium, and dark roast so that your friends can experience a spectrum of flavors.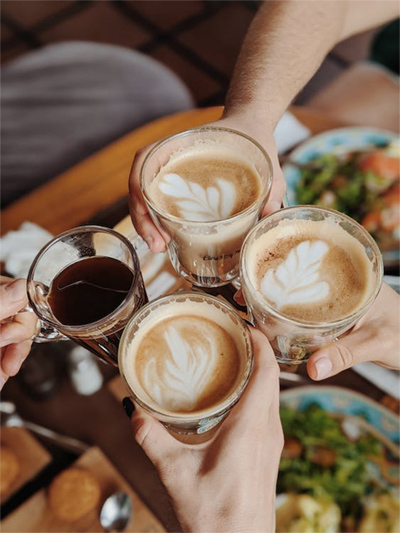 Consider having a decaf coffee option for the guests who prefer it. This is especially helpful if your cupping session takes place later in the day. You don't want to send your guests home with insomnia.
This may be commonsensical but it's still worth saying. The beans you select should be of high quality. If your budget can accommodate it, opt for single origin beans as they deliver a much more consistent flavor than blends. This will allow your guests to discover to get the most out of their experience.
Points to remember when choosing beans:
Arabica beans are widely available and are generally considered better by coffee snobs.
If possible, aim for specialty-grade coffee which is coffee with a rating of over 80 as judged by the Specialty Coffee Association. This will guarantee a certain level of quality and flavor from the beans.
Cheaper coffees may include Robusta beans, which have a harsher flavor and a higher caffeine content.
The coffees listed below will make for excellent brews for your taste testing party. You can thank us later.
Lifeboost Coffee Dark Roast

Complexed flavor with smooth aftertaste

Low acidity with very full flavor

Get 20% off with code: BESTQUALITY

Caramelized Sugars, Nutty, Chocolate, Rich notes

Sourced from Peruvian highlands

Get 20% off with code: BQC20

Incredibly clean and robust flavor. Ideal for coffee purists

USDA Organic and Fair Trade Certified Guatemalan coffee

20% offf by signing up for newsletter
Prepare The Tasting Area
Ensure you have a clean, comfortable, and uncluttered space prepared for the coffee tasting. Set out the coffee cups, cupping spoons, water, glasses, napkins, and palate cleansers like bread or crackers (more on that later). If you're hosting at home, keep pets away from the tasting area. There are many unique things you can put in your coffee, but dog and cat hair is certainly not one of them!
Freshly Prepare The Coffee
Whenever hosting a coffee tasting party, you should buy the best coffee that your budget will allow. You don't have to buy single origin Geisha coffee but it also shouldn't plain ole' instant coffee. You'll want to use fresh coffee beans with character and depth as far as flavor goes.
Make sure to prepare the coffee just before the tasting. Don't prepare it ahead of time in order to have it ready for your guests. Brewed coffee loses its freshness quite fast.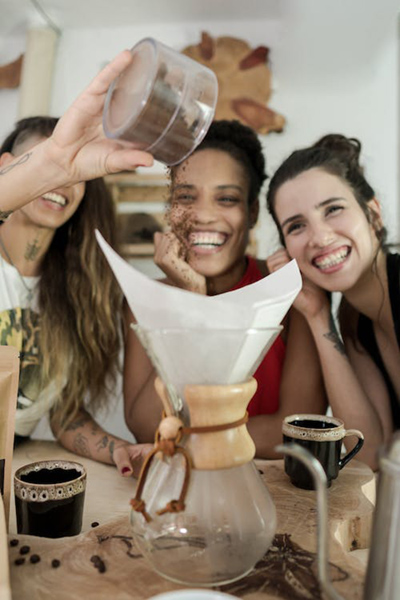 Whole Bean versus Ground
For the freshest coffee experience use whole beans. Pre-ground coffee may be more convenient but it comes at the expense of quality. Store your whole beans in an airtight container until it is time to grind them. Coffee starts to lose its quality from the moment you grind it, so it's advisable to do so just before brewing.
Choose a Brew Method
For those who may not know, the brew method has a major influence on the taste of a coffee. Coffee is ultimately is a matter of chemistry so every variable is significant. Some brewing methods include the French press, pour-over, espresso, and drip. Stick to the selected brewing method for each coffee to ensure consistent flavor for comparison purposes.
Alternatively, you can use the same coffee bean while changing only the brew method. This will help really highlight the major differences between the cups of coffee produced by each method.
Serve the Coffee Black
While millions of Americans enjoy their coffee with sugar and cream, I'd recommend drinking coffee black for this cupping event. Drinking your coffee black will allow the coffee lover to taste a variety of the distinct and subtle flavors of the bean. You'll get to really taste the coffee when it isn't adulterated by any additives.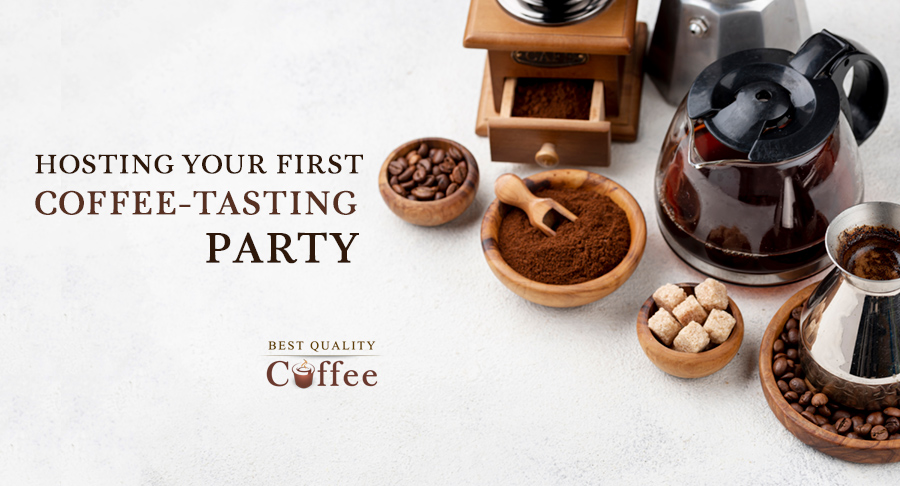 Additional Tips
Other tips for brewing the best coffee include the following:
Choose coffee that has been stored under the right conditions. For example, beans exposed to bright light and air will lose their flavor faster than beans stored in airtight packaging.
Ensure your equipment is clean and free of old coffee grounds or detergent smells.
Use fresh water (spring or charcoal-filtered) instead of softened, distilled, or chlorinated water.
Use quality filters. Poor-quality filters can affect the flavor of the coffee by impeding the filtering process. Additionally, bleached filters might affect the taste of the coffee. Look for oxygen-bleached or dioxin-free paper filters if you're using them.
Use the correct amount of ground coffee. i.e., 2 level tablespoons/6-ounce cup, or 2¾ tablespoons/8-ounce cup.
Beware of using rapidly boiling water when brewing coffee, as it can extract compounds that make it taste more bitter.
Ultimately, you can get as meticulous or general as you want when it comes to brewing coffee. The world of coffee nerdom can get pretty intense so figure out just how detailed you want to be. You could use K-cups or coffee pods if that's most suitable for you. It actually doesn't matter. The above tips are merely helpful suggestions in getting started with your coffee tasting party.
Use Cupping Spoons Or Bowls
Use cupping spoons or bowls for tasting coffee. Cupping spoons are much like deep soup spoons, designed to allow tasters to sip the coffee sample and experience its flavor and aroma.
When your guests are presented with each coffee sample, encourage them to smell the coffee and assess its aroma, taste, and aftertaste.
Whether you use a cupping spoon or bowl, you are encouraged to "slurp" your coffee. This will take your coffee tasting party to another level of legitimacy. Professional coffee reviewers all slurp their coffee because it allows the coffee to hit their whole palate at once. There's a whole physiology behind the taste buds which we won't cover here. The point is that by slurping your coffee, you'll do it like the pros AND experience a totally different flavor than had you carefully sipped your brew.
Related Article: Why Slurp Your Coffee
Encourage The Guests To Share Their Thoughts
Engage your guests by asking them to share their thoughts and opinions on the different coffees. You can facilitate the discussion by asking them to compare and contrast each coffee. Additionally, you can provide notepads and pens for your guests to make notes on the coffees they have tasted. This will help them remember each coffee's flavor and aroma for an engaging discussion.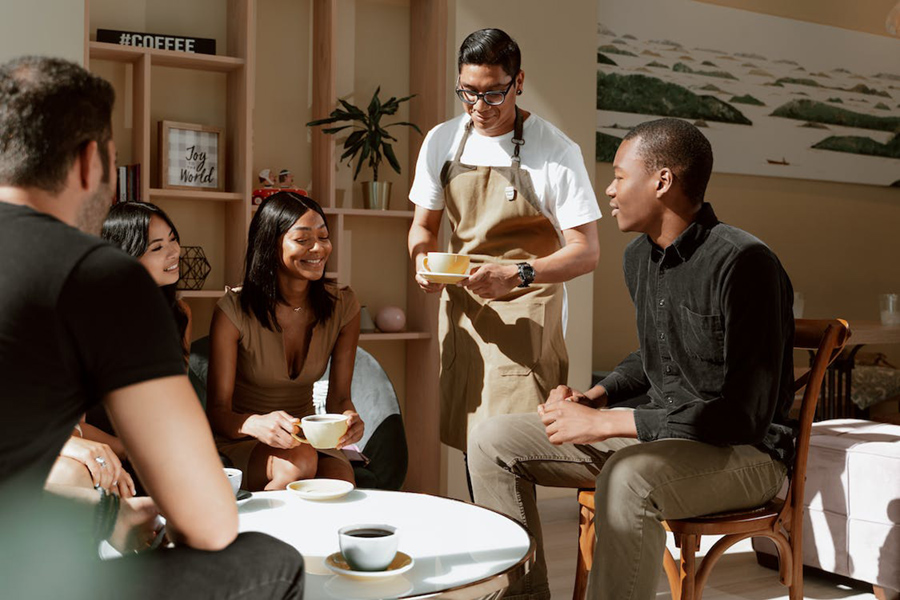 Provide Tasting Notes
Provide tasting notes in addition to providing notepads and pens for each guest. The tasting notes can include a description of each coffee's flavor profile and origin to help the guests understand what they are tasting. You can also have a scoring sheet with pointers so guests can rate each coffee and compare their scores.
I've found it's often best to share the tasting notes after your guests have had a chance to test the coffee. This way, they won't be potentially biased.
Offer Palate Cleansers Between Tastings
Ever see coffee beans at a perfume or cologne counter. That's because the aroma of coffee is commonly used to reset the olfactory senses. In the same way, it's important your taste buds are reset in between tastings in order to get the most objective experience.
Offer your guests water and unsalted crackers to cleanse their palates. Other palate-cleansing options include cucumber and plain bread. This will help your guests to fully appreciate and accurately assess the unique aromas, flavors, and aftertastes of each coffee. Don't forget to have plenty of water on hand too, to keep everyone well hydrated.
Related Article: Will Coffee Dehydrate Me?
Pair The Coffee With Food
You can add a dimension to your coffee-tasting event by turning it into a more enjoyable coffee-pairing event. This obviously will require a little more preparation and money than a standard coffee tasting party. Provide some small nibbles that pair well with each of your selected coffees. Foods that enhance the flavor of coffee include the following:
Biscotti
Brownies
Cheese
Chocolates
Coffee Cake
Cookies
Croissants
Donuts
Keto Bars
Nuts and Trail Mix
Popcorn
Pretzels
Host A Blind Tasting
To make your coffee-tasting event more interactive and fun, consider hosting a blind tasting. At a blind tasting, the guests have no idea what coffee they are tasting. This can help them focus on the aroma and flavors without preconceived notions.
To add a little spice to the event, you can even have guests compare their findings with the actual tastings notes as identified by the coffee brand itself. We know taste is very subjective so there's technically no right or wrong answer when describing the taste of coffee. But including this friendly competition can motivate guests to really concentrate on what they're experiencing and articulate their thoughts afterwards. The guest who appears to have the most accurate palate could win prizes such as coffee mugs and a bags of beans,
Here are some unique coffee mugs you can use as a potential prize.
Cute and Functional Double Glass Mug with a Dog design

Made from borosilicate glass that's ergonomically shaped

The golden brim adds a luxurious touch of class

Available in 3 different colors

Perfect for the zen coffee or tea lover

Featuring a gorgeous white and gold color palette

Choose your specific zodiac sign

Height 3.9 inches - Comes with a mug, lid, and spoon
Hire A Barista
If your coffee event is at home or in a venue where there isn't usually a barista, it's a great idea to hire one for the day. Of course, if you're a real coffee enthusiast, you may have done a barista course already, in which case you can play the role yourself. This will ensure that every cup is served perfectly and guests enjoy every bean to its full potential.
Enjoy The Experience!
Remember that a coffee-tasting event should be a fun and educational experience. At no point should an argument ever ensue over which coffees or roasts are better. You'd think it was unnecessary to make this last statement. But you might be surprised by how seriously some people take their coffee opinions.
Keeping in mind that this all about enjoying an experience with fellow coffee lovers, be sure to keep your guests engaged and ask their thoughts and opinions. And, by being well-prepared for your event, you can enjoy it, too.
By following the tips and tricks discussed, you can create a memorable coffee-tasting event that you and your guests will enjoy and appreciate. Happy sipping….I mean, slurping.