Coffee ranks as one of the most popular drinks on earth, not far off from water. Sure, the smell and taste are heavenly. But for most coffee drinkers, coffee is sought after for its caffeine and the immediate rush of energy and focus that comes with it. Given the worldwide consumption of coffee, many coffee drinkers often wonder whether coffee dehydrates you.
Summary: Does coffee dehydrate You?
No, unless you drink in excess of about 500mg of caffeine (about 5 x 10oz cups)
Caffeine has a diuretic effect which means it makes you pee (and lose water)
Coffee in moderation can help hydrate you as effectively as water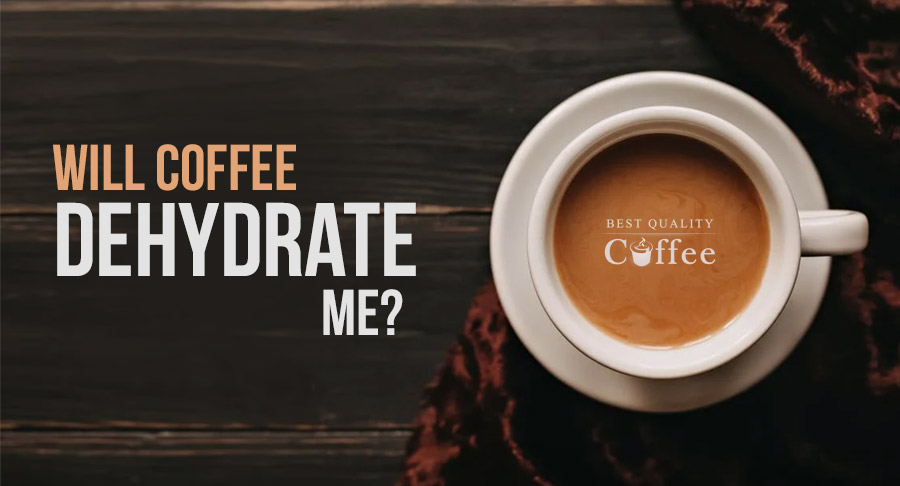 Studies have shown that caffeine can have a diuretic on the kidneys. This means that the increased blood flow to the kidneys causes it to release more water in the outgoing urine. In this way, coffee (or caffeine more specifically) works against hydration.
Related Article: Why Coffee Makes Me Poop?
However, just because caffeine has a diuretic effect, doesn't mean that coffee will dehydrate you. In order for that to happen, you'd have to drink more than 500mg of caffeine per day. That's a whopping 5 cups of coffee. This quantity is already beyond the maximum amount of caffeine recommended for daily human consumption which is 400mg. Source
Before coffee dehydrates you completely, you'll likely experience other warning signs of caffeine overdose such as the shakiness, jitters, and anxiety. If this happens, listen to your body and stop drinking coffee immediately. Ignoring your body's signals can lead to serious issues.
The answer to whether coffee hydrates you or dehydrates you ultimately lies in the amount of caffeine you're consuming. If you drink too much as illustrated above, then coffee can in fact dehydrate you.
Because coffee is mostly made up of water, some people ask the converse question of "does coffee count as water intake". You may be surprised to learn that coffee drunk in moderate amounts can actually hydrate you just as efficiently as water. Source
Related Article: Why Drink Coffee Before a Workout
If you're still concerned about any potential dehydrating effects of coffee, you can always opt for decaf or even what's called half caff (half caffeinated coffee).
As summarized in this article, it's actually the caffeine that can potentially dehydrate you…not the coffee itself. Remember, caffeine content will vary from one cup of Joe to the next. Robusta beans as opposed to Arabica typically contain twice (2x) the amount of caffeine in comparison. Additionally, certain brands offer extra caffeinated coffee beans so be sure to consider that as well. Conversely, there are low caffeine coffees called Half Caff which as their name suggests only contain half the amount of caffeine.

At the end of the day, be sure to listen to your body when it comes to caffeine intake. As with everything, coffee is best drunk in moderation.
Please note that this is for informational and educational purposes only. Please consult your doctor for any health related issues you may be dealing with.