Intermittent fasting (IF) is becoming increasingly popular as a way to stay healthy while still being able to enjoy daily meals. It's a dietary approach that helps you lose weight, increase energy levels, and improve overall health. Intermittent fasting just means that eat only within a specific window of time. You're basically alternative between periods of fasting and eating. So during the fasting period, can you drink coffee? In this article, we'll look to answer that question simply while also providing more nuanced yet important information on this topic.
The simple answer is yes: You can drink black coffee while fasting. But like with all answers, it's worth finding out why this is the case.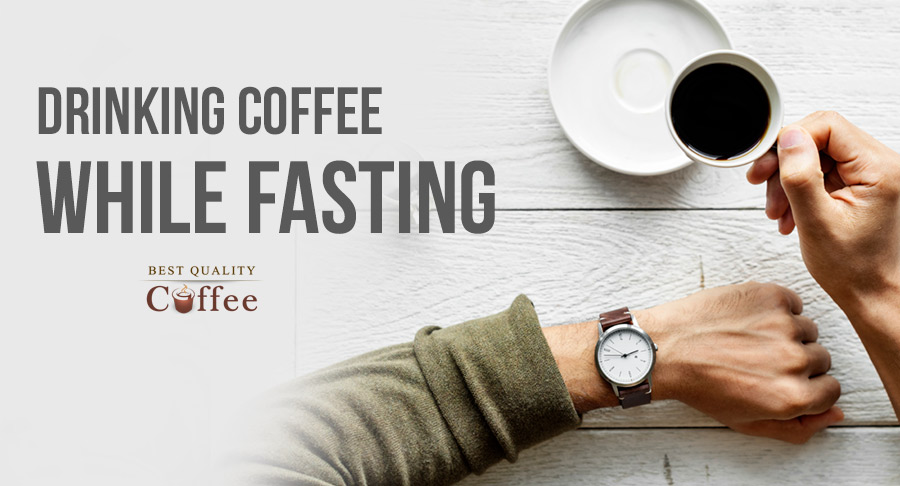 For those who may not know, let's first briefly go over what intermittent fasting is and why it matters. We won't nerd out as far as going into all the physiological changes that the body experiences in a fasted state. But we will give you at least a basic understanding so you can better understand why black coffee can be consumed during a fasting period.
What is Intermittent Fasting?
Intermittent fasting is a dietary pattern that involves alternating periods of food consumption and abstinence.
Having said that, there are several ways to do intermittent fasting. Some of the most popular include the 8:16 method in which you eat within an 8 hour window and fast for the remaining 16 hours. I remember when I started doing IF, I did 12:12 to help my body get adjusted to the new eating patterns. I slowly but surely worked my way to 8:16 and now it's been a way of life for me for the last year. There's also the 5:2 diet, where you usually eat for five days and restrict calories to 500-600 for the other 2 non-consecutive days of the week.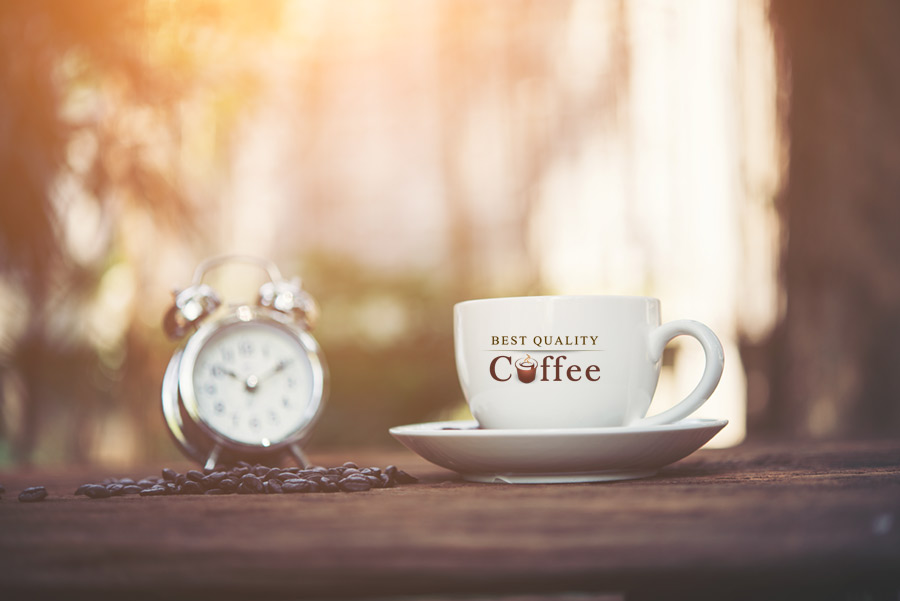 Intermittent fasting may also have benefits beyond weight loss. Studies have suggested that it can improve heart health by lowering blood pressure, reducing inflammation, and decreasing cholesterol levels. It may also have potential in preventing age-related cognitive decline and improving brain function.
Technically, all of us are already fasting to some extent when we sleep being that we're not eating. In the morning, many of us break our fast with a meal appropriately called "breakfast". However, the benefits of fasting are most prominent when you give your body's digestive system extended time to rest. In non-scientific terms, energy normally used for digestion is reallocated by the body to help repair dead cells .
This process is known as autophagy, which is a naturally-occurring process stimulated during periods of fasting. Autophagy takes place within our cells to remove damaged or unnecessary components. By doing so, new cell growth is encouraged on a "system-wide" level. It doesn't take a doctor to see how critical proper cell growth is to one's health.
There are several ways to stimulate autophagy, including exercise, caloric restriction, and of course, intermittent fasting. By promoting autophagy, we can help our cells stay healthy and prevent the accumulation of harmful waste products that can contribute to disease.
Can I drink Coffee While Fasting?
Having discussed what intermittent fasting, let's now take a look at how coffee plays in. Studies suggest that consuming coffee during these periods helps to utilize fat cells for energy effectively.
Coffee can be consumed during intermittent fasting as long as it is black, without any added calories such as milk, cream, or sugar. Coffee can help with intermittent fasting by suppressing appetite, increasing energy levels, and promoting a sense of well-being.
In the world of intermittent fasting, it's all about making sure your digestive system doesn't get turned on by consuming calories. Counting calories and being mindful of eating schedules is something that's new for most people. As such, there are many tools you can use to help you reach your health goals efficiently.
Lasta's intermittent fasting tracker is one example of using technology to help you reach health goals with greater ease. This app makes intermittent fasting easier because it allows individuals to monitor their consumption with the app, plan intermittent fasts, and track their progress toward healthier and improved eating habits. With its alert reminders, meal suggestions, and lean recipes, Lasta also makes intermittent fasting more exciting, enjoyable and easier.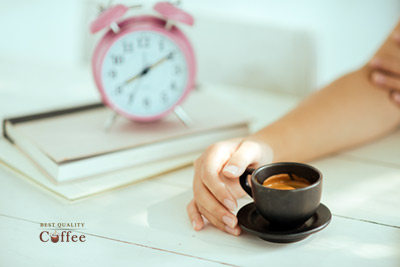 Coffee is another example of something that can make your intermittent fasting journey easier. The caffeine in coffee is known to suppress appetite and boost metabolism, which can make fasting periods feel less burdensome. Additionally, coffee can improve focus and concentration, which can be beneficial during fasting periods when energy levels may be lower.
It's worth mentioning that some studies have shown that caffeine can also negatively impact sleep, so it is essential to monitor the timing of your coffee consumption to avoid consuming it too close to bedtime.
Also, it's essential to consider that everyone's body responds differently to caffeine, so it is best to be mindful of your own body and adjust your caffeine intake accordingly.
How to Prepare Your Coffee During an Intermittent Fast
During an intermittent fast, it is typically recommended only to consume water, coffee (without cream or sugar), tea and other non-caloric beverages.
To prepare your coffee during a fast, you can brew it as you normally would and simply refrain from adding any caloric ingredients such as cream or sugar.
Remember, the goal of intermittent fasting is to restrict calorie intake during specific periods of the day, week, or month.
Best Ways to Drink Coffee While Fasting
If you simply cannot drink coffee without a sweetener, consider using a non-caloric sweetener like stevia or erythritol. Both of these options are natural sweeteners and can be added to your coffee in small amounts. The general rule of thumb is that you must keep your caloric intake to under 50 grams in order to remain in a fasted state. Lastly, I'd recommend avoiding artificial non-caloric sweeteners where possible.
Here are some ways to drink coffee while fasting:
Best Black Coffee for Fasting
Black coffee is the simplest and most traditional way to consume coffee while fasting because it contains no calories and will not break your fast. Therefore, it's an ideal beverage to drink during a fast as it can help suppress hunger and curb cravings without introducing any additional calories.
Moreover, the caffeine in coffee can help boost your energy levels and enhance mental focus, making it an excellent choice for starting your day during a fast state. Remember that not all coffees are created equal. This fact becomes even more apparent when you don't have sugar or cream to mask the undesirable flavors of low-quality coffee beans. Choose specialty-grade coffee beans in order to get the highest quality and most full-flavored coffee experience possible. We've included a few of the best black coffees on the market below.
Lifeboost Coffee Dark Roast

Complexed flavor with smooth aftertaste

Low acidity with very full flavor

Get 20% off with code: BESTQUALITY

Caramelized Sugars, Nutty, Chocolate, Rich notes

Sourced from Peruvian highlands

Get 20% off with code: BQC20

Incredibly clean and robust flavor. Ideal for coffee purists

USDA Organic and Fair Trade Certified Guatemalan coffee

20% offf by signing up for newsletter
Related Article: Best Black Coffees of the Year
Cold Brew Coffee
If you're intermittent fasting and crave sweetness, consider trying a refreshing cold brew. Cold brew coffee has been gaining popularity in recent years due to its smooth, slightly sweet taste, making it more enjoyable for some people than traditional hot-brewed coffee. It's naturally sweeter than coffee so for those with a sweet tooth
It is made by placing ground coffee beans in cold water and allowing them to steep overnight for up to 24 hours. Thanks to the more astounding brewing process, the resulting beverage tends to be less acidic, so it may be better tolerated on empty stomachs during fasting.
Coffee with Cinnamon
Cinnamon is an excellent way to spice up your coffee while staying in a fasted state. Not only does it make the coffee delicious, but the smell of cinnamon has been known for centuries as an appetite suppressant and mood enhancer. Source
Studies have also shown that simply adding one pinch of cinnamon to coffee can help you feel more satisfied and curb cravings. Cinnamon is definitely worth giving a try next time you're looking for an alternative way to satisfy your taste buds during a fast.
Benefits & Risks Associated with Drinking Coffee While Fasting
Benefits of Coffee During Fasting
As we've already alluded to, coffee is a great way to start the day and can also be beneficial while fasting. Adding a cup of coffee to a fasting routine can improve mental clarity and help you stay energized throughout for extended periods of time.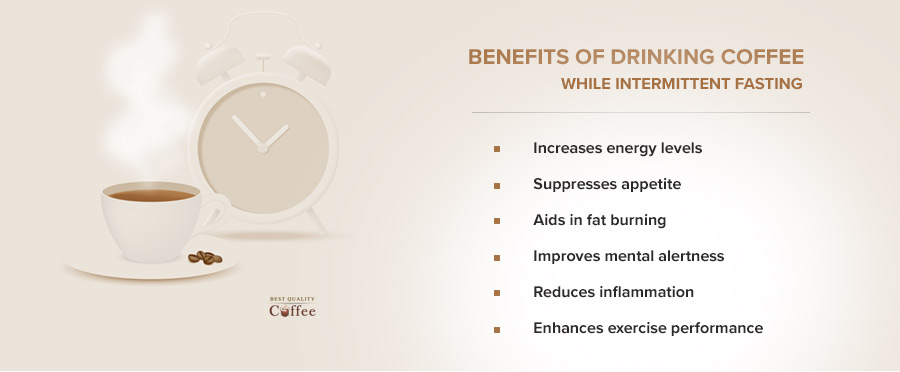 Studies have also demonstrated that drinking coffee with healthy fats during intermittent fasting can increase feelings of fullness and minimize cravings between meals. Consuming fat of almost any amount will likely break your fast. However, when you're in "eating mode", healthy fats are a great way to stay fuller for longer. Fats and proteins help produce this state of satiety. Combining healthy fats such as MCT Oils or Ghee butter with the world's most magical brew has been made popular by companies such as BulletProof coffee.
Coffee consumption can add even more benefits to your diet plan by helping to reduce bloating due to its diuretic effect and drinking coffee. At the same time, fasting is also an excellent way to boost your metabolism and aid digestion.
Risks in Drinking Coffee during Fasting
While there are countless benefits to drinking coffee during a fast, coffee consumption should be kept under control. I remember when I first started this new lifestyle, I would drink multiple cups of coffee during my fasting window to hold me over to my first meal. There were admittedly times when I felt like my caffeine intake was simply too high. The maximum recommended daily amount of caffeine is 400mg which amounts to about 4 x 10oz cups of coffee. source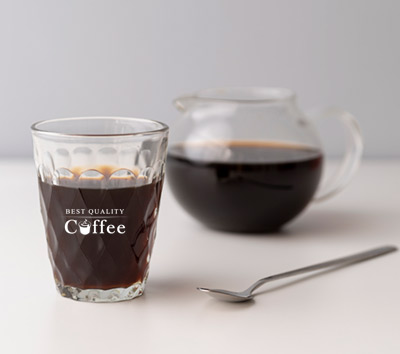 As with all things, moderation is the key….and that's especially the case when it comes to caffeine. If you feel like you're consuming too much caffeine, consider going the decaf route. In this way, you're still getting the flavor and many of the health benefits of coffee but without getting too wired. Below are some of the risks in drinking too much caffeine.
Restlessness and shakiness
Insomnia (the inability to sleep)
Headaches, dizziness
Heart palpitations
Anxiety
Dehydration
I'd like to add a quick word about the last side effect. As caffeine is a diuretic, it can also lead to dehydration during a fast. Whenever fasting it's always recommended to drink lots of water to stay hydrated. This is the case whether you're consuming caffeine or not.
In summary, moderation is critical for those considering having coffee while fasting; an excessive amount of caffeine could offset any potential health benefits of fasting.
Tips for Optimizing Your Caffeine Intake During an Intermittent Fast
For individuals looking to maximize the effects of intermittent fasting, coffee is an excellent tool to help you achieve your health goals.
Increasing caffeine intake during fasted states can help accelerate fat-burning processes and provide a natural boost of energy. With the right approach, coffee can also suppress appetite and contribute to more successful fasts.
Those who intermittently fast should (as an overall way of life) focus on reducing added sugars and saturated fats that come with many coffee varieties, utilizing healthier plant-based bowls of milk like almond milk when possible, and drinking regular caffeinated beverages no later than two hours before breaking their fast.

Use natural low-calorie sweeteners such as stevia, monk fruit, or erythritol

Add Cinnamon to your coffee for additional health benefits without breaking your fast
Can you Drink Coffee While Fasting: Conclusion
To the rejoicing of health conscious coffee lovers around the world, black coffee will not break a fast.
In conclusion, coffee isn't just allowed during intermittent fasting, it's actually helpful provided your not drinking too much of it. Coffee can be a great addition to your fasting routine, conferring a variety of benefits including appetite suppression, an energy boost, and extra focus. In fact, it's for similar reasons that people drink coffee before working out. Whether you're fasting for weight loss, improved health, or spiritual reasons, a cup of coffee can help to make your journey into the intermittent fasting world smoother and more enjoyable. Just be sure to consume your coffee black and without any added sweeteners or creamers.