For many espresso and coffee lovers, the luxury price tag of a fancy Jura espresso machine makes the idea of owning one seem like a pipe dream. However, Jura refurbished espresso machines may just be the ideal way to turn those dreams into a reality.

Buying a Jura of any kind whether new or factory-refurbished is a real investment so you'll want to make sure to get the most bang for your buck. This guide was written with that in mind and will cover things to consider as well as recommendations on where to buy the best Jura refurbished machines.
If you're not in the reading mood and just want a solid recommendation, consider looking into the refurbished Jura WE6 which we selected as our top choice for Jura refurbished espresso machines.
Refurbished Jura WE6
Related Article: If you're in the market for a refurbished espresso machine but not specifically one made by Jura, check out our article for the top refurbished espresso makers of 2023.
Below are is a full list of our recommendations for the best refurbished Jura espresso machines available. It's important to know that all of these machines are:
Factory refurbished Jura espresso machines which means they are fixed by Jura themselves
Come with a 1-year manufacturer's warranty (we recommend only purchasing refurbished Jura's that are backed by Jura themselves as opposed to a third party service provider)
All machines also come with free shipping to anywhere in the continental U.S.
Low price guarantee by the vendor
We recognize that everyone's needs are different when it comes to buying an espresso machine. That being the case, we've categorized our list into 2 different pricing tiers: Value-focused and Performance-Driven.
Jura Refurbished Espresso Machines: Value-Focused
We'll start of first with the value-focused espresso machines which are defined as machines that will deliver all the features and conveniences you'd expect from a Jura, but without breaking the bank. These machines are ideal for rigorous home or small office usage.
Refurbished Jura ENA Micro 5
Refurbished Jura D6
Refurbished Jura Micro 90
Refurbished Jura A1
Jura Refurbished Espresso Machines: Performance-Driven
Performance-driven refurbished Jura espresso makers include machines that brandish all the bells and whistles you'd expect from Jura's upper echelon of espresso brewers. These machines are also capable of high output and as such are ideal for medium to large office / business usage. You'll often find these models even more discounted than their already value-driven counterparts.
Refurbished Jura GIGA W3 Professional
Refurbished Jura Z8
Refurbished Jura Impressa Commercial X9
Why Buy a Refurbished Espresso Machine?
The most obvious answer to this question is cost savings. Refurbished Jura espresso machines are often priced as a steep discount (sometimes up to 50%). The aforementioned list illustrates that.
Additionally, espresso machines in general are built to be sturdy by nature and therefore, tend to retain their functionality and value over time. As an appliance that doesn't move often and basically interacts with just hot water and coffee grounds, it's simply not subject to extreme wear and tear.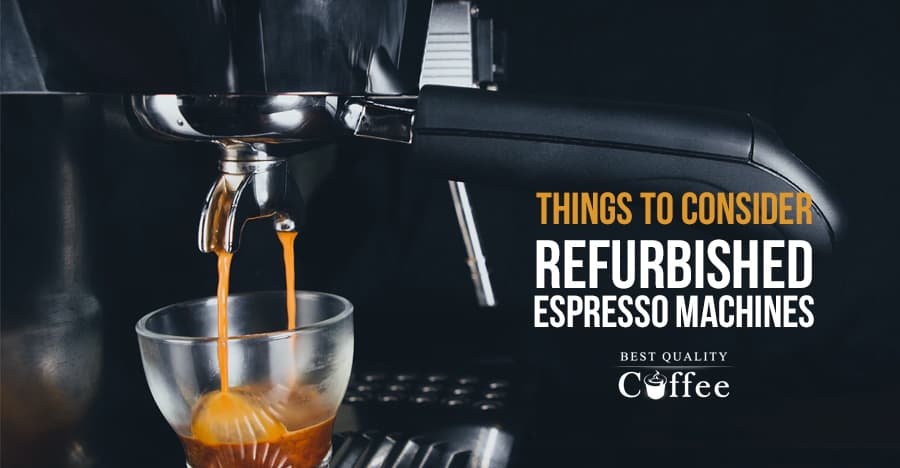 Questions to ask when buying a Refurbished Espresso Machine
The two questions below are in our opinion the most important questions to ask before making your purchase.
Who refurbished it?
Is there a warranty? If so, is it a manufacturer's warranty and how long does it last for?
Who Refurbished the Espresso Machine?
Let's be clear. The quality of a refurbished espresso machine is best determined by who did the refurbishing. For any wise shopper, the answer to this question should be a "make or break". Was it Joe Blow fixing this up in his garage or was it done by a highly trained technician working for the manufacturer? There is a huge difference between Refurbished and Factory Refurbished espresso machines so be sure to learn the difference.
Having said this, we recommend buying only factory refurbished espresso machines. Period.
Is there a Warranty? And if so, what type is it and how long does it last?
If the refurbished espresso machine in question was refurbished by Jura they will likely offer a manufacturer's warranty. As mentioned at the start of this article, buying an espresso machine is an investment. As such, you should have a sterling warranty to cover it while giving you true peace of mind. Don't be afraid to ask questions and make sure you find out exactly what the warranty covers and for how long.
In our opinion, we suggest purchasing refurbished machines that come with at least a 1 year warranty. As mentioned earlier, all of the Jura refurbished espresso machines on this list meet that qualification.
We also recommend finding out who to specifically contact in case future repairs are needed. Some companies have on-site technicians who are certified to work on your espresso machine while in other cases, you'll need to contact the manufacturer directly.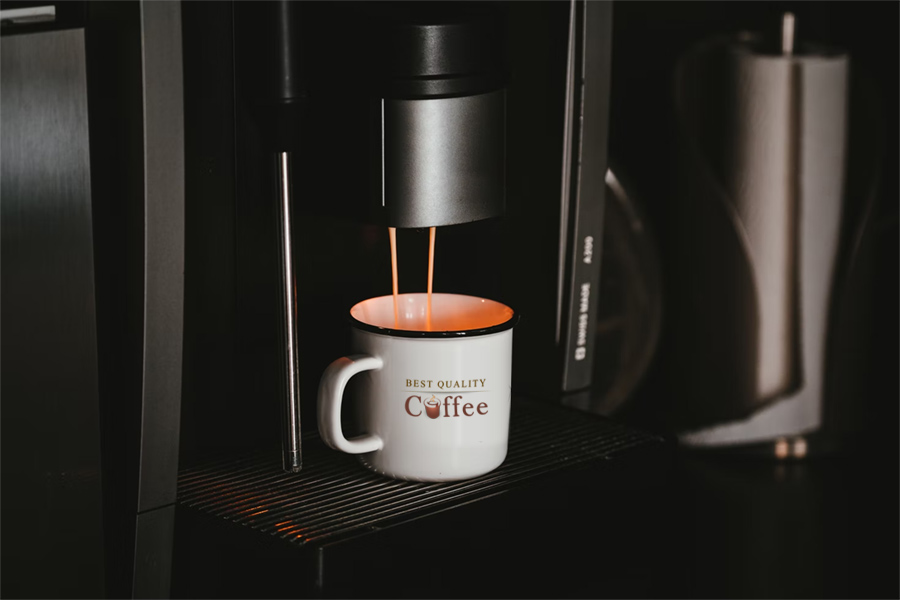 Remember, you should always register your product so you can make the most out of your warranty. Jura's customer service department is as impressive as the coffee machines they sell. By sending in the product registration card or registering it online, you make a connection with the Jura as the owner of the product and avail yourself of the many benefits of their customer support should you ever need it.
What exactly does Refurbished mean?
The term refurbished can mean many different things depending the seller so knowing exactly who is doing the refurbishing is very important.
"Jura factory refurbished" means the product was sent back to Jura where their trained technicians restored the product to factory condition under the highest standards of quality control. It may be a refurbished espresso machine, but when it leaves Jura's repair facilities, rest assured that its performance will rival brand new models.
Refurbished Jura coffee machines can also be demo models which were on the shelves for awhile or used for sample purposes. These demos are returned to Jura themselves, taken apart, and rebuilt with new or upgraded parts as needed. So in these cases, they're pretty much brand new systems with a few cosmetic blemishes like minor scratches or dings. In other cases, a perhaps over-zealous customer may have had a change of heart after the purchase and simply wanted to return the item.
Given the steep discounts that come with Jura refurbished espresso makers, it's definitely something to consider for the coffee lover who appreciates being able to make coffeehouse-quality espressos at home.
According to Jura's website, factory refurbished or factory serviced machines amount to the following:

"These products have been used before and have been returned for a variety of reasons: sample products, demo products, customer remorse, wrong purchase, wrong gift, replaced with a different product, etc. The products might have slight outside blemishes, stainless steel grids might show signs of usage but all functions are working 100%."
Concerns about Buying Refurbished Espresso Machines
Buying refurbished, especially for the first time, can spark a number of understandable concerns. Such is the reason why doing your due diligence is absolutely necessary. Below is a summary of some tips to address such potential concerns when entering the world of refurbished espresso machines in general.
Choose a reputable seller: Buyers should do their research and choose a reputable seller that has a good reputation for selling refurbished espresso machines. They should read reviews from other customers and ensure that the seller offers solid warranties and customer support.
Look for a certified refurbished machine: Buyers should look for machines that have been certified refurbished. This means that the machine has undergone a rigorous inspection and testing process to ensure that it is in good working condition.
Check the warranty and return policy: Buyers should carefully check the warranty and return policy of the seller to ensure that they are protected in case the machine does not perform as expected.
Look for reputable brands: When buying a refurbished espresso machine, it's a good idea to stick with reputable brands that are known for their quality and even more importantly in this case, durability. Jura, DeLonghi, and Breville are some examples of brands that have earned stellar reputations through years of consistent performance at high levels.
Best Refurbished Juras: Final Thoughts
If you're deep into the espresso machine game, you'll already know that few machines can match the quality and performance of a Jura. By purchasing a refurbished Jura, you can enjoy the impeccable Swiss precision that the world-renown brand is known for, without having to pay full price.
A refurbished Jura espresso machine can quickly pay for itself when you consider how much less you're spending for cup of coffeehouse-quality espresso. Not to mention, there's the added convenience of never having to leave your home.
Hopefully this article has provided some helpful insights into the process of buying a Jura refurbished espresso machine. Truth be told whether you're buying a refurb coffee machine or espresso machine, the considerations are similar.
While Jura is certainly one of the highest quality espresso machine brands out there, there are also many others to choose from when it comes to buying refurbished machines. Check out our article on top refurbished espresso makers of 2023 if you're not committed to buying a specific brand like Jura. This list includes trusted brands such as Saeco, Philips, and Delonghi.