Have you heard of nitro cold brew? It's become a major trend within the coffee industry, and for good reason – it's both delicious and refreshing. In fact, many brands have already emerged in this highly-competitive market and sell nitro cold brews in cans. Nitro cold brews can be bought online or at your local supermarket. If you're feeling especially adventurous, you can even brew nitro cold brews at home. However, not all nitro cold brews nor nitro cold brew makers are created equal so it's well worth doing your research to identify the best brands out there.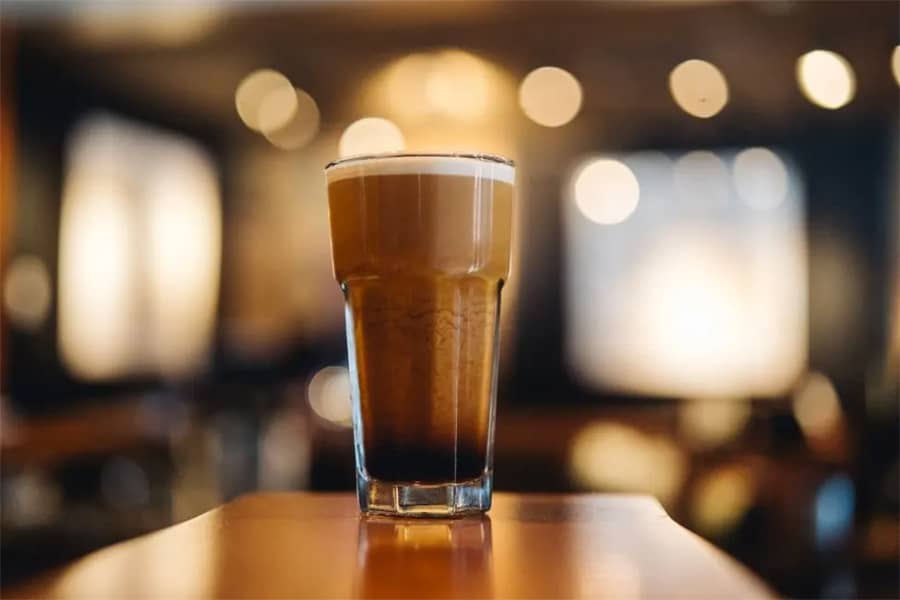 Before diving right into this guide, let's go over a few things.
Rise Brewing Co. is an award-winning company that offers an excellent option for ready-to-drink nitro cold brew. Rise Brewing Co. is a company centered on using only the purist of ingredients. As such, their nitro cold brew product contains only two things: water and organic coffee. Somehow, using only these two ingredients, the company has managed to formulate a nitro cold brew that's unbelievably heavenly.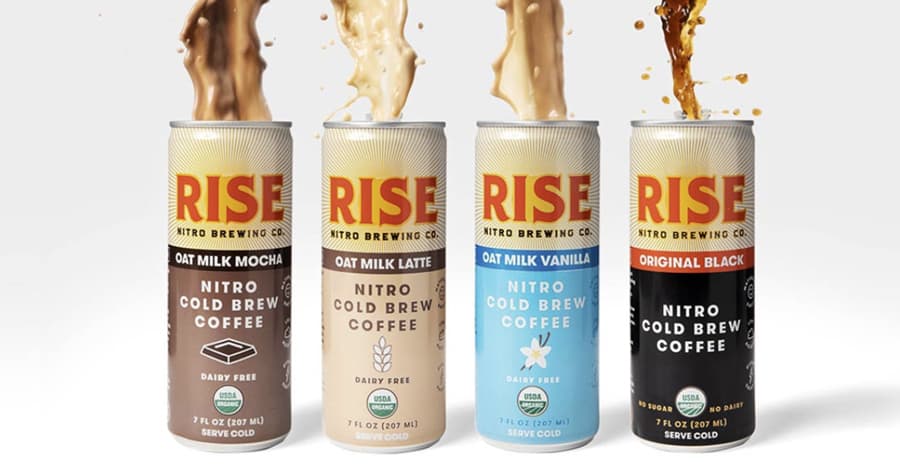 Be careful which brands you choose since some brands have been pulled out of circulation for being contaminated with toxins. For example, the FDA found that Death Wish coffee may cause botulism. Thus, their products were recently recalled. Obviously, this is very rare exception but yet it's something to still be mindful of.
Now that we've put that on the table, what is nitro cold brew? How is it different from traditional cold brew? And furthermore, how do you make it at home? Keep reading to find out everything you need to know about this trendy drink.
Origin of Nitro Cold Brew
Most coffee drinkers drink their morning brew hot. However, cold brews are gaining major traction in the coffee loving world. Many coffee lovers prefer the cold brew because the process of extracting flavor from the coffee beans is totally different and as a result, yields a totally different brew. Since the coffee grounds are steeped in water for a longer time, it results in a more flavorful profile and a stronger taste. Cold brews are typically sweeter than their hot counterparts. Industry pioneers had their creativity further sparked and they soon introduced a game-changing factor to the equation: nitrogen gas.
Adding pressurized gas into beverages to create a foamy and thicker texture was originally a process in beer-making. This also helps the beer to be contained and aged perfectly in kegs and barrels for a long time while developing its flavor. For coffee, it was discovered that injecting nitrogen gas into a cold brew transforms the drink into something else. Hence, the trend of nitro cold brews has begun.
Related Link: If you're a fan of cold brews and convenience, check out our selection of cold brew coffee pods.
Composition, Texture, and Flavor of Nitro Cold Brews
Thick and frothy
Nitro coffee is infused with nitrogen, which makes it very foamy – similar to that of draft beer. Compared with regular coffee, nitro cold brew has a thicker texture and frothy appearance. Although nitro cold brew is creamy, it has no milk or creamer because the coffee is infused with nitrogen, giving it a creamy, frothy, and foam-like appearance. It is also often served without ice so as not to blemish the foam.
Sweet
Although it has no sugar, the nitro cold brew has a sweeter taste compared with regular brews. This effect is caused by the infusion of nitrogen gas in the beverage. This causes the coffee to become sweeter even without the addition of sugar or dairy. Most people would describe its sweetness as akin to chocolate or cocoa. A popular nitro cold brew brand is Rise Coffee and amongst many coffee circles is considered one of the best nitro coffees around.
Health Impact and Benefits of Nitro Cold Brews
Lower sugar levels
High blood sugar levels can be a real concern for coffee lovers who drink sugar-loaded cappuccinos on a regular basis. Nitro cold brews offer a refined sweetness without the aid of sugar or dairy. As a result, a nitro cold brew can be a great option for the coffee lover looking to cut down on his or her sugar intake. For those who battle diabetes but love coffee, switching to a cold brew can prove to be a great help.
Lower caffeine
Nitro Cold Brews have a lower amount of caffeine than hot coffees so coffee lovers can go ahead and order their second or third drink without worrying about caffeine overdose. On average, the human body can only handle up to 400 mg of caffeine per day. Any more and the body will start to experience headaches, irregular heartbeats, and even anxiety. So, switching to nitro cold brews can help you enjoy more coffee with fewer risks.
Longer shelf life
Nitro cold brews also offer longer shelf life due to the addition of nitrogen gas. Nitrogen is a natural preservative and by adding this into the drink, it displaces most of the oxygen molecules in the liquid which are a main factor of decomposition. This allows nitro cold brews to have a shelf life of almost twice the normal cold brew.
Large batch production

If you run a coffee shop, you might want to consider adding nitro cold brews to your menu. Regular coffee beans have a short lifespan and as a result, they often have to brewed in small batches. This means a coffee shop has only a small window within which to sell their product. But because of the extended shelf life of cold brews, coffee shops can save money by producing large batches at a time and store it until needed.
How to Make Nitro Cold Brew at Home
Making nitro cold brew at home can be easy if you have the right equipment and tools. You can replicate the taste and texture without using expensive equipment by simply making use of a sealed whipped cream dispenser and some nitrogen gas cartridges. If making Nitro Cold Brews at home sounds appealing to you, then it's important that the equipment you use is up to bar.
Below we briefly cover two of the best nitro cold brew coffee makers on the market.
First on this list is the Nitro Tapp which is a highly-rated home Nitro cold brewer that produces an incredibly smooth nitro-filled brew. Priced at around $165, this nitro cold brew coffee maker also comes with a 30-day money back guarantee.
Below are its main features.
Stylish food grade 64 oz stainless steel nitro coffee maker
Specialty nitro tapp for maximum creaminess
Premium nitro infuser for nitrogen cartridges (N2) or nitrous oxide (N20) cartridges.
Nitro Tapp set includes 10 pack Nitro Cartridges, detailed instructions, cleaning, preparation & nitro coffee maker
30 Day Money Back Guarantee
Another excellent product for making nitro cold brews at home is made by GrowlerWorks. The uKeg is backed by a patented nitro pressurization system and serves as an all-in-one nitro cold brew solution that allows you brew, store, and pour draft cold brew right from your home.
It makes the process of making nitro cold brews easy, efficient, and convenient making this a grand example of superb form and function. It utilizes "compact 16-gram N2O cartridges and an integrated nitro tap and regular cap". This keg can hold up to 50 ounces of cold brews per batch while also being surprisingly portable and storeable at the same time. The GrowlerWorks uKeg has the following features:
Patented Nitro pressurization system keeps brew fresh and creamy for weeks
Regulator cap automatically maintains optimal pressure for making, storing or pouring cold brew
Double wall 18/8 stainless steel vacuum insulation keeps brew cold all day
Double filtration system prevents clogging so smooth brew can pour 'til the last drop
Custom pressure gauge guides the way to nitro infusion and freshness
Nitro tap turbulates as it dispenses, for a full cascading pour, creamy texture and delicious taste
12 cup capacity
Comes with stainless steel mini keg, nitro tap, regular cap, serving mat, 2 N2O Chargers, 4 coffee filter bags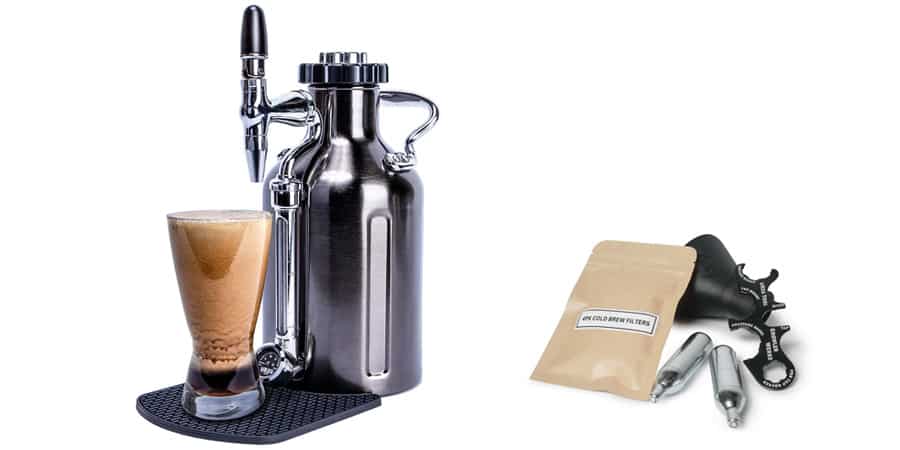 In this article, we've covered the basics of nitro cold brews and even some of the best options for nitro brew coffee makers. We know that not all coffee lovers will be fans of nitro cold brews. And yet, we firmly believe it's something every coffee lover should at least try once in their lives. Comparing hot coffee to nitro cold brew is a lot like comparing apples to oranges. They both have their a-peel (pun intended). But one thing is certain, if you're already a fan of cold brews, you'd do well to try adding some nitro fuel to your coffee fire.