Labor day is upon us and this year especially, we pay special tribute to the American workforce that continues to keep our society moving forward. Another thing that helps keep society moving forward is our steadfast love of coffee. So in celebration of this holiday, we've put together a list of the best Labor Day coffee deals and discounts to save you money on your favorite brews. Please note that some of these Labor Day coffee deals have different starting dates.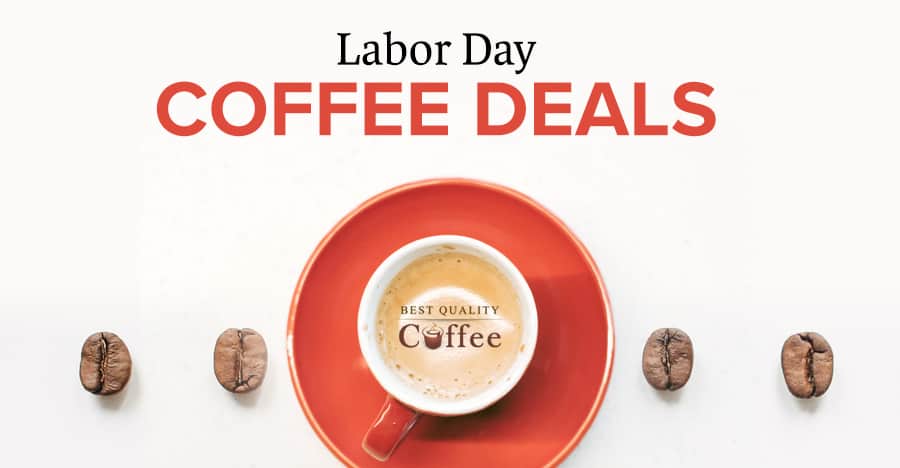 We'll be keeping this list of the best Labor Day Coffee Deals updated as more are released. Don't forget to note that expiration date on these coffee discounts as some of them extend well after Labor Day has ended. We hope everyone is staying safe and sane during these times. Don't forget to stay caffeinated as well!
Tips to Save Money on Coffee
In the spirit of saving money on your favorite coffee brands, we've included a few tips below to help you get the most bang for your coffee buck.
Buy in Bulk
If you can afford it, try and buy your coffee in bulk. You'll get steep discounts on your purchases and plus, you'll have the added peace of mind of having a stockpile of your favorite brew. Be sure to follow the best practices for storing coffee at home so you can preserve the freshness of your coffee as long as possible.
Buy Coffee During Holidays
With holidays come holiday coffee deals. Try and time your coffee purchases to coincide with holidays so you can take advantage of the best coffee discounts. Remember, you don't necessarily have to wait for the big holidays either like Christmas, Thanksgiving, Labor Day, Memorial Day, Mother's Day, Father's Day, etc. Lesser known holidays like National Coffee Day or Cinco De Mayo (in the US) are perfect excuses for coffee companies to offer big discounts on their brew.
Order Coffee Subscriptions
Coffee subscriptions are almost always offered at a discount when compared to purchasing individual bags. You can often save up to 10% on recurring coffee purchases. Another benefit of going with a coffee subscription is that you can customize your order to your preferences. Are you a fan of medium and dark roasts grown in a specific coffee region of the world? You can find a coffee subscription that fits your exact flavor profile…and save money while doing it. If you're feeling extra adventurous, you can even have the coffee company send you a random coffee each month.
Check our full list of the best coffee coupons and discount codes to save on your future coffee purchases.