With the holidays slowly but surely coming upon us, coffee lovers around the world wait anxiously for the release of holiday coffees. Part of why holiday coffees and Christmas coffees are so highly sought-after is because of their limited supply and availability. In fact, some of the best seasonal coffee flavors make their debut for a few weeks only never to be seen again. The window of opportunity for these rare blends is small so acting promptly is key. Check out our list of this year's best holiday coffees and stock up on uniquely crafted blends designed to capture the mood of the season.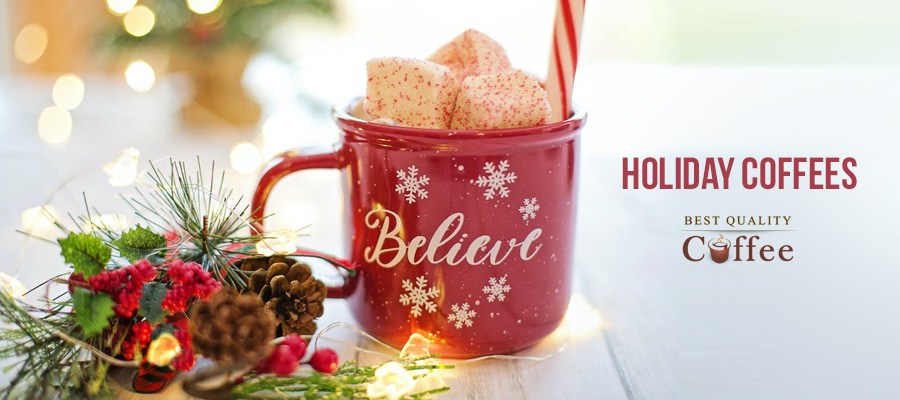 If you're not in the mood to read through all the reviews, we've included our top 3 picks. We think no matter the type of coffee lover you are, you'll thank us for this list later 🙂
| | | |
| --- | --- | --- |
| | Peet's Coffee Holiday Blend | Stumptown Coffee Evergreen |
| | | |
| | | |
| | | |
| | | |
Whether you're looking for seasonal whole bean coffee or seasonal K-Cups and coffee pods, we've got your covered.
Seasonal Coffee – Ground & Whole Bean
Peet's Coffee makes our list of best Christmas coffees virtually every year….and this year is no different. Their Holiday Blend is an impeccable blend of coffee sourced from Panama, Kenya, and Guatemala. This trinity of exotic beans makes for a superbly fragrant, deep, and rich coffee that captures the essence of what holiday coffee is all about. Each bean was selected for its unique qualities. There's also a decaf version of this coffee available for anyone looking to curb their caffeine intake.
The final result is a pure dark roast with a full body and equally full brightness in flavor. You can purchase this Christmas coffee until January 1st so be sure to get your orders in.
Tasting Notes: Candied orange, velvety chocolate, and baking spice
Lifeboost coffee needs no introduction to coffee connoisseurs. Their low acid, single origin coffee has won over the hearts of coffee lovers around the world. Now imagine their already robust coffee but with the taste of fresh pumpkin pie. This single origin medium roast coffee tops our list of best seasonal coffees for good reason. It delivers an enchanting crisp fall flavor with virtually zero aftertaste. Featuring notes of pumpkin, cinnamon, nutmeg and clove essence, Lifeboost's Pumpkin Spice offers a deliciously smooth experience that captures the true essence of Pumpkin Spice.
Tasting Notes: pumpkin, cinnamon, nutmeg, clove essence
Use code: BESTQUALITY to get 20% off your whole order.
If you're a coffee lover, chances are that Stumptown Coffee needs no introduction. This year's holiday release is a special treat offering uniquely rich and distinct notes of citrus and chocolate. Stumptown selected their coffees from two long-standing producers based in Honduras and Ethiopia.
The result is a brew that is a true delight to the refined senses of any coffee lover or coffee connoisseur for that matter. Medium roasted to bring out all of the beans natural flavors, Stumptown's Holiday blend is a crowd pleaser in every sense of the word.
Tasting Notes: Crisp, clean citrus flavors with notes of creamy chocolate and vanilla sweetness.
No list of the best seasonal and holiday coffees would be complete without the mention of Starbucks. Sweet and spicy are common flavors associated with many seasonal coffee brews. However, few do Holiday Blends like Starbucks. Whether you're a fan of their regular coffee or not, there's much to savor and appreciate with this latest offering. This Starbucks Holiday blend is sweet and layered seasonal blend of medium-roast coffee with herbal and sweet maple notes. As with all of these seasonal coffees, they're only around for a limited time so be sure to grab them while you can.
Tasting Notes: Herbal and Sweet Maple Notes, medium acidity and medium body
Equator Coffee, a company well-known for their high quality coffee, just released its 2022 Holiday Blend. This blend is a light roast allowing the drinker to savor the full range of natural flavors from these carefully curated beans. This Christmas blend sources beans from Kenya, Ethiopia, and Zambia. Equators Holiday Blend balances delicate fruit and floral notes punctuated by a crisp acidity.
We recently had the opportunity to review some of Equator's most popular blends. Let's just say, it's no surprise to us that their Holiday Blend is a hot seller.
Tasting Notes: Festive flavors including shortbread, nutmeg, raspberry jam, and red apple.
Next up on our list of best holiday coffees is a premium organic coffee brand we've grown very fond of over the years.
A mix of Colombian Supremo, Guatemalan Antigua, and Costa Rican Tarrazu, this blend is made up of coffee beans sourced from the some of the best coffee-producing regions in the world. It produces a vibrant pumpkin flavor augmented by cinnamon and sweet brown sugar. Pumpkin-flavored coffees, like most flavored-coffees, tend to be lighter roasts so as to maximize the expression of flavor. However, Out of the Grey Coffee's Pumpkin Snuggle is a medium dark roast that offers the pumpkin flavor experience in the context of a bolder roast.
Tasting Notes: Delicious cinnamon punctuated by sweet brown sugar
Volcanica Coffee has been a long-time favorite of ours for the simple fact the quality of all their coffees is exceptionally high. To the benefit of coffee lovers around the world, Volcanica Coffee offers this flavor all year round. Medium roasted to perfection, this coffee is made from only natural ingredients and delivers the joys of tasting pumpkin pie in a singular coffee experience.
Next up on this list is a pricier item, but if you value incredible coffee it's well worth it. Lifeboost Coffee just launched its holiday coffee bundle and it's quite the impressive collection of seasonal coffees. This ultimate seasonal coffee variety pack comes with the following flavors. Pumpkin Spice, Toasted Chestnut, Peppermint Mocha, Eggnog Latte, Gingerbread Latte, Cherry Mocha Truffle. The flavors in this bundle are sure to please even the most uncompromising coffee lover. By buying all of these holiday coffees at once, you'll save almost $60.
Use BESTQUALITY to save an additional 20%
Lifeboost Coffee finds its way yet again on this list of best Christmas coffees with its Peppermint Mocha offering. Lifeboost Coffee uses premium organic beans and leverages their natural flavor for very clean-tasting brew. Their peppermint mocha single origin coffee is medium roasted to perfection and captures the essence of the holidays with its delightfully rich, creamy, and chocolaty mocha flavor. The refreshing mint flavor is crisp and clean making.
Tasting Notes: Minty, rich, creamy, and chocolaty mocha flavor
Holiday K Cups and Coffee Pods
We now come to our section of the best holiday and Christmas K Cups for the season. Interestingly enough, there are some holiday blends that are available only in K-Cup and coffee pod form making them even more of an exclusive treat.
If you're looking for an low-acid extra and incredibly smooth medium roast for the holidays, we suggest checking out Maud's Holiday Blend. Easily one of the best Christmas coffees available, this seasonal coffee blend owes its deep earthen flavor to premium Sumatra beans that are used. Created by their 5th generation roastmaster, Maud's has created a delectable blend this year that offers a bold flavor with poignant citrus and spicy notes. I particularly recommend Maud's Coffee to those who appreciate silky smooth coffee with no bite.
Tasting Notes: Citrusy, spicy notes with a deep earthen flavor
No list of best holiday coffees would be complete without a pumpkin spiced coffee. Pumpkin Spice is one of those coffee flavors that even those who drink their coffee black are excited about. Green Mountain's wildly popular pumpkin spice brew is lively and poignant offering a crisp refreshing taste of autumn. This light roast coffee packs a spirited punch with its distinct and recognizable spicy notes. This is one of the few Fair Trade seasonal K Cups on the market.
Tasting Notes: Lively spicy notes with a crisp autumn flavor
Although we've already covered Peet's Holiday blend, we couldn't finish a list of the best holiday coffees and seasonal coffees without including the K Cup version. The same delicious trio of three exotic coffees (Panama, Kenya, Guatemala, and Sumatra) in one blend is now available in the convenience of a K-Cup Pod. You can only purchase these in packs of 3. This turns out to be a good thing since these Christmas coffees are only available until Jan 1.
Last but least on this list of best seasonal coffees is another Green Mountain Holiday K Cup favorite. Their medium roasted holiday blend is a cheerful, bright, festive brew that offers delicious notes of mild fruit and toasted nuts which punctuate this hearty blend. With thousands of stellar reviews, this rare holiday blend captures the festive spirit of the holidays and will be sure to warm both your hearts and tastebuds.
Tasting Note: mild fruitiness, bright, festive
In my opinion, one of Maud's Coffee's many claims to fame is that they produce an ultra-smooth brew. I don't particularly favor highly acidic coffees so it's no wonder that this is one of my favorite brands. Maud's Pumpkin Spice is a true classic with its warm medley of delicious spices including cinnamon, nutmeg, and clove. When you combine such a smooth brew with these lively flavors, it's a seasonal k cup / coffee pod that can't be passed up.
Tasting Notes: Cinnamon, nutmeg, and clove
Making Your Own Holiday Coffees at Home
Did you know you can also create your holiday coffee blends and flavors at homes with minimal work? One of the biggest advantages of making your own holiday blends is that you can flavor it to your own preferences. You can also make it anytime throughout the year!
There are a wealth of holiday coffee recipes out there that call for simple ingredients that produce a totally new coffee experience.
Consider adding a mixture of the following ingredients to make your own holiday coffee blend this year.
Cinnamon
Pumpkin spice flavorings / syrups
Peppermint / Mint
Hazelnut flavorings / syrups
Cacao
Unsweetened Chocolate
Caramel
Butterscotch
Vanilla Extract
Cardamom
Maple Syrup Extract / Honey
Tips for Buying the Best Holiday and Christmas Coffees
Buy seasonal coffees in bulk
Because of the limited availability of seasonal coffees, you'd be wise to stock up. Buying in bulk ensures you'll plenty of supply to last the year, but there's also the additional benefit of enjoying a substantial discount as well. It's quite a disappointing feeling to discover an amazing Christmas coffee only to be unable to purchase it again because it's either out of stock or out of season.
Consider whether the coffee is naturally or artificially flavored
Christmas and seasonal coffee blends are either artificially or naturally flavored or both. I personally prefer the taste of naturally flavored coffees. Naturally flavored coffee is typically more subtle and refined. On the other hand, artificial flavors can offer a more distinct and stronger flavor experience. There's no right answer as it's totally up to your personal preferences.
Related Article: Best Flavored Coffees
Final Thoughts: Best Holiday Coffees
It goes without saying that this list of best seasonal coffees is not exhaustive. We'll be updating this article regularly with new exciting flavors as the holiday season progresses. For a more extensive list of the best holiday coffees of 2023, check out our seasonal coffee guide. If you have any seasonal coffee recommendations that you think should be added to the list, we'd love to hear from you in the comments.
As you can tell by this list, one of the most beloved holiday coffees flavor is Pumpkin Spice. Whether you're a fan of this festive coffee flavor or not, one thing is for certain. It's here to stay. What was once a fad has become a holiday coffee flavor so loved that it's offered year-round by some coffee brands.
Check out our compilation of the best pumpkin spice coffees on the market.
If you didn't find anything on this list that piques your coffee taste buds, fret not. We recommend checking out this additional list of best holiday coffees for more options.
Related Links: Are you a fan of exotic coffee and convenience? Check out our selection of exotic K Cups to enjoy the best of both worlds.