[Updated 3/21/23] The concept of healthy coffee may sound strange to most coffee drinkers at first. I mean, the world's greatest drink is already known to confer many health benefits. So how can coffee be healthier (other than removing sugar and cream)? In this article we'll take a closer look at this question in order to help you maximize the health benefits of the world's most magical brew. Additionally, we'll provide you with our picks for the healthiest coffee of 2023 so you can get even more out of your coffee experience.
Not in the mood to read? Here is a quick summary of the healthiest coffee of 2023.
What is Healthy Coffee?
Healthy Coffee is a general term used to describe coffee that's curated, processed, formulated and/or roasted in a manner to maximize health benefits. This definition is admittedly broad, so let's narrow it down some.
There are two main types of healthy coffees as they are generally defined.
Clean Coffee
The most basic type of healthy coffee is one that focuses on fully maximizing coffee's already existing benefits. Some people refer to this as "clean coffee". Coffee on its own is known to be high in antioxidants and its health benefits are well documented. As such, a number of coffee brands focus on preserving the purity of the coffee bean throughout its entire life cycle. The healthiest coffee of this type will typically be organic, chemical-free, pesticide-free, and mycotoxin-free, as well as being selected for its superior antioxidant properties.
Nootropic or Vitamin Coffee
Another type of healthy coffee is one that is infused with vitamins and natural supplements. The health benefits conferred by these healthy coffees include everything from boosting the immune system and improving hair, nails, skin to enhancing cognitive function and memory. There are also many coffees formulated to help with weight loss and increased metabolism. This list goes on. There's actually a true artform and science to the process in order to maximize efficacy and absorption while ensuring the coffee still tastes good. This coffee is frequently referred to as vitamin coffee or nootropic coffee.
In this article, we'll cover both types of healthy coffee in greater detail.
Many hold the belief that healthy coffee is defined by the high standards of its lifecycle. This includes things such as growing practices, attention to detail during harvesting, roasting, and packaging. This definition is based on the premise that the purest coffee is the best coffee.
Are they Organic Coffee Beans?
For example, one of the most important factors in identifying the healthiest coffee is whether the beans are organic or not. Why organic? Well probably the first reason to buy organic coffee is that conventional coffee is often grown using a large number of pesticides and fertilizers. It's actually one of the most sprayed crops in the world. These chemicals can end up as residue on your coffee beans and then ultimately are ingested by the coffee drinker. If you are one that drinks coffee every day, limiting your chemical exposure is critical to your long-term health. There are still so many unknowns about how these chemicals affect one's health, cancer development, and other illnesses. If health is your priority, it is best to avoid these chemicals.
Another reason why organic coffee is beneficial to your health is that is has larger quantities of antioxidants in it. Antioxidants are very healthy for your body and help your immune system fight off and cleanse the body of toxins. Last but not least, let's not forget that organic coffee tends to have a much cleaner or more pure flavor than it's standard counterpart.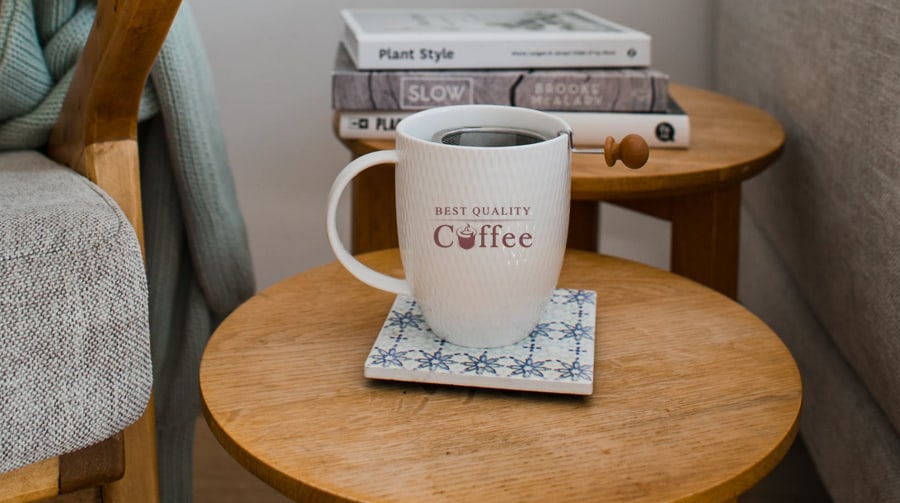 Do the Coffee Beans Contain Mold?
Another factor many use to define how healthy a coffee might be, is to evaluate how much mold (mycotoxins) are in the coffee. You might thinking, "Mold?!?"
Yes, it might surprise you to know that many coffees contain mold in them and these mycotoxins are not surprisingly toxic to the body. Mycotoxins are formulated by mold which grows on crops like coffee beans when not properly stored. If you ingest too many of these toxins, it can be poisoning to your body. The most common mycotoxins in coffee are aflatoxin B1 and ochratoxin A. Both are carcinogens and are believed to be harmful to the brain and kidneys. So how common are these toxins? Well, they are actually quite common, but often in very trace amounts. A recent study showed that 45% of all coffee from commercially grown coffee beans contained ochratoxin A. That is a large number of mycotoxins!
So, what do you do to avoid these mycotoxins and ensure the healthiest coffee experience possible? Well, if you are really concerned about them, you can purchase mycotoxin free coffee which is certified mold free.
Related Article: Best Mold Free Coffee
Consider How the Beans are Processed
However, even if you don't buy mold-free and mycotoxin-free coffee, you can still at least limit the amount of mycotoxins in your coffee. A process known as wet processing is considered an effective method of getting rid of most mycotoxins. Look for coffees that are not only organic and chemical free, but also use wet processing to rid the beans of mold.
As mentioned earlier, there is another categorization of healthy coffee.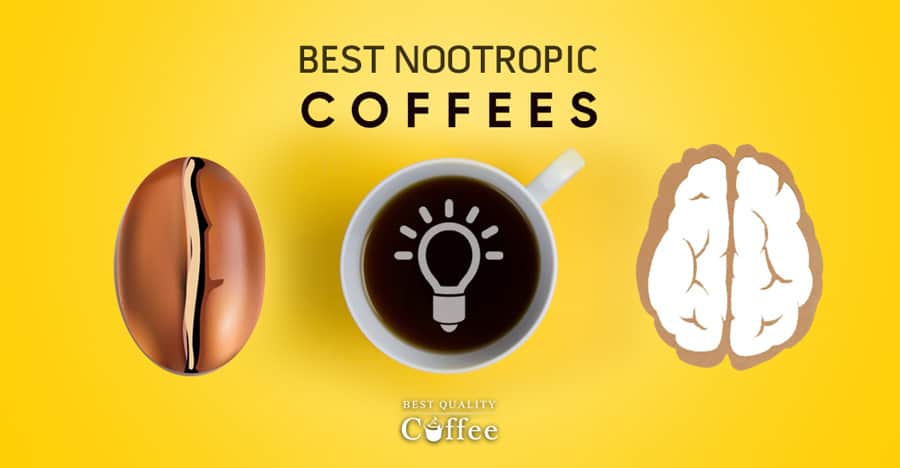 A new wave of coffee drinkers and coffee brands has recently redefined what a healthy coffee is. Instead of the coffee just being a pure coffee, free of mold, and grown using sustainable practices – this new wave of defining healthy coffee has introduced this idea of nootropic coffee and vitamin coffee. So, what is nootropic coffee and how is it healthy for you? Let's find out.
Nootropic coffee is a normal cup of coffee with enhanced elements added to it. Specifically, these added substances can include natural herbs, mushrooms, proteins, and other ingredients. Each of these elements are added for a specific purpose.
Nootropics are defined as supplements, and other substances that help the brain function. When you add these elements to coffee – you get nootropic coffee. A lot of the common substances added in nootropic coffee include yerba mate, green tea, ginseng, gingko biloba, and others. These substances are added to the coffee to help form a super coffee of sorts. The idea is to utilized the benefits of coffee, and enhance them to create a super healthy, mentally stimulating beverage. So, what are the main benefits of drinking nootropic coffee? Cognitive improvement. Nootropic coffee enhances your overall intelligence, memory and promotes creativity. This makes nootropic coffee an ideal drink for students, artist, or elderly people. Nootropic coffee has also been shown to improve focus and reduces stress.
Recommended Vitamin Coffees & Nootropic Coffee
There are many benefits to nootropic coffee, and if you're finding that a normal cup of coffee just isn't doing it for you anymore, nootropic coffee is a solid option.
Check out our full list of the best Nootropic coffees on the market and allow the world's best drink to also make you smarter.
As mentioned earlier, mushrooms (not the psychedelic ones) can be mixed with coffee to augment its health properties. Enter the world of mushroom coffee.
Mushroom Coffee can fall under the category of nootropic or healthy coffee. For many coffee lovers, the idea of mushrooms in coffee can be off-putting to say the least. But don't close the doors of your coffee-loving heart just yet. The truth is, this coffee doesn't taste like mushrooms at all. In fact, it actually tastes like very smooth and robust coffee except with more health benefits.
Mushroom Coffee is especially popular among coffee lovers who like low acid coffee. The use of mushrooms such as Lion's Mane confers a variety of health benefits including protection against dementia and mild forms of depression. Lion's Mane has even been shown to help with repairing nerve damage. Another common benefits of mushroom coffee is that it provides jitter-free, steady energy thanks to adaptogens.
Recommended Mushroom Coffees
Related Article: What is Mushroom Coffee
However, if nootropic coffee isn't your thing, but you're still looking for a healthy coffee option, there is vitamin coffee. Vitamin coffee is exactly what is sounds like: coffee infused with vitamins. If you are a fan of killing two birds with one stone, vitamin coffee is a great option for you. Drinking a cup of vitamin coffee will fulfill your vitamin intake and give you a great cup of coffee, making vitamin coffee one of the healthiest coffees on the market.
One of the reasons vitamin coffee is considered the healthiest coffee available is because they're formulated to target specific issues. For example, VitaCup offers a wide range of products that address everything from improving skin, hair, and nails to weight loss.
Bonus Tip: Make your coffee even healthier by using a natural sugar substitute such as Monk Fruit or Stevia. In my experience, it's the best and healthiest way to sweeten your coffee without compromising your taste buds.
One might be wondering why CBD coffee is included in an article about the healthiest coffee. The truth is, CBD coffee has been a huge help in my personal life as well as the lives of some of family members. As such, I felt it only fitting and relevant to include it.
Cannabidiol (CBD) is derived from the Hemp plant and has proven itself to be effective for anxiety, joint pain, and other health conditions. With the rising popularity of CBD, the combination of CBD with coffee was a so called match-made-in-heaven waiting to happen. I've personally found it to be very beneficial on multiple fronts from relaxing the body to alleviating achy joints.
As a note, CBD will not get you "high" and it won't have you failing any drug tests.
There's a wealth of information on CBD itself which we won't cover here. However, for those looking to enhance the health of their morning brews, CBD coffee or Hemp Coffee is an excellent option. It goes without saying that to ensure the healthiest coffee experience possible, make sure to buy organic CBD coffee.
For more information, check out our list of best CBD coffee brands.
Having covered the different types of available "healthy coffee" options, we now present to you our list of the best healthy coffees we've come across to date. This list will include a mix of pure coffee and vitamin / nootropic coffee.
List of The Healthiest Coffee Products of 2023
No article on the healthiest coffee would be complete without a mention of Keto coffee. As someone who's been living the keto lifestyle for over 3 years, this topic is personal relevant to me. Coffee has played a huge role in helping me reach my keto goals. Black coffee with its 0 calories is already keto friendly so I'm very thankful I didn't have to give that up when I started Keto. However, did you know you can supercharge your coffee with MCT Oil and Ghee Butter to help you reach your Keto macros?
For additional options, check out our list of best keto coffee.
What's the Healthiest Coffee?
As you may have already gleaned from this article, the healthiest coffee will depend on your health goals.
Whether it's trying to lose weight, improve cognitive function, or simply drink the cleanest and purest coffee possible, the the best healthiest coffee for you will be based……well, you and the personal health goals you've set for yourself. The information in this article is not meant to be taken as medical advice. Please consult your medical healthcare professional for advice related to your diet and what works best for you. Hopefully, having read this article, you understand why the answer isn't about recommending just one specific brand.
The Best Healthy Coffee: Final Thoughts
Regardless of which definition of healthy coffee you agree with, what matters is finding a brand that fits both your health goals as well as your flavor profile. Both are equally important as a health conscious coffee lover. Whether you choose a pure coffee that's free of chemicals and mold, or if you opt for a nootropic coffee to elevate your cognitive performance to the next level, both can be equally beneficial in helping you reach your health goals. Feel free to try out each type of coffee and see which one fits your lifestyle and experience coffee in a totally transformative way.
If you have any healthy coffee brands you've tried and recommend, we'd love to hear about them in the comments below!