The world of protein coffee has exploded in popularity in recent years. If you think about it, caffeine and protein are a match made in heaven especially for active coffee lovers who like to workout and exercise. The caffeine supplies the energy while the protein fuels the essential building blocks for growing muscle. Awesome Coffee is one of many brands looking to meet a growing demand of active coffee lovers looking to get more out of their morning brew. In this Awesome Coffee review, we take a closer look at their plant-based protein coffee to see if the brand lives up to its name.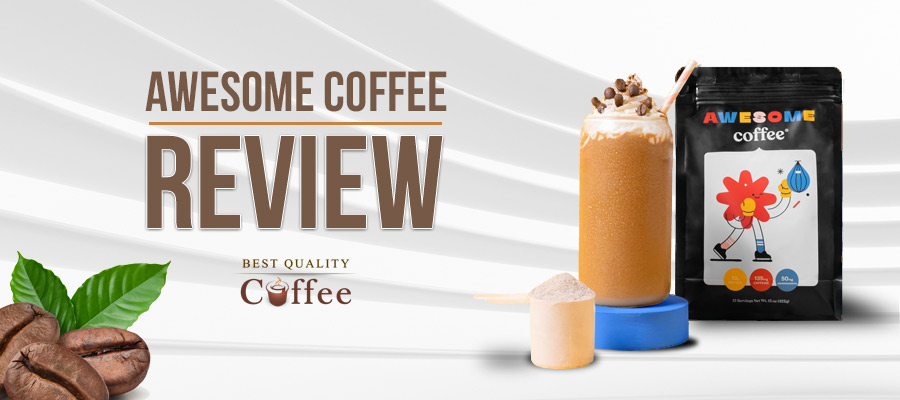 Awesome Coffee Review: Ingredient Details and Benefits
Before jumping right into this Awesome Coffee review, let me go over a few basic facts about this protein coffee that are worth noting.
| | |
| --- | --- |
| ⚡️ Energy | 135mg Caffeine |
| 💪 Protein | 13g Plant-based |
| 🌿 Ingredients | All Natural & Organic |
| ✔️ Calories | 90 cal |
| ☕ Manufacturing | Made in USA |
Awesome Coffee Review
So let me just start out by saying that I had no idea what to expect in doing this review. I typically review pure coffee so this was a nice introduction for me into a new world of protein coffee. Awesome Coffee sent me a bag of their protein coffee in exchange for my honest thoughts.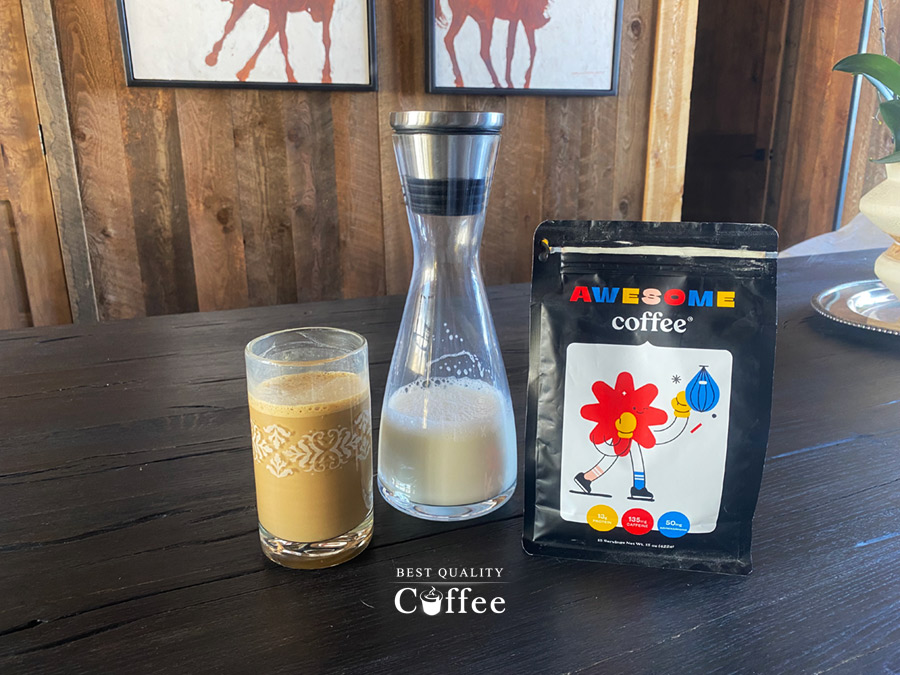 The Coffee: Preparation
The coffee itself is unlike any coffee I've ever had. And for the record, this is a good thing. I think even though it has real coffee, the product shares more in common with a tasty protein powder than it does with the actual coffee beans. Allow me to clarify.
The flavor and aroma are unquestionably coffee-like. However, the way in which you "brew" or prepare it is more like making a protein shake. I really liked this characteristic of Awesome Coffee as it made preparing it very convenient. When I got my bag of Awesome Coffee, I was expecting a bag of ground or whole coffee beans like I usually do when I do reviews.
Awesome Coffee isn't your average coffee (nor should it be based on its brand name). Awesome Coffee is a protein/coffee powder that you mix with milk and create a cold beverage that tastes somewhat like coffee, and somewhat like a protein shake. I took 8-10 oz of milk and mixed in a scoop of Awesome Coffee. I mixed it up and within seconds had a ready-to-drink delicious protein packed, cold coffee beverage.
Note: It's important to mix in the recommended amount of milk to avoid it being too chalky.
If done correctly you get a really bold cold coffee beverage that is packed with 13g of protein. As someone who works out frequently and enjoys the outdoors, I am always looking for ways to get more protein to my muscles throughout the day. Awesome Coffee provides an additional way to get protein to your body, through a highly caffeinated cold brew-esque beverage. One thing that I loved about the drink was that it has 135 mg of caffeine per serving, which is much more than your average cup of coffee. Your average 8oz cup of coffee has around 100mg for context.
This drink will get you going in the morning for sure!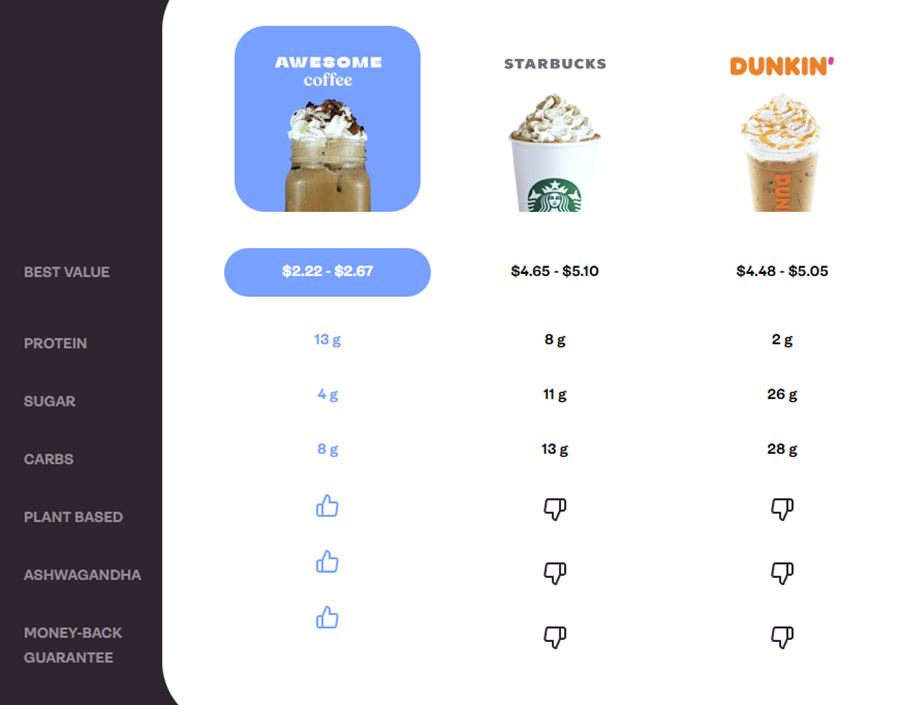 The image below was taken from their website and offers a nutritional comparison of Awesome Coffee to Starbucks and Dunkin. It's admittedly a bit of an apples to orange comparison but it does demonstrate just how much healthier Awesome Coffee is. What's nice is that at just 8g of carbs, this would be considered a keto-friendly or low carb protein shake as well.
The Coffee: Taste
We now arrive at probably the most important part of this Awesome Coffee review. How does it taste?
In short, Awesome Coffee tastes "awesome".
The company sources fair trade organic coffee from the Chiapas region of Mexico. It's medium bodied with a clean, crisp, and smooth finish. The inclusion of milk definitely adds to a richness and thickness that separates it from what other protein coffee offers. Finally, the plant-based protein was tasty and provides a great alternative to whey and soy-based protein.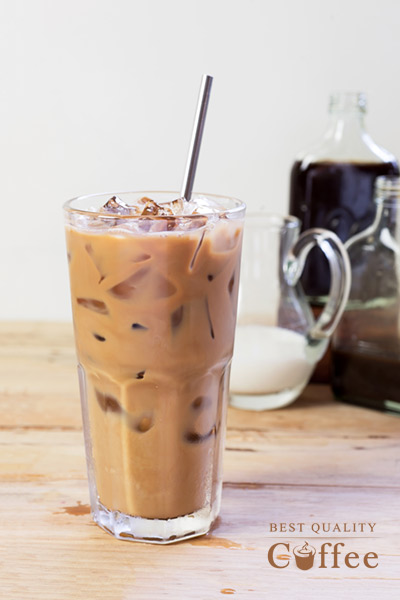 Protein shakes that call for only water can often seem diluted and weak. Thankfully, Awesome Coffee suggests using milk which gives the drink a full and appealing texture.
The taste of this protein-infused brew was very pleasant and enjoyable. Having said this, I will say that it is kind of an acquired taste if you're new to the protein coffee world.
Because of the mix of both protein and coffee, the first couple sips I had of Awesome Coffee took some getting used to. I think that's the case with anything that has an unfamiliar taste. And as I mentioned before, this was my first foray into the world of premium protein coffees.
However, the more I drank from my cup, the more I enjoy it and savored the experience it offered. In this way it really helped expand my horizons and for that, I'm thankful.
I really enjoyed the Awesome Coffee and it was great knowing I was getting nutrients and caffeine at the same time.
The Packaging
The packaging is unique, thoughtful, and simple. It features a resealable bag, and includes a scoop inside the bag to help you measure out how much protein coffee to put into your glass of milk. I thought the logo and imaging on the package was fun and upbeat and added to the experience of mixing together a glass of protein coffee. Most protein packed things come across as really masculine, but this was neutral enough and seemed inclusive of all types of people, which I appreciated.
Awesome Coffee Review: The Verdict
If you've been looking for a way to combine your protein shakes with your morning coffee together, then this is the perfect product for you. The idea of creating a protein coffee powder that you mix with a glass of milk to create a delicious, caffeine infused, protein-packed morning beverage is brilliant. It tastes great, it's easy to make, and you get a great dose of caffeine and protein at the same time.
Inclosing this Awesome Coffee review, this product is a delicious and nutritious beverage that combines the energizing effects of caffeine with the muscle-building power of protein. It's an excellent option for anyone looking to boost their energy levels, increase their protein intake, and satisfy their cravings for something sweet, smooth, and satisfying.
Best Quality Review Rating:
4/5 Stars
Below is a more detailed breakdown of what Awesome Coffee was formulated to help you achieve along with its main ingredients.
| | | | |
| --- | --- | --- | --- |
| | Reduce Junk Food Cravings | | |
Awesome Coffee FAQ
Can it be heated or taken warm?
For a smooth, creamy, and delicious experience, we recommend mixing it with cold, or lukewarm milk of your choice, or water. Heating is not recommended for the best experience.
Is there a Money back guarantee?
If you have any complaints, reach out to us at support@awesomecoffee.com and we will give you 100% of your money back within 30 days.
How much caffeine is there per serving?
Awesome Coffee contains 135 milligrams of caffeine per serving.
What are the ingredients in Awesome Coffee?
Awesome Coffee contains Pea Protein, Rice Protein, Fair Trade Organic Mexican Coffee, Natural Caffeine, Natural Flavors, Cane Sugar, Monk Fruit Extract, Ashwagandha Extract, and Sea Salt.