If you were to ask your average person what "Starbucking" is, you'd probably be met with puzzled faces. [No, it has nothing to do with the Starbuck character from the famed sci-fi series Battle Star Gallactica]. Starbucking is actually the name of a 2006 documentary about one very unique man's quest to visit every Starbucks in the world.
Born Rafael Antonio Lozano Jr., this man goes by the legal moniker Winter and is a 47 year-old software programmer. For the last 22 years, he has visited over 15,000 different Starbucks coffee shops around the world. Yeah you read that right: 15,000. And he has meticulously documented these visits at his website.


After recently reading about him on various news channels, I wondered to myself what would prompt a person to pursue such an extreme goal. I had the opportunity to chat with him and we spoke at length about the whys, hows, and whats of his Starbucking pursuits.
By the end of our interview, I gained some valuable insights into the man behind the probably the most extreme coffee journey I'd ever heard of.
How it All Started
According to Winter, this caffeinated journey of epic proportions all started in 1997 when he visited a Starbucks in Plano, Texas. "I asked the Barista how many Starbucks there were. At the time, there were about 1,500. I wondered out loud, would it be possible to visit them all?" This very question lingered for a while, nesting in the background of his mind. Then in the summer of 1998, it went from a mere pondering to real adventure when he decided to take a trip out to the West Coast and embark on a life-changing pursuit.
Mind you, in 1998 there was no Google Maps and even the few cell phones around didn't have internet access. For this inaugural trip, he had to rely on maps made of actual paper! He even had to use those iconic phone books that were also made of the very same material. Needless to say, it wasn't as easy then as it is now. This presented him with a logistical challenge that most people who've never known life without the internet would find nearly impossible.
"I've always been a person who likes puzzles and collecting things. I collected comics from a young age. So I decided to start collecting Starbucks now. This challenge of visiting each Starbucks appealed to that certain part of my personality," said Winter.
As a man who admits to having some difficulties making friends, this Starbucking quest was a perfect venue for him to truly test the limits of his social comfort zone. It's given him social experiences he would have otherwise never had. In his travels which have brought him to virtually every corner of the world including China, India, Japan, Egypt, France and Costa Rica, he's made for himself a global coffee-loving family.
The 2008 Starbucks Purge
In 2008, for those who remember, Starbucks closed down over 600 stores. This was undoubtedly due in part to the global economic crash that same year. Winter had already spent over a decade in pursuit of his dream when this monkey wrench was suddenly thrown into his plans. Undeterred, he made some changes in his schedule and sought to visit all these stores before they closed. And believe it or not, he succeeded in visiting almost all of these stores before they officially closed their doors.
Fast forward to today and 15,000 stores later, he's still at it. He's been to over 12,000 Starbucks stores in the US and Canada and over 3000 stores internationally. While he concedes that there's no way he'll ever visit every Starbucks given the company's exponential growth, he still embraces the challenge.
Winter is quick to point out that Starbucking isn't even about Starbucks per se. As a matter of fact, he admits to not even a fan of Starbucks coffee. For a man such as Winter, this journey was more about the experience than it was a specific company.
A New Coffee Pursuit: A New Wave of Coffee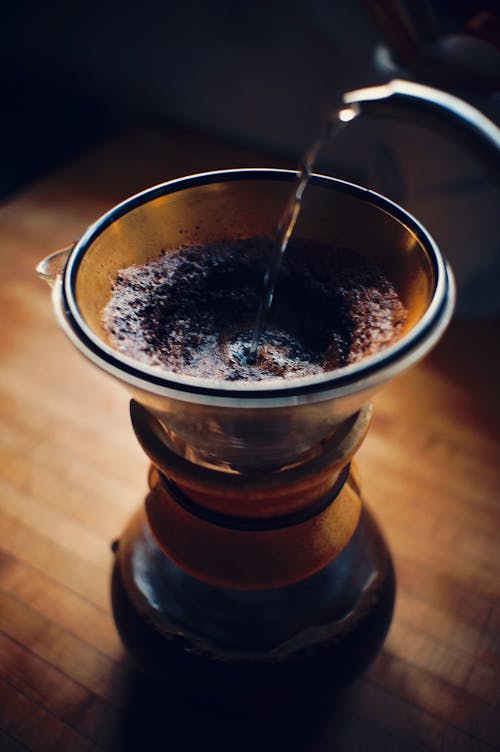 While in working in Portland in 2012, he discovered the world of Third Wave Coffee. For those who may not know, Third Wave Coffee is the next generation of coffee culture that treats coffee as an artisinal drink like fine wines and craft beers. Within this culture, there's a strong emphasis placed on every aspect of the coffees lifespan from harvesting and drying to roasting and brewing. In short, it's basically what the coffee connoisseurs drink.
"I visited a coffee shop called Stumptown Roasters while I was in Portland for a job. I walked in and saw all these Chemex pour over brewing devices that looked a little freaky to me at first. The barista behind the counter recommended a single origin brew, threw it in a Chemex, and it was a totally night and day experience for me. Boom, I was a convert."
Winter had a realization at that very moment. Up this point, he hadn't been drinking" real coffee".
That's quite the shift in thinking especially for a man who's drank as much coffee as he has. He realized everything he'd been drinking prior resembled "shadows" of coffee as opposed to the real thing. His experience at Stumptown brought him to this pivotal discovery that I'd imagine many of us coffee lovers have gone through to some extent as well. I'd wager we all have similar stories.
His new found discernment in coffee moved him to expand his coffee quest to include visiting different Third Wave Roasters and gourmet coffee shops around the world. Similar to his Starbucking quest, he knew visiting all of them wouldn't be possible. But at a minimum, a whole new world of exotic coffee goodness opened up to him and the possibilities seemed endless.
Winter is keeping a public log of his Third Wave Coffee adventures on his website. In case anyone's wondering, Winter's favorite coffee is from Coava Coffee Roasters in Portland, OR. When asked if he preferred a specific roast or blend, he replied "No. I like anything from them."
It's clear that Winter finds coffee to be a "transcendent experience." He described to me how something as simple as sipping on a fine brew in the right environment and at the right time "causes sense of bliss to wash over him". Once again, I feel like every coffee lover in the world can relate to that sentiment as well.
Winter sums up his on-going coffee journey as being far more significant than just coffee alone. Through his travels he's had adventures and interactions that most people would only dream about.
To date, he's spent over $150k over the years to fulfill this pursuit. He says, "That's just hard cash. The amount of money forgone in wages is in the multiple hundreds of thousands." Many might understandably think that sacrificing those kinds of resources for such a dream is very very extreme. They're probably right. That's a lot of money, and even more time.
But that doesn't change what Winter has gotten out of it and the incredible life opportunities this venture afforded him. In closing, perhaps Winter's mindset toward his Starbucking dream is best captured by a recent tweet he put out.
"When asking me about Starbucking, most journalists focus on Starbucks, but that's like looking at a painting and fixating on the canwas. In truth, Starbucking is more about challenges, travel, experiences and people than about one company."