The Keto lifestyle is a low carb / high fat diet that effectively cuts out high carb foods like potatoes, pastas, and rice. I've been living Keto now for a year and a half and absolutely love it. But as beneficial as it's been for me, I admit struggling to find keto friendly snacks that I can munch on throughout the day.
I've snacked on countless cashews, walnuts, and so much beef jerky, it would even shock someone from Montana. I enjoyed these excellent option but my body sometimes just craved the good ole' regular snack that it had been accustomed to.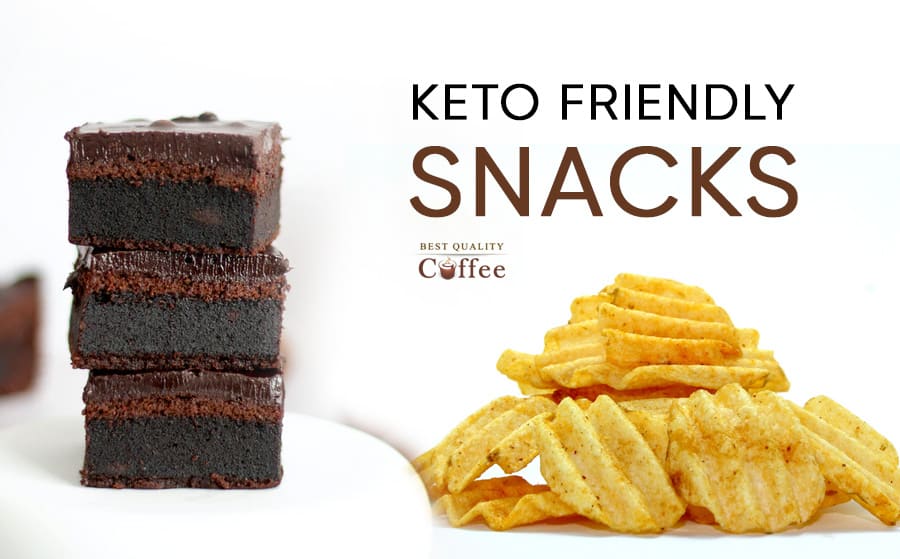 As we all know, such regular snacks usually consist of high carb products like cookies, chips, brownies, and other very non keto friendly staples. When it comes to finding the best keto friendly snacks, there are 3 main things I consider.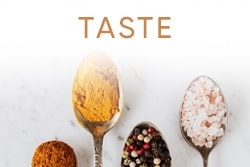 Taste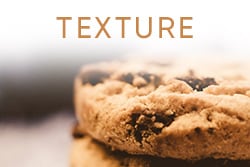 Texture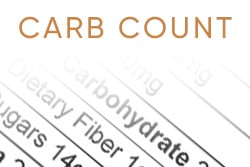 Carb Count
For me, each one is as equally important as the other. Along my Keto journey, I've been disappointed by keto snacks that simply don't deliver on any of these criteria. That being the case, I've put together the following list of exceptional keto friendly snacks that are well worth the money. Just because you're on Keto doesn't mean you have to suffer life without the taste of a good snack whether it's cookies, chips, or brownies.
In fact, believe it or not, I think the following keto friendly snacks are even better tasting than their non-keto counterparts. For your convenience, we've divided up this list into different categories.
Best Keto Friendly Cookies, Brownies, Chocolate
HighKey Mini Cookies (Best Keto Cookie)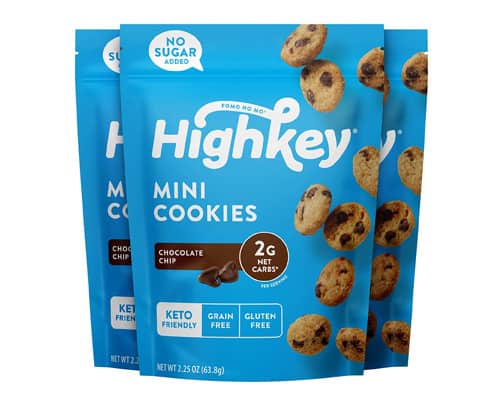 Topping off this list is none other than HighKey, makers of high quality keto snacks that taste incredible yet magically have only a handful of net carbs. I've tried their mini cookies which come in a variety of flavors from chocolate to snickerdoodle. They are dangerously good. These cookies offer a dense texture yet they literally melt in your mouth like a perfectly baked piece of cake. Depending on which flavor you go with, these keto friendly cookies can have up to 2g of net carbs per serving.
Sweetened with monk fruit and Stevia, they're certain to invigorate your palette while keeping your blood sugar levels down.

Use this Highkey discount code to get 15% off: BESTQUALITYCOFFEE
Net Carbs / Serving = 0 – 2g
Thin Slim Keto Friendly Brownie (Best Keto Brownie)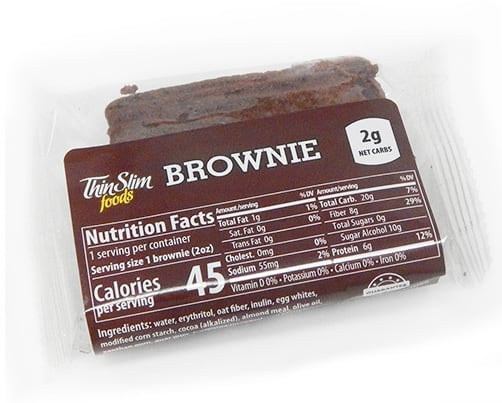 ThinSlim Foods is another keto brand that impressed me. For those who've been craving a rich brownie with a chewy texture, the ThinSlim brownie is the way to go. Sometimes keto brownies can be a little dry and flaky. That's not a concern here as ThinSlim brownies are moist and don't just fall apart in your mouth. I really enjoyed this brownie's flavor as well which had the perfect amount of sweetness for my tastes. It's sweetened with erythritol and contains only 2 net grams of carbs. Thin Slim remains one of my favorite options for a great tasting Keto friendly brownie.
Net Carbs / Serving = 2g
HighKey Cereal (Best Keto Cereal)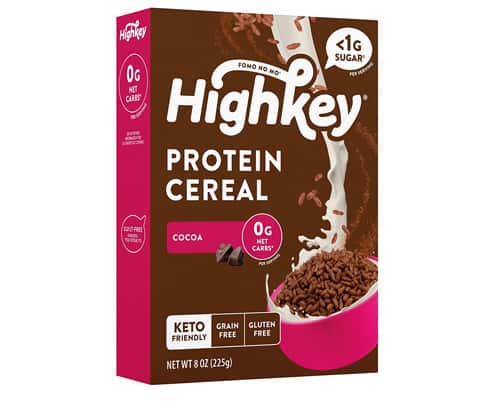 Even though cereal isn't considered a conventional snack, HighKey makes a cereal that's snack-worthy. I tried 4 different flavors of this cereal and had no problem munching on them throughout the day even without milk. That didn't stop me from also enjoying many bowls of this keto cereal along with lactose-free milk.
This cereal is similar to the shape and texture of rice krispies except they're flavored with cocoa, frosted icing, cinnamon, or fruit. They're crispy and are just as impressive as High Key's mini cookies. What's amazing is that these cereals have 0 net carbs. Check out our full HighKey cereal review for more details on my experience with this product.

Use this Highkey discount code to get 15% off: BESTQUALITYCOFFEE
Net Carbs / Serving = 0g
Slimfast Chocolate and Peanut Butter Fat Bombs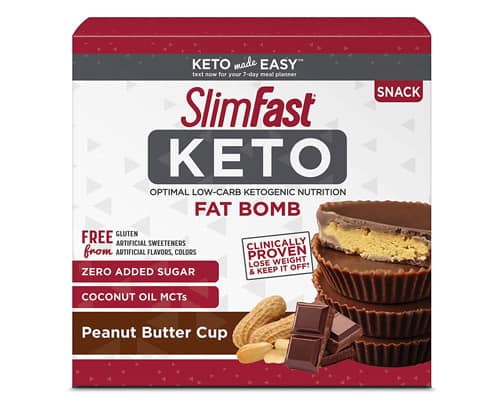 To be honest, I'd never tried any SlimFast products in the past. My first experience with them was through these Peanut Butter Cups. I was thrilled to discover I could eat these. They were delicious and delivered a real feeling of fullness that lasted me throughout the day. This was most likely due to the added MCT and Coconut Oil. These peanut butter cups use no artificial sweeteners or flavors.
Net Carbs / Serving = 2g
Buy SlimFast Peanut Butter Cups
Good Fats Keto Protein Chocolate Bars

Good Fats is another company that makes the cut for this list. Like many other brands on this list, they use wholesome ingredients and high quality fats to help you meet your Keto goals. They have 1-2g of added sugar per bar along with a solid 8-9g of protein. These bars taste rich and offer a very satisfying and fulfilling flavor. Try Good Fats Chocolate bars cold for a totally different experience. There are 4 delicious chocolate flavors to choose from: peanut butter, coconut chocolate chip, mint chocolate chip, and rich chocolatey almond.
Net Carbs / Serving = 1-2g
Best Keto Friendly Chips
ThinSlim Keto Friendly Chips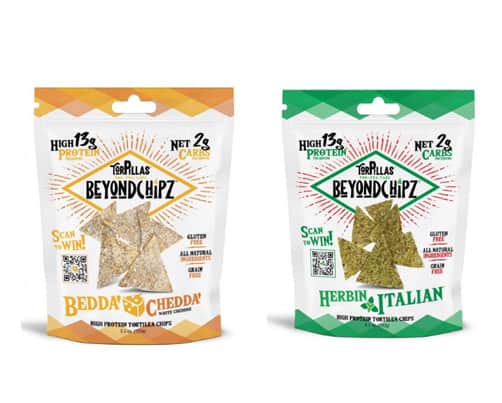 Those who are missing potato chips have plenty of options. ThinSlim offers many delicious choices for low carb chips. Choose from flavors like Ranch, Cheddar, Herbin Italian, and BBQ. These keto friendly chips are a prime example of how using real ingredients is always better. They're also made with a plant-based protein and contain no artificial ingredients.
With 2 grabs of net carbs per serving, you can enjoy the crunch and flavor a good chip without forgoing your health goals.
Net Carbs / Serving = 2g
Whisps Parmesan Cheese Chips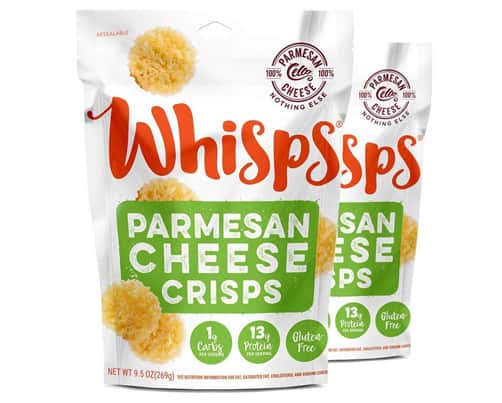 When I first started Keto, I lived off of these cheese chips. A friend of mine had recommended these to me and they were instrumental to the success of my keto lifestyle. I fancy myself as a cheese connoisseur and know quality cheese when I taste it. Having said that, I can taste the purity of ingredients when enjoying these cheese snacks. They're scrumptiously crunchy and burst with a sharp and satisfying Parmesan flavor. At only 1 gram of net carbs per serving, it was something I could eat a lot of while still staying in Keto. My experience with Whisps is that they taste excellent and are very satisfying.
Net Carbs / Serving = 1g
Moon Cheese Chips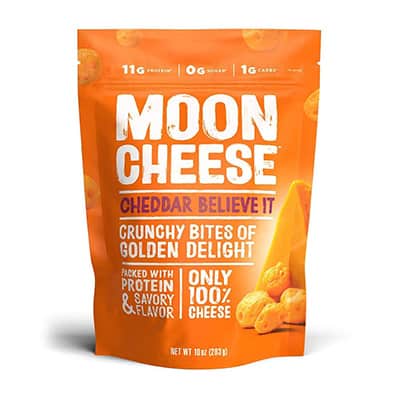 Moon Cheese delivers a great chip like snack for those on a Low Carb / High Fat (LCHF) diet. They're like cheese puffs or cheese balls but with more crunch and less carbs. They also deliver a rich, savory flavor that I think all of us fellow Ketoers would appreciate. With up to 11 grams of protein, these cheese crisps are a great option for those looking for a good keto friendly snack. Available in different types of cheeses from Cheddar and Pepper Jack to Parmesan and Gouda. These snacks carry a shelf life of 1 year without refrigeration.
Net Carbs / Serving = 1-2g
Twin Peaks Protein Puffs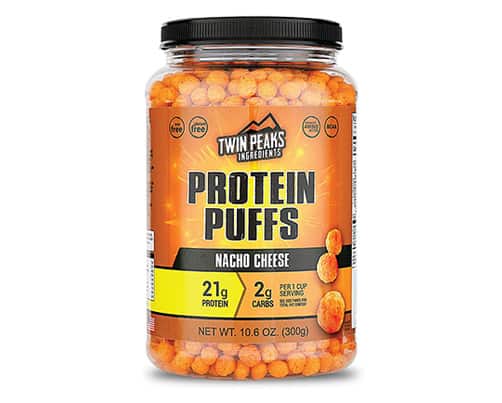 Another great choice for those who feigning for chips are protein puffs. As you may have guessed, they're meant to primarily be a source of protein as opposed to a low carb snack. But Twin Peaks makes an excellent protein puff that contains only 2g of net carbs per serving. At only 130 calories per serving, this is a great low calorie snack that's also high in flavor.
Net Carbs / Serving = 2g
Best Keto Friendly Ice Cream and Ice Cream Bars
Keto Pint Ice Cream Bars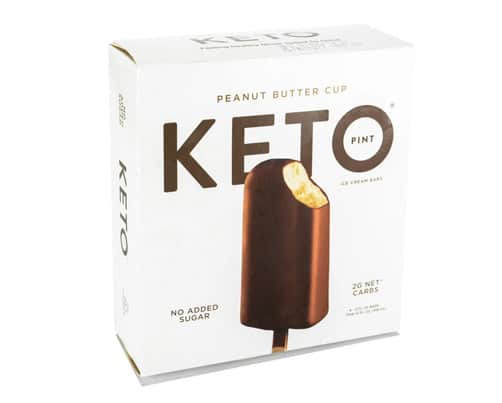 I came across these at Costco one day and let's just say my Keto lifestyle would never be the same. This is hands-down the best Keto ice cream I've ever had. I loved the taste and texture so much that I found myself in a constant battle of will power to not finish the box inside of 3 days. It has 2g of net carbs per serving and is sweetened with Stevia Extract, Monk Fruit, and Erythritol. In my opinion, these Keto Pint ice cream bars taste cleaner and better than regular ice cream bars. These ice cream bars also have 0 added sugars and is gluten-free.
Net Carbs / Serving = 2g
Enlighted Keto Ice Cream Bars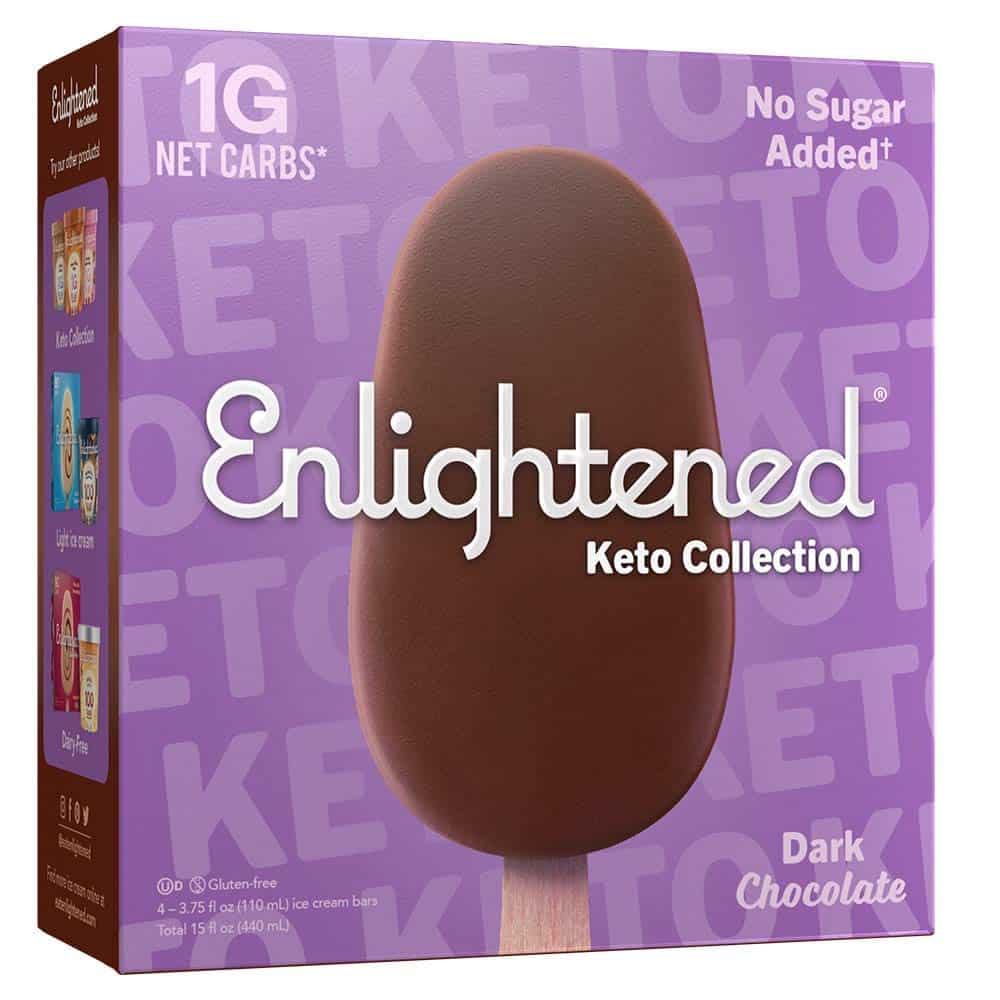 Enlightened Keto Ice Cream is not new the Keto snack scene. They are wildly popular among Keto practitioners and best known for their quality ingredients and exceptional flavor. It has just a single gram of carbs / serving and is naturally sweetened with erythritol and monkfruit. Unlike the Keto Pint bars which involve vanilla ice cream covered in chocolate, Enlightened Keto bars are more like fudge bars. It's like a solid chocolate ice cream of creamy goodness.
Net Carbs / Serving = 1g
Buy Enlightened Ice Cream Bars
As I mentioned at the start of this article, there are certainly many options for 100% unprocessed Keto snacks. This would include a whole assortment of nuts. Usually a container of mixed nuts from Costco holds me over for quite some time. Of course, when it comes to nuts, you have to be extra aware not to eat too many and get knocked out of Keto. To help you stay within the boundaries of your health goals, use the following chart below to get an idea of which nuts have the least and most carbs.
How many carbs do nuts have?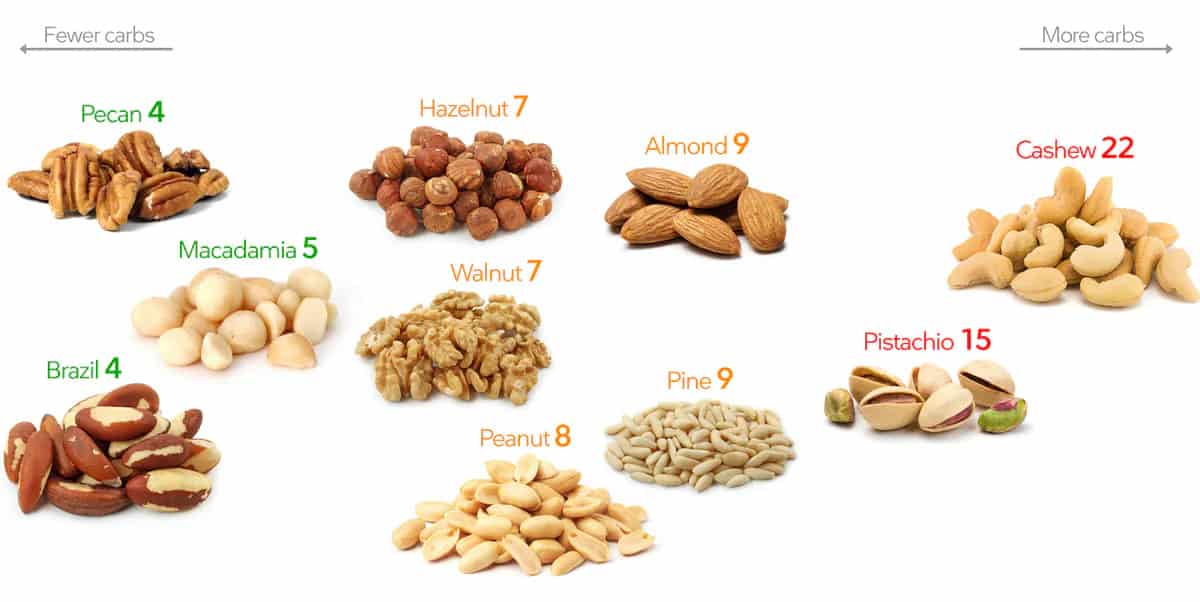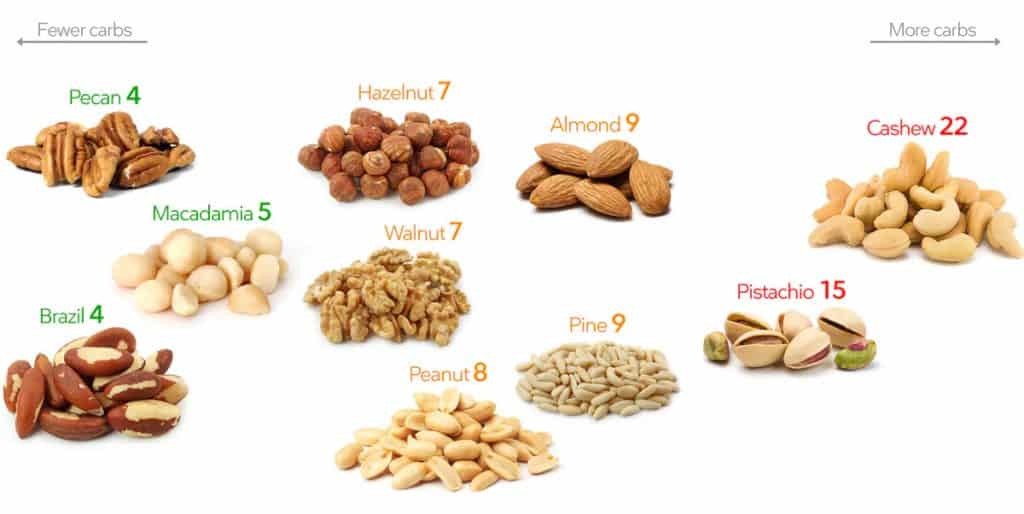 Additionally, high quality beef jerky is excellent keto friendly snack. Remember that not all beef jerky is the same and therefore, some may contain more carbs than others. If you can, try and get grass-fed jerky which will be healthier and provide you with better quality fat. Make sure to choose a brand that doesn't add sugar (carbs) or too much sugar to the jerky. It's a great Keto snack that doesn't require refrigeration and is very convenient to take with you on the go.
And there you have it. A full but non-exhaustive list of some of the best tasting keto snacks on the market that will keep you well within your keto lifestyle. This list will be constantly updated. If any of our readers have any suggestions, we'd love to hear them in the comments below!
Related Article: Is Keto Feasible for College Students?
Note from Author: I know that while the snacks above all use high quality ingredients, they are a considered processed snacks or foods. It goes without saying that unprocessed foods will confer the most health benefits. But as I said a the beginning, it's still really nice to enjoy some of the sweet and savory flavors from the pre-keto days.