As the world's greatest drink, black coffee is well-known for its health benefits. However, coffee with copious amounts of sugar and cream can quickly cancel them out. However, satisfying your craving for taste and meeting your health goals don't have to be mutually exclusive. As we'll demonstrate in this article, coffee doesn't have to be taken black in order to be healthy. There are actually plenty of ingredients you can mix with your brew to not only improve its health benefits but its taste as well.
Options for Making Your Coffee Healthier
Cold Brew
I know we said you didn't have to drink coffee black to be healthy, but we're going to start with a black coffee option—but with cool refreshing twist. Cold brew is far more than just iced coffee. It's brewed in a different manner to produce a totally different flavor profile. In fact, cold brew is typically sweeter and smoother than regular coffee and is an incredibly refreshing treat on a hot summer day.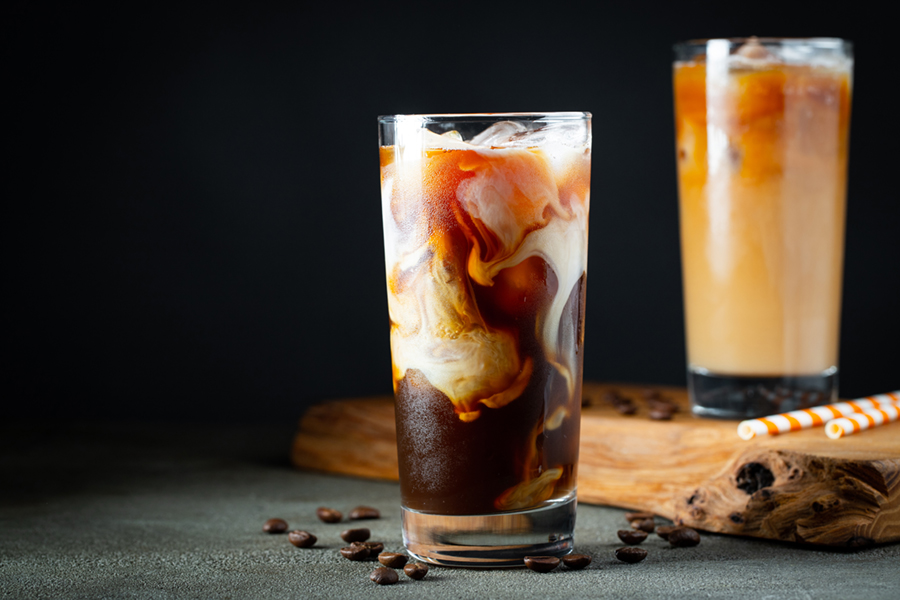 Cold brew is created by steeping coffee grounds in cold water for an extended period, usually 12 to 24 hours. This slow and gentle extraction process allows the coffee to develop a smooth, low-acidity taste with subtle notes of chocolate and caramel. The absence of heat reduces the release of bitter compounds, resulting in the milder and smoother flavor profile that so many coffee lovers enjoy
To learn more about how it's actually made, check out our cold brew guide.
Vanilla-Almond Coffee
With just a touch of vanilla and almond extract, you can completely transform your coffee experience. These extracts, which are free of calories, sugar, and fat, infuse your cup with a generous dose of warm, invigorating, and distinct flavors. Personally, I like the subtle nutty flavor that almond extract adds to my brew.
Both vanilla and almond extracts offer a range of benefits beyond just their appealing flavor profile. Vanilla extract contains antioxidants that help fight inflammation and promote overall well-being. It may also have a calming effect on the nervous system. Almond extract, on the other hand, provides a dose of vitamin E, which is known for its antioxidant properties and potential to support skin health.
Iced Vanilla Latte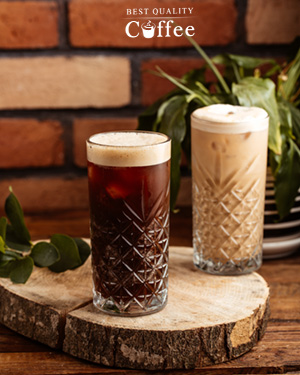 A average iced vanilla latte is loaded with plenty of sugar and fat. One way to make this admittedly delicious drink healthier is to substitute whole milk with skim, almond, or oat milk. I personally prefer oat milk over almond milk as it has a thicker texture than the others. These milk alternatives will not be as creamy as whole milk or whipping cream. However, I think they still deliver a full flavor that allows you to maintain your health goals without sacrificing taste.
Dark Chocolate Café Mocha
The dark chocolate cafe mocha is a fan-favorite and for good reason. It's a delicious and indulgent drink that combines the goodness of coffee with the decadence of chocolate. Milk chocolate is full of sugar while dark chocolate will have far less. If you want to take it a step further, you can use cacao powder or grated dark chocolate to add a rich and indulgent flavor without adding extra sugar and calories. It's worth noting that many cacao powders and dark chocolates with 70% or higher cocoa content are also suitable for vegans. Whether you're on the go or simply looking for a moment of pure bliss, the dark chocolate cafe mocha is a perfect treat to satisfy your cravings.

Coffee Shake with Banana
Feeling adventurous? Give your coffee a fruity twist by adding a potassium-charged banana to your coffee. Doing so makes your coffee a refreshing and creamy milkshake, especially when paired with skim or plant-based milk. This versatile fruit is known for its ability to thicken milkshakes and adding a full-bodied texture. Blend together a banana, coffee, and ice, or for an extra treat, toss in a scoop of ice cream. If you prefer a healthier option, skip the ice cream and opt for frozen yogurt instead.

Bulletproof Coffee
This is a keto-friendly beverage that combines black coffee with a dollop of butter as a substitute for breakfast. It's low in carbohydrates and is formulated to induce a sense of satiety. In other words, this coffee makes you feel fuller for longer, improves your mental focus, and gives you lasting energy. If you enjoy coffee but also want to enjoy a health-conscious option that benefits your body and mind, this drink is for you. If you're vegan, you can use coconut oil or another nut butter instead. It will have the same effect and taste just as good.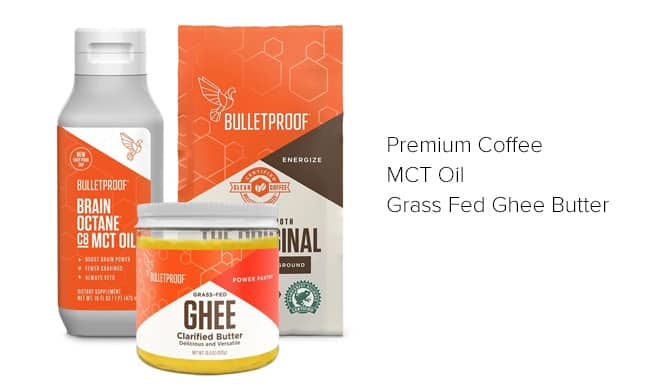 Healthy Coffee Smoothie
You can turn a cold coffee beverage in the morning into a health-conscious breakfast with banana, sugar-free peanut butter, vanilla extract and milk (dairy or plant-based). Your smoothie will have caffeine for your early morning energy boost while adding additional fruits and health flavorings. This is the perfect breakfast-on-the go for a busy, health-conscious person and you can even whip it up the night before to save time in the morning.
Going Decaf
Decaf coffee, short for decaffeinated coffee, can be a healthier option for individuals looking to reduce their caffeine intake. One of the key advantages of decaf coffee is that it can help reduce caffeine-related issues. An overconsumption of caffeine can lead to problems such as increased heart rate, anxiety, and sleep disturbances. By opting for decaf, you can avoid these symptoms while still enjoying the familiar flavor of coffee. I know some hardcore coffee lovers balk at the idea of decaf. They understandably yet mistakenly equate it with "tasteless brown water". But these people may be surprised to know that decaffeination technology has come a very long way and today, you can enjoy full-flavored caffeine-free coffee without sacrificing taste.
However, it's important to note that decaf coffee is not entirely caffeine-free, as it still contains a small amount of caffeine, but significantly less than regular coffee. Depending on the method of decaffeination, the coffee can be 99% caffeine-free. To learn more about the decaffeination process, check out our full decaf coffee guide.
Coffee: Brazilian and Colombian

Notes: Rich & aromatic, full-bodied & delicious.

Decaf Process: Swiss Water

Notes: Nutty, Rich, Dark Chocolate, Full Bodied

Decaf Process: Mountain Water

Coffee: Nicaragua (Organic)

Notes: heavier body with deep, darker flavors, dry yet sweet

Decaf Process: Swiss Water
Sparkling Iced Coffee
If you're looking for healthy, light, and delicious summer coffee drink, then a sparkling iced coffee may be a viable option for you. Mixing coffee with sparkling water is a great way to add new life to your coffee experience without compromising your health goals. Sparkling water adds an unmistakable zest to your drink while also conferring many health benefits.
Once you've brewed your espresso, pour it over crushed ice, and fill your glass with sparkling water. For added flavor, you can include a dash of vanilla extract or a squeeze of lemon. It's light, delicious, and perfect for hot summer days. Enjoy the benefits of both coffee and sparkling water in one delightful sip.
Homemade Flavor Syrups
Instead of buying expensive and sugar-laden flavor syrups at Dunkin' Donuts or Starbucks, make your own at home. Making your own syrups allows you to have full control over the ingredients. You can swap out sugar for honey, maple syrup or agave and add flavor extracts to give it the taste that you desire. If you want to reduce your sugar intake even more, consider using Stevia or Monk Fruit.
Hot Ginger Coffee
The health benefits of ginger have been well-documented. It so happens that ginger also tastes great with coffee. We understand that combining ginger with coffee can seem off-putting at first. But they are surprisingly complimentary especially when paired with a fruity and floral coffee. You can make your own ginger coffee with chopped crystallized ginger, cinnamon, and orange zest to enjoy all the goodness of this root when on the go.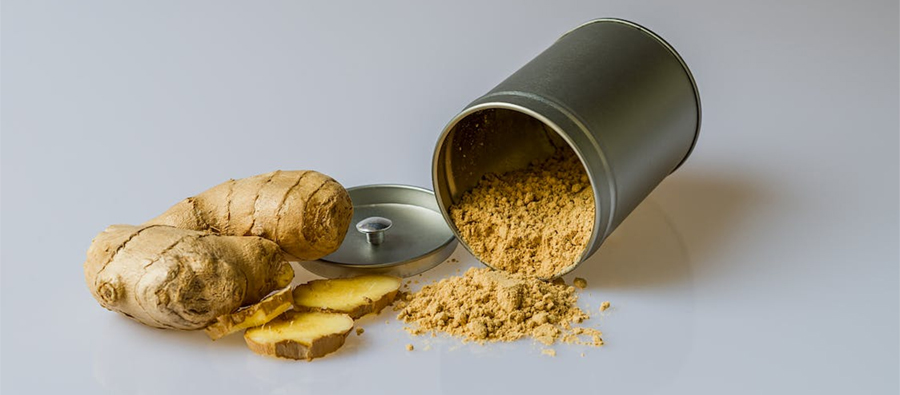 More Great Ways To Make Your Coffee Healthy
If you're looking for other ways to make your coffee even healthier, you can include any of the following ingredients to enhance your morning brew.
Collagen powder
Spirulina
Ashwagandha powder
Turmeric
Cayenne or chili pepper
Dark chocolate slivers
Final Thoughts on Making a Healthier Coffee Drink
As you can see, creating a healthy coffee drink isn't just about reducing sugar intake. While doing so is nothing but a good thing, it's also important to supplement your health goals by adding things that will improve your health. All of these ingredients offer different health benefits that can help transform the world's most magical brew into something even more extraordinary.
So, next time you need a quick healthy coffee drink to fit in with your busy lifestyle, try one of these options. You'll enjoy all the perks of caffeine with a little bit of extra goodness to go.