As more states legalize the use of cannabis for medical and recreational purposes, the demand for tetrahydrocannabinol oil or THC oil has grown significantly. To meeting this growing demand, there are many places where you can buy THC oil and THC tinctures online. Often times these products are mixed with cannabidiol or CBD. If you're a newcomer to THC oil, it's important to know what to look for when purchasing it. In this article, we will discuss six things to consider when buying THC oil.
Before jumping right in, let's briefly go over what THC is for those who may be new to this world.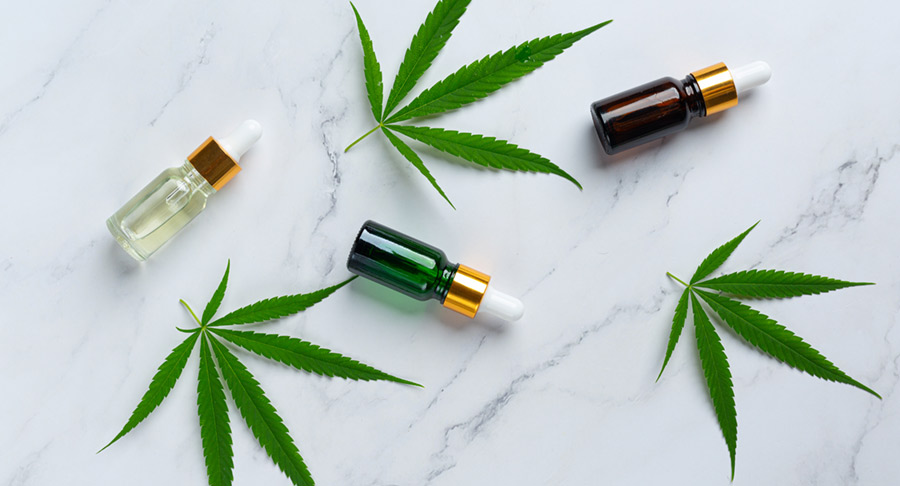 What is THC?
THC stands for tetrahydrocannabinol. It is a psychoactive compound found in the cannabis plant and the very compound that's responsible for the "high" feeling that's associated with marijuana use. When consumed, THC binds to specific receptors in the brain (specifically cannabinoid receptors) which can cause changes in mood, perception, and cognitive function. THC is illegal in many states as a result of causing said effects.
Note: Cannabidiol (CBD) and THC both come from the cannabis plant. However, they have very different properties. CBD will not give you a "high" feeling, but rather; a more calm and relaxed experience. As someone who has had personal experiences with both substances, I can say one is not better than another. It all depends on your specific needs.

It's also worth noting that many THC tinctures are mixed with CBD such as those offered by CBDfx. This specific product sources Full Spectrum CBD + Delta-9 THC Oil.
THC is commonly used recreationally for its psychoactive effects, but it can also have potential therapeutic and health benefits. However, as just mentioned, it's important to note that THC is still considered illegal under federal law in many countries, and the use of THC products should only be done in accordance with local laws and regulations.
Having said this, let's take a look at 6 key points to know when purchasing THC oil.
Here Are 6 Point To Know While Buying THC Oil
1. Understand The Source
While shopping for THC oil, it is crucial to understand the source of the product. The cannabis plant already has many variables that can affect the composition and quality of the oil, and different manufacturers may also use various processes to obtain it. For example, cannabis oil could be obtained with solvents like ethanol, butane, or carbon dioxide-based methods.
Depending on which one is used, residuals could be left behind in the final product you do not want to consume. Therefore, it's essential to research the extraction methods used by various companies and assess what fits your needs best.
2. Read Reviews
This may seem like an obvious tip, but before spending your hard-earned money on any product, it's always wise to check the reviews. Buying THC oil is no different. Be sure to look at more than just a product's rating. We encourage you to read testimonials and in-depth assessments so you can have a better idea of what to expect. THC Oils effect everyone differently so it's worth getting gathering information from a wide range of customers.
3. Make Sure That You Have Adequate Knowledge Of Its Legal Status
When buying THC oil, it's crucial to make sure that you know its legal status within your state. In some places, THC oil is still illegal, while in others, it is legal for medical or recreational use. Be sure you familiarize yourself with any restrictions your state may have on the consumption and distribution of THC.
We cannot emphasize this enough. Illegally consuming THC can have serious legal ramifications.
If you're unsure, check out this link to see whether THC is legalized in your state.
4. Consider The Type Of Delivery System
You'll also want to consider the type of delivery system when using THC Oil. THC oil is available in a variety of delivery systems, including capsules, tinctures, vape pens, oral syringes and edibles. Consider which delivery system is best for your needs and preferences.
If you are new to THC oil, you may want to start with something easily consumed like a low-dose capsule or tincture (sublingual).
5. Be Aware Of Any Potential Side Effects
When buying THC oil, it's important to be aware of potential side effects that it could have on you.
Those new to using THC oil should start with a small dosage and slowly increase the intake as they become more familiar with how their body responds. As mentioned earlier, everyone's physiology is different and so THC is likely to vary in its effects from one person to the next.
It is also important to note that this oil has potent psychoactive properties. Therefore it's essential to consider carefully if this product is right for you and consult a medical professional before using THC oil if you have any pre-existing health concerns.
6. Ask Questions About Dosage Amounts
It's critical to pay attention to dosage requirements when purchasing THC Oil. THC oil comes in a wide range of potencies, so the dosages can vary drastically. Taking too much of this powerful substance may have undesirable effects, so it is essential to ensure that you purchase the specific amount that fits your needs. As with all things that you ingest, start with a low dosage and slowly work your way up.
Additionally, educational resources are available online to make you understand precisely what you're ingesting before a purchase.
Why Should You Buy THC Oil?
THC oil is a great way to get introduced cannabis without exposing yourself to the dangers of smoking. It offers a clean, convenient experience without the same potential risks associated with traditional combustion-consumption methods. The effects are similar, though they can vary based on dose, method of ingestion, and individual body chemistry.
With the right THC oil, you can enjoy the psychoactive and health effects of cannabis without having to inhale it. You'll also avoid the arduous process of preparing flower buds for use in a pipe or joint. Smoking a joint or pipe produces smoke that can leave an unwanted odor in the room.
Another benefit to using THC oil is that you can control the exact dosage and adjust it accordingly. This can lead to a more consistent cannabis experience.
Is THC Oil Legal?
The legality of THC oil is an increasingly complex matter. While in some countries, the consumption, production, and sale of THC oil are legal, many states within more restrictive regions continue to put laws in place to prohibit its usage. The definition of what constitutes THC oil varies across different jurisdictions, so individuals need to research the legality of usage in their country or state before using it. On a federal level, it is still considered illegal to consume THC oil as a medicine as per the Controlled Substances Act of 1970.
Tips for Buying THC Oil: Final Thoughts
When it comes to buying THC oil, there are a sea of different brands to choose from. Depending on where you live, you might be able to find it in physical stores or online. As someone who has spent time in Montana where recreational cannabis is legal, it was a simple matter of driving 5 minutes a local store.
As we've covered in this article, the most important thing to do is make sure that THC is legal in your state or country. While many of the suggestions above may cross over into common sense, you'd be surprised by how many people overlook the basics. Entering the cannabis space can sometimes feel a little overwhelming for those who aren't familiar with the terminology and legality of the substance. It's our hope that this article has helped with that.
If you're a coffee lover who is also interested in the health benefits of cannabis and hemp, check out our best CBD coffee brands.