If you keep up with the latest health trends, you may have noticed that mushrooms are becoming the next big super food, outshining staples such as kale, chia seeds and acai berries. So what do mushrooms have to do with coffee? More and more companies are sprouting up and adding these super mushrooms to their coffee products, or solely selling mushroom coffee. You might thinking to yourself that the idea of mixing the two is unsettling. Don't worry. You're not alone. If you want the health benefits without the taste of mushroom in your coffee you have nothing to fear. You can still get the tasty coffee taste you enjoy every morning, with nothing but upgraded health benefits. So what exactly is mushroom coffee and what are some of the best mushroom coffee options available.

What makes it Mushroom Coffee Much Healthier?
In answering the question of what is mushroom coffee, we have to first take a look at its ingredients. Is it just mushrooms, or just coffee, or both? It's actually both.
Mushroom coffee is mainly used with three different types of mushrooms; cordyceps, chaga, and lion's mane. Harvesters pick these superfoods dry, crush them up, and mix them in with their blend of instant coffee. For all you health food nerds, here's a diagram that shows just how healthy these mushrooms are. There is a statistical map of foods that ranks each food by their nutritional value courtesy of Four Sigmatic Mushroom Coffee, one of the best-tasting mushroom coffees out there. Mushroom coffee ranks four standard deviations above most foods, and one standard deviation above what is considered a superfood. That makes it the highest ranking food as far as nutritional value goes! Only 50 foods in the world rank this high, and you can stick it in your coffee without even noticing.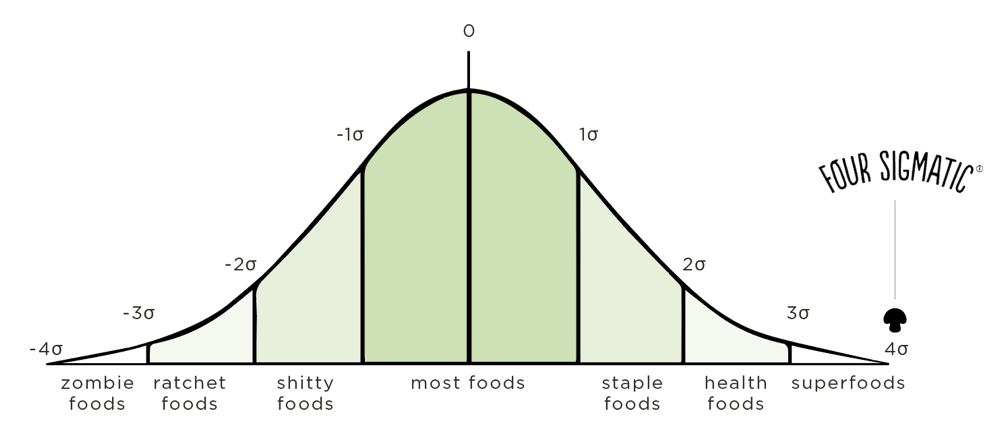 What is Mushroom Coffee: Will I Feel a Difference?
As a coffee lover, I've actually taken the leap into the world of mushroom coffees. I gotten over any mental barriers to trying it and am actually sipping on some mushroom coffee as I write this article. The answer to whether you'll feel a difference drinking this coffee is a resounding yes. You will feel a difference. From my personal experience of mushroom coffee, backed up by other reviews, I don't get the jittery feeling that is often associated with coffee. Personally I can be pretty sensitive to caffeine. For me, the benefits of being awake and alert typically outweighs the drawbacks of mild anxiety and jitters that come along with drinking too much coffee. With mushroom coffee you get all the alertness and added focus without the crash or jitters. The energy from mushroom coffee feels very clean, natural, and consistent.
Mushroom Coffee also helps with focus and overall mental cognition. It's considered a nootropic coffee or coffee that confers natural health benefits to the brain.
Mushroom coffee makes for an excellent choice for coffee drinkers with sensitive stomachs as it's naturally less acidic than regular coffee. In other words, mushroom coffee is similar to low-acid coffee.
Related Article: How to Make Your Coffee Less Acidic , Best Low Acid Coffees
What is Mushroom Coffee: Best Mushroom Coffees
1. Four Sigmatic Mushroom Coffee Review
There are many mushroom coffee brands available but as is the case with any new industry, it can be a mixed bag at first. There are two specific brands that we recommend.
The first is Four Sigmatic Mushroom Coffee which has already won over the hearts of thousands of coffee lovers including my own. Earning high marks for mushroom coffee reviews is no easy task when you consider that coffee lovers can be a hard-to-please bunch – especially when it comes o their prized brew. Four Sigmatic Mushroom Coffee is recommended for a number of reasons. Their quality mushroom coffee contains only half the caffeine but grants you double the mental clarity as its chocked full of 500mg of organic Lion's Mane and Chaga mushroom powder. The antioxidant properties from the Chaga mushroom help support healthy immune function. All of their ingredients are naturally farmed or wild harvested which in this day and age, counts for a lot.
I was pleasantly surprised. While I personally do love the taste of mushrooms, I'm not so sure I want to taste them in my coffee. Not only that, but how often is instant coffee going to deliver high quality with it as well? I don't mind black coffee too much, but typically I'm a big fan of adding creamer. However, when trying mushroom coffee for the first time I wanted to try it in its purest form, and I was not disappointed. I didn't taste any mushroom flavor, and drinking the coffee black I felt no need for creamer at all.
So I repeat: Mushroom Coffee does NOT taste like mushrooms.
It had a balanced medium body with delightful fruity notes. If you care about the health benefits, then being able to enjoy a great-tasting treat without the added sugar and calories of creamer is a huge plus! In case you didn't know, this is a sugar free coffee as well. I know when I'm dieting I usually have to go with black coffee, since creamer tends to add over 100 calories alone to your coffee. That's like going for a one mile run just to better enjoy your coffee. I'd rather just drink this mushroom coffee 🙂
Buy Four Sigmatic Mushroom Coffee
2. Ryze Mushroom Coffee
Ryze is a mushroom coffee brand that has gained much notoriety over the years for more than one reason. As a company that uses only organic ingredients, Ryze knows the value of delivering an all-natural coffee experience to maximize the benefits of its product. Ryze contains 48mg of caffeine which is less than half of the amount that's found in a regular cup of coffee. In addition to being chocked-full of antioxidants, Ryze includes Cordyceps which are responsible for offering sustained energy minus the jitters that commonly come with caffeine. This product was specifically formulated for maintaining energy levels, cognitive function, and focus throughout the day. Additionally, this product contains zero sweeteners and offers a natural flavor that's won over the taste buds of thousands of its satisfied customers. Ryze coffee is quite smooth and a perfect morning, afternoon, and evening pick-me-up.
On the coffee side of things, Ryze sources shade-grown organic coffee from Mexico.
3. WildCrafter Mushroom Coffee K Cups Review
Wildcrafter Mushroom Coffee is the second mushroom coffee I'd recommend. Like Four Sigmatic, Wildcrafter sources 100% organic Arabica beans to ensure the best coffee experience possible. But unlike Four Sigmatic, Wildcrafter makes their mushroom coffee available in K-Cups / Coffee pods. These tasty mushroom coffee K Cups deliver a variety of health benefit while also deeply satisfying the coffee fix of even the most discerning coffee snob. Their immune shield blend is chocked-full of antioxidants while offering an incredibly smooth and full coffee experience. It's one of those coffee products where you can literally taste the quality of its ingredients.
Wildcrafter Coffee was founded by Tieraona Low Dog, MD and is a world-leading experts in botanical medicine.
Buy Wildcrafter Mushroom Coffee K Cups
Mushroom Coffee for a Healthier Lifestyle
This article will have hopefully helped you to answer the question of "what is mushroom coffee? At the end of the day, mushroom coffee is an easy choice to make towards a healthier lifestyle without compromising flavor.
I think even the most hard core coffee lovers will be surprised to learn that mushroom coffee is surprisingly delicious (despite any initial aversions to the idea.) Not only will you feel better, get less calories and get a higher boost in your metabolism, but you can do it without any extra effort by substituting something that you drink every morning anyways!