Definition: Half Caff coffee is coffee that has half the caffeine and is typically a 50/50 mix of regular and decaf beans. The Best half caff coffee will typically use beans that have been decaffeinated via the Swiss Water Process. (a natural process that helps to retain the coffee bean's original flavor profile.
I love and savor the taste of a good coffee. But like most of the world, I also drink coffee for the caffeine.
As all coffee lovers know, you can only drink so much caffeine before experiencing the unwanted side effects of the "jitters" and "headaches". At the same time, the mere mention of decaf as an alternative is downright offensive to most regular coffee drinkers. Enter the world of the best half caff coffees, where you can have your proverbial cake and eat it too. In this article, we'll go over the best half coffee and best half caff k cups.
Best Half Caff Coffee 2023
Beans sourced from Central + South America

Low acid and incredibly smooth

Specialty-grade beans from Nicaragua

Decaf via the natural Swiss Water Process

Specialty-grade Peruvian and Mexican beans
Best Half Caff Coffee and K Cups of 2023 [Full List]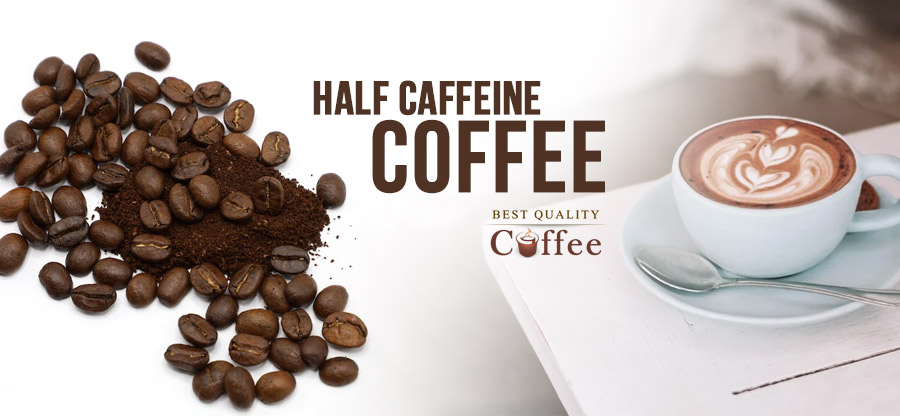 Lifeboost Coffee Half Caff
Topping our list is a half caff coffee is a brew that's ideal for coffee lovers who take their coffee "seriously" but want to reduce their caffeine intake. Since reviewing Lifeboost coffee for the first time 5 years ago, this brand has remained a fan favorite of ours. Their low acid half caff coffee sources specialty coffee beans from the mountains of Nicaragua and delivers a purity of coffee flavor that's unmatched. It's incredibly robust, smooth, and clean flavor and best of all, only half the caffeine.
Hand picked, spring water washed, sun-dried
Hand roasted, single origin, 100% Arabica beans, Mountain Shade grown
3rd party tested for mycotoxins, heavy metals, Acrylamides, pesticides + 400 other toxins!
Decaffeinated by Swiss water method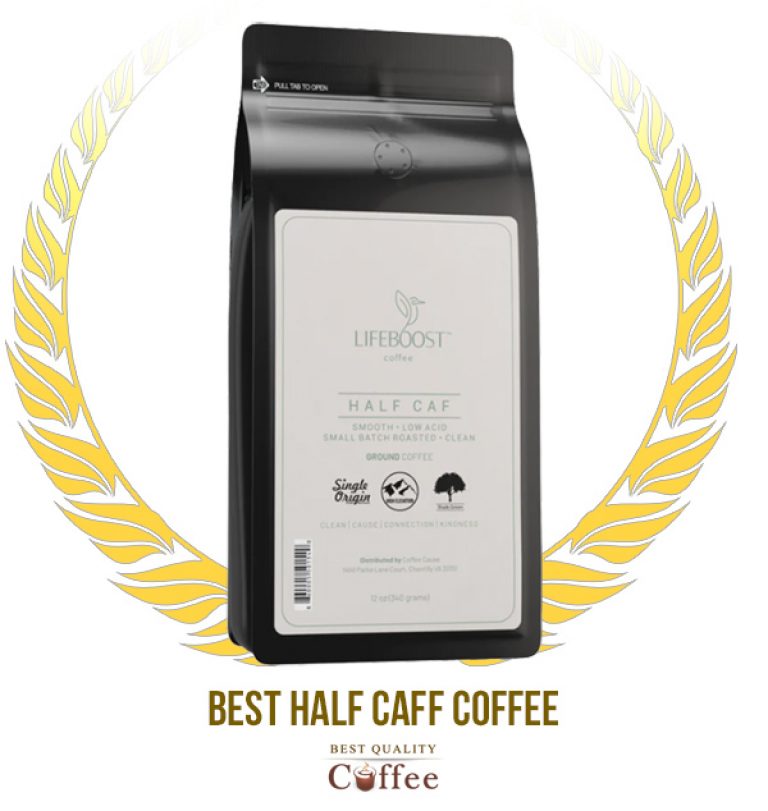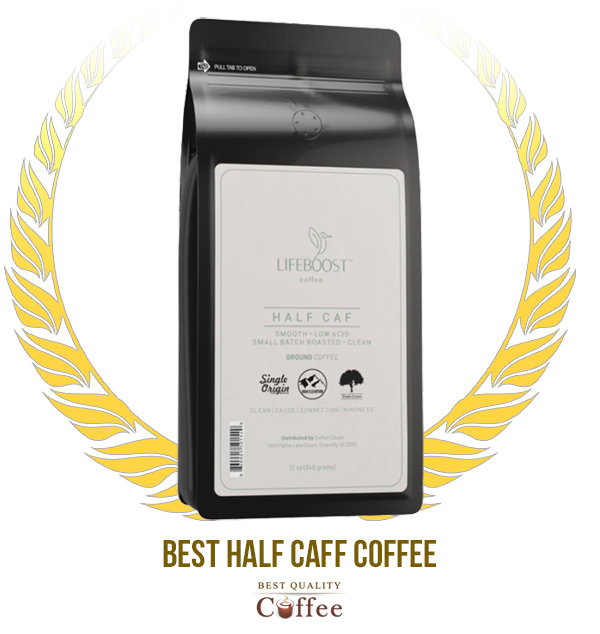 Fabula Coffee Half Caff
Fabula Coffee is one of our favorite coffees for a number of a reasons. We were thrilled to discover they offer a half caff version of their USDA organic, low acid, and mycotoxin-free coffee. This medium roasted brew is a blend of specialty-grade Peruvian and Mexican coffee and yields delightful notes of caramelized sugars, nuts, and chocolate. Check out our full Fabula Coffee review for more details of one of the smoothest coffees we've tried to date.
USDA Organic Coffee
Low Acid and Ultra Smooth
3rd party tested for mycotoxins
Medium roasted Peruvian and Mexican specialty-grade beans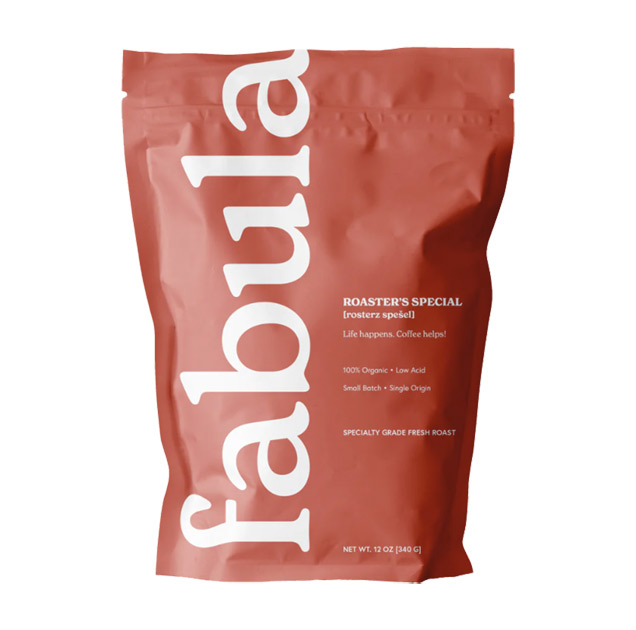 Rocky Mountain Roastery French Roast Half Caff
Next on our list of the best half caff coffee is product from Rocky Mountain Roastery. Their French Roast is a strong, bold, and robust brew that's dark roasted to perfection at high altitudes. It offers all the strength of a quality French Roast while being incredibly smooth and full-bodied. This brew delivers a 50/50 mix of caffeinated beans as well decaffeinated beans via the Swiss Water Process.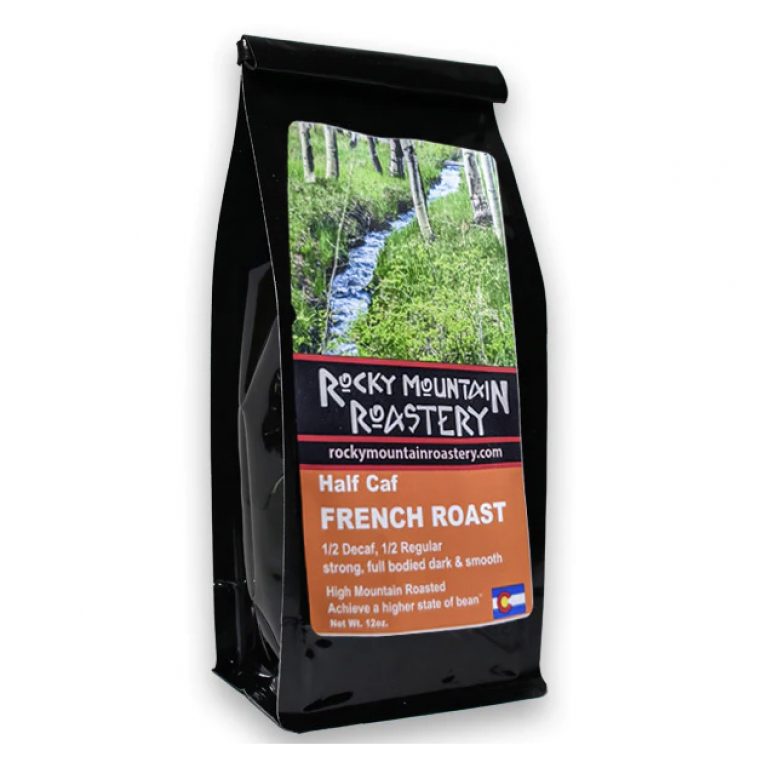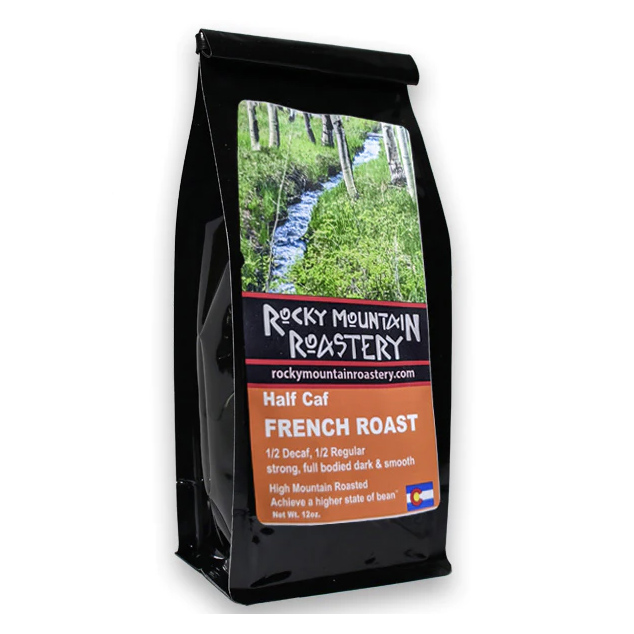 Buy Rocky Mountain French Roast Half Caff
Volcanica Coffee Half Caff
Volcanica Coffee is no stranger to the world of high-end coffee and we were delighted to discover that they offered their premium coffee with only half the caffeination. This is one of their house blends which sources exquisite coffee from South and Central America. It's a medium roast brew that's bold in flavor and rich in body with subtle sweet notes. As with many of the other coffees on this list, the decaffeinated beans went through the natural Swiss Water Process. As a huge bonus, this coffee is also low acid. Use our exclusive Volcanica Coffee coupon code to get 12% off your entire order: BESTQ12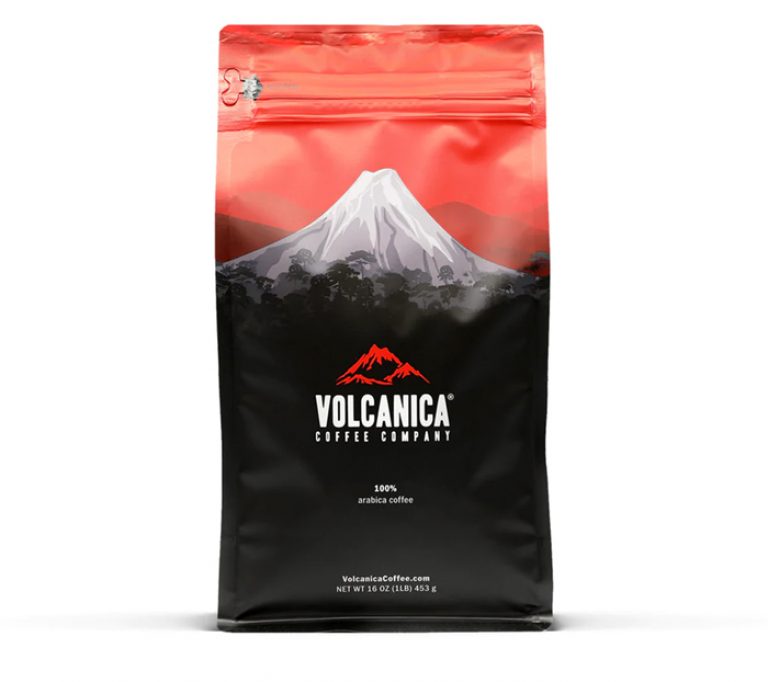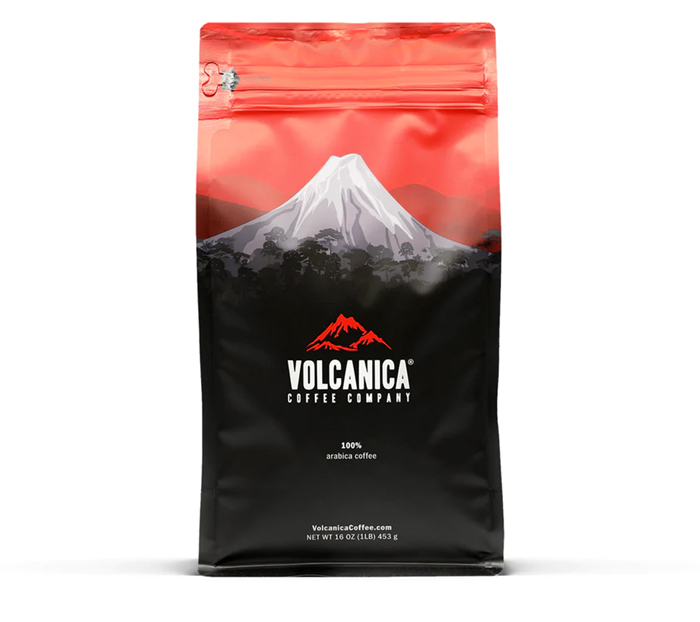 Brewpoint Half Caff Decaf
Brewpoint's Hemisphere blend, like many of the other brands on this list, offers the best of both worlds. A delightful medium roast with beans sourced from Costa Rica & Mexico, this coffee offers notes of Milk chocolate, graham cracker, and caramel. With half the caffeine of regular coffee, you can enjoy multiple cups while still being able to sleep at night.
Origin: Costa Rica & Mexico
Roast: Medium
Cup: Milk Chocolate, Graham Cracker & Caramel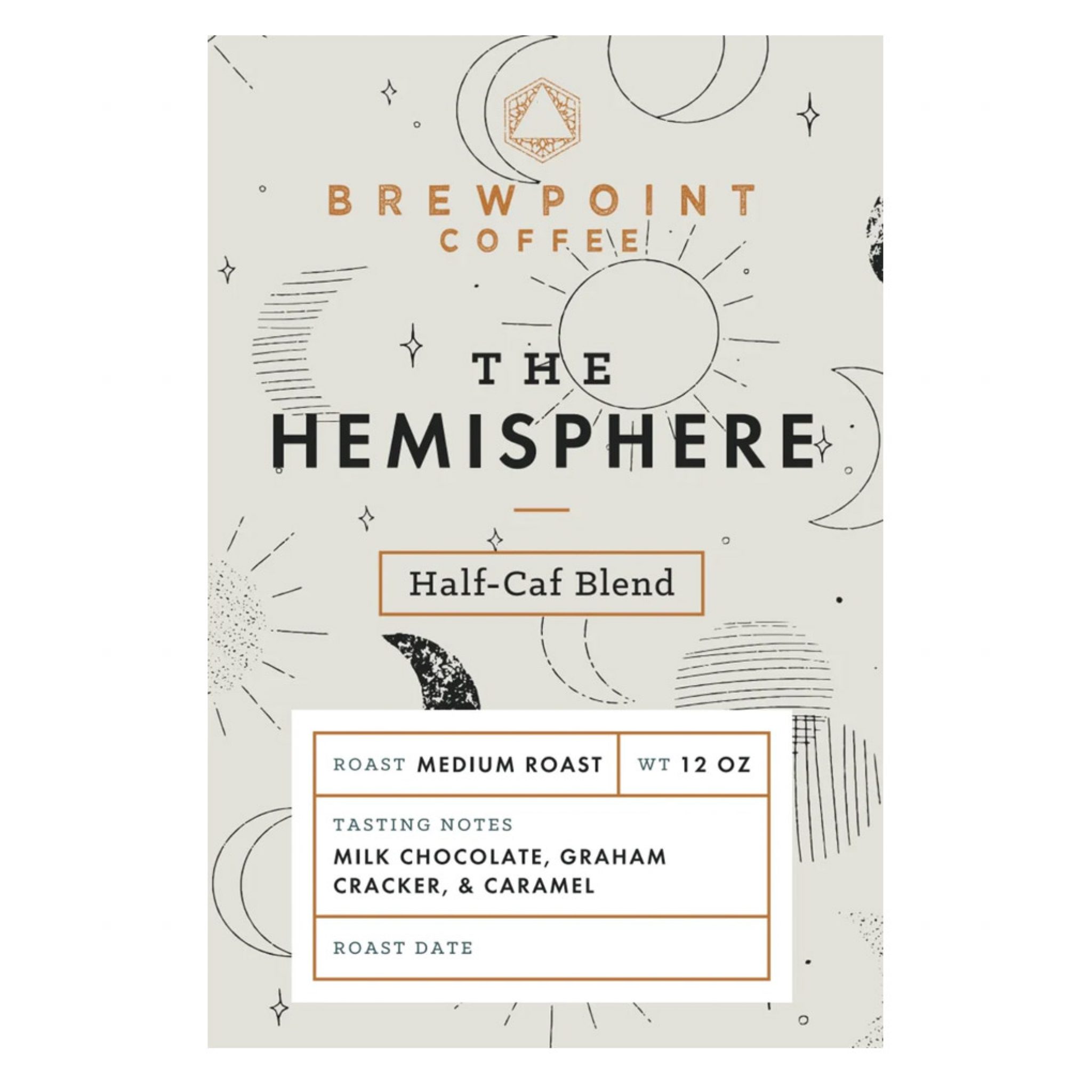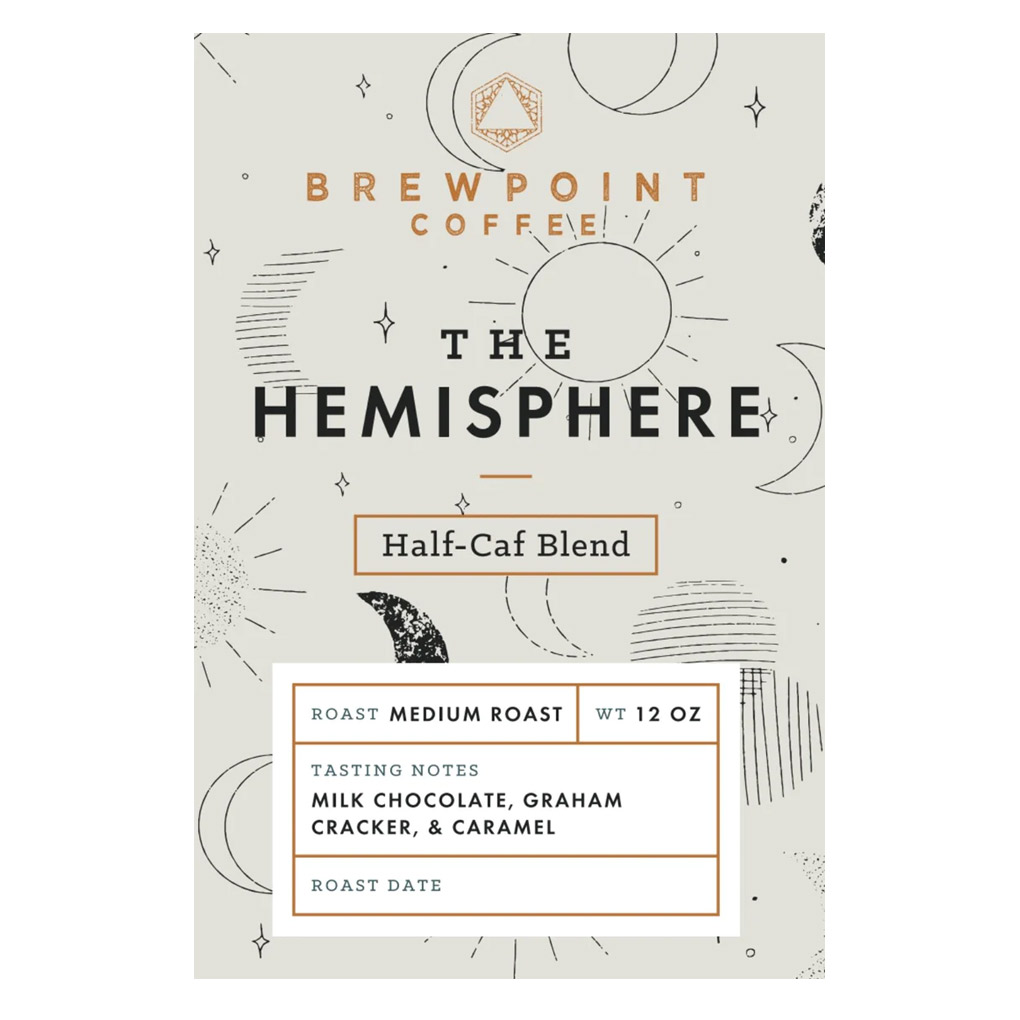 Peet's Half Caff – Sumatra
For those who appreciate specialty coffee, Peet's Coffee needs no introduction. I was excited to discover they offered a half caff version of their famed Sumatran coffee with its earthen notes and ultra-smooth finish. Sumatran beans in general have a more earthen flavor that's low in acidity and high in smoothness. Dark roasted to perfection, this half caff offering is certain satisfy even the most uncompromising coffee lovers while reducing caffeine intake.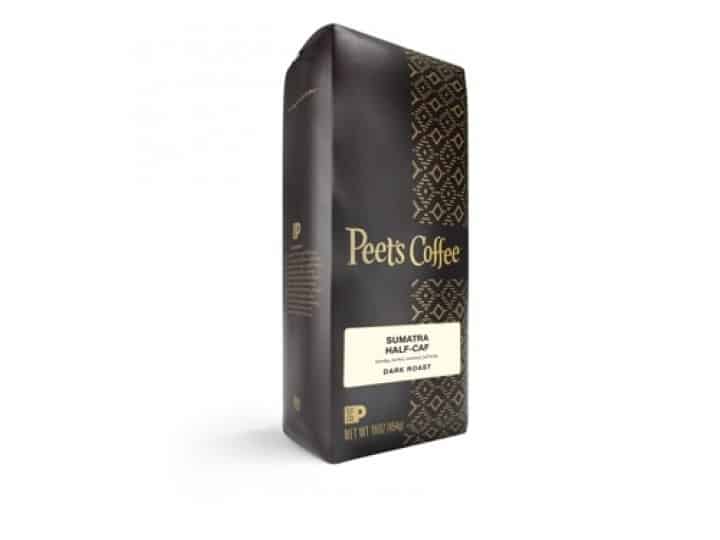 Mommee Half Caff
Mommee Coffee is best known for their low acid coffee. As you can tell by their branding, they appeal to expecting mothers who are looking to moderate their caffeine intake. At the same time, there are still many reasons for the regular coffee lover to try this brand. This coffee is certified organic and Fair Trade certified. Like the other coffees on this list, their half caff brews are very full-flavored while being gentle on the stomach.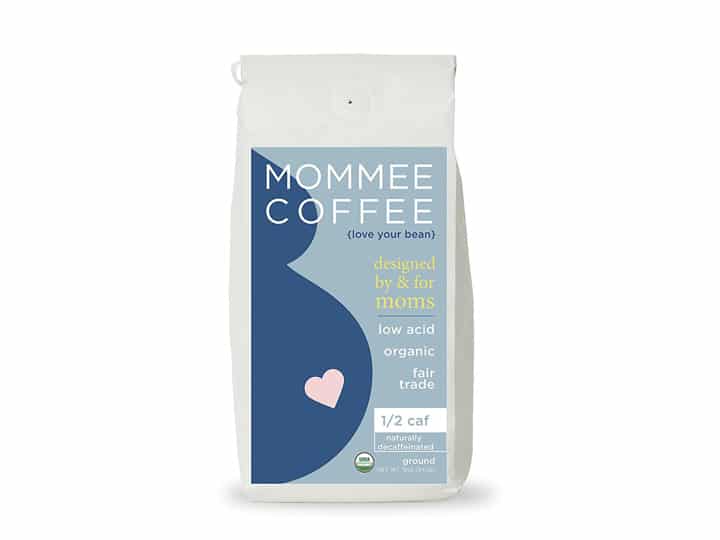 Best Half Caff K Cups
Maud's Coffee Half Caff
Maud's Half Caff coffee is the first half caff K-Cup / Coffee pod to make this list. It's no secret that we've been big fans of Maud's Coffee since they first arrived some years ago. I'd consider their coffee to be very robust, smooth, bold and low in acidity. Their medium roasted half caff is no less impressive and delivers a full flavored coffee experience minus jitters. As a bonus, it's offers a delightful hazelnut flavor that will stimulate the taste buds. It's appropriately named as the "World's Best Half Caff" and as one of the best half caff K Cups available, easily lives up to its title.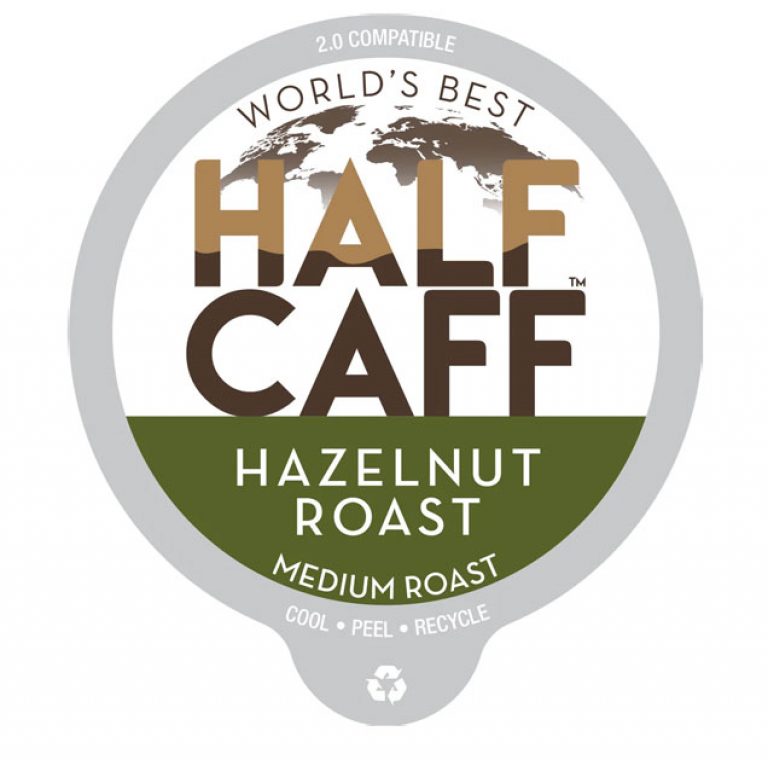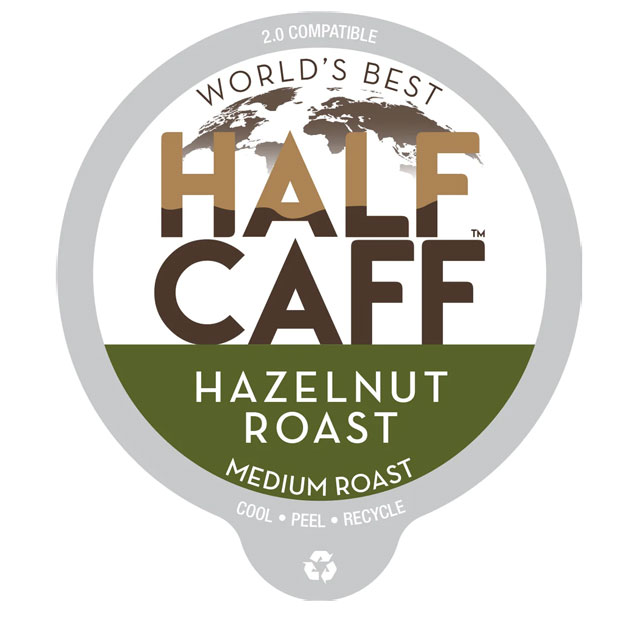 Green Mountain Half Caff K Cups
Green Mountain Half Caff isn't low acid like the others on this list, but is still just as impressive. It delivers the classic strength and quality of Green Mountain coffee minus the full dose of caffeine. This is the second half caff K-Cup to make this list. Medium roasted with subtle hints of chocolate and raisins while producing a nutty finish, Green Mountain's half caff is a deeply flavorful brew. It's the type of flavor that will make you ask yourself "this is half caff?".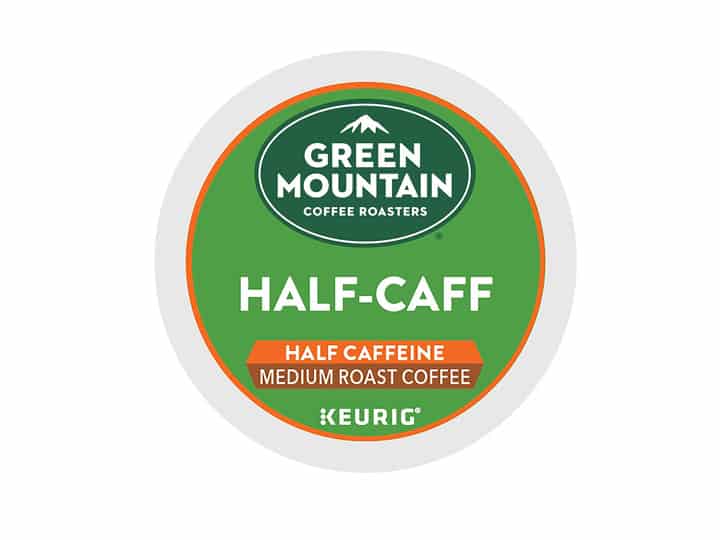 What is Half Caffeine or Half Caff Coffee?
Contrary to popular belief, half caff isn't made by removing only 50% of the caffeine from a bean. Doing it that way wouldn't be cost-effective. Half-caffeinated coffee, as we already mentioned, is coffee made up of a 50/50 mix of regular and decaf beans. Decaf has a reputation for being watered down although with modern technology that's changing. Drinking half caff coffee ensures that you're reducing your caffeine intake without sacrificing flavor.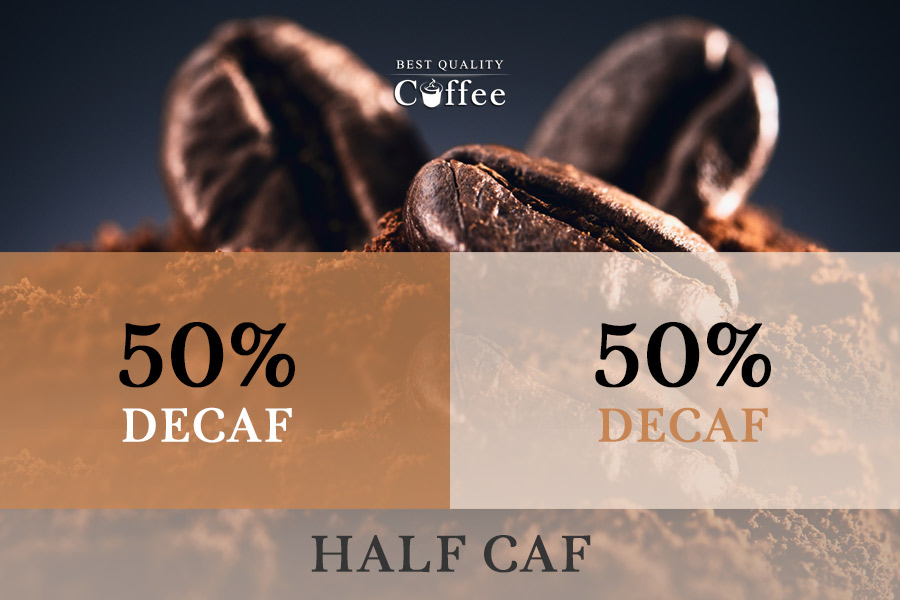 I personally like drinking coffee with half the caffeine since it's an attractive middle ground between two extremes. I get to enjoy full-flavored coffee without an overdose of caffeine.
Tip: If you're looking to reduce your caffeine intake, stay away from Robusta beans which typically have twice the amount of caffeine than Arabica beans.
Half caffeinated coffee is also a viable alternative for those looking to gradually cut out all caffeine from their diet. Cutting out caffeine suddenly can be shock to the body. Half caff coffees allows you to slowly but surely ween off of caffeine without just going "cold turkey". I've done it before, and had I known about half caff, it would've definitely made the transition easier.
The truth is that caffeine itself actually has a flavor. Some describe it as a subtly bitter taste. When I drink decaf, I notice there's a missing taste that I've grown accustomed to when drinking my favorite brew.
Having said that, below is a curated list of the best half caff coffee on the market. These coffees were chosen primarily for their ability to still deliver high flavor and body despite being mixed with decaf beans.
How much caffeine can I drink in a day?
According to the Mayo clinic, coffee drinkers should drink no more than 400 milligrams of caffeine per day. A single 8 oz cup contains about 75 milligrams of caffeine so that comes out to about 5 cups of coffee a day.
Please keep in mind that the amount of caffeine ultimately varies from one brand to the next. Certain varieties of coffee beans contain more caffeine than others. For example, the Robusta varietal contains twice as much caffeine as its more popular Arabica counterpart.
Related Article: What's the Difference Between Robusta and Arabica Coffee Beans?
Benefits of Reducing Caffeine Intake
While drinking moderate amounts of caffeine can give you healthy jump start to your day, too much caffeine can be a problem. As with all things, there is such thing as too much of a good thing. Drinking too much caffeine can result in high blood pressure, insomnia, caffeine addiction, headaches from withdrawal, among other negative side effects.
As common sense as it may sound, be sure to listen to your body. If you feel jittery or on edge after drinking multiple cups of coffee, it's likely time to reduce your caffeine intake. At the very least, try going the half caffeine coffee route to see if that helps. If you find yourself still experiencing the symptoms, then you may want to remove caffeine from the equation entirely and go full decaf.
If you're looking to go totally caffeine-free, check out our curated list of the best decaf coffees on the market.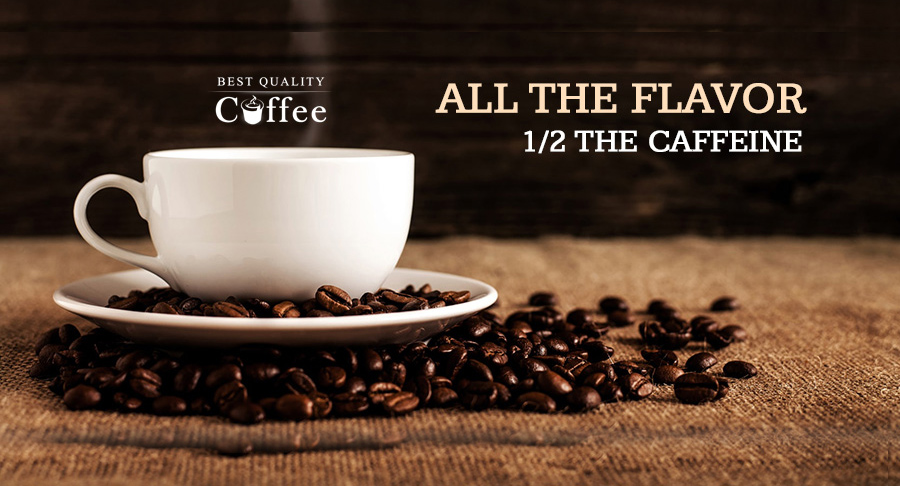 How to Make Half Caff Coffee at Home
The above list of the best half caffeine coffee and K Cups is perfect for those looking to buy a ready-made half caff blend. However, did you know you can brew your own half caff at home as well?
As you may have guessed, you can simply buy a bag of your favorite decaf and caffeinated beans and then mix them together. This opens up the door for endless possibilities as you're no longer restricted to the availability of specific flavors.
Pro tip: You can even create your own half caff K Cups using a K-Cup Adapter.
One major advantage to making your own half caff blends is that you can adjust the ratio of caffeinated to decaffeinated beans to suit you. For example, if half caff still delivers too much caffeine, you can go 1/4. Or conversely, if you want more caffeine you can always go 3/4 caff.
Best Half Caff Coffee: Final Thoughts
The idea of suddenly cutting out all caffeine is probably unappealing to most coffee lovers. Some die-hard coffee lovers might even argue that there's no point in drinking coffee if there's no caffeine in it. That's why half caf coffee is such a happy medium and perfect solution for the health-conscious coffee lover looking to reduce their caffeine intake.
The best half caff coffee for you will ultimately depend on your specific flavor preferences. The options listed in this article are certain to deliver a full-flavored experience that won't get you wired….or at least too wired 🙂
Related Article: Are you a fan of Light Roast K Cups? Check out our list of some of the best light roast k cups on the market.