[Updated 8/15/2022] For many avid coffee lovers, the thought of high quality instant coffee may seem like an oxymoron. Or better yet, an impossibility. Waka Coffee is an instant coffee company that's set out to prove that truly high quality instant coffee is not only possible, but here. In this Waka instant coffee review, we take a closer look at a coffee that will have you questioning everything you ever thought about the world of instant coffee.
As many coffee lovers already know, instant coffee is typically a last resort during times of coffee desperation. Whether you're out in the woods camping, running low on time, or just out of coffee altogether, it's usually not treated as a first option for most coffee drinkers. Waka Coffee knows this well and sent us a few samples to demonstrate their commitment to their goal of creating the best high quality instant coffee on the market.

If you're not in the mood to read everything, we offer this summary below. As you can see, we were thoroughly impressed.
| | |
| --- | --- |
| | |
| | |
| | |
| | |
| | |
| | Use our Waka Coffee coupon to get 15% Off: TRYWAKA |
Note: Waka Coffee's branding and packaging has since been upgraded since doing our review.
Before jumping head first into this Waka Coffee review, there a few things worth noting about me as a coffee drinker. I'm not an instant coffee drinker and so I admit to having my reservations before trying this coffee. The thought of instant coffee is enough to turn away any coffee connoisseur. Helping to address these initial concerns were 3 significant facts about this instant coffee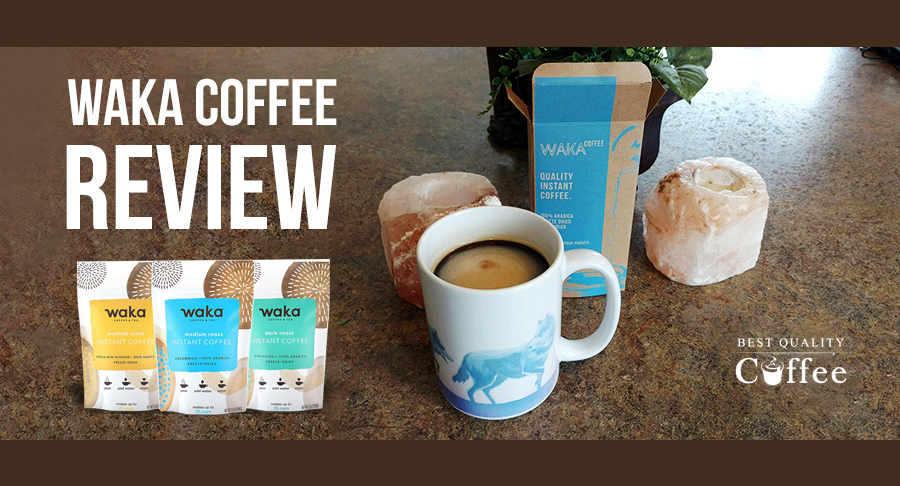 Waka Coffee Review: What Makes It So Special?
They Use High Grade Arabica Beans

For those who may not know, a vast majority of instant coffee uses the Robusta species of coffee beans. It's considered a lower-grade bean that produces a harsher and extra bitter flavor. Waka Coffee distinguishes itself from the pack by using 100% Arabica coffee beans which due to their quality and aromatic characteristics, fetch a much higher price on the global coffee market. The fact that Waka Coffee went with Arabica instead of Robusta was already an encouraging sign.


They Use Only Single Origin Coffee

Contrary to blends which will typically include lower quality beans, single origin coffee are sourced from the same location thus preserving authentic flavor and delivering a better coffee experience.


Freeze Dried Technology

Secondly, their coffee is freeze-dried as opposed to spray-dried. The process of freeze-drying coffee is much more costly than spray-drying and produces a far superior product because of it's lack of exposure to high temperatures. It's rare to find an instant coffee brand willing to go the extra mile to preserve the authentic coffee flavor and aroma.

Their high quality instant coffee comes with 8 single serve packets that are easy to take with you when you're on the go. The branding is simple and to the point. Please note that since the original writing of this review, the company has changed their packaging design.
As a bonus, Waka Coffee also donates 4% of all proceeds to Charity Water which focuses on bringing clean drinking water to different areas of the world.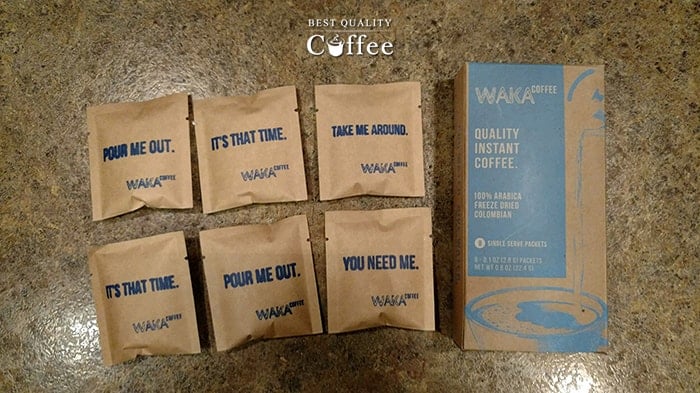 Waka Coffee Review – The Aroma
You can tell a lot about a coffee's quality by its aroma…especially when it comes to instant coffee. Instant coffee, The coffee's aroma was as potent as it was unique. The uniqueness came from a distinct caramel fragrance which was new to me but still enjoyable all the same. I've always associated instant coffee with a muted aroma so this was a very pleasant surprise for me.
What does Waka Coffee Taste Like?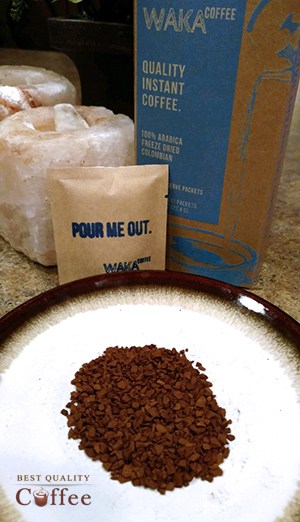 This is the million dollar question whenever conducting any coffee review.
Instant coffee has a notorious reputation for being diluted and watery. And if you're anything like me, I try to avoid that kind of experience at all costs. Fortunately, this coffee was amazingly bold, robust, complex, and deep. It was anything but watered down and offered a depth of flavor that could compete with high-end specialty coffees. The medium roast that I tried fully expressed the natural flavor notes of their fine Colombian bean.
Based on the taste of their coffee, you wouldn't even know it was instant. That's saying a lot in my opinion.
This medium roasted coffee packs the punch that coffee lovers with a bolder taste profile will appreciate. The tasting experience is like a tale of two cities. The first stage hits you with a strong smokey taste characteristic of a deep dark roast. The second stage is the complete opposite. After enjoying the bold flavor, I noticed it quickly tapered into a smooth and balanced aftertaste where subtle citrus notes were readily discernible. I was impressed by how true this coffee remained to the traditional coffee experience.
I can say in all my years of coffee drinking, I'd never tasted instant coffee so good.
Waka Coffee Review: Selection
I was thrilled to discover that Waka Coffee offers a wide range of coffees. I've been following this brand since 2019 and have watched their selection grow over time. At the time of this writing, they offer a light, medium, and dark roast sourced from different coffee-growing regions. Waka Coffee even offers two unsweetened flavored coffee options: Vanilla and Dark Mocha. I'd recommend trying out their discovery bundle to experience the range of Waka Coffee's offerings.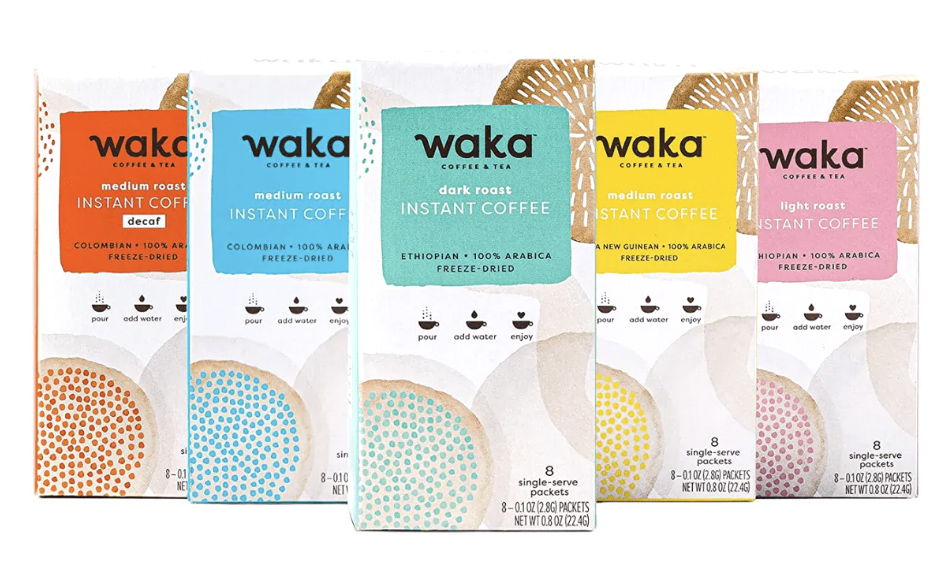 Note: Waka Coffee even offers an impressive decaf option for those looking to curb their caffeine intake. While I haven't personally tried their decaf coffee, Waka's decaf brew is regarded as one of the best instant decaf coffees out there. When I get the opportunity to try it, I'll update this article accordingly.
Waka Coffee Price
Waka Coffee is competitively-priced when you compare it to other high quality instant coffee brands.
| | | |
| --- | --- | --- |
| Size | Price | Price per Serving |
| 8 single-serve packets | $11.99 | $1.25 |
| 3.5-ounce bulk | $25.99 | $0.75 |
| 8-ounce bulk | $39.99 | $0.49 |
Given the quality of this instant specialty coffee, I'd say the price is more than justified. There's never a time when saving money on coffee isn't a good thing.
Use our Waka Coffee discount code to get 15% off your first order. The code is: TRYWAKA
You can also save an additional 10% by subscribing to their coffee subscription service.
Who is Waka Coffee For?
Waka Coffee is great for coffee lovers who want convenience without sacrificing quality. That's pretty much of all of us in some way or another. This versatile coffee is well-suited for anyone who finds themselves on the go whether it be in outdoor camping situations or office settings where good coffee is hard to come by. [Bringing bags of Waka Coffee to the office is likely to make you more popular either way.]
Ironically, this instant coffee is so good that it's also perfect for anyone who is feeling lazy and doesn't want to go through the morning ritual of brewing coffee. I found myself drinking this coffee from the comfort of my own home even when time wasn't a consideration. It's that good.
I should also mention that this specialty instant coffee dissolves very quickly and smoothly in hot water. There were no leftover chunks floating around my brew at any point in time. It also dissolves easily in cold water making this ideal for those who appreciate a refreshing iced coffee. Whether you're making hot or iced coffee, you won't experience undissolved clumps of freeze dried coffee grounds.
Related Link: If you're a coffee lover on the go, check out our selection of quality instant coffees.
From an environmental perspective, drinking Waka Coffee also ideal. It's no secret that plastic K-Cups and coffee pods have a huge environmental footprint. Waka's Instant coffee delivery form leaves nothing behind except a smile on your face. And being that you simply have to add water, Waka coffee is actually easier to brew. No Keurig machine required and more importantly, no leftover plastic waste.
Conclusion: Definitely Try Waka Instant Coffee
This coffee has dramatically changed my perspective on the instant specialty coffee industry and what it's capable of. Needless to say, I was most impressed by what the coffee geniuses at Waka Coffee have been able to produce and its amazing to see just how far the freeze drying technology for instant coffee has come along.
In the end, Waka Coffee has taken what I consider to be major strides to advance an industry historically focused on convenience over quality. The folks behind this brand believe you don't have to sacrifice one for the other. And while many brands make such a claim, very few have actually proven it. Waka Coffee has. It's very good coffee by any standard and coffee lovers of even the higher levels will appreciate what this brew brings to the table.
Waka Coffee Review Rating: 5/5
Use the following Waka Coffee coupon and discount code to get 15% off your first order: TRYWAKA
Related Article: Best Instant Specialty Coffee
Frequently Asked Questions about Waka Coffee (Waka Coffee FAQ)
Is Waka Coffee Kosher
While Waka Coffee doesn't hold any Kosher certifications, their coffee is made with 0 additives, carriers, and/or fillers.
Will Waka Coffee dissolve completely?
Yes, it has been formulated to dissolve not only easily and completely, but quickly as well.
Can I use Waka Coffee to make Iced Coffee?
Absolutely. Waka Coffee will dissolve in cold water as well as hot water
What is the expiration date for Waka Instant Coffee
24 months or two years when stored at room temperature
Is Waka Coffee Gluten Free
No, it is not gluten free as they have not obtained an official gluten-free certification yet
Does Waka Coffee use any sweeteners
Waka Coffee does not use any sugars or sweeteners in their coffee. This includes their flavored coffees as well
How should I store Waka Coffee?
With this instant coffee, there's no need to store it in the freezer or fridge. Just keep it at room temperature.
How much caffeine is in Waka Coffee?
It depends on which brew you're drinking.
– Light roast (Ethiopian): approximately 70 mg per packet (about 2.82 grams)
– Medium roast (Colombian, Papua New Guinean, flavored): approximately 60 mg per packet (about 2.82 grams)
– Dark roast (Ethiopian): approximately 80 mg per packet (about 2.82 grams)
– Decaf (Colombian): approximately 4 mg of caffeine per packet (about 2.82 grams)