[Update: The following VitaCup reviews article have been updated for 2023]
Although the company has only been around for a few years, VitaCup has been steadily earning its place as one of the premier pioneers of "smart coffee" or "healthy coffee". VitaCup infused coffee pods have fulfilled a much needed gap in an world of health-conscious coffee connoisseurs. Over the years we've watched the company release a variety of these great-tasting coffee pods each formulated to address a variety of health issues. VitaCup Slim reviews have been overwhelmingly positive across the board, but what makes this healthy vitamin-infused coffee so special? In this article, we take a deep look.
For convenience sake, this VitaCup review page will cover two of the company's highly popular brews: The Slim Blend and the Genius Blend.
VitaCup Slim Reviews: Slim Blend
I've been a fan of VitaCup since the beginning of their launch a few years back. I remember my biggest concern about this coffee was wondering whether "functional healthy coffee" would taste good. My first experience with this company's brews was their French Roast (which unfortunately is no longer available). It was exceptionally good coffee.
Fast forward a few years later. The VitaCup Slim blend was actually created in response to customer demand for a blend that would specifically target areas of metabolism and diet. As usual, it's all about the ingredients. The VitaCup Slim blend contains extract from Garcinia Cambogia, an exotic fruit known for helping appetite control. Drinking this blend effectively curbs your appetite as confirmed by hundreds of other VitaCup Slim reviews. Fewer calories in means fewer pounds.

It also has a component in it called Hydroxycitric Acid which in short it makes you feel fuller for longer. Additionally, it contains Panax Ginseng which is a proven potent antioxidant. Last but not least, it contains a powerhouse blend of vitamins including B1, B5, B6, B9, and B12.
VitaCup Slim Nutritional Information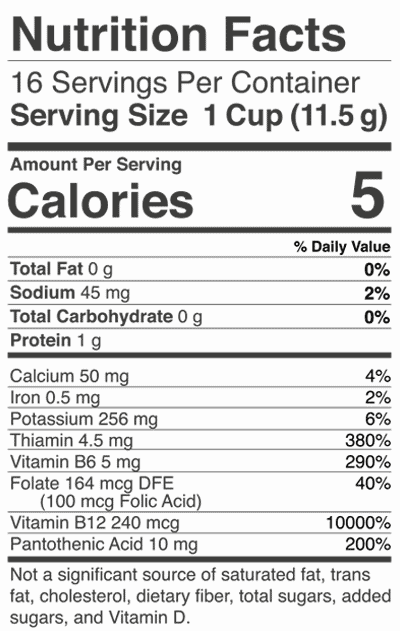 VitaCup Coffee Itself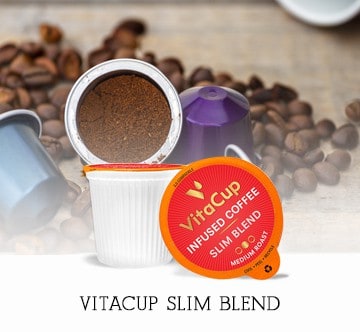 On the actual coffee side of things, VitaCup Slim Blend sources its Arabica beans from Brazil and Mexico and roasted to perfection. For those who don't know, Arabica beans are higher quality beans used in premium specialty coffees. Again, beyond the actual healthiness of their coffee, VitaCup produces very superior tasting coffee that's on par with specialty coffee brands. For those who may not know, specialty coffee brands comprise the highest quality coffee in the industry.
Does VitaCup Work?
This is a very common question especially as it relates to healthy coffee. Is this just a marketing gimmick or is there real science behind it? The answer is that it latter. VitaCup products do work and they work very well in our experience. The company spends a large of amount of resources in their formulation process to ensure the natural additives are infused effectively.
Having your coffee and vitamins together is incredibly convenient. However, this wouldn't mean much of the coffee didn't taste good. Part of the reason for VitaCup's meteoric success is the fact they've produced a coffee product that's as delicious as it is healthy. The big and natural concern that most people have with vitamin-coffee is "how will the coffee taste?" Most coffee lovers such as myself are pretty unforgiving when it comes to the flavor of their coffee. From my experience, VitaCup's formulators have done a phenomenal job with preserving the genuine coffee experience. Their coffee is rich, deep, and just as flavorful as you'd expect from premium coffee. It's anything but "slim".
VitaCup Slim Highlights
Panax Ginsent
B1, B5, B6, B9, and B1
Rich mixture of Brazilian and Mexican Beans
No vitamin flavor whatsoever
VitaCup Slim Review Informational Video
VitaCup Reviews: Genius Blend
Next up in this VitaCup reviews article, we take a closer look at their vitamin-infused coffee called the Genius Blend. As you probably guessed, it's formulated to improve cognitive function.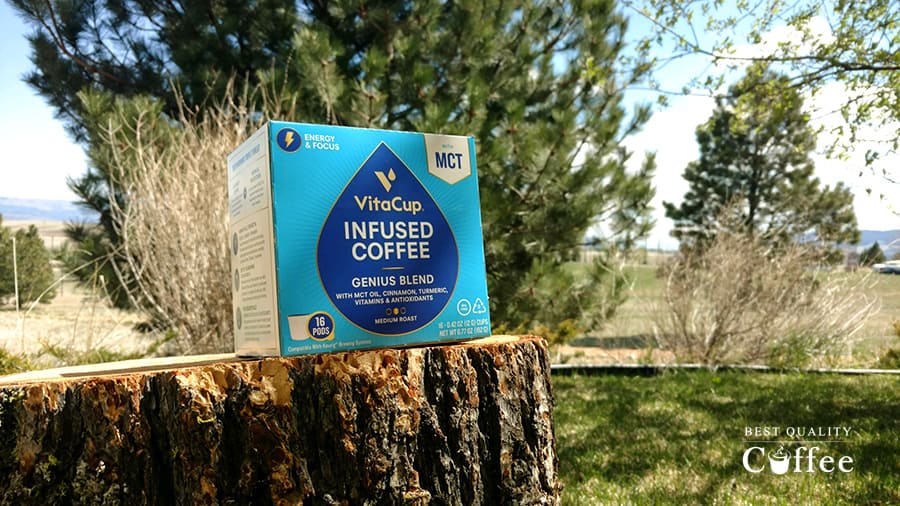 VitaCup Genius Blend Highlights
Keto friendly
Includes Vitamins, MCT Oil, Tumeric, Cinnamon
Rich flavor, well balanced, and medium roasted to perfection
Recyclable and BPA Free

VitaCup Genius Blend Reviews: The Taste
Not only is their Genius Blend delicious, it's one of the best tasting coffees I've had in a long while. The Cinnamon and Tumeric offer a delightful accent to an already robust and rich cup of coffee. I'm not usually a big fan of cinnamon in general but I've made an exception here. The Genius Blend sources its 100% Arabica beans from Mexico and Brazil which make for a uniquely complex flavor. They are then medium roasted to perfection to bring out all of the beans' natural flavors while packing a strong punch from a deeper roaster.
Even though there's MCT Oil, Tumeric, and Cinnamon added to this coffee, this still somehow tastes like the pure unadulterated coffee that's favored by coffee purists. I'm pleased to say that you don't taste any vitamins at all. Instead, you're treated to a very clean tasting coffee that also delivers a wealth of health benefits for your brain.
VitaCup Genius Blend Ingredients
Cinnamon (packed with antioxidants, heart health, blood sugar control, anti inflammatory benefits for body)
Turmeric (packed with antioxidants, anti inflammatory benefits for body, can help with memory, brain power, appetite control)
MCT – Medium Chain Triclycerides (fat that is easily broken down and absorbed by the body. Linked with improved brain function)
Vitamins – Vitamins D, B1, B5, B6, B9, B12, & Antioxidants
We've included the Genius Blend's nutritional information below: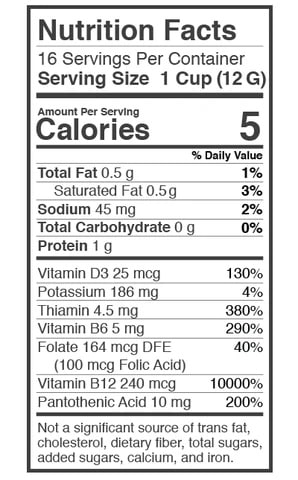 VitaCup Genius Blend Reviews: The Effect
As you may already know, I've been living the Ketogenic lifestyle for almost a year and a half. The Genius Blend has proven very useful in helping me reach my health goals. The MCT oils deliver a fast-acting boost of energy to my brain which is definitely noticeable.
I spent a week and a half drinking this coffee every morning and noticed a difference in my ability to process information and come up with the right words to say during conversations. Of course, I can't scientifically prove that this was all due to the coffee, but I can say the coffee certainly contributed to the improvement I noticed.
In many cases, I'd drink two cups a day. I can say with confidence that I felt an extra focus and energy that I simply didn't get from my regular morning coffee.
The energy that came from this coffee felt more sustained and consistent than that which I'd normally get from just regular coffee.

VitaCup Coffee Review: Conclusion:
I was very impressed by this nootropic coffee (coffee designed to improve brain function). If you're interested in vitamin-infused coffee for the brain, you may also want to check out Kimera Koffee. In the world of vitamin-infused coffees, I personally think VitaCup is in a class of its own They've found a healthy and delicious balance between taste and efficacy that I think all coffee lovers will appreciate.
Buy VitaCup Genius Blend Coffee Buy on Amazon
For a limited time, enjoy this VitaCup coupon code and get 20% off your purchase of the Genius Blend:
Bestqualitycoffee