We first discovered VitaCup coffee a few years back when they first launched in 2017. This was during the days when they only had 3 options available. In the years since their launch, they've steadily expanded their selection of functional coffees to address specific areas of health. The VitaCup genius blend was formulated specifically to improve brain function and was released around a year ago. I'd seen a number of VitaCup Genius blend reviews but never actually had the opportunity to put this brew to the test myself. So it's with great excitement that I share personal thoughts and experiences with this functional coffee.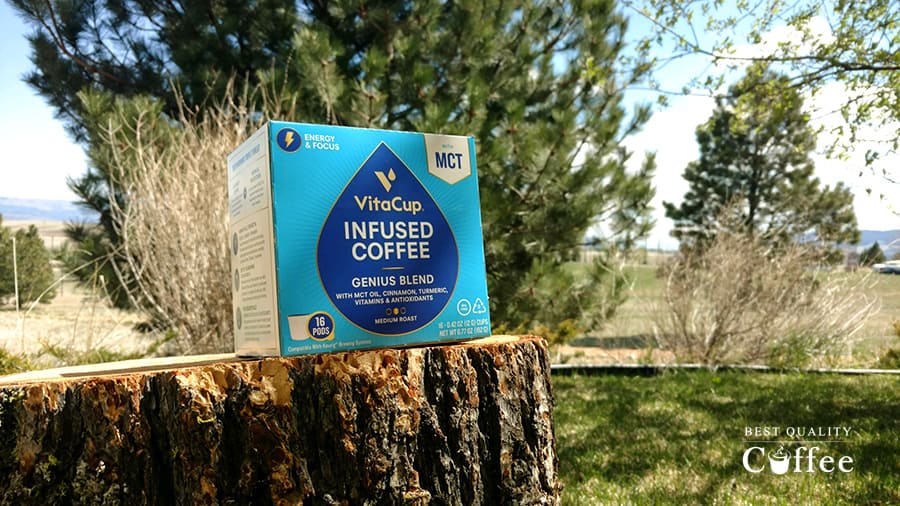 It may come as little surprise to our readers, but we here at Best Quality Coffee have admittedly been fans of VitaCup and actually had the opportunity to review their French Roast a few years back. While it was impressive, the company's offerings hadn't matured into what they are today. We reached out to them to see if they'd be interested in sending us their Genius Blend for an in-depth review and they happily obliged.
VitaCup Genius Blend Highlights
Keto friendly
Includes Vitamins, MCT Oil, Tumeric, Cinnamon
Rich flavor, well balanced, and medium roasted to perfection
Recyclable and BPA Free

VitaCup Genius Blend Reviews: The Taste
Many people are naturally leery about the thought of adding vitamins and minerals into their coffee. "Will I taste the vitamins in the coffee" is probably the number one question people ask themselves when they're introduced to vitamin-infused coffee.
Anyone reading this should know that I'm a coffee lover first. I don't care how "functional" or "vitamin-infused" a coffee is. If it doesn't taste like a rich and full-flavored brew, I have no interest in drinking it.
In cutting right to the chase, this is one of the best tasting coffees I've ever had the pleasure of slurping. Very few healthy coffee companies have been able to match VitaCup's flavor. This Genius Blend is a fine medium roast and offers a blend of delicious Mexican and Brazilian coffee beans. It fits all my criteria for quality coffee. The flavor is well-balanced with just the right balance of acidity and smoothness for my taste. The cinnamon flavor is also very distinct which is actually one of my favorite attributes about this coffee.
But rest assured that the VitaCup Genius blend tastes like pure unadulterated coffee. I can say from personal experience, that you won't taste any traces of unwanted vitamin flavors. In fact, you'll be treated to coffee that in my opinion rivals Third Wave specialty coffee (which is considered some of the best coffee in the industry).
VitaCup Genius Blend Ingredients
Cinnamon (packed with antioxidants, heart health, blood sugar control, anti inflammatory benefits for body)
Turmeric (packed with antioxidants, anti inflammatory benefits for body, can help with memory, brain power, appetite control)
MCT – Medium Chain Triclycerides (fat that is easily broken down and absorbed by the body. Linked with improved brain function)
Vitamins – Vitamins D, B1, B5, B6, B9, B12, & Antioxidants
We've included the Genius Blend's nutritional information below: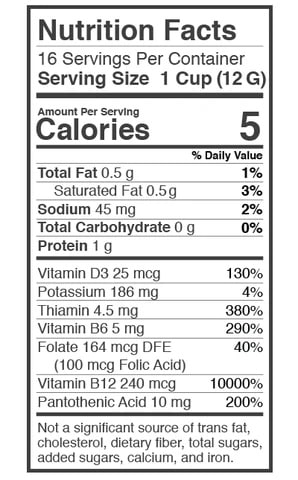 VitaCup Genius Blend Reviews: The Effect
The Genius Blend is crafted to improve focus, energy, and metabolism, which are all things I've been personally looking to improve. According to VitaCup, the smart combination of "desired fats" and cinnamon helps to reduce sugar cravings. As someone who's been living the Ketogenic lifestyle for over a year, that's very significant. This is a keto-friendly coffee that delivers readily accessible energy without sugar.
I spent the last week and a half drinking the Genius Blend every morning. In many cases, I'd drink two cups a day. I can say with confidence that I felt an extra focus and energy that I simply didn't get from my regular morning coffee. This brew delivered a clean and sustainable energy that was very different from that of caffeine.

Interestingly enough, I've been getting up much earlier in the mornings but still felt it was easier to dedicate my attention to different tasks throughout the day. While it's hard to quantify "focus" beyond just a feeling, I genuinely believe the MCT had a very positive effect on my cognitive function. I was able to think more clearly, more easily. Period.
VitaCup Review: Final Thoughts
At the end of the day, I was very impressed by both the flavor and efficacy of this coffee. I'd say in the world of nootropic coffee (coffee designed to improve brain function), the VitaCup Genius Blend is in a class all by itself. As a huge bonus, these single serve coffee pods are BPA free and fully recyclable.
For a limited time, enjoy this VitaCup coupon code and get 20% off your purchase of the Genius Blend:
Bestqualitycoffee