Many people turn to coffee for that warm, inner peace feeling but don't necessarily want or need the extra kick of caffeination. By United States law, Decaf coffee must have less than 2.5% of the original blends caffeination. Keep in mind, "less caffeine" does not have to mean "without flavor". The avid coffee drinker can ​make the switch or partial switch to decaf coffee without​ punishing their taste buds with diluted brew. The common stereotype is that even the best decaf coffee is still watered down. There may have been a hint of truth to that statement back in the early 1900's (learn more in our section about the decaf process), but with coffee technology having evolved the way it has, full-flavored decaf coffee is now a full-blown reality. Here are a few tips to consider when setting out to chose the best decaf coffee blends.
Tips on Buying the Best Decaf
1. Ease into Decaf Coffee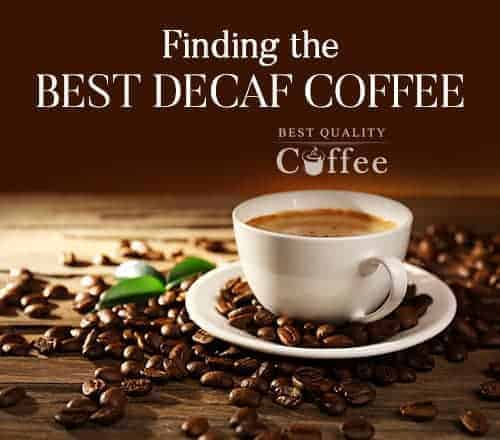 First off, for those looking to completely replace caffeinated coffee intake, it may be easier to do so gradually as opposed to just going cold turkey. If the goal is to get away from regular or frequent caffeinated coffee drinking, start by replacing one or two cups with decaf. At first, try leaving the first morning pot as the regular caffeination then begin by substituting one or two cups of decaf throughout the day. Setting real and attainable goals can greatly improve the likelihood a switch to decaf will stick. Going cold turkey is also more likely to bias your taste buds since your whole system may still be reeling from the shock of being without caffeine.
Related Article: Can caffeine dehydrate you?
2. Trusted Brands
One common mistake many consumers make when looking to pick out decaf brew is not looking at the brands of coffee that they already know and are used to drinking. They mistakenly think they have to reinvent the wheel entirely in order to find a palatable decaf option. Often times, be it k-cup or beans, major coffee manufacturers will have decaf varieties of their most popular caffeinated brews. Check this simple option first and avoid frustration and uncertainty in selecting the best full-flavored decaf coffee options.
3. Recommendations for the Best Full-flavored Decaf Coffee
One of the coffee lovers most time-tested method for finding new blends is to ask the experts. By experts, I mean the local coffee shop barista. What blends of decaf are they serving most? Which do they recommend? Often the most knowledgeable experts on different coffee profiles are the men and women serving it every day! Better yet, take a friend along for the full-flavored decaf discovery mission.
Many times having a second person to bounce opinions off can reaffirm coffee brew selection. Or, try posting on social media, ask those that are currently drinking decaf coffee to guide you. Family and friend recommendations are also very useful but you need to be aware that everyone has their own preferences and taste profiles. That's part of why going to a barista is usually a good bet since they have a wider field of view when it comes to coffee recommendations. Along those lines, we've chimed in with our own recommendations of what we think are some of the most full flavored decaf on the market; that is, flavors that stay true to taste profile of their caffeinated versions.
(As an aside, one of my favorite decaf K-Cups is made by none other than Dunkin Donuts or now known as Dunkin. Some coffee snobs may scoff at the idea of Dunkin Donuts coffee. To them I would say never to judge a coffee by its brand name alone or you could really miss out on some coffee gems. Dunkin Coffee is actually pretty darn amazing and their decaf blend stays true to a full-flavored coffee experience. As a matter of fact, I'm drinking a decaf Dunkin Donuts K-Cup brew as I write this article.)
4. Learn How Coffee is Decaffeinated
Learning how coffee is decaffeinated is not only interesting, but it can also help you identify the best decaf coffee for your taste profile. Not all decaffeination processes are the same and I think understanding the ins and outs of just how caffeine is removed from the coffee bean will help coffee shoppers find the best decaf coffee for their particular taste profile. Decaf methods have come a very long way since first being brought to market in the early 1900's. Some of the early methods involved using a chemicals. Fortunately, technology in this area has given decaf coffee lovers natural and even more effective options.
According to the North American USDA, decaf coffee is coffee that has at least 97% of its caffeine removed. Meanwhile, the European Union's specifications are stricter, requiring at least the beans are at least 99.9% caffeine-free in comparison with their total weight.
The biggest challenge in making decaf coffee is removing the caffeine from the beans without removing other compounds and chemicals that naturally contribute to the coffee's flavor. This is because water is a non-selective solvent which means it will dissolve other soluble substances as well. In general, decaf processes can be put into one of two categories: Solvent-based and Non-solvent based. Solvent-based processes, as its name suggests, use solvents such as methylene chloride to remove caffeine. Around 70% of decaf coffees are achieved through the use of some kind of solvent. While this option is effective as far as caffeine removal goes, there are many coffee drinkers who would much prefer a chemical-free option. This is where the non-solvent based process comes into play.
Swiss Water Process
The Swiss water process is an extremely effective and highly popular non-solvent based process. The introduction of Swiss Water processing back in 1933 made it possible to remove caffeine up to 99.9% without the use of any chemicals.
The concept is as ingenious as it is simple.
Green coffee beans are initially soaked in very hot water which extracts both the caffeine and flavor. This water is then taken and passed through an activated charcoal filter designed to capture only the larger caffeine molecules. After this process is completed, what you're left with is a caffeine-free solution saturated with natural and cherished-flavor compounds. The old coffee beans are discarded and the solution is used to remove the caffeine from a fresh batch of coffee beans. Because the solution already contains flavor compounds, the flavor ingredients present in the new batch will not dissolve. Through the process of osmosis, the fresh batch of beans loses only its caffeine and none of its flavor. It's worth noting that virtually all organic coffees are decaffeinated using this process.
Tips on the Best Decaf Coffee
Listed at the end of this article are additional resources for those wishing to learn more about the varying processes involved. Selecting the best decaf coffee option does not need to be difficult. Remember to look to those already drinking and serving decaf for advice. With a little trial and error, anyone can find a delicious decaf coffee blend as satisfying as their caffeinated counterparts.
Additional Resources:
1. "How Do You Decaffeinate Coffee Beans" by Ethan Trex
http://bit.ly/decafMentalFloss
2. "How the Heck is Decaf Coffee Made" by Carly Ledbetter
http://bit.ly/decafmadeHuffington
3. "How to find a Decaf Coffee You'll Actually Enjoy" by Christina Newberry
http://bit.ly/decaf2enjoy
It was German merchant Ludwig Roselius that invented the first commercial decaffeination process, in the beginning of the 20th Century – a discovery that came a bit by chance, resulting from a road accident that caused a load of coffee beans to be soaked in sea water, which extracted most of their caffeine without spoiling the taste too much. Here, we will try to concisely address things like what is decaf coffee, why it can, sometimes, taste somewhat watered down when compared to its caffeinated version, and what to look for when choosing the best decaf coffee blends.