In the world of the most exotic and rare coffees, few hold an esteemed position like Yirgacheffe coffee. While coffee connoisseurs may have heard of this variety before, most regular coffee lovers may find themselves scratching their heads. Regardless of which category you fall under, this article will go over everything you need to know about this prized bean from why it's one of Ethiopia's most treasured exports along with our picks for the best Yirgacheffe coffee of 2023.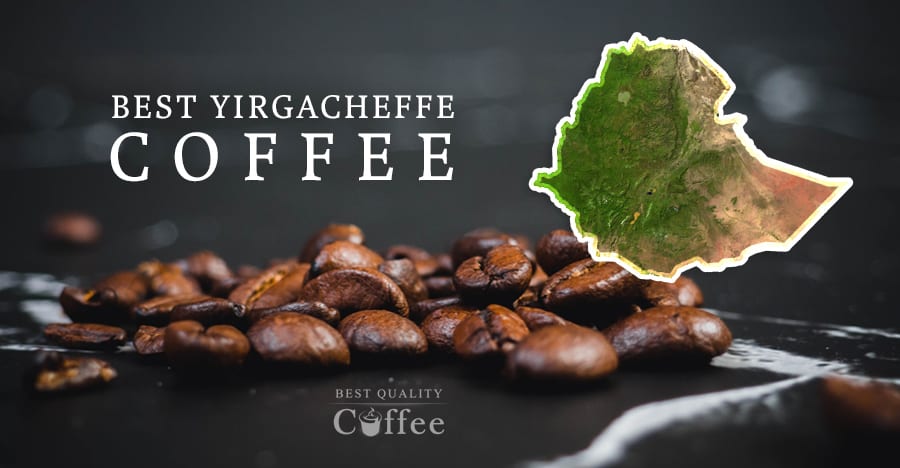 If you're just looking to see our top pick, check out Volanica Coffee's Yirgacheffe. You'll thank us later for it the recommendation.

Best Yirgacheffe Coffee of 2023
So you might be wondering, where can I buy Yirgacheffee Coffee. A majority of coffee lovers have never even heard of Yirgacheffe coffee much less seen it on store shelves in the grocery store. Truth is, you probably won't find it in retail stores. As such, you're likely going to have to purchase it direct from coffee brands. To save you valuable time and money, we've selected some of the best Yirgacheffe coffee on the market below.
Volcanica Coffee Organic Yirgacheffe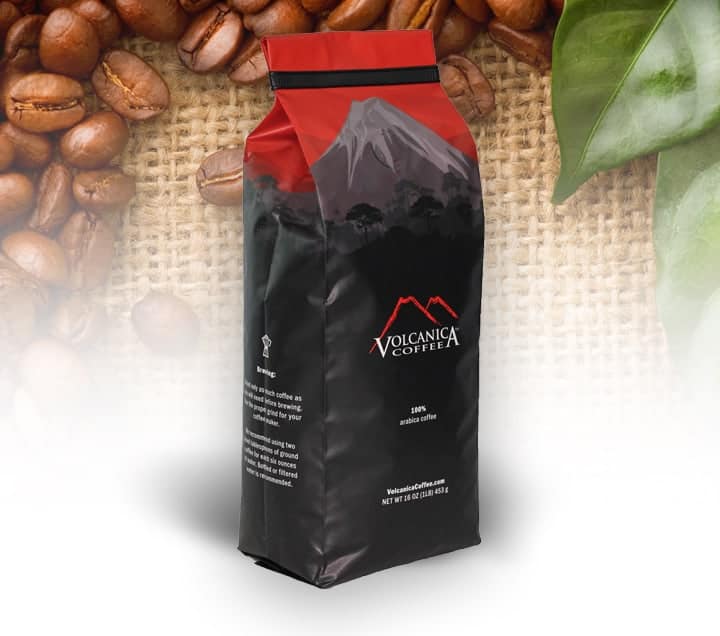 Volcanica Coffee is no stranger to the world of top-tier coffees and its no surprise they start off our list of best Yirgacheffe coffee. One of the biggest pros of this coffee is that these beans are all sourced from wild trees. This fact translates into an even more authentic flavor. Their coffee is dry processed and offers a medium body with brilliant acidity that accents its fruity and winy tones. Organically-grown and Fair Trade Certified you can be assured that this coffee will deliver an authentic Yirgacheffe coffee experience. This single origin coffee is an excellent sampling of what the Yirgacheffe bean has to offer.
Lifeboost Coffee Organic Yirgacheffe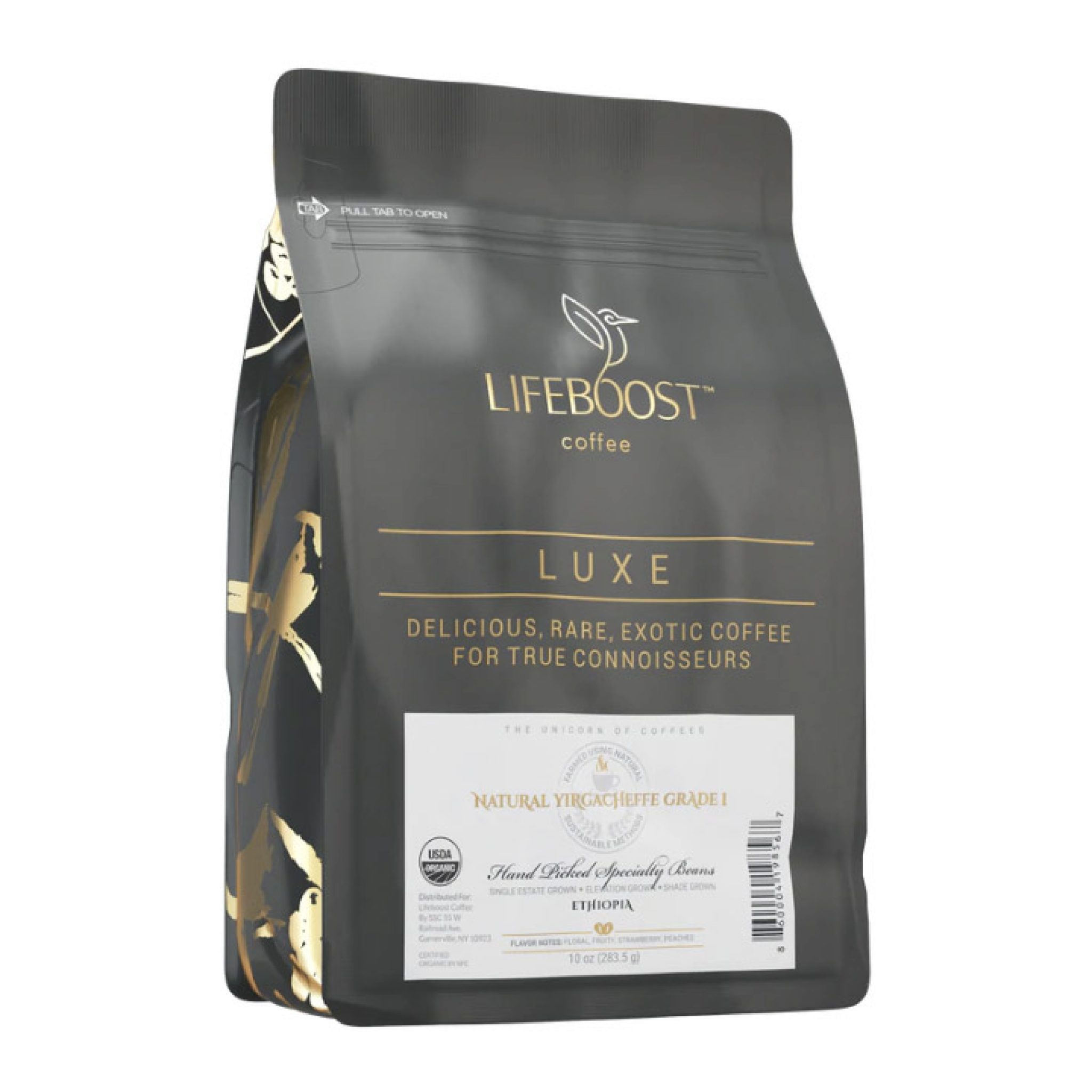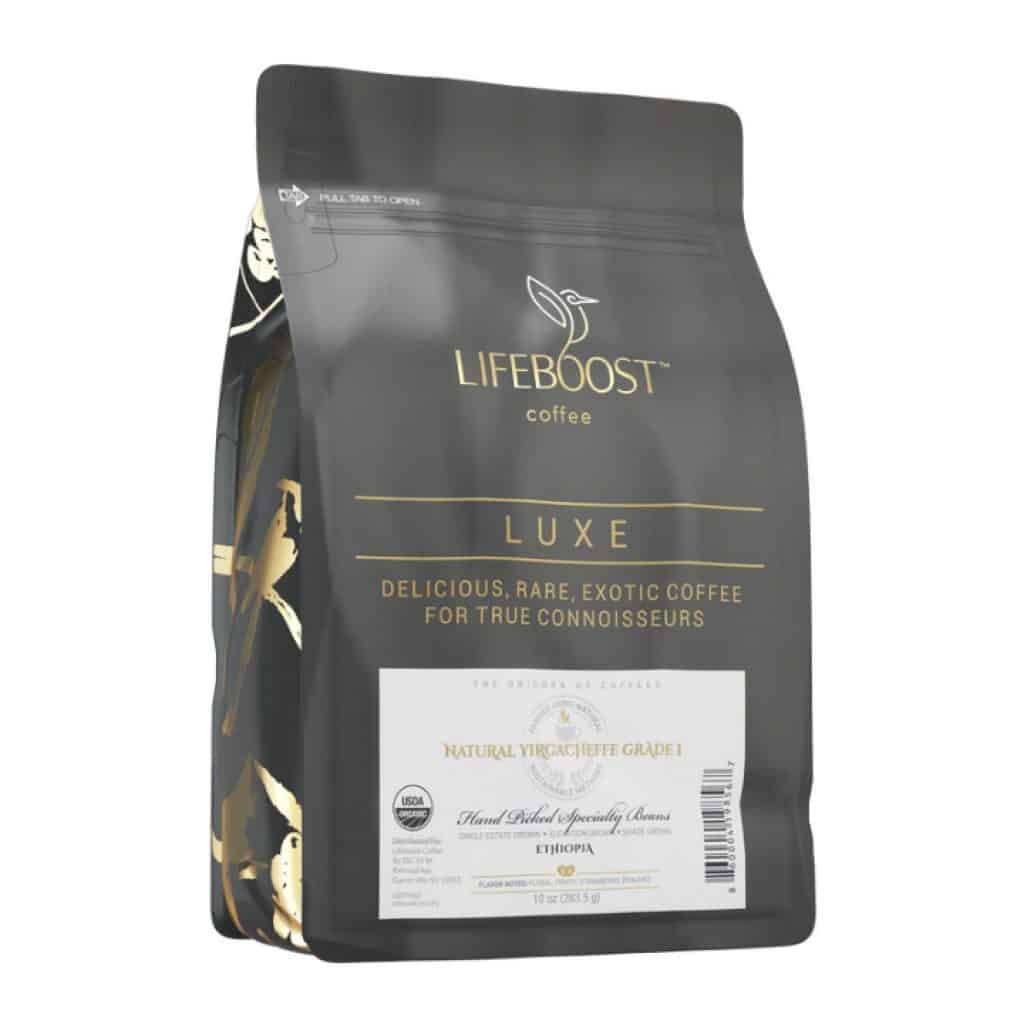 Lifeboost Coffee's Organic Ethiopian Heirloom coffee is next up on our list of the best in Yirgacheffe coffee. This specific variety is known for its warmth and zest and is naturally processed to bring out all of the bean's luxurious and complex flavors.
This single origin, low acid, fairly traded, and organic coffee is the captures the authentic flavor of the Yirgacheffe bean. Medium roasted to perfection, every last detail in the growing, sourcing, and processing of this special bean was meticulously scrutinized over to bring you this full-bodied and full-flavored cup of luxurious coffee.
Out of the Grey Coffee Organic Yirgacheffe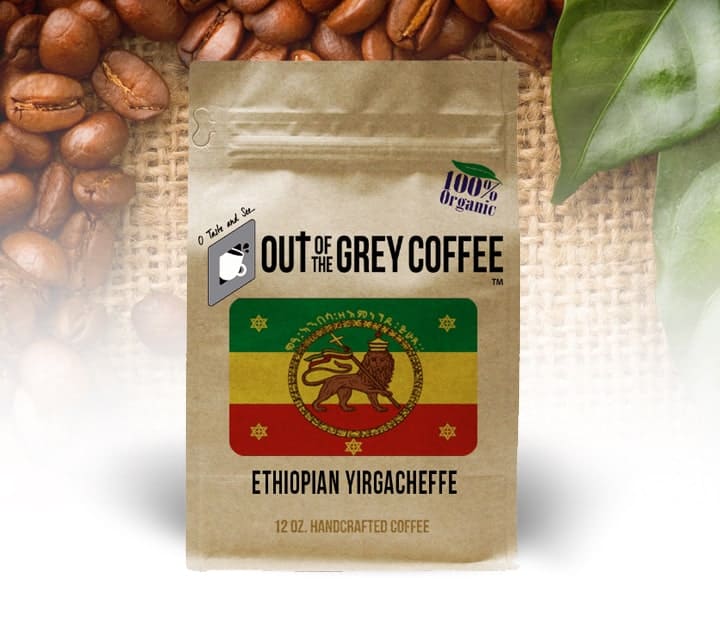 Out of the Grey Coffee produces an excellent organic Yirgacheffe coffee sourced from the Oromia Coffee's Farmers cooperative. This particular bean is deeply sweet, complex, and crisp. Sandalwood and lychee characterize the short finish while cocoa-flavored floral notes round out the aftertaste. This coffee is medium dark roasted which provides a nice balance between the natural flavors of the bean and the smoky goodness of the roast itself.
Intelligentsia Yirgacheffe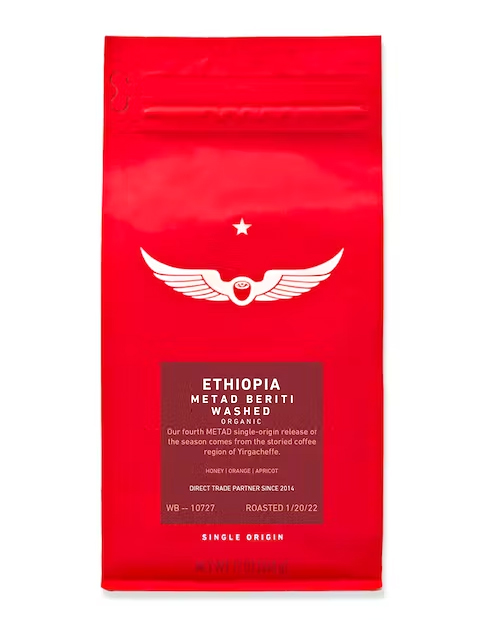 Intelligentsia offers a highly aromatic and USDA organic Yirgacheffe bean from one of its long standing direct-trade partners METAD in the region of Beriti. As a company that's been around for nearly 30 years, Intelligentsia has been crucial in setting new standards of quality within the grown specialty coffee industry.
With tasting notes of Caramel, honey, orange, and stone fruit, this brew offers a signature complexity that is typical of Yirgacheffe coffees.
Wash processed and grown at an elevation of 1900 – 2100 meters, these beans epitomize so much of why the Yirgacheffe bean is one of the most sought-after in the world.
Cooper Cask Coffee Yirgacheffe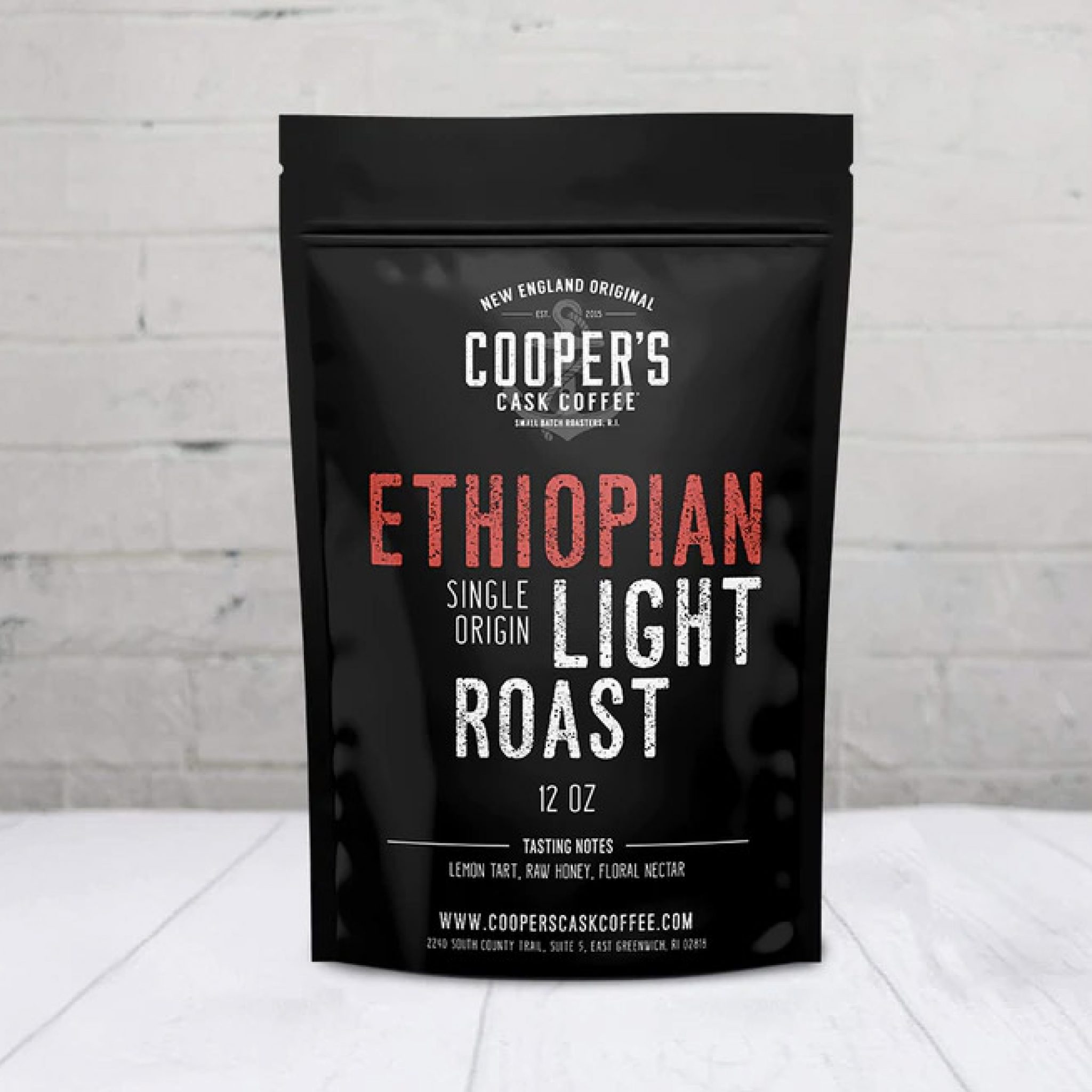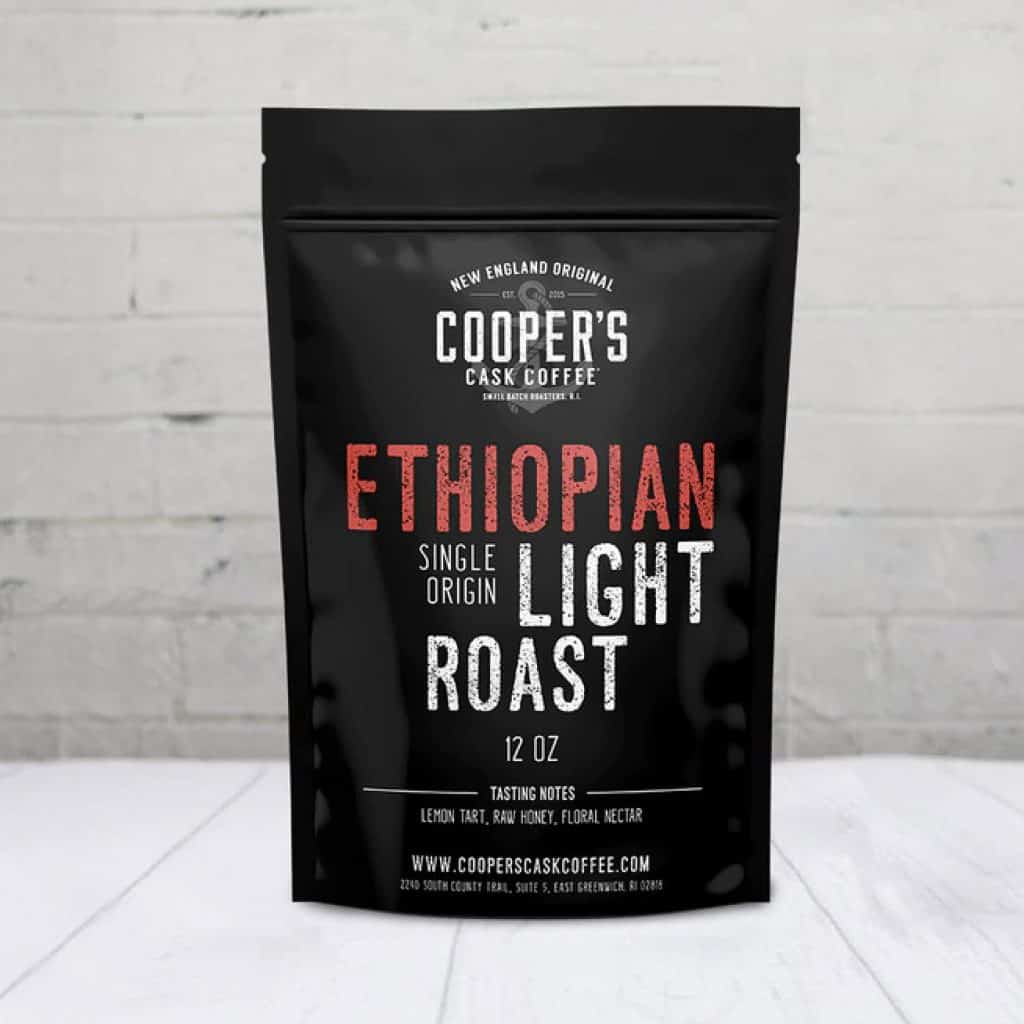 Cooper Cask Coffee's Yirgacheffe brew is a light roasted organic certified bean with a flavor that's as vibrant as it is intense. These single origin and micro lot beans are dry processed in the desert sun which imparts a distinctly citrus and raw floral nectar, and raw honey notes to the final brew. You can also taste undertones of wild berry. This is an excellent example of what Yirgacheffe coffee should taste like.
As an added bonus, this coffee is also Fair Trade Certified.
Hayman Coffee Organic Yirgacheffe
Hayman Coffee produces some of the finest and best Yirgacheffe in the world. A brand that's graced many of our top exotic coffee lists, Hayman's Yirgacheffe coffee offers delightful notes of floral, berry, lime, and caramel. It's also grown at altitudes of 1,800 feet and naturally processed.
This particular Ethiopian coffee comes from the Chelchele washing station, located in the famous Yirgacheffe region.
Product Details
100% Ethiopia Yirgacheffe Grade 1 – Chelchele A coffee
Cupping notes: Very floral with berry, lime, caramel, and sugary flavor notes. Juicy and sweet.
Fresh Roasted Coffee Organic Yirgacheffe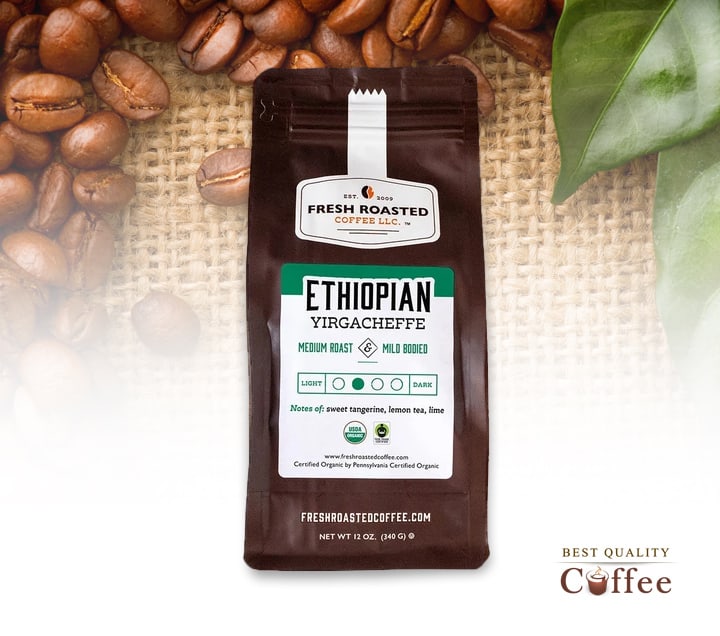 Fresh Roasted Coffee's Yirgacheffe is deliciously balanced. It's predominantly lemon forward flavor gradually terms into a very balanced and smooth flavored. Like the others on this list of best Yirgacheffe coffee, it's medium roasted to perfection to allow the expression of the beans natural flavors. USDA Organic and Fair Trade Certified, this coffee is sourced from a district within the Yirgacheffe region called Kochere. These beans are grown in optimal environment conditions due to its mineral dense soil and high altitudes. If you prefer a lower acidity than other African coffees, this will make an excellent choice.
Grosche Coffee Yirgacheffe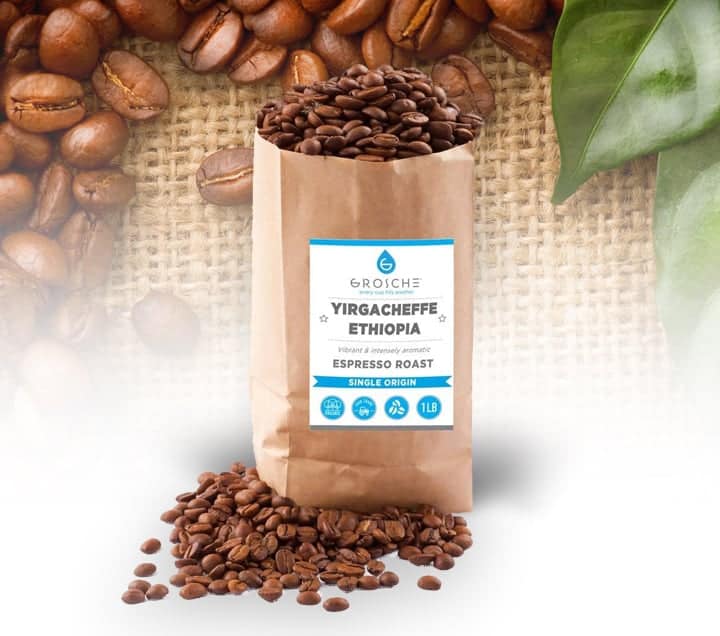 Grosche Coffee's organic single origin Yirgacheffe continues our list of some of the best Yirgacheffe coffee on the market. It's available in a medium, dark, or espresso roast making this a brew of intense flavor. For all its strength, it's considered by many as less bold than our previous Volcanica Coffee recommendation. This is by no means a bad thing as everyone has their own preferences. We recommend this coffee for those who appreciate intensity but also like to experience the more delicate flavors in their coffee. Grosche Coffee's Yirgacheffe has a powerfully vibrant aroma and stays true to the uniquely floral and fruity notes you'd expect from a quality Yirgacheffe. Similar to Out of the Grey Coffee, Grosche's Yirgacheffe is 100% organic and Fair Trade Certified.
Where is Yirgacheffe and What makes it Special?
Yirgacheffe is a small region in southern Ethiopia where the beans grow. Incidentally, coffee in general was first discovered in Ethiopia when a goat farmer noticed his goats increased energy after eating the coffee beans. The goat herder decided to give the beans a try for himself and noticed the effects that the beans gave him. Thus, the benefits of coffee was borne even before it made its way into a mug.
Yirgacheffe coffee plants optimally grow in this environment due to its uniquely dense vegetation, soil health, and high elevations. Yirgacheffe is part of the Sidamo region but is sub divided into its own micro region due to its superior coffees. Ethiopia is a perfect climate for growing coffee and provides a warm climate with good moisture and precipitation. Coffee is now Ethiopia's largest export and plays a large role in the country's economy. In 2008 the Ethiopia commodities market began trading and exporting coffee. Today, Ethiopia is the 5th largest coffee producer in the World and the largest grower in Africa. The country produces 846,575,000 pounds of coffee per year and employs roughly 15 million Ethiopians to work on coffee growing and production.
Related Article: Best Ethiopian Coffee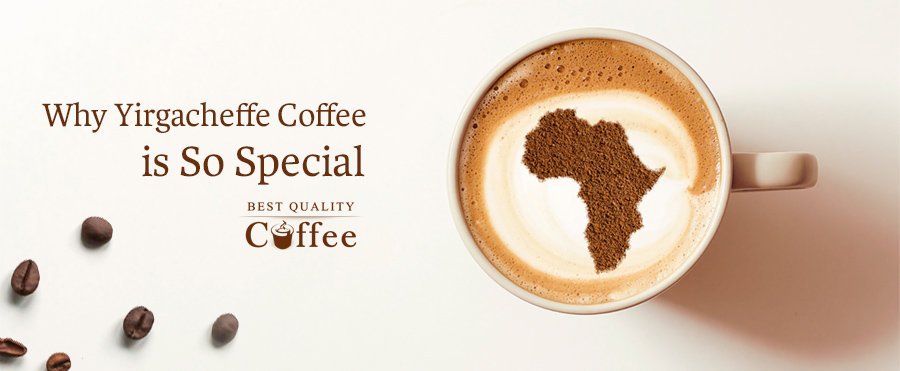 What Makes Yirgacheffe Coffee so Special?
Yirgacheffe coffee is one of the most sought-after forms of coffee available in the world for many reasons. Many people naturally pose the question, "What does Yirgacheffe Coffee taste like?".
The answer to this question largely depends on the manner in which the Yirgacheffe is processed. There are two main ways in which these beans are processed: wet and dry. Each method produces a different profile but the flavors and aromatics in both are very intense.
Wet processed Yirgacheffe typically have a very clean taste and bright acidity with floral and citrus notes.
Dry processed beans have a nutty or chocolate qualities, but the natural fruitiness of the Yirgacheffe bean can sometimes overshadows these qualities.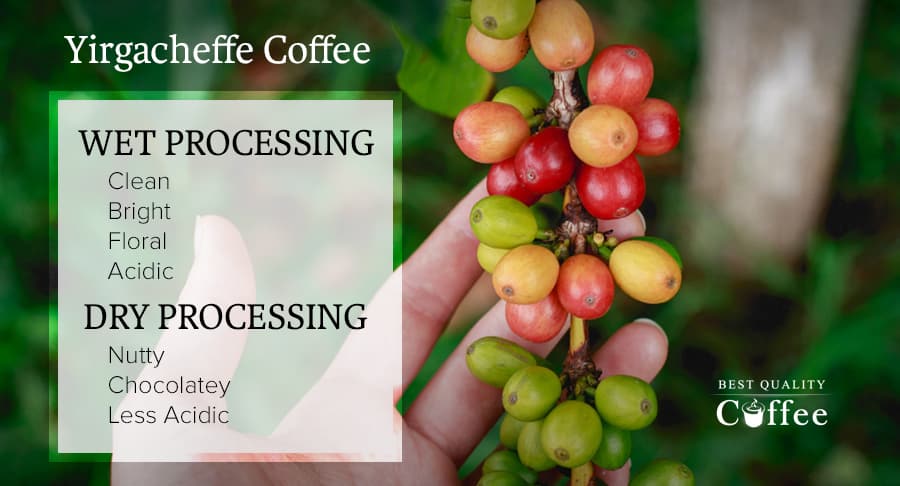 The wet processing is critical to getting a really great cup of Yirgacheffe. Wet processed Yirgacheffe beans deliver the classic floral, fruity, and tea-like finish that's often sought after by coffee connoisseurs around the world. Wet processing is the process of washing the beans to remove the skin and pulp of the fruit soon after harvesting the beans. The beans are then water fermented in tanks for 24-72 hours and then dried. This results in a higher acidic coffee bean which gives it that clean taste yet vibrantly complex taste.
The dry processed Yirgacheffe is lower in acidity and has a fuller bodied flavor, but isn't as clean as the wet processed version. If you have a sensitive stomach, the the dry processed Yirgacheffe may be a better option for you. Wet processed Yirgacheffe is usually more popular than their dry counterpart but we recommend trying both to see which one is a better fit for your palette.
Regardless of which processing, Yirgacheffe Coffee is best known for its light bodied flavor and mesmerizing aromas.
Another thing that makes Yirgacheffe coffee so special is where it is grown. As mentioned earlier, Ethiopia is the birthplace of coffee and it's firmly engrained into the rich culture that the country has. The relationship that the people of Ethiopia have with their coffee is truly unique. The coffee is grown in a very sustainable way with the majority of the beans grown as garden coffee. This means that the coffee is planted close to farmers houses and is intercropped with other plants. It is also grown in a semi-forest system where natural forest is modified and coffee plants are grown. It is estimated that only 5% of coffee production in Ethiopia is grown on a dedicated plantation. This makes the coffee especially rare and is a reason why the beans are so expensive.
Justifying the Price of the Best Yirgacheffe Coffee
Taste is obviously subjective, but most coffee connoisseurs would agree that Yirgacheffe coffee delivers of a coffee experience unlike any other.
A high quality Yirgacheffe coffee has bright acidity, clean taste, and complex floral notes in the aroma, often with a hint of coconut. The coffee is often described as vibrant and with undertones of berry and wine.
Some Yirgacheffes have nutty or chocolaty notes (dry processed) while others have subtle notes of tangerine and citrus. These qualities make it great for making a cup of iced coffee as the cold temperature complements these flavors well.
You are also paying for the way in which the beans are grown. Beans are grown in a very unique way within the Yirgacheffe region. Probably no other bean in the world is grown with as much attention to detail and care for the beans. While most of the world's beans are grown in mass production, Yirgacheffe coffee is grown on a plant-by-plant basis resulting in meticulous care for the beans. The cultivation process is just as unique as growers hand pick their crops from their gardens or semi-forest system.
All of these factors combine to make for an extraordinary cup of coffee that has to be experienced to be appreciated.
Choosing the Best Roast for Yirgacheffe Coffee
A majority of the best Yirgacheffe coffees will be either light or medium light roast. A lighter roasts allows more of the natural flavors of the coffee bean to express themselves. Darker roasts tend to mute flavors.
At the same time, there are still plenty of excellent Yirgacheffe coffees that come in a medium or dark roast variety. If you prefer your coffee a bit heavy and sweet you should definitely opt for the dark roast. While dark roasts express less of the finer qualities in a Yirgacheffe bean, it's all going to boil down to your personal preference.
Being that you're paying a premium for the beans, we recommend going with a medium roast so you can savor all of the bean's natural and nuanced flavors.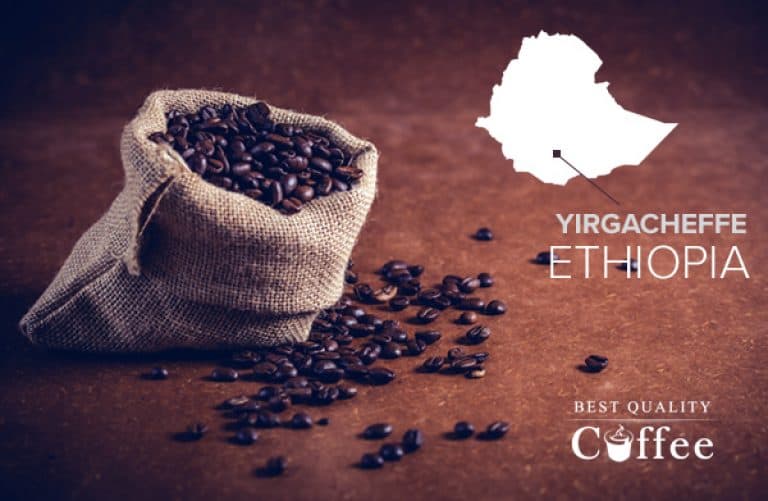 Conclusion: The Best Yirgacheffe Coffee
Yirgacheffe coffee is some of the best coffee grown in the world. The best Yirgacheffe coffee will exhibit extraordinary taste, flavors, aromas, and quality. The beans are expensive, but as the saying goes, you get what you pay for. The Ethiopians in this region take great care of their coffee processing, cultivation, and growing methods and you should admire this type of coffee production.
If you're on the hunt for rare specialty coffees, check out our top list of the best exotic coffees on the market.