Jamaican Blue Mountain Coffee or just Blue Mountain Coffee is one of the most exotic coffees in the world. As such, it comes with a justifiably high price tag. But why does it celebrated as such a rare caffeinated gem and is it worth shelling out the extra money to buy it? In this guide, we take a closer look at this prized bean along with recommendations of the best blue mountain coffee brews available. We'll also cover how to avoid fake Blue Mountain coffee.

Full flavored, light acidity, fruity

Chocolaty brownie flavor, balanced acidity

Peaberry beans (3-5% of crop)

Floral, chocolate, creamy, smooth
If you don't feel like reading all the details, grab yourself a bag of Blue Mountain Coffee from Out of the Grey. You will definitely thank us later for it!
How To Tell If Blue Mountain Beans Are Fake or Real
Key Takeaways
Buy only Certified Blue Mountain Coffee – Look for the logo of certification which is issued by the Jamaica Agricultural Commodities and Regulatory Authority (JACRA). See image below for a reference. It's a blue circle with an image of a barrel and coffee cherries in the middle.
Stay Away from Blends – blends usually contain beans of mixed quality so you'll want to avoid them. Stick with only bags that are 100% comprised of authentic blue mountain beans.
Do your research and ask questions – Don't hesitate to reach out to a coffee company and ask them questions. Legitimate companies will have no problem with answering them. Conversely, be leary of companies that aren't transparent with how they source and roast their beans.
Blue Mountain Coffee Certifications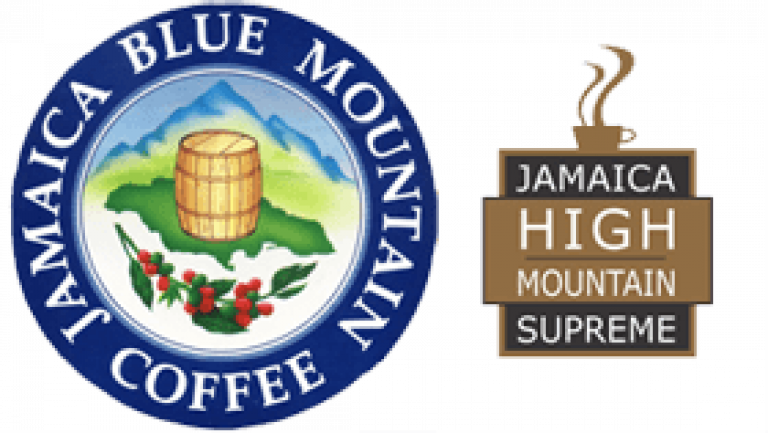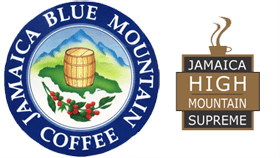 Today, Blue Mountain coffee is more than just a type of coffee or an indication of origin. Jamaica Blue Mountain coffee is a certification mark issued by the Coffee Industry Board of Jamaica, a regulatory body that controls all stages of coffee production, only certifying the batches that fully comply with its high standards of quality. This body is actually a division of the umbrella regulatory body called the Jamaica Agricultural Commodities and Regulatory Authority (JACRA).
From manually verifying the absence of defects in the beans to tracking the specific elevations in which they were grown, the standards are rigorous to say the least. For example, Jamaican Blue Mountain coffee must come from only four specific parishes: Portland, St. Andrew, St. Thomas, and St. Mary. Blue Mountain coffee has to be grown between 3000 feet (914 meters) and 5500 feet (1676 meters). Coffee grown at lower elevation is called "High Mountain" as opposed to "Blue Mountain". This can seem a little confusing being that the term "high mountain" actually is not as "high" as Blue Mountain.
Naturally, the best Blue Jamaican Blue Mountain coffee will meet the criteria listed above. Look for the badge to ensure you're getting legitimate Blue Mountain beans.
Beware the Blend
When looking for the best blue mountain beans, beware of blend. While blends aren't bad, they certainly don't offer the authentic blue mountain coffee experience. Blends are cheaper because the blue mountain beans are mixed with lower quality beans.
You should also be aware that coffee brands can still mix certified beans with non-certified beans while still using the certification badge on their packaging. Carefully check the packaging to find out whether you're buying a blend or truly 100% blue mountain coffee beans. In short, avoid blends and stick only 100% Blue Mountain coffee.
Check the Price
As just mentioned, blends are a lot cheaper than single origin Jamaican Blue Mountain coffee beans. The difference is notable.
From a marketing perspective, a coffee only needs a little Jamaican Blue Mountain coffee to be marketed as such.
Ask Questions
Don't be afraid to contact the coffee brand and request documentation confirming they are selling 100% authentic Jamaican Blue Mountain coffee. Any legitimate company should have no problem producing these documents and sharing them with you. In fact, they should be eager to do so since obtaining the certification is no easy task. It's something they'd actually want to brag about if they're legitimate.
History of Jamaican Blue Mountain Coffee
Coffee was introduced in Jamaica in 1728 by its then Governor, Sir Nicholas Lawes. Starting in the central mountain system of the island, the cultivation of this already very lucrative crop expanded and eventually reached the country's longest range: the Blue Mountains of Jamaica. Along this range is the country's highest peak known as Blue Mountain Peak reaching above 7,400 feet above sea level.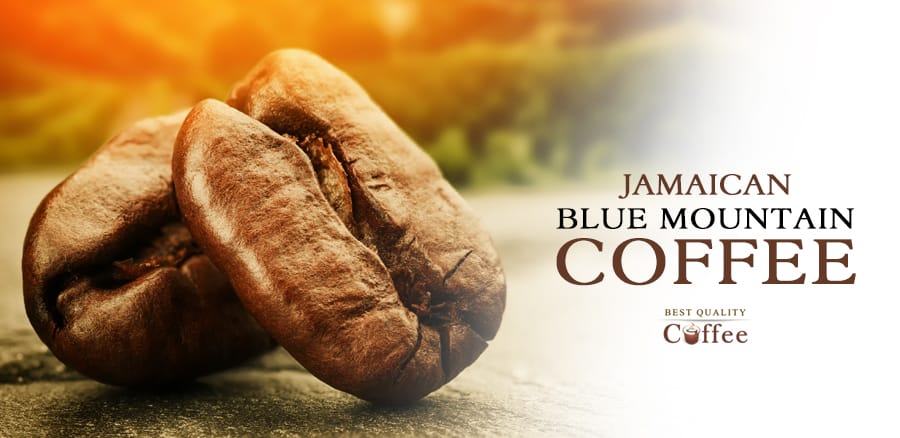 The Blue Mountain range is blessed with a climate ideal for coffee growing with its year-long mild temperatures, abundant rainfall, rich soil and almost perpetual mists that give this mountain range the bluish color from which its name is derived. The combination of all these factors creates a "perfect storm" for producing a fantastically unique coffee bean that has captivated the world by…."storm".
Note: All Blue Mountain Coffee is grown from the Arabica species of coffee. Arabica coffee is typically more flavorful, sweeter, and of higher quality that its brother the Robusta coffee bean. For more information, learn about the differences between an Arabica and Robusta bean.
What's the Difference Between High Mountain Coffee and Blue Mountain Coffee?
Many people wonder what the difference between High Mountain coffee and Blue Mountain coffee is. The answer: the elevation at which the coffee is grown.
Different elevations produce different qualities of flavors. While many enjoy the flavor of High Mountain coffee, it simply doesn't compare to the robustness and refined flavor of Blue Mountain coffee. It's known to have a nuttier and bolder flavor that most other coffees.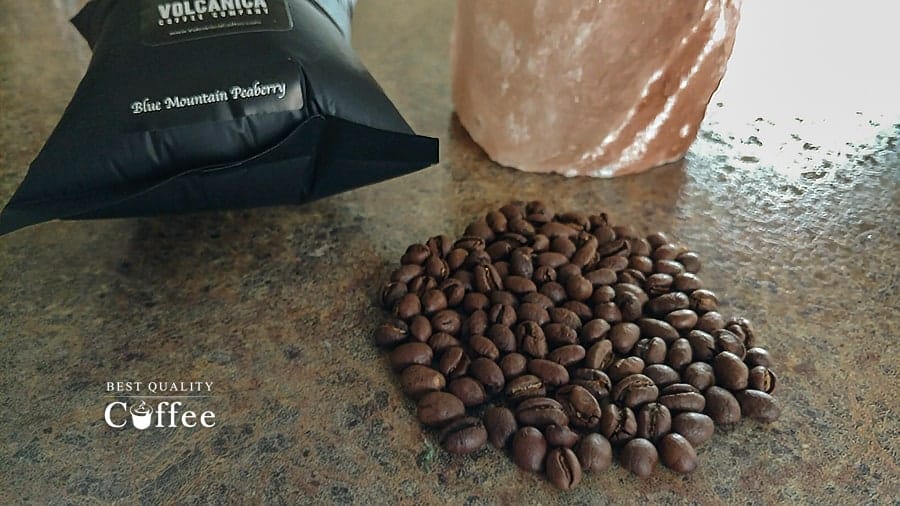 Best Blue Mountain Coffee 2023
It's worth mentioning that not all Blue Mountain coffee products are created equal. When buying even the best of Blue Mountain coffee, make sure to note the label to see how much of the coffee was actually made with real Blue Mountain coffee beans. If it's a Blue Mountain blend, it's not likely to be 100% Blue Mountain coffee. For the record, there's nothing wrong with blends if that's what you are going for. But if you're looking for the real Blue Mountain experience, make sure it's 100% single origin Blue Mountain coffee.
So without further ado, we break down some of the top choices for Blue Mountain Coffee.
Volcanica Wallenford Blue Mountain Coffee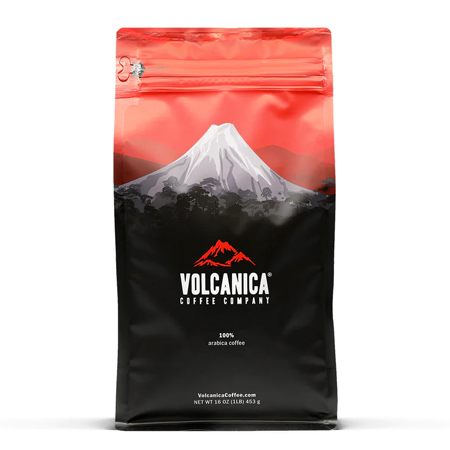 Buy Volcanica Blue Mountain Coffee
Starting off our list of the best Jamaican Blue Mountain coffee beans is presented by Volcanica coffee, a brand that's no stranger to the world of premium exotic coffees. In fact, as you'll see, they appear more than once on this list of best Blue Mountain coffees.
The Wallenford offers a full flavored, well balanced coffee experience punctuated by prominent fruit notes with a light and refined acidity. It's a medium roasted coffee so you'll get to enjoy the natural flavors of these prized beans while savoring the delightful taste of an earthen roast. Heralded for its strong aroma and intense flavor, this coffee has been regarded as literally one of the best coffees in the world. 100% certified by JACRA, this is as authentic as it gets when it comes to savoring the true Blue Mountain experience. Use our exclusive Volcanica Coffee discount code and coupon to get you 12% off your entire purchase. Code: BESTQ12
Additional Information:
Drying: Sun Dry Process
Farm: Wallenford Estate
PH: 5.0
Tasting Notes: Crisp Chocolate and Orange Peels
Out of the Grey Blue Mountain Coffee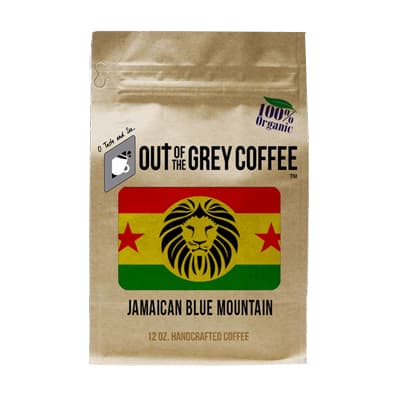 Buy Out of the Grey Blue Mountain
For a full experience with this exotic coffee, we suggest Out of the Grey Coffee's Jamaica Blue Mountain. Here's why. Their coffee is 100% organic and we have yet to try something from them that hasn't exceeded our expectations. It's a single origin coffee which means all the beans came from the same area as opposed to blends which mix beans from different geographic locations. These impressive beans are sourced from the Blue Barren Estate that are fully certified by the Coffee Industry Board of Jamaica. If you're looking to enter the world of real deal Blue Mountain coffee, you can't go wrong with Out of the Grey Coffee.
Additional Information:
Roast: Medium Dark
Farm: Blue Barren Estate
Tasting Notes: Rich chocolaty brownie experience that just keeps lingering, perfect acidity & creamy, fluffy, intense mouthfeel. Full bodied.
Volcanica Peaberry Blue Mountain Coffee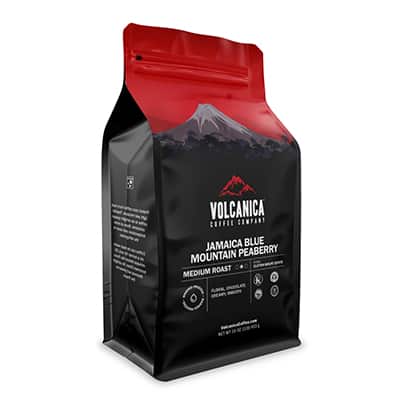 Buy Volcanica Blue Mountain Coffee
Another Blue Mountain Coffee option we recommend is Volcanica Peaberry Blue Mountain Coffee. This is Volcanica's second appearance on this list. I recently had the opportunity to try Volcanica Blue Mountain Peaberry coffee which had an incredibly unique and enjoyable sweetness to it. For those who may not know, Peaberry is a rare coffee bean that comprises only 3-5% of harvests. Peaberry coffee beans have one cherry instead of two, resulting in a sweeter flavor. Volcanica Peaberry is an excellent choice for anyone looking to experience the best in Jamaica Blue Mountain Coffee and has a penchant for a refined sweetness in their coffee. For more information, check out our Volcanica Blue Mountain coffee review.
Tasting Notes: floral, chocolate, creamy, smooth
Kima Jamaica Blue Mountain Coffee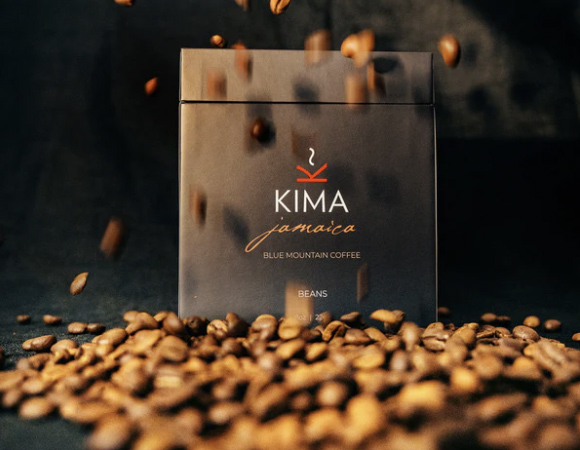 With Kima Coffee, discover the bold and rich of 100% authentic, pure Jamaica Blue Mountain coffee. Kima melds this elusive, luxurious and delicious history of one of the world's rarest coffees into a soul-warming, nuanced and complex coffee with beautiful balance and no bitterness. These are high grade specialty single-origin beans medium roasted to perfection that deliver a uniquely complex flavor profile. A medium bodied brew with refined brightness, Kima Coffee offers represents a prime example of Blue Mountain coffee at its finest.
High grade specialty single-origin Jamaican coffee
Bespoke artisan roasted beans
Fully authentic, ethically sourced
Certified by JACRA (Jamaica Agricultural Commodities Regulatory Authority) Licence No. KIMA FI/USA 840 – 022.
Tasting Notes: sweet florals with overtones of nuts. Flavored with cocoa, fudge, berries
Coffee Traders Blue Mountain Coffee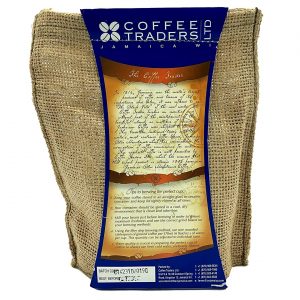 Buy Coffee Traders Blue Mountain Coffee
Rounding out our list of best Jamaican Blue coffee options is Coffee Traders. Their coffee is 100% genuine Jamaican Blue mountain coffee with the certifications to prove it. These beans are medium roasted to perfection to preserve their natural and exquisite flavors. There's a brilliance and vibrancy to this coffee's flavor that captures the true and unique JBM coffee experience. Additionally, this JBM coffee is also considered ultra smooth with virtually no bitterness.
Tasting Notes: Mellow, well-rounded flavor profile, ultra smooth
Volcanica Coffee Clifton Estate Blue Mountain Coffee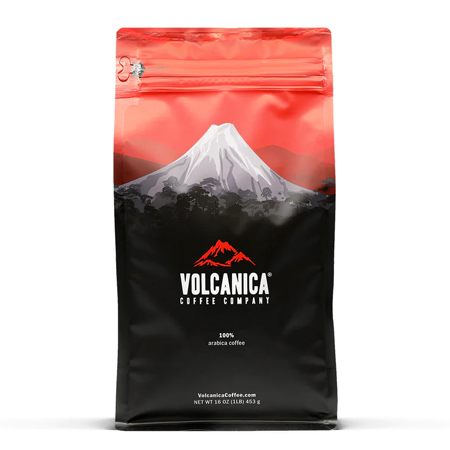 Buy Volcanica Blue Mountain Clifton Estate
Volcanica's third appearance rounds out our list of the best Blue Mountain coffees of the year. It's sourced from Clifton Mount Estate and yields a flavor profile that's as balanced as it is full-flavored. Each sip is accompanied by prominent fruity notes and a gentle acidity. Its irresistible aroma is both powerful and invigorating.
Tucked away amidst the cool and misty slopes of Catherine's Peak in the heart of the Jamaican Blue Mountains, lies the esteemed Clifton Mount Estate. Their unique location offers an ideal-climate in which to grow this incredibly rare coffee bean. With a history dating back to the 1790s, this legendary estate stands as one of Jamaica's oldest coffee plantations. Clifton Mount has consistently produced superior-quality coffee beans for centuries. In recent years, it has risen to become Jamaica's premier estate, renowned for cultivating the highest quality Jamaican Blue Mountain Coffee.
Addition Information
100% Certified Blue Mountain Coffee by the Jamaica Agricultural Commodities Regulatory Authority (JACRA)
Direct Trade Certified
Kosher Certified
Rainforest Alliance Certified
Processing Method: Washed Process
Roast Level: Medium Roast
Tasting Notes: This coffee boasts flavors of nuts and chocolate, accompanied by a rich body and a smooth finish.
Now that we've shared some recommendations for the best Jamaican Blue Mountain coffee on the market, let's go over some details about what makes this coffee so special.
How is Blue Mountain Coffee Processed
Jamaica Blue Mountain coffee is typically processed using the washed method, which is also known as wet processing. This method involves several steps to remove the coffee cherry's outer layer and pulp to reveal the coffee bean. For those who may not know, the manner in which a bean is processed has a huge impact on the flavor of the coffee bean. The washed method is often yields a very clean and bright taste in the final cup.
Here are the general steps of the washed method:
Harvesting: Coffee cherries are harvested by hand when they are ripe. Only the ripe cherries are picked, as they produce the highest quality beans. Ripe cherries will be a dark red color. These beans are sorted by an immersion process in which the beans are soaked in a vat of water. Beans in their ideal state of ripeness will remain under water while defective, spoiled, or unripe beans will float.
Depulping: The outer layer of the coffee cherry is removed using a machine called a depulper. This process separates the cherry's outer layer and pulp from the coffee bean
Fermentation: The beans are then soaked in water in fermentation tanks to remove the remaining sticky fruit layer or mucilage. This process typically takes 24 to 48 hours. Note: I've personally been to an award-winning coffee farm where they extended the fermentation process to 7 days which is considered incredibly and dangerously. But somehow they made an incredibly fantastic brew out of it.
Washing: The fermented beans are washed with clean water to remove any remaining pulp or fruit residue.
Drying: The washed beans are then dried in the sun or using mechanical dryers until they reach a moisture content of about 11%.
Sorting and grading: The dried beans are sorted by size and shape, and then graded by quality. Jamaica Blue Mountain coffee beans are typically large in size and bear a very uniform shape.
Roasting: Finally, the coffee beans are roasted to bring out their unique flavor and aroma. Jamaica Blue Mountain coffee is often roasted to a medium roast to highlight its delicate flavors.
How Do I Brew Jamaican Blue Mountain Coffee?
Ultimately, the answer to this question is going to be based on your preferences.
In order to get every ounce of flavor out of these exotic beans, I'd recommend going with a Chemex or some pour over brew method. The pour over brew method will help you extract those deliciously subtle notes so you can enjoy all that JBM coffee has to offer. You can also use a quality espresso machine that's been fully dialed in.
Final Thoughts: The Best Jamaican Blue Mountain Coffee
In considering all the factors that go into the growth and processing of this specialized coffee, Jamaican Blue Mountain coffee produces a flavor that's truly unique. It's rich and delicately acidic, with an unusual floral and fruity touch counterbalanced by nutty and chocolate undertones. The best Blue Mountain coffee will be practically free of bitterness. Together with being one of the best coffees in the world, its scarce annual production and popularity in some very strong markets – about 80% is exported to Japan – causes prices to reach high levels. But particularly in the coffee world, I find that you tend to get what you pay for.
If it's not expensive, it's probably not 100% Jamaican Blue Mountain coffee.
Hopefully, this article has given you a deeper look into the exotic world of Jamaican Blue Mountain coffee. Like Kona Coffee, it has captivated the treasured senses of coffee lovers around the world and for very good reason. Sure, the best Blue Mountain Coffee costs significantly more than other coffees. But if you're a coffee lover that appreciates transformative coffee experiences, the right Blue Mountain coffee is worth every penny.
Summary Points:
Avoid blends if possible
Stick with the real thing and buy 100% authentic Jamaican Blue Mountain Coffee
Make sure that the coffee has proper certifications so you know you aren't buying fake blue mountain coffee
Related Article: Discover more exotic coffee flavors by checking out our top exotic coffees of 2023 guide.
Those who appreciate the best in Jamaican Blue Mountain coffee will likely have a palate that can also appreciate a wide variety of exotic coffees. If you're someone who enjoys such unique flavors but in the convenient form of a coffee pod, we encourage you to check out our selection of exotic coffee pods.