[Updated 9/3/23] When talking about the most expensive and best coffee in the world, you might hear of Civet Coffee or Ethiopian Yirgecheffe. But within this elite company of extraordinary coffees, few come even close to the rarity and consequently, price of Geisha Coffee. In fact, back in July of 2019, a single pound of Geisha Coffee sold for $1,029. So what makes this coffee so good that people out there are willing to pay over a thousand dollars to drink it? In this article, we'll answer this question and also cover the ultimate collection of the best Geisha coffee of 2023.
Don't feel like reading? Check out our top 4 picks below. For our full list of top Geisha coffee, please continue reading the full article.
Spirit Animal Geisha Coffee

Notes: Floral, citrus, peach


Specialty Coffee rated a score of 91 by the SCA

Region: Santa Barbara, Honduras

Notes: Floral notes with distinct sweetness

Award-winning Panama Geisha Coffee

Volcanica Costa Rica Geisha

Notes: Hints of molasses, cocoa and pipe tobacco

Gentle acidity, medium body, and silk texture


Intelligentsia Bolivia Geisha

Notes: Toffee, persistent sweetness, delicate florals

Grown on the highest coffee farm in the world

Best Geisha Coffee of 2023
Tasting Notes: Refined floral, citrus, peach
Rounding out our list of the best Geisha coffees is a brew from Spirit Animal Coffee. With a 91.0 score from the SCA, this highly-rated coffee demonstrates the broad appeal of Honduran Coffee at its finest. For the record, a 91.0 rating qualifies as a presidential grade. Sourced from the Finca Dos Andres region of Santa Barbara, Honduras, these coffee beans are grown in mineral-rich soil and expertly roasted to achieve a flawless medium roast. With a tantalizing blend of floral, citrus, and peach flavors, this exotic coffee was also grown at an elevation of 1600 meters. Use our exclusive Spirit Animal Coffee discount code and get 10% off your entire order: BESTQUALITY
Taste Notes: Floral, citrus, peach
Ranked as one of the best Honduran Geisha Coffees available
Farm Producer: Nahun Fernandez
Region: Santa Barbara, Honduras
Tasting Notes: Intense but incredibly balanced sweetness. Refined fruity flavor with captivating floral notes
Bean & Bean recently released their Panama Janson Geisha and let's just say it's a remarkable bean that's worthy of consideration by all coffee connoisseurs. It's intense yet natural sweetness is impressively balanced leaving you coming back for more. With delicious notes of apple, pear, black tea, and sugar this special Panama Geisha makes for a captivating coffee experience. We would recommend this coffee for anyone who appreciates their coffee on the sweeter side. This coffee has a delicate body allowing you to more easily savor these deliciously unique tasting notes.
Tasting Notes: Very balanced flavor, sweeter than average, captivating floral notes
Sweeter than average Geisha
Winner of Best of Panama 2020
Farm Name: Janson Coffee Farm Lot 290
Process: Natural 48 hours fermentation
Elevation: 1700 m
Region: Panama Volcán
Tasting Notes: Sweet, Citric, Apple, and Floral Flavors
Volcanica Coffee as a brand needs no introduction when it comes to the world of the best exotic coffee. They produce a deliciously vibrant Geisha coffee sourced from Costa Rica. This particular variety makes our list of best Geisha coffee for its delicate and soft profile with aromatics that are as complex as they are subtle. One notable quality about this Geisha is that it contains 30% less caffeine than regular coffee which to me, simply means you can drink more of without hitting your daily caffeine limit.
It's taste is just as complex with hints of cocoa, molasses, and pipe tobacco. With gentle acidity, a medium body, and silky texture, this medium-roasted Costa Rican Geisha offers a totally different experience than its Colombian counterpart. Use our exclusive Volcanica Coffee discount code and coupon to get you 12% off your entire purchase. Code: BESTQ12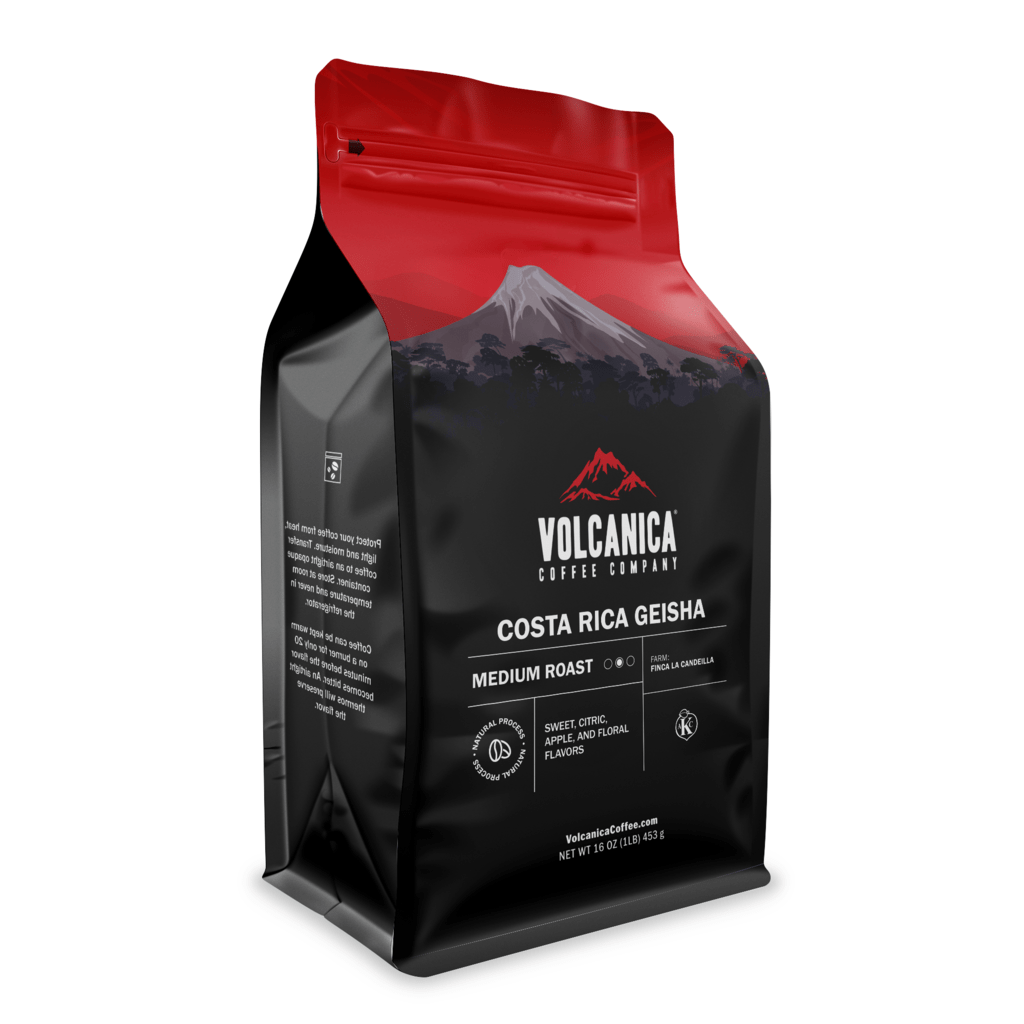 Softer profile with complex notes of Sweet, Citric, Apple, and Floral Flavors
Roast: Medium Roast
Farm: Finca La Candeilla
Process: Naturally processed
Region: Costa Rica origin
Tasting Notes: Melon, Jasmine, Caramel
This exquisite honey-processed Geisha coffee from Guatemala yields a very creamy coffee filled with refined flora notes of jasmine and sweet melon. It's tapered off with a delicious caramel aftertaste that tops off a quintessential Geisha coffee experience. Cultivated at the renowned Santa Felisa farm established well over 100 years ago, this prized bean delivers a coffee experience even the most discerning coffee lovers will savor and appreciate. This family-owned farm is currently being run by fourth generation siblings under the "guidance of the visionary agronomist, ecologist & Q-Grader Anabella Meneses".
Taste Notes: Melon, Jasmine, and Caramel
One of the best Guatemala Geisha Coffees
Farm: Santa Felisa
Processing: Honey Processed Geisha
Region: Acatenango Valley Guatemala
Tasting Notes: Exotic Mango, Mandarin flavor, Rich medium roasted flavor
No list of the best Geisha coffee would complete without Panama Geisha being represented. And in this case, it's one of the best Panama Geisha's available. Recognized for their 100% authentic Panama Geisha coffee beans, Hayman's Geisha offers a brilliant jasmine aroma coupled with exotic mango and mandarin flavor notes. Although this coffee is dark roasted, it's done in such a way that the natural flavors of the coffee bean still express themselves very fully.
As an added bonus, the elegant packaging of this coffee is a true reflection of the quality of the product. I'm usually not one to give much weight to presentation when it comes to coffee, but in this case it's certainly worth mentioning.
Hayman is also a member of the Specialty Coffee Association, widely considered to be the ultimate authority on coffee standards and excellence.
Taste Notes: Exotic Mango, Mandarin
Single origin, never blended. Appreciate each coffee's individual character.
Roast: Medium Roasted for a deep and rich Geisha coffee experience
Ranked as one of the best Panama Geisha Coffees available

Ethical & Sustainable
Tasting Notes: Key Lime, Floral, Toffee
The country of Boliva is also known for its impressive Geisha. As one of the best Bolivian Geisha coffees available, these precious beans are sourced from a farm that's considered the highest coffee farm in the world. The results of being grown in these ultra high elevations can be tasted in the final coffee bean which explode with unique and intense flavor hand-crafted by nature. This farm is owned by Don Carlos Iturralde and his family.
This particular lot delivers a persistent sweetness with delicate floral notes that capture the essence of authentic Geisha coffee. The floral aromatics of this bean are stunning. As with all Intelligentsia coffees, these beans are directly traded.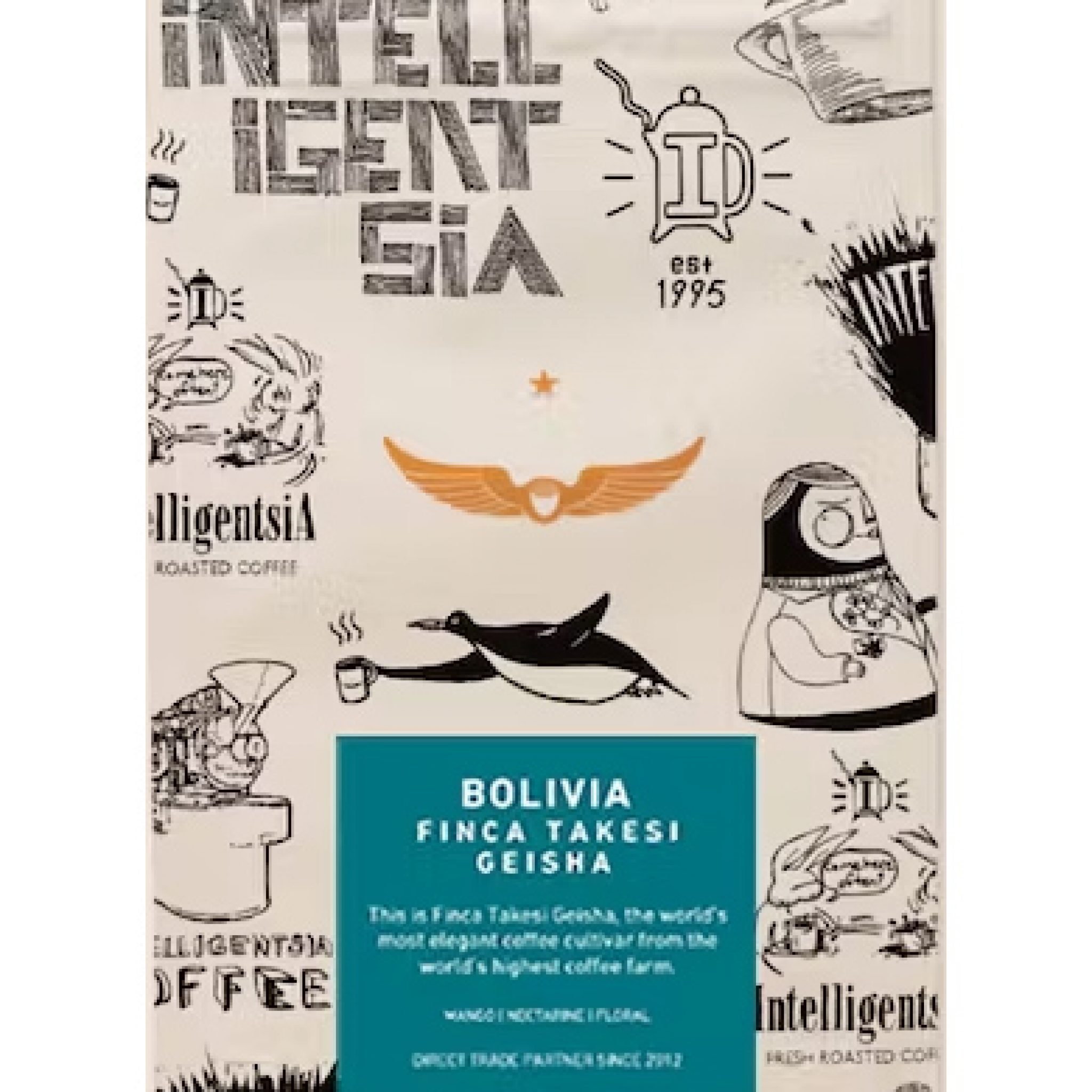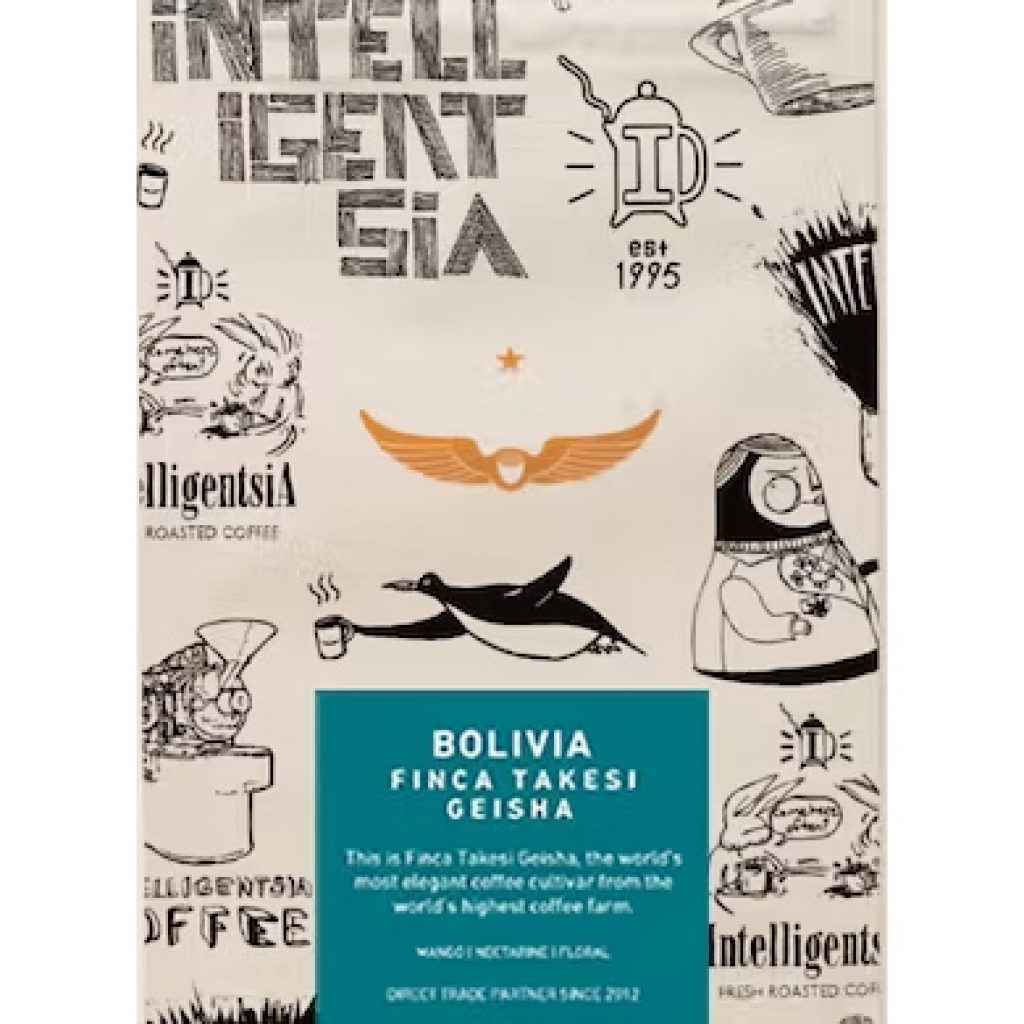 Taste Notes: Key Lime, Floral, Toffee
Direct Trade
One of the best Bolivian Geisha Coffees available

Grown at ultra high elevations
Tasting Notes: Cherry Lollipop, Italian Ice, Chocolate Covered Blueberries
As one of the only light roasted Geisha coffees on this list, Nostalgia Coffee's take on this exotic coffee bean is noteworthy. Because of it's light roast, the beans natural flavors are allowed to full express themselves delivering fine notes of chocolate covered blue berries and cherry lollipop. It's a rare flavor profile indeed. These beans are processed using the natural method that's been mastered by producer Felipe Trujillo on his La Ventolera farm, which incidentally has become a renown institution for specialty coffee. These Cordillera Geisha beans are bursting with strong flavors that are as distinct as they are unique.
Taste Notes: Cherry Lollipop, Italian Ice, Chocolate Covered Blueberries
Roast: Light Roasted
Farm Name: The renowned La Ventolera Farm
Process: Natural
Region: Colombia
Tasting Notes: Melon, Jasmine, Caramel
Bean and Bean Coffee Company makes this list of best Geisha coffee beans once again with another one of their impressive offerings. This particular Geisha coffee is sourced from an elevation of about 6000 feet in the Antioquia Region of Colombia. It's processed using lactic honey and offers a crisp and clean flavor that is superior to most other coffees. The lactic honey process means you'll experience a sweeter flavor coupled with fruit notes. You'll be able to discern distinct flavors of jasmine, honey, floral, milk chocolate, and mint as well. We recently did a full review of this coffee and it's one of our favorites.
Taste Notes: Melon, Jasmine, Caramel
Ranked as one of the best Colombian Geisha Coffees available
Farm Name: Cafelumbus
Process: Lactic Honey Process
Region: Antioquia Region, Colombia
Taste Notes: Distinct Citrus, Jasmine, Floral notes
The Janson Estate is world-renown for the Panama Geisha coffee beans it produces. Considered the "champagne of coffee", their award-winning beans took 2nd place in the Geisha coffee category in the Best of Panama 2013. The beans are hand-selected and then micro-roasted to perfection to bring out all the natural flavors and aromas of this coveted varietal. This coffee boasts extraordinary character with its distinct floral notes combined with an acidity that's as bright as it is complementary.
Taste Notes: Distinct Citrus, Flora, Jasmine notes
Ranked as one of the best Panama Geisha Coffees available
Farm Name: Janson Estate
Region: Volcan, Panama
Tasting Notes: Variable
There are many different factors that directly impact the flavor of a coffee bean. Whether it's the selection of the coffee bean varietal itself or the manner in which this bean is processed, these variations afford the coffee lover many different experiences. For those looking for such experiences, we suggest going with Volcanica Costa Rican Geisha Geisha giftbox. This is single origin gift box is the best way to savor the both nuanced and distinct differences between Geisha coffee beans sourced from this Central American country. At $129 for 4 bags, you save significant money buying this Geisha coffee as a set. Volcanica also offers a set of Colombian Geisha coffee as well.
This gift box includes a 16 oz bag each of the following coffees:
Costa Rica Original Coffee
Costa Rica Natural Coffee
Costa Rica Peaberry Coffee
Costa Rica Geisha Coffee
What is Geisha Coffee?
Geisha Coffee (also known as Gesha Coffee) is an incredibly rare variety of coffee bean discovered in the 1930's. source It has origins in a town called appropriately called Gesha which is located in the birth place of coffee: Ethiopia. While this coffee is currently grown in a number of areas such as Guatemala, Costa Rica, Honduras, Tanzania, and Colombia, it is Panama is often credited with catapulting this exotic coffee to a world wide stage.
This is because it was Panamanian Geisha varietal from the farm Hacienda La Esmerelda that won the Cup of Excellence Award. This award-winning bean is grown in the Boquete region of the Chiriqui Province in western Panama. Since then, the coffee's notoriety has exploded in popularity. This is why people nowadays are willing to pay $35 a cup for Geisha that's not even from Panama. source
Any conversation of the best geisha coffee beans will typically involve names like Hacienda La Esmeralda Geisha, Janson Estate Geisha, Elida Estate Geisha, Volcanica Geisha, and Bean and Bean Geisha. Many of these Geisha coffee beans are named after the world-renown estates from they are grown and produced.
Related Article: Geisha Coffee Worth $35 a Cup
You might think only coffee snobs would even consider paying such prices for this coffee. But the truth is, this particular type of coffee is deemed "worth the price" by many average coffee drinkers.

Why are the Best Geisha Coffee Beans So Expensive?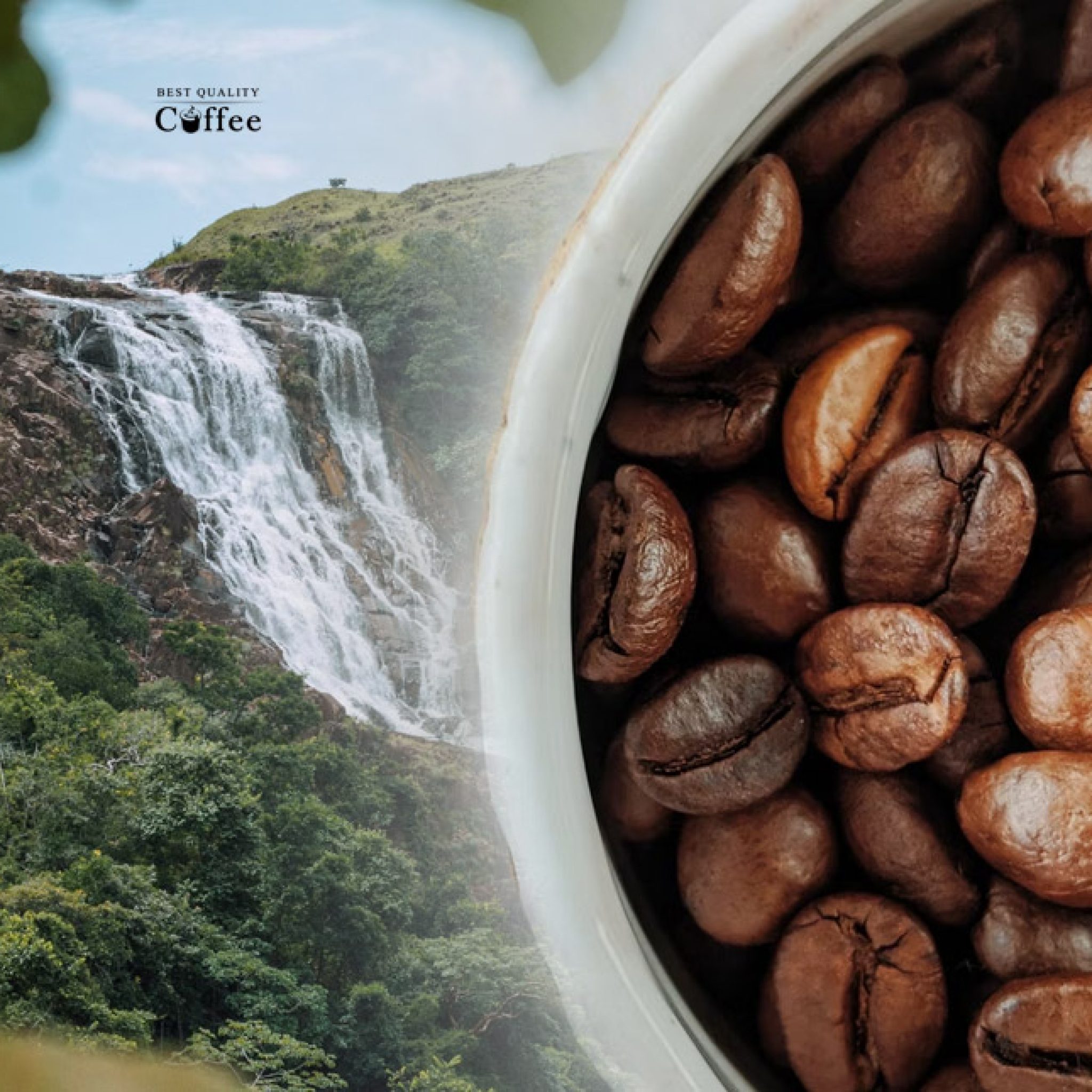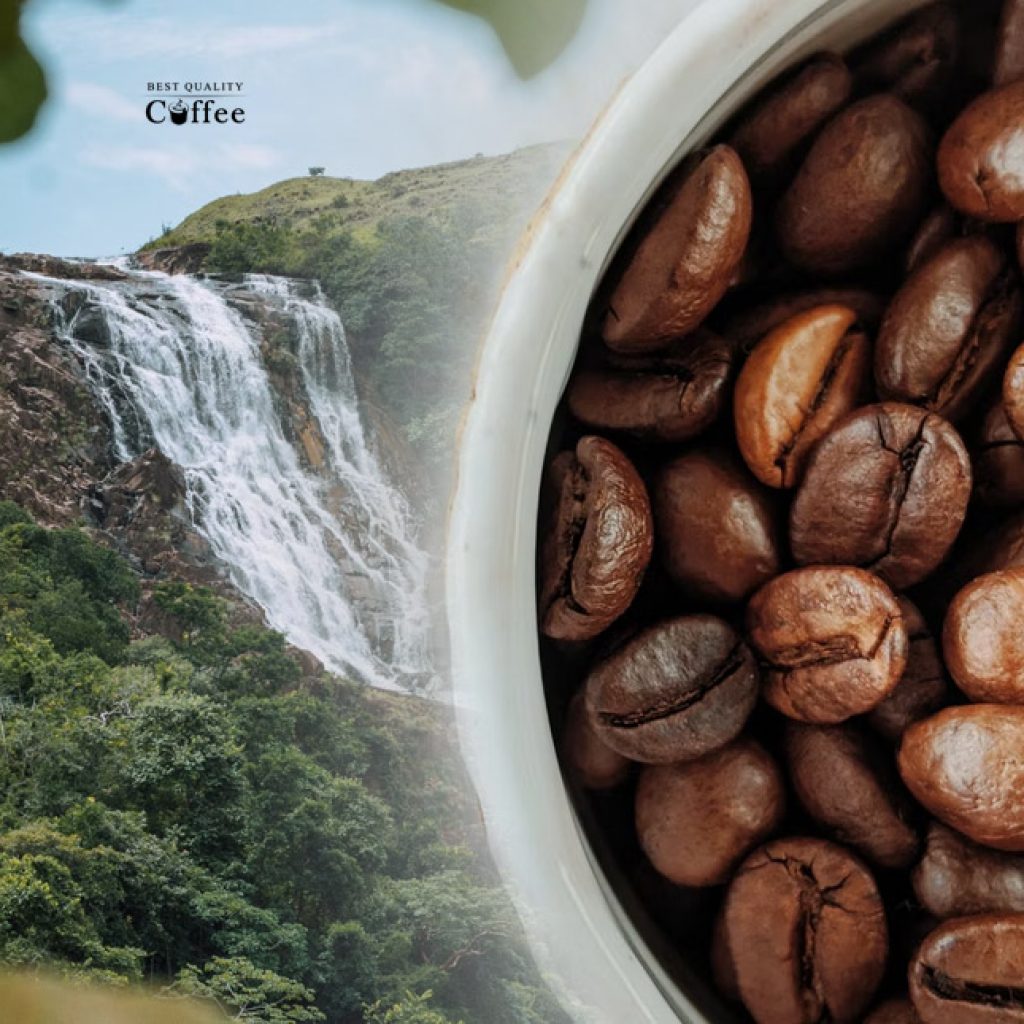 The high price of Geisha coffee is a product of the bean's rarity and superiority. It all goes back to supply and demand. Adding to this is the fact that the production costs associated with growing Geisha coffee are also high. Geisha coffee plants are delicate and require very specific climates to grow fruitfully. They are especially susceptible to certain coffee diseases making their survival rate lower than the average coffee bean. From the perspective of coffee farmers, this specific varietal is quite finicky.
Lastly, this plant has exceptionally low yield which is why it's so rare and expensive. Given how rare this coffee is, it's not a surprise that Geisha coffee cherries are always hand-picked to manually ensure the quality of and proper ripeness each bean. As is the case with any fruit, the beans are carefully selected for their size, texture, color, and aroma.
Since being officially introduced to the coffee market in 2004, Geisha coffee varietals have found themselves consistently in the running for the top coffees in global competitions.
Related Article: California Coffee Company Sells Rare Locally Grown Geisha for $35/cup
What Does the Best Geisha Coffee Taste Like?
As far as taste goes, the best Geisha coffee is renowned for its uniquely pungent floral flavor tapered by a signature refined sweetness and clean taste. Depending on the specific variety you're drinking, you may taste a very wide range of floral and fruity flavors. This includes papaya, berry, peach, pineapple, citrus, mango, berry, and jasmine to name but a few. If you have a hard time imagining exactly what that would taste like, you're not alone as Geisha delivers a truly one-of-a-kind experience.
The flavor of the best geisha coffee will of course depend on its specific origins. However, most Geisha coffees will share the following characteristics when it comes to taste.
Mild acidity
Balanced sweetness
Refined floral and fruity flavors (jasmine, peach, mango, berry, citrus)
Complex flavor notes
What's the Difference Between Geisha and Gesha Coffee?
As mentioned earlier in this article, Gesha is the actual name of the southwest Ethiopian town in which the Geisha coffee variety was discovered. The term Geisha can be confusing as it also refers to Japanese Geishas, which are traditional female hostesses in Japan. This being the case, you'll often see Geisha coffee from Ethiopia spelled as "Gesha" to denote where the beans came from.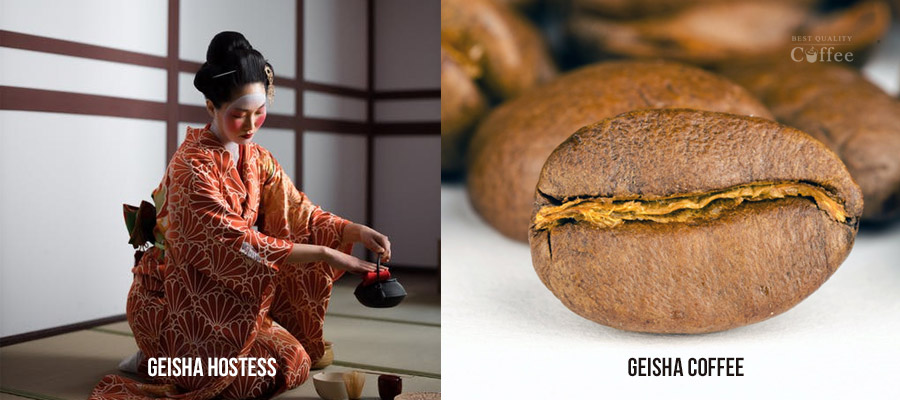 How do you Brew Geisha Coffee?
Given how expensive Geisha coffee beans are, you may be wondering whether they require anything special when brewing. The answer is no.
You brew Geisha coffee beans the same way you would regular beans. Pay attention to the same variables such as bean/water ratios, water temperature, and grind size as you normally would. I'm personally a fan of the pour over but feel free to choose any brew method that suits you.
Where to Buy Geisha Coffee?
Due to its incredible rarity, Geisha Coffee will not be found in most cafes. There are exceptions but those are few and far between. You can sometimes find Geisha coffee at ultra-fine dining establishments but those are also rare. If you're looking to the buy the best geisha coffee, your best bet is to buy direct from the coffee brand (see list above).
It's not regular coffee so it's not typically purchased by the average coffee lover on a budget. However, that doesn't mean that the best Geisha coffee isn't worth every penny. Geisha is most appreciated by those who want a refined coffee experience full of subtle floral notes as opposed to just getting a quick burst of caffeinated energy.
What's the Difference Between Varieties and Cultivars?
When you enter the upper echelon of the coffee world, you'll likely come across some unfamiliar terminology. Geisha coffee is firmly planted in such a world.
So let's delve into the distinction between the terms varieties and cultivars. Understanding the differences will give coffee drinkers a better appreciation for the spectacular cup of coffee they're about to enjoy. Varieties occur naturally and are not the direct product of human influence. They usually stay true to their type. Seedlings grown from a variety inherit the same characteristics as the parent plant in its natural environment. Cultivars, on the other hand, are cultivated varieties that humans deliberately select and cultivate for their exceptional flavors characteristics. Some cultivars arise from plant mutations noticed by observant farmers, while others result from intentional crossbreeding between different plants.
What is the Best Roast for Geisha Coffee?
When it comes to high-end exotic coffees, roasters typically go with a light or medium roast. This is done in order to accentuate the natural flavors of the coffee bean. After all, you don't want to spend premium dollars on a coffee bean whose flavor gets masked by the roasting process.
In the eyes of coffee snobs, roasting an award-winning Geisha coffee as a dark roast would be tantamount to cooking a filet mignon extra well done. In other words, you lose all the natural flavoring.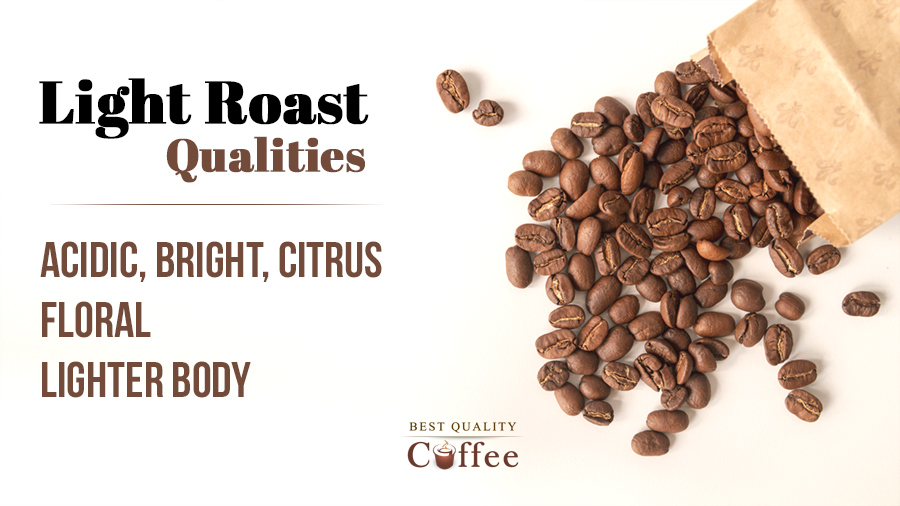 When it comes to handling the best Geisha coffee, roasters often aim to draw out the floral and fruity notes of the bean. A light roast is often the preferred choice when this is the goal. A light roasted Geisha bean will usually have a lighter body coupled with an inherent acidity and complex but classic sweetness.
At the end of the day, there's no simple answer to this question as it all boils down to the flavor preferences of your audience. I've personally never tried a dark roasted Geisha but I'd imagine it can be done properly at the hands of a truly artisan roaster.
Related Article: Difference Between Coffee Roasts
What About Geisha K Cups?
Most coffee lovers who would drink Geisha coffee in the first place would brew it in either a pour over or some fancy espresso machine. To some coffee connoisseurs, the idea of a Geisha K Cup sounds like an oxymoron. That's because when dealing with such a precious bean, many believe it should only be experienced in whole bean form. Whole bean unquestionably delivers the freshest coffee experience and what better way to pay homage to a bean of such impeccable quality. However, if you're looking for a quality Geisha in the form of a coffee pod or K Cup, you'll be happy to know that Hayman Coffee offers such a product. Hayman Coffee is one of the few companies that offer a Geisha K Cup that does justice to this world renown bean.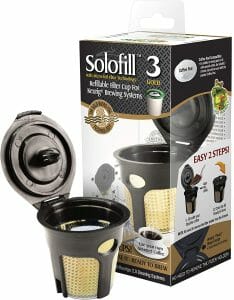 The best way to experience the best Geisha coffee in K-Cup form would be to do the following:
Buy whole bean Geisha Coffee
Grind it
Pour the coffee grinds into a reusable K-Cup Adapter
Related Link: If you're looking for exotic K cups, we've got a wide selection for you to choose from.
Best Geisha Coffee Guide: Final Thoughts
This completes our guide to the best Geisha coffee on the market. Bare in mind that due to the high demand of Geisha coffee combined with its limited supply, these prized beans sell out VERY quickly. That being the case, we'll do our best to keep this list updated as often as possible with most current Geisha coffee options. In the meantime if you have any recommendations not found on this list, we'd love to hear from you in the comments.
If you have a penchant for higher-end coffee, check out our list of best exotic coffees to get some inspiration for your next multi-sensory coffee experience.
As the saying goes, life's too short to drink bad coffee. Choose wisely 🙂