The world of healthy organic coffee is one of the most competitive niche's around with new competitors entering the industry on what seems to be a daily basis. While many companies make bold claims of their coffee, there are a few that have actually lived up to expectations. And even fewer that have surpassed them. We recently came across an organic coffee brand called Peak Performance. In this Peak Performance coffee review, we take a closer look at what this coffee promises and more importantly, delivers.
Want to skip right to our personal thoughts in this Peak Performance Review?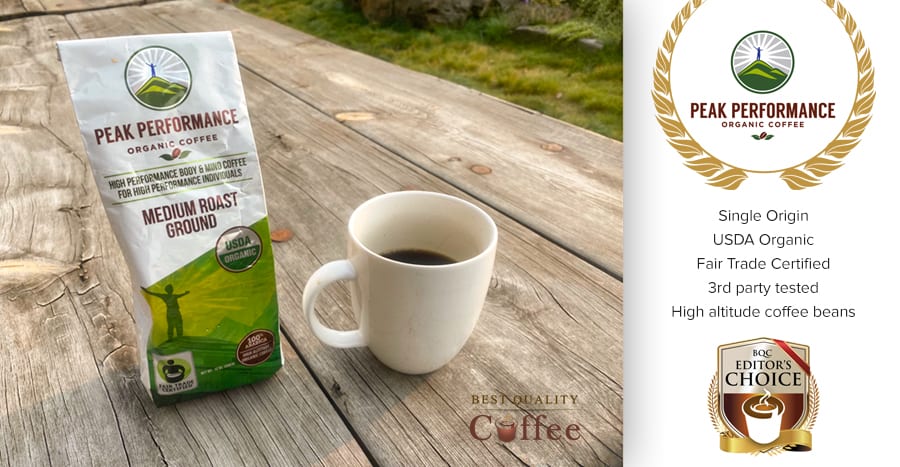 Judging by the name, you might mistakenly think it's one of those smart-coffees infused with vitamins formulated to achieve "peak performance". There's certainly a place for these types of coffees, but that's not what Peak Performance is about. And as a coffee purist at heart doing this review, I'm happy about that.
The company helps its consumer achieve "peak performance" by delivering the most pure, unadulterated coffee experience possible.
Before jumping right into this Peak Performance coffee review, it's worth briefly going over a few details about the company. Peak Performance, was formed by Talor Zamir who after experiencing his own health scare, came to his own deep realization that what you eat and drink is the most important aspect of long term health. He was moved to start a company based on this experience of his. In addition to selling specialized coffee, the company sells a variety of superfood powders, mushroom superfoods, daily essentials, and protein powders all of which have garnered impressively high reviews by a broad spectrum of customers.
On the website you can read lots of information on their coffee, their supplements, and they even have an eBook. The eBook is titled "How to Make the Healthiest Cup of Coffee." It shows how their process of curated coffee is different than most and what steps they take to ensure their coffee is the cleanest, healthiest cup of coffee you've ever had. One especially cool thing that Peak Performance does with each purchase of coffee, is they supply a child at risk of malnutrition with vitamins for an entire year. They are partnered with Vitamin Angels that does a donation for each product purchased from Peak Performance.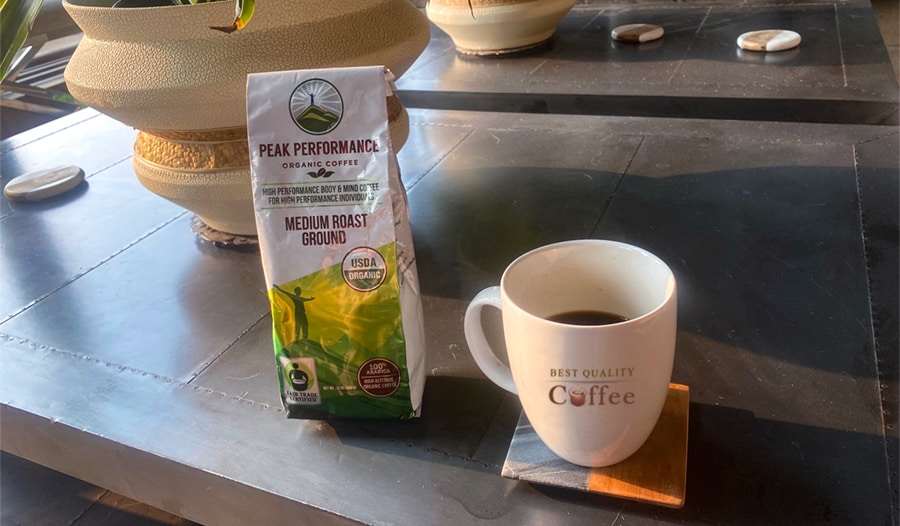 Peak Performance Review: The Details
Peak Performance has the following qualities.
Single Origin
USDA Organic
Fair Trade Certified
3rd party tested
High altitude coffee beans from Guatemala
Their medium roast is a 100% Arabica, single-origin coffee grown in the Guatemalan Highlands and it's loaded with antioxidants. They claim that their coffee is the healthiest and cleanest cup of coffee you can put into your body and is built to give you mental energy, physical energy, and alertness you need to achieve your Peak Performance.
Most commercial grade coffee beans, particularly non-organic blends, can also be very unhealthy. Believe it or not, coffee is actually the most chemically sprayed crop in the world and their exposure to harmful pesticides that unfortunately is commonly overlooked. This not only lowers the quality of the beans, but it also hinders the taste. Peak Performance beans are 100% organic and are grown in a sustainable way. If you care about eating organic, you should also care about sourcing organic coffee as well.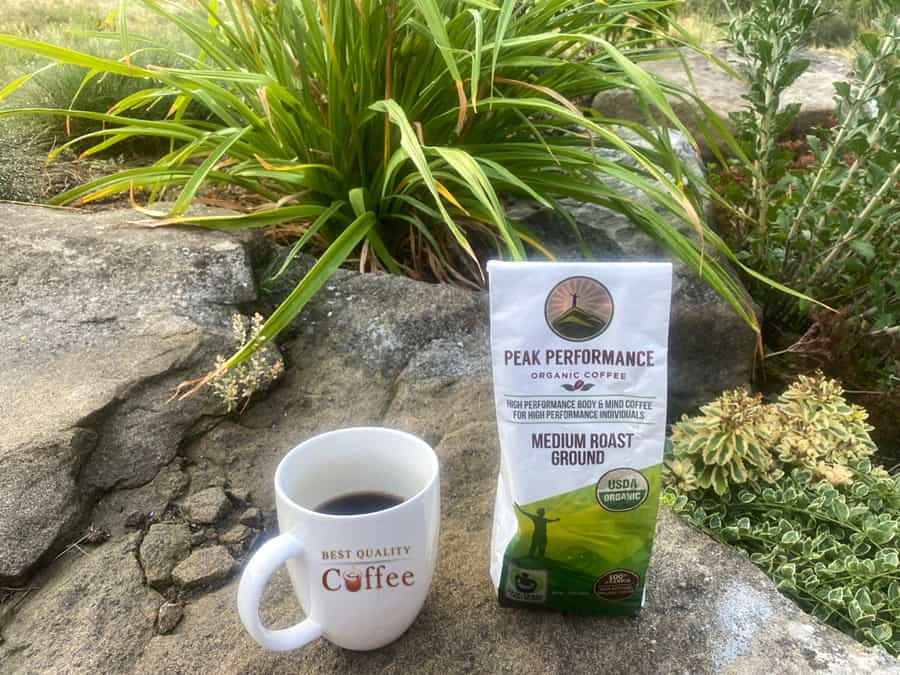 Peak Performance Review: The Taste
Again, in this competitive world of the best healthy organic coffee many of these qualities are considered a requirement. What separates this coffee from the rest of the pack is the coffee experience it delivers.
The medium roast organic coffee from Peak Performance is truly amazing.
The coffee is incredibly smooth and has a bold flavor that keeps you coming back for more. This is a testament to just how balanced it is. It's not overwhelming in any one quality. It's easily one of the cleanest tasting coffees out there.
Since the beans are grown at high altitude, the beans are exceptionally dense which produces this uniquely high quality experience. It also means they are packed with antioxidants which helps with the caffeine crash found in typical brands of coffee.
As I mentioned earlier, the coffee is very bold, which I love. There is zero bitterness in the coffee and the aftertaste is very pleasant. The coffee is also very low in acidity and is very easy on the stomach. As such, this coffee is a perfect fit for coffee lovers who have both high standards and sensitive stomachs. In fact, if you are a coffee drinker suffering from Irritable Bowel Syndrome (IBS) or any other gastrointestinal issues, I'd highly recommend checking out Peak Performance Coffee. High-end low acid coffee is a rare find. And Peak Performance Coffee is one such coffee gem.
The overall experience of drinking the cup of coffee is a very immersive and enriching experience. The aromas from the coffee are delightful and it keeps you going back for another sip.
The company offers its coffee in both medium and dark roast.
Peak Performance Coffee Review: Selection
Peak Performance fortunately makes its superb coffee available in a variety of delivery forms beyond just ground and whole bean. Peak Performance K Cups or Coffee Pods are available in both their standard medium roast and decaf. For Nespresso fans, you can also enjoy their Nespresso-compatible capsules as well.
Given everything I've already said in this Peak Performance Coffee review, it shouldn't come as a surprise that the coffee is more expensive than your average bag of coffee. However, if you care about what you are putting into your body, paying up for an organic coffee of this quality is well worth the price. Not to mention, they offer a 100% money back guarantee if for any reason you're not completely satisfied with the coffee. I can't imagine many people end up asking for a refund, but it's reassuring to know it's an option.

If you're looking to cut down on costs, you can sign up for their newsletter and get 20% off your first order.
Peak Performance Review: Final Thoughts
In conclusion, Peak Performance Medium Roast Organic Coffee is simply fantastic and my personal experience with it echoes what many other Peak Performance coffee reviews from customers have said. The company is sourcing their beans in a sustainable way, giving back to a great cause, and producing one of the healthiest and cleanest cups of coffee you can buy. I loved this coffee and will definitely be purchasing bags of coffee from Peak Performance in the future.
I cannot recommend this coffee enough to anyone who cares about what they are putting into their bodies.
Here at Best Quality Coffee, we've had our fair share of healthy organic coffees, yet none of rivaled the level of taste and quality found in Peak Performance. If it wasn't already obvious in this Peak Performance coffee review, we were deeply impressed by this brew and its ability to deliver on its promises. As such, we've awarded it our coveted Best Quality Coffee Editor's Choice award.
Peak Performance Coffee Review Score: 5/5
Peak Performance is a health and wellness company that sells a variety of products from organic super greens to protein powders. Being that the company doesn't focus only on coffee, we were admittedly surprised by the incredibly high standards of their beans (as was hopefully demonstrated in this Peak Performance coffee review.) The care and quality-control they invest in their sourcing and roasting process is no less than that of a high-end specialty-grade coffee brand. In learning about Zamir's previous experiences with health issues, I better understand why his company's standards are so uncompromising.