We coffee lovers can sometimes be creatures of habit. Some of us (me included) find a brand we like and stick with it for years if not decades. While there's nothing like the taste of a good familiar coffee, we sometimes enjoy it at the expense of trying new and exciting brews that the coffee world has to offer. If that's you, I totally understand. Yet how many incredibly delicious and fulfilling coffee experiences might we have missed with this mindset. It's with this in mind, that we've put together a list of the best exotic coffee of 2023 to encourage you to expand your coffee horizons like never before.
If you're not in the mood to read this entire article, feel free to check out our top pick below from Spirit Animal Coffee. You'll thank us later.
Best Geisha Coffee: Bean & Bean

Intense white sugar sweetness, floral elements, notes of black tea, pear and apple with a pleasant and delicate body

1st Prize for Best in Panama 2020

Process: Natural 48 hours fermentation

Best Blue Mountain Coffee: Out of the Grey

Single origin 100% Jamaican Blue Mountain coffee

Rich chocolaty brownie, perfect acidity, creamy, full and intense

Coffee is low acid, smooth, and higher in antioxidants than regular coffee

Best Kona Coffee: Big Island Coffee Roasters

Refined Cacao, hazelnut, graham cracker cookies with a superior depth of flavor

Sourced from the Kona Islands in Hawaii

For a limited time, Spirit Animal Coffee is offering this combo of their 3 top selling exotic coffees. Enjoy literally some of the best Honduran coffee in the world. One of the reasons we selected this as our top pick is not only is the quality of this coffee superb, but it's made available for over 40% off giving you the premium coffee epxerience without the premium price tag. As such, we see this as literally one of the best deals around for exotic coffee of this quality.
Buy Coffee
What is Exotic Coffee?
The concept of exotic coffee can have different definitions depending on the drinker. Here we define exotic coffee as a high-quality brew that's considered within the coffee industry as being incredibly rare and exceptional. You also typically won't find these exotic coffees in your local grocery store.
Venturing into the world of exotic coffees can be a daunting for some who are new to the space. Since everyone has their own taste profiles, exotic coffee doesn't always imply better coffee. So if you're going to spend extra money to buy rarer coffee gems, you certainly don't want it to be a crap shoot. To help you navigate this exotic new world of flavors, we've put together a list of the best exotic coffee in the world along with their tasting notes.
Best Exotic Coffee
The following best exotic coffee list is not in any particular order.

Best Jamaica Blue Mountain
Often referred to as the "champagne of coffees", this rare coffee makes our list of best exotic coffee for its pleasantly mild and extremely smooth flavor. It's rich, floral, bright, fruity, and delicately acidic nature combine to make for a highly unique coffee experience. On a personal note, the coffee's low acidity and full-bodiedness are some of its most impressive qualities. Tremendous care is given to every aspect of its production and only those beans that meet the high standards of the Coffee Industry Board of Jamaica are awarded the coveted certification of being called Jamaica Blue Mountain Coffee. For more information on this coffee, check out our Jamaican Blue Mountain review.
Recommended Jamaican Blue Mountain Coffees
– Out of the Grey Coffee Jamaican Blue Mountain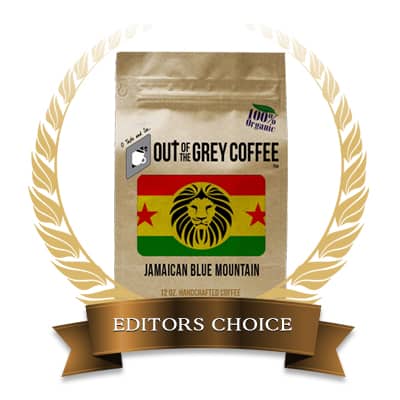 Buy Out of the Grey Blue Mountain Coffee
Best Kona Coffee
Kona Coffee is another highly regarded and sought-after coffee. Hawaii is the only U.S. state that has a climate conducive to growing coffee. But Hawaii doesn't just produce any ordinary coffee. Coffee beans grown in unique climates of the Kona District on the Big Island of Hawaii produce a flavor that's almost supernaturally smooth and perfectly balanced. It's a low-acid coffee with a medium body accented by a silky chocolaty finish. Its meticulously balanced nature is one of its most celebrated qualities. Within the Kona coffee world, there are a number of different varieties.
One of the most exotic of these varieties is the Peaberry Kona Coffee which offers a natural complexity of flavors. Unlike most coffee beans, Peaberries have only one cherry leaving it to be the sole beneficiary of the plant's nutrients. This concentrated coffee beans expresses a sweetness that's rich and deep. For an authentic Kona coffee experience, choose a brand that offers 100% Kona. Sometimes it's sold in blends that contain only 10 or 20% of Kona beans, not discriminating the origin of the remaining coffee. For more information, check out our article that goes more in-depth about Kona Coffee.
Recommended Kona Coffee
– Royal Kona Coffee
– Big Island Coffee Roasters
Best Geisha Coffee
Even in the world of best exotic coffees, Geisha Coffee or Gesha Coffee is still in a category of its own. It's incredibly rare for starters and its flavor profile is equally uncommon. Geisha coffee originated in the Ethiopian village named Gesha. Currently, there are 15 different countries that grow this coffee. However, it was first introduced to the coffee industry in Panama which is why Panama Geisha in particular is one of the most popular exotic coffees in the world. Quantities of this coffee are very limited. Additionally, not every country produces the same quality of Geisha coffee so you'll want to be extra picky when it comes to choosing the best Geisha coffee. Geisha coffee is revered for its distinctly unique sweetness that's been likened to both caramel and strawberry (if you can imagine that).
Recommended Geisha Coffee
– Panama Bean and Bean Geisha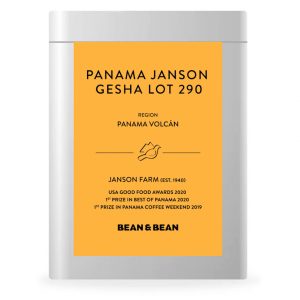 Kopi Luwak
While many of the other exotic coffees on this list are expensive, few come even close to being as pricey as Kopi Luwak. It's claim to fame is being dubbed "the world's most expensive coffee". Part of the justification for its price is the fact that this coffee bean goes through a very "exotic" process. The coffee cherry has to be first eaten by palm civets which then ferment inside their stomachs before being expelled along with the feces. The fermentation process is key to creating the bean's impressive flavor. After roasted, the undigested beans are used to produce Kopi Luwak coffee. If you aren't uncomfortable with the process, you'll be treated to an immeasurably smooth coffee that bears hints of sweet and chocolate. When buying the best Kopi Luwak on the market, it's important to do your research on the process that the beans undergo. Companies like Gayo Kopi are 100% organic, Fair Trade Certified, and very transparent about how they go about obtaining these cherished beans which are critical factors in choosing the right brand. They also only source their beans from 100% wild civets.
Recommended Kopi Luwak
– Gayo Kopi Luwak
– Volcanica Kopi Luwak

Pacamara Coffee
Pacamara coffee beans are the largest in the world and considered incredibly rare. These particular Pacmara coffee beans are grown in the highly fertile lands of Nicaragua at an altitude between 1,300 – 1,750 meters. Like the others on this list of exotic coffees, they deliver a distinctly unique flavor. The flavor of Pacamara coffee is as sweet as it is strong and is a good fit for those who enjoy a complex mix of flavors within their brew. Medium roasted Pacamara yields a subtle chocolate notes and a creamy texture that will touch the hearts and tastes buds of even the most discerning coffee lovers. On the other hand, light roasted Pacamara beans will have a nuttier more acidic flavor.
Recommended Pacamara Coffee
– Lifeboost Pacamara Coffee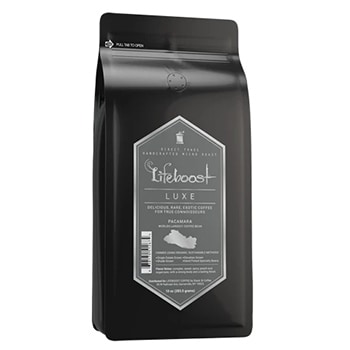 Mandheling
Mandheling coffee is one of four types of Sumatran coffee. It's characteristically deep and earthen flavor has catapulted it into the ranks of some of the best exotic coffee in the world. Mandheling coffee is grown on the Indonesian island of Sumatra in ideal conditions created by high elevation and volcanic soil. Full-bodied, with comparatively low acidity and a decisively rich taste, this coffee has cedar and herbal undertones that need to be tasted to be fully appreciated. Mandheling Sumatra coffee is the perfect for those who appreciate a deep and dark roast.
Recommended Mandheling Sumatra
– Out of the Grey Coffee Sumatra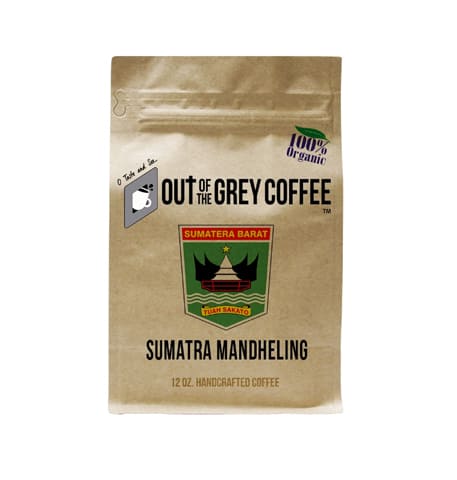 Buy Out of the Grey Mandheling Sumatra
Kintamani
This naturally (wet) processed Arabica gets its name from the mountainous region in northern Bali where it comes from. Full bodied, it's fruity and earthy all at once. It's accented by subtle notes of lemon and other citrusy flavors.
Yirgacheffe
Ethiopia is often considered the birthplace of coffee so needless to say, Ethiopians know their coffee. Relatively light bodied, this washed coffee from Ethiopia is deeply fragrant with hints of chocolate, flowers, citrus and spice. The aroma of this coffee is second to none both in terms of potency and quality. The best batches are very lightly roasted and yield fantastic, delicate espressos. Yirgacheffe coffee on its own, with its deeply enjoyable taste, already ranks as some of the best exotic coffee available. However, if you want give it a turbo boost of "exoticness", add some cardamom, ginger, and/or cinnamon. For a full list of the best Yirgacheffe Coffees, check out our guide.
Recommended Yirgacheffe Coffee
– Out of the Grey Coffee Yirgacheffe
– Lifeboost Yirgacheffe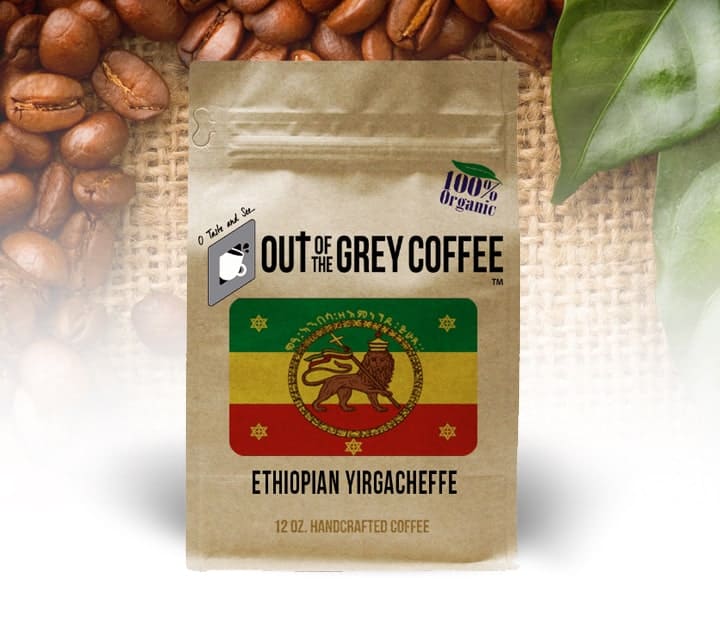 Buy Out of the Grey Yirgacheffe
Maragogype
This Central American bean which usually comes from Brazil, Guatemala and Mexico, is unusually large. Dubbed the "elephant-bean" for its over-sized nature, this coffee offers bright acidity and an intense, fruity character. The combination of its inherent tartness and its silky smooth finish earns this Maragogype coffee a position on this list of most exotic coffees.
Kenya AA
This is also widely considered one of the best exotic coffees available. The AA designation is based on a number of factors such as coffee bean size, shape, and density. As the highest grade on the scale, Kenya AA offers a sharp wine-like flavor that's a result of the rich volcanic soil in which it grows. At 1700 to 1800 meters above sea level, this coffee ripens slowly developing a complex and distinctly pungent flavor. It's characteristically clean flavor is due to the coffee's characteristically heavy acidity and a deep floral character.
Recommended Kenya AA Coffee
– Out of the Grey Coffee Kenya AA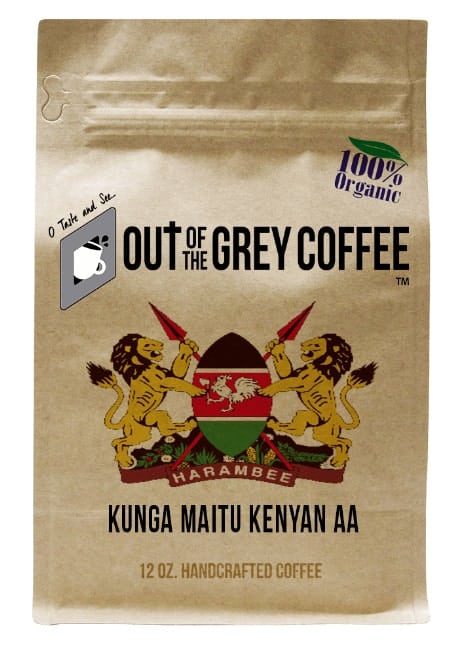 Buy Out of the Grey Coffee Kenya AA
Tarrazu
Among Costa Rican coffee, few are as treasured and heralded to the degree of Tarazzu coffee. It's a lively, sweet, fruity, light roast coffee with a very intense flavor. Nuances of chocolate punctuated with subtle citrus notes make for a delightfully enjoyable cup of coffee. Tarrazu coffee is considered very balanced with medium acidity.
Recommended Tarrazu Coffees
– Cafe Britt Tarrazu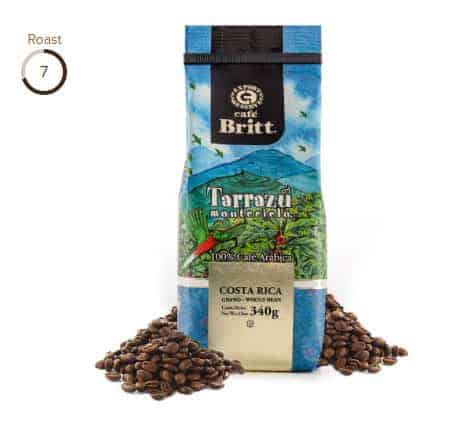 Yauco Selecto AA
The best coffee from Puerto Rico is also considered one of the finest in the world. Intense and full-bodied, with a buttery mouthfeel and a very long finish, with hints of chocolate, caramel, and spice.
Mokha
Mokha Coffee will treat you to a exhilarating ride for your taste buds. From the city with the same name located in Yemen, Mokha coffee is one of the oldest and most desired types of coffee in existence. It's birthday is dated not long after that of Ethiopian coffee. This coffee offers a deeply complex and earthen experience that's critically-acclaimed throughout coffee circles around the world. This is one of those seemingly contradictory coffees (in a good way) that perfectly blends potent flavor with delicate fruit, cinnamon and tobacco notes. This coffee's unique blend of such complementary flavor pairings creates an entirely new taste unto itself.
The Best Exotic Coffees: Final Thoughts
And thus concludes our non-exhaustive but very comprehensive list of the best exotic coffees in the world. Of course, what's officially the "best" will completely depend on your specific flavor profile. The coffees curated on this list are most certainly a cut above the rest and certain to give you a multi-sensory coffee experience well above the norm. If you happen to be a fan of exotic coffee and also use K-Cups and coffee pods, check out our list of exotic coffee K-Cups.
We encourage coffee lovers of all types to use the list above as a guide in making sure they get the most flavor and bang for their coffee buck.
See anything missing from this list? Feel free to make any suggestions for additional exotic coffees.
Related Article: Best Black Coffee
Related Article: Best Flavored Coffee
Related Link: Best Exotic Coffee K Cups