Kimera Koffee is a brand best known for helping to pioneer the nootropic coffee industry. Nootropic coffee is coffee that's infused with natural stimulants that help to improve mental cognition and brain function. However, what many may not realize is that Kimera Koffee also offers pure organic Peaberry coffee that contains no nootropics. The company was kind enough to send us a bag to try. Needless to say, we were excited to sample their highest-quality bean to date in an unadulterated form. Check out the following Kimera Koffee Peaberry review to see whether it's worth a buy.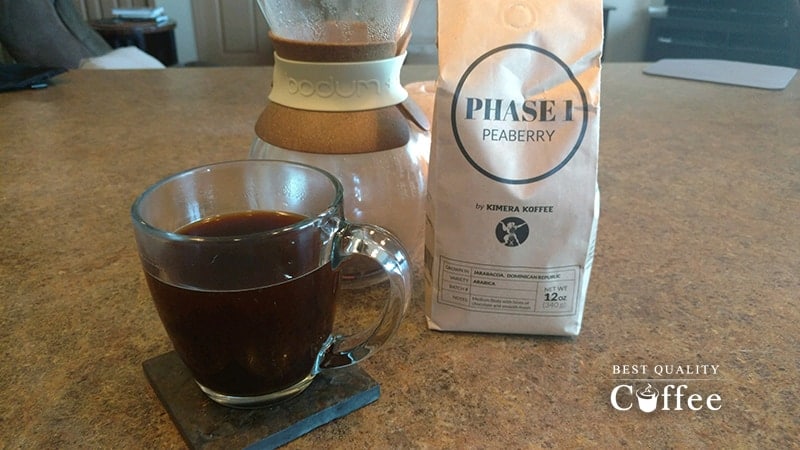 What is Peaberry
Peaberry is a rare type of coffee bean that contains only one seed instead of the usual two. This single Peaberry seed becomes the sole recipient of the plants nutrients resulting a naturally sweeter and fuller flavor. Typically, only 3-5% of harvested coffee is Peaberry thus making this a very exotic and rare coffee. Kimera Koffee harvests their Peaberry coffee beans from the high-altitude mountains in Jarabacoa, Dominican Republic.
Kimera Koffee Peaberry Review – Aroma / Taste
Upon opening the bag, my nose was greeted with an extremely strong and fragrant aroma. I was pleasantly surprised by how the bean's floral attributes were so apparent in the smell of the coffee. It's like my nose was actually tasting impending sweetness. As far as I was concerned, this was definitely a sign of good things to come.
Related Article: Best Nootropic Coffee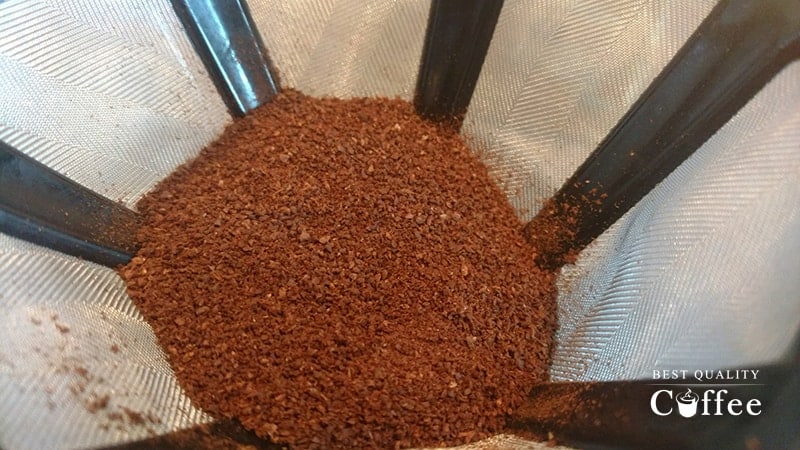 I brewed the coffee in a Bodum Pour Over with much anticipation being as how this would be my first experience with the famed Peaberry coffee bean. To cut right to the case, it was phenomenal. Allow me to explain why.
There's a notable difference between the taste of natural sweetness versus artificial sweetness. This difference becomes very obvious when drinking this coffee as its sweet and floral notes were potent but not overwhelming like they might be if artificial flavoring was used. Natural sweetness offers a cleaner and more pure taste and this brew is a perfect example of that. Interestingly, I found myself forgoing the usual honey in my coffee since this coffee already had ample sweetness.
I especially appreciated the full-bodiedness of this coffee. In my experience, many of the sweeter coffees that I prefer frequently have less body. Additionally, these coffees commonly come with an acidic bite. Not so with Kimera's Koffee's Peaberry which has virtually no bite. This is as smooth a coffee as I've come by and the combination of its full-bodiedness and floral nature was a joy to experience.
Another noteworthy quality about this coffee is that its penetrating flavor lingers in your mouth well after you've finished taking a sip. As I write this review, I can still taste a melting pot of delicious floral notes from a sip that I took 10 minutes ago.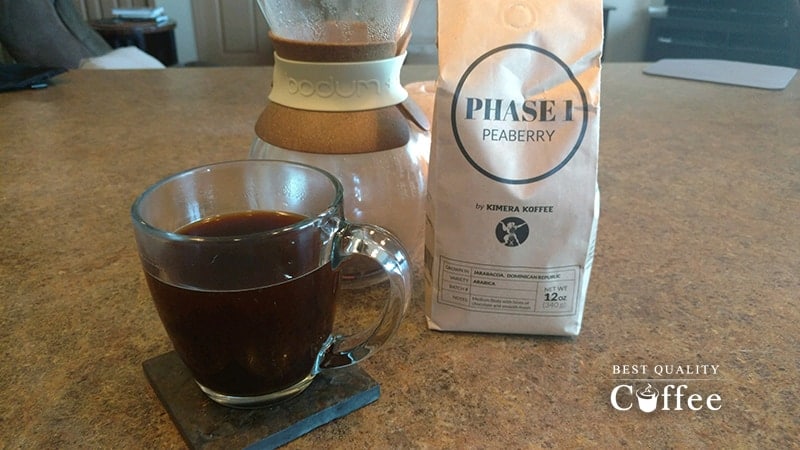 Kimera Koffee Peaberry Review: Verdict
If you couldn't tell by now, I was very impressed with Kimera Koffee's organic Peaberry coffee. My first experience with Peaberry was a very positive one and I'm still amazed by how the coffee was so sweet yet so smooth. Additionally, bold and sweet is a combination that in my opinion is rarely done right and can sometimes result in a very unappealing coffee experience. Fortunately, Kimera Koffee did it right and has incorporated two of my favorite qualities in coffee into a fantastically balanced brew. From its incredible aroma to its transcendent flavor, Kimera Koffee's Peaberry is a testament to why the Peaberry coffee bean is so sought after.
If you've had the opportunity to try this product and would like to share your Kimera Koffee Peaberry review with us, we'd love to hear from you. If you're interested in trying it out, use the code below to get 15% off your order.
Code: COFFEE15