As one of the pioneers and forerunners of the Third Wave coffee movement, Intelligentsia Coffee has earned an impressive reputations amongst even the most discerning coffee connoisseurs in the industry. Founded in 1995 by Doug Zell and Emily Mange, the company has consistently put out high-end specialty coffee for nearly 30 years. In this Intelligentsia Coffee review, we take a closer look at their offerings and why this brand stands as one of the pre-eminent coffee brands in what's become an ultra-competitive industry.

Related Article: Best Coffee for Coffee Snobs
Why is Intelligentsia Coffee Different?
There are three main qualities that separate Intelligentsia Coffee from the rest of the pack.
Direct Trade:
The company partners directly with growers. By cutting out the middlemen in the form of exporters and importers, Intelligentsia is able to form long lasting relationships with the very inviduals who produce these magical beans. While direct trade itself is not uncommon among specialty coffee brands, it is something that Intelligentsia has been nurturing for many years thus making a foundation to their business practices.
Seasonality:
Intelligentsia approaches the sourcing of their coffee with the seasonality of their beans in mind. Because coffee is not grown year round and only certain types of beans grow during certain times of the season, the company must purchase the "right amount of coffee to meet seasonal demand". Intelligentsia's blends are rotated in and out based on the availability of a given harvest to ensure freshness and optimize quality.

No Intelligentsia Coffee review would be comprehensive without making noting the company's staunch commitment to freshness. To experience the freshness Intelligentsia originally intended, we'd suggest ordering direct from Intelligentsia as opposed to Amazon. This is because Intelligentsia roasts to order ensuring that the coffee won't be sitting stagnant in a storeroom for months at a time.
Superior Single Origins:
In addition to offering masterfully-crafted blends (House Blend in particular), Intelligentsia also has a stunning line of single origin coffees that are more than worth their price. These quality beans showcase the company's unparalleled commitment to producing literally the best cup of coffee possible.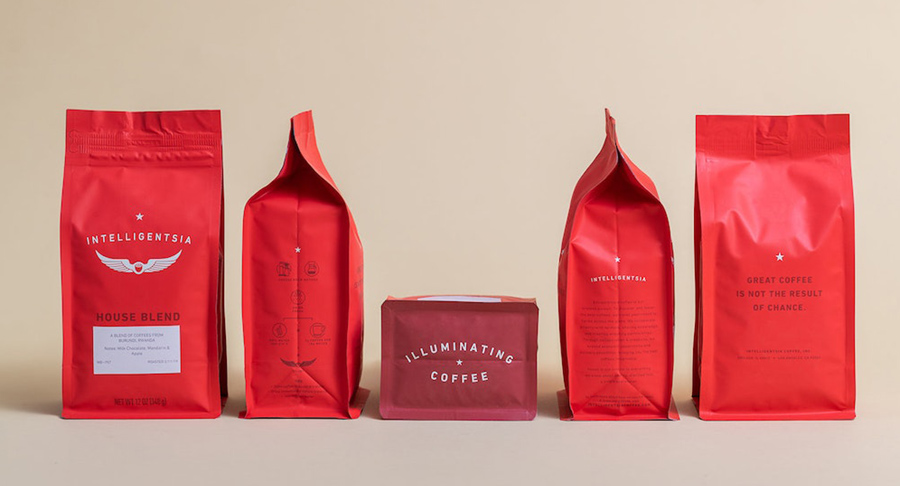 Intelligentsia Review: The Taste
In this Intelligentsia Coffee review we'll take a closer look at two of their popular brews.
The first one is their house blend. This brew is has a very lively profile that showcases a refined sweetness. It's a wonderfully balanced cup of coffee that offers an attractive fruitiness that lingers on the palate. Those with more refined taste buds may notice notes of subtle milk chocolate, citrus, and apple. Often times when dealing with blends, it can seem more like a random "hodgepodge" of beans that vary in quality. Not so with the Intelligentsia's House blend. This is a distinctive and intentional blend made from carefully-selected premium Latin American coffees.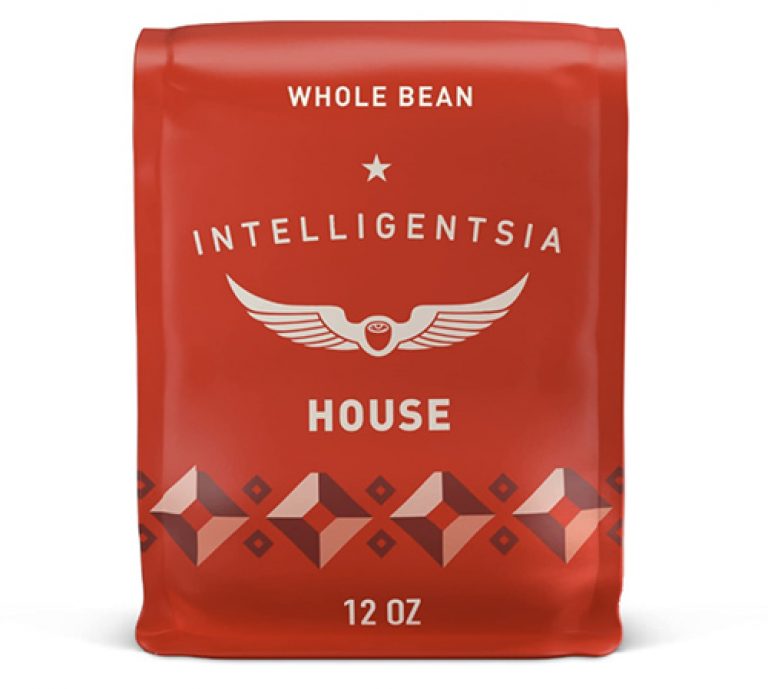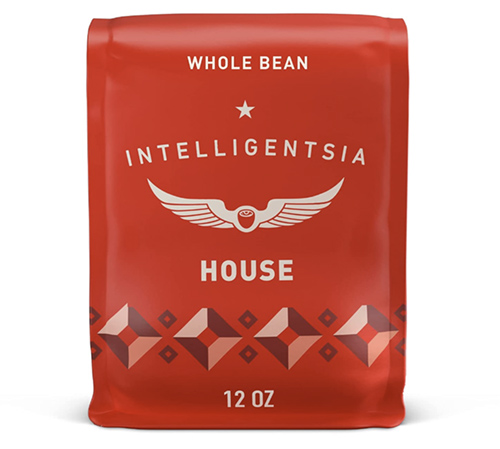 Next we arrive at the Black Cat Espresso Classic which Intelligentsia's flagship espresso. Since the company's formation in 1995, this has been one of the specialty company's staple offerings. If you judged this coffee by its name and assumed it would be a very strong and bold coffee, you wouldn't be wrong. It's a medium roast that packs a punch while offering a range of complex fruity flavors. In other words, it's surprisingly bright for a coffee that packs such a punch. Many times the strength of a potent coffee masks the wide range of natural flavor notes that the coffee bean offers. Fortunately, with the Black Cat espresso, these precious notes are preserved. I personally enjoy this type of profile. You'll also detect hints of stone dark chocolate, ripe cherry, and brown sugar. This coffee pairs well with a scone or some kind of sweet baked good.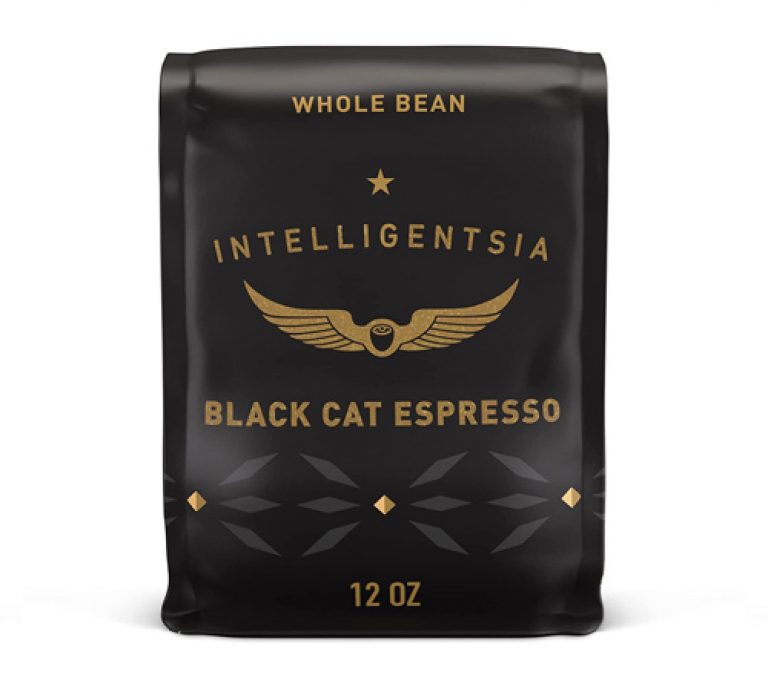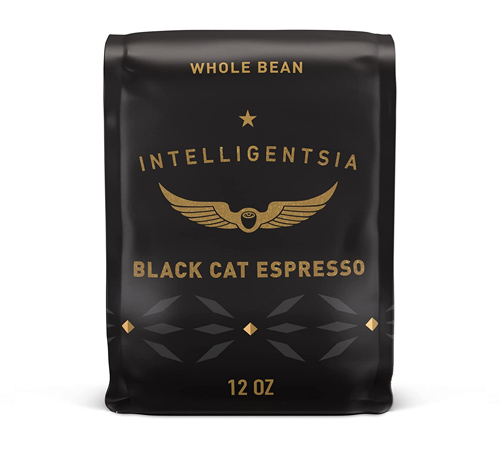 Intelligentsia Coffee Selection
Intelligentsia offers their coffee primarily in whole bean form. This comes as little surprise given the premium they place on freshness. But coffee lovers on the go may be pleasantly surprised to know that the company offers instant coffee as well. Their instant coffee is the very definition of a budding industry known as instant specialty coffee. It's portable coffee for the coffee connoisseur.
More About Intelligentsia
Intelligentsia Coffee is a Chicago-based specialty coffee company that has revolutionized the specialty coffee industry since 1995. The world of Third Wave Coffee was pioneered by companies that had the foresight to drastically elevate the coffee experience. Intelligentsia is one such company. They have been committed to sourcing the highest quality beans and building long-term relationships with farmers through their direct trade model.
Sustainability is a central principle that motivates Intelligentsia. They are committed to "reducing their environmental footprint, promoting education and economic development in coffee-growing communities, and fostering an inclusive and equitable industry". Intelligentsia's commitment to quality is evident in their wide range of blends and single origin coffees, particularly those from Africa and Central America. As a company that's received numerous awards for their specialty brews and business practices, they've proven themselves over the last 3 decades to be an industry leader on multiple fronts.
Intelligentsia Coffee Review: Closing Thoughts
Intelligentsia Coffee has been around for nearly 30 years. That's an eternity when it comes to the world of coffee. In other words, they are most certain doing something right. As with many specialty coffee companies worth their weight in gold, Intelligentsia focuses more on just the final cup. They care just as much about the process as they do the results. As such, this consistent dedication to excellence throughout the supply chain is one of the many reasons that they've been able to help pioneer and lead the specialty coffee industry.
If you're a fan of top-shelf coffee similar to Intelligentsia, we recommend also checking out Stumptown Roasters.
Related Article: What is Specialty Coffee?