For the record, this is my second encounter with Guardian Coffee Co., a small veteran owned and operated company recently formed in 2022. The company just added three new brews to their growing line of small batch coffee. And given my previous experience with some of their best-selling blends, I was more than eager to try them out. In this Guardian Coffee review, I examine them to see how they stack up with my previous experiences with their brand.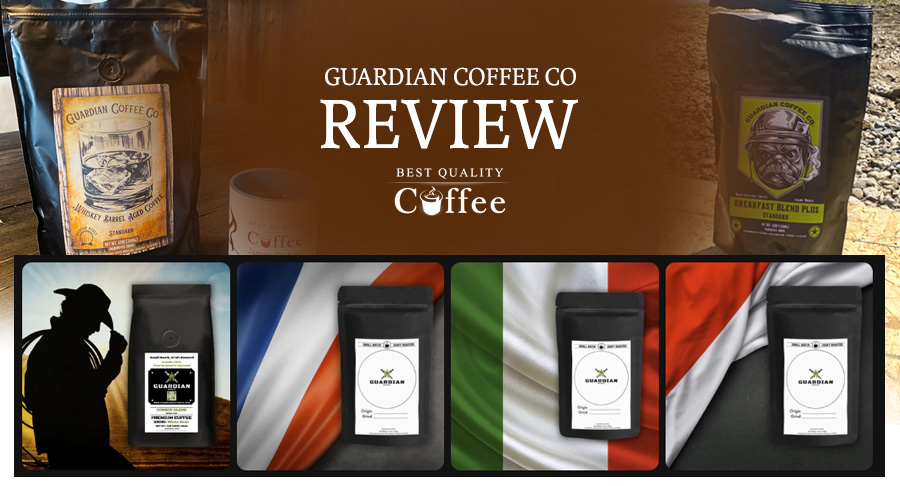 Before jumping right into this review, please allow me to provide a little context. As a reviewer here at Best Quality Coffee for many years, I've had opportunities to try coffees of all sorts. From exotic Geisha coffees to mediocre brands that fall short of expectations, the quality of coffees I've tried has really spanned the gamut. Having said that, I will offer a spoiler alert in saying that Guardian Coffee ranks up there with some of the highest quality coffee I've tried.
This particular brew is a medium roasted single origin coffee with beans sourced from Guatemala.
It's been a while since I have had a glass of bourbon or whiskey, but this coffee definitely hit the spot.
Whiskey barrel aged coffees are some of the coffee industry's best kept secrets, combining two of man's most beloved beverages – whiskey and coffee. The coffee is full of rich and bold flavors and the aroma is one of the best I have ever reviewed. The coffee is a medium roast that is aged for 30 days in recently-emptied whiskey barrels. Because of the porous nature of coffee beans, they soak up all of the surrounding aromas.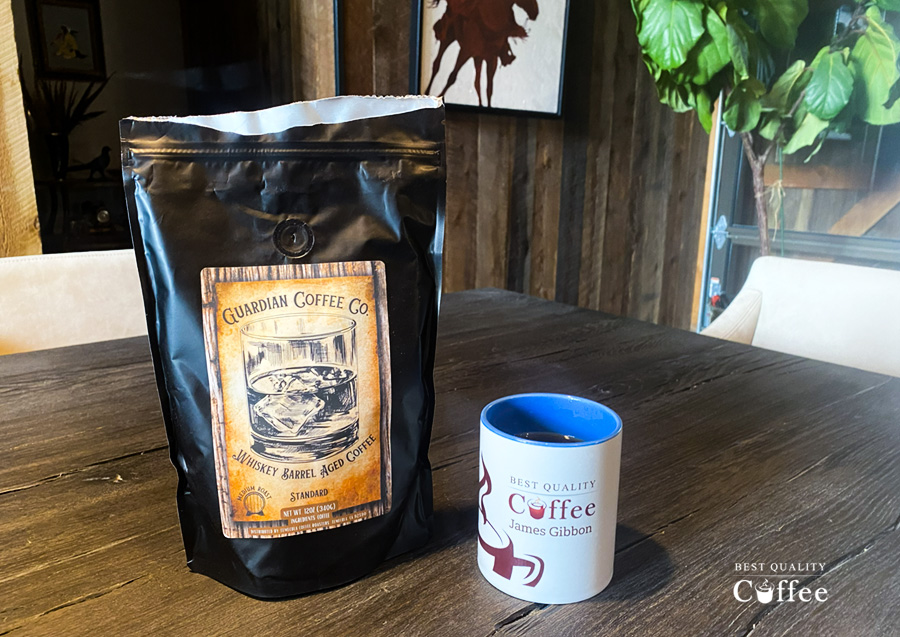 The end result is a truly delicious cup of coffee that's teeming with flavor. I drank this coffee black to get the full flavor from the beans. I brewed it in a drip coffee maker and made 4 cups, thinking that would be enough – it wasn't. This coffee kept me coming back for more and I thoroughly enjoyed each subsequent cup. It was well bodied and dynamic. The flavor didn't just hit you in one place, it hit all over. This was a uniquely enjoyable experience unlike any other cup of Joe I've had in the past. I'm not a huge fan of whiskey, and I still really enjoyed the subtle yet distinct flavors and aromas from this cup of coffee. I think that fact speaks volumes to just how exceptional a cup of coffee this is.
The packaging was also really cool and featured a glass of whiskey in an old western style wanted poster like picture. It also featured resealable packaging, which I always really appreciate.
4 / 5 Stars
So I love pugs, and when I saw that this coffee had a pug dressed up as a drill sergeant, I was instantly in love with it.
However, when I actually opened up the bag and brewed the coffee, I fell in love with this coffee even more. Guardian Coffee's breakfast blend is unbelievably good coffee.
Like most breakfast blends, Guardian's version is light / medium roasted while offering a bright yet tempered flavor profile. It's made from a mix of beans sourced from Brazil, Nicaragua, and Colombia.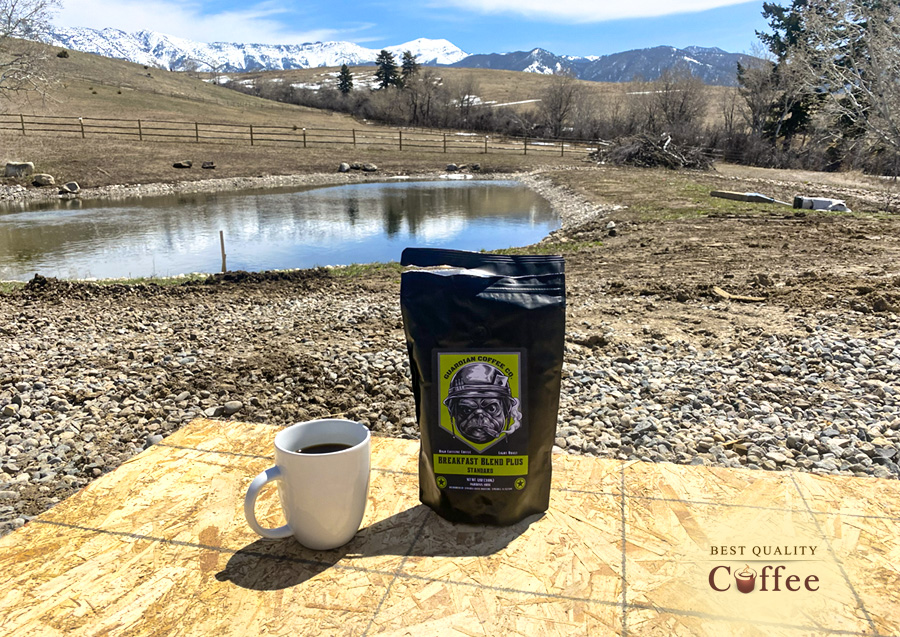 I brewed this coffee in a drip coffee maker and drank it black to get the full flavor from the coffee. To sum it up, this coffee is the perfect breakfast blend for me. It's not too bold yet unmistakably rich and smooth. The added caffeine is a great addition as it really gives you that extra boost that you need to get through a tough work day, or just to get you going before your weekend plans. This coffee doesn't try to be anything that it isn't. It's simply just a great cup of classic joe to help get you through your day.
I appreciate the simplistic characteristics of this coffee and could easily see myself drinking this coffee every morning before work. Certain coffees are just easy to drink and this breakfast blend is one of them. Plus the packaging kind of seals the deal for me. I love this concept, the logo, and the coffee.
5 / 5 Stars
This coffee sources Robusta coffee beans from Tanzania and India. For those who may not know, there are two main varietals of coffee beans: Arabica and Robusta. Robusta beans are commonly sourced for high-caffeine coffees as they have twice as much caffeine as their Arabica counterpart.
This coffee had my interest when I first saw it. Max Caff, like the name suggests, is a maximum caffeine coffee for those looking to get the most jolt for their buck. It certainly didn't disappoint, but not just on the caffeine content but also on the taste as well. It's actually not uncommon for high caffeine coffees to taste bitter given that companies will prioritize caffeine content over taste. Fortunately, that wasn't the case here.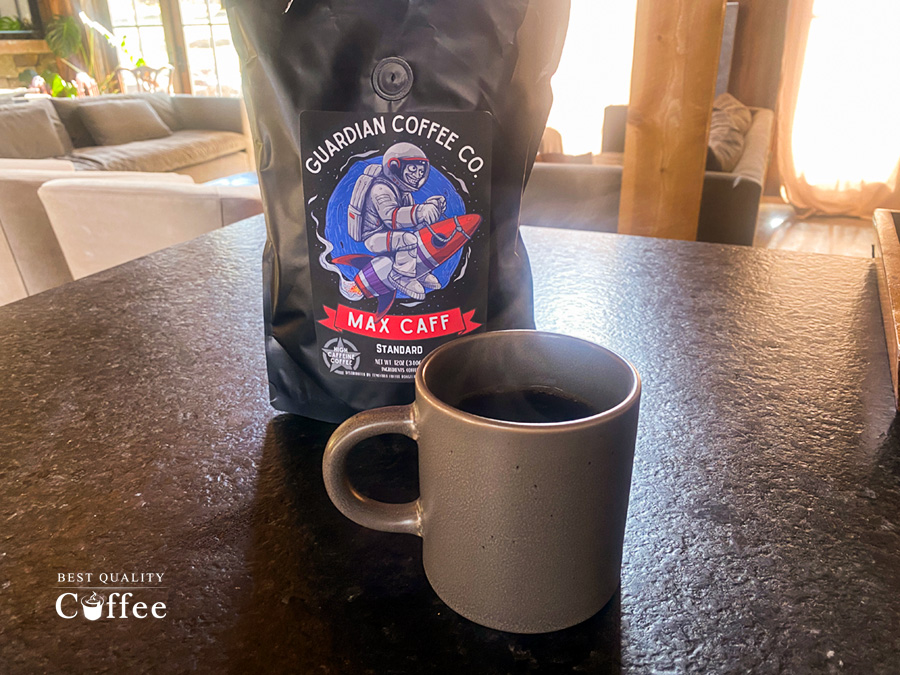 I brewed this coffee in my drip coffee maker and brewed a small batch. I figured I didn't need much because it was max caff. I drank the coffee black on a Sunday morning and it was amazing. It was very well balanced and flavorful especially considering the reputation some max caff's have for lacking a solid flavor profile. I would peg this as more of a medium roast than a light roast based on the flavors that I picked up. It was bold, but smooth and went down easy while continuously drawing me back for more. I thoroughly enjoyed this coffee and could easily see myself drinking this coffee every morning to kick start my day.
As time went on, I could really feel the caffeine kick in and I was firing on all cylinders. I went to hang out with some friends and was happy that I had this coffee beforehand because I felt sharp and alert. In summary, this is yet another incredibly solid coffee from Guardian Coffee Co that fulfills its purpose while bringing joy to your taste buds.
I sense a theme with Guardian's coffees – they seek to create a really good everyday cup of joe, for the average joe. This is appreciated and I thoroughly enjoyed this blend.
4.5 / 5 Stars
Guardian Coffee Review: Final Thoughts
Guardian Coffee Co is a company that on paper may come across as unassuming. They've entered a big pond as a relatively small fish. But they've made a huge splash from where I stand and their coffee is worthy of the most uncompromising coffee connoisseurs out there. As someone who has had his fair share of specialty coffee, I've noticed it's often the smaller companies that produce brews that leave the biggest impressions. Guardian Coffee Co is a great illustration of this fact. In my opinion, Guardian Coffee Co has mastered the art of sourcing, roasting, and processing this magical bean we call coffee.
This coffee was selected as one of the best veteran coffee companies of the year.