We're always on the hunt for hidden coffee gems around the industry. Most recently, we got our hands on some coffee freshly brewed by a veteran owned company called Guardian Coffee Co. The addition of the "Co" is especially important since there are other coffee brands and cafes out there with similar names. In this Guardian Coffee Co review, we take a closer look at their small-batch craft-roasted brews.
The company sent me some of their coffee and the following is my unbiased review of their brew.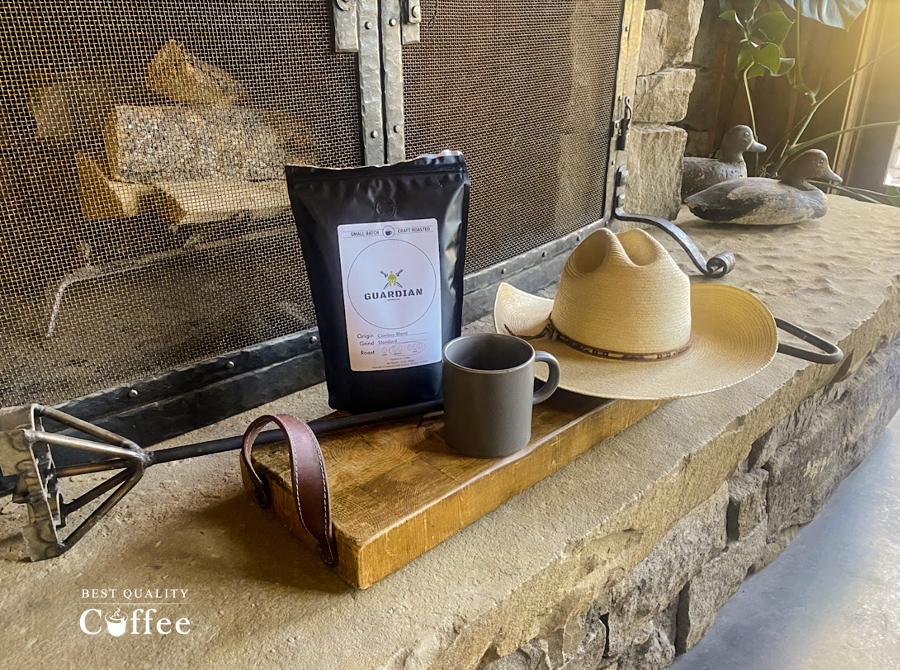 Guardian Coffee Review – Cowboy Blend
As someone who lives in Montana, I respect a good cowboy blend coffee. So let's get into the coffee they sent me and break it down.
Cowboy Blend
They sent me a 12oz bag of the Cowboy Blend, which is their signature coffee and incidentally, one of their most popular products.
I got the beans grounded up in a standard grind. I brewed the coffee in a drip coffee maker, and drank the coffee black to get the full flavor from the coffee.
My first impression when I took my first sip was that this was a solid cup of coffee. Nothing too fancy, just a simple, bold and delicious cup of Joe that takes you back to the foundations of a good brew. The blend is a dark to medium roast with enjoyable notes of cocoa, caramel, and vanilla tones. The flavor is bold and simple. Incidentally, these are perfect words to describe the quintessential cowboy spirit.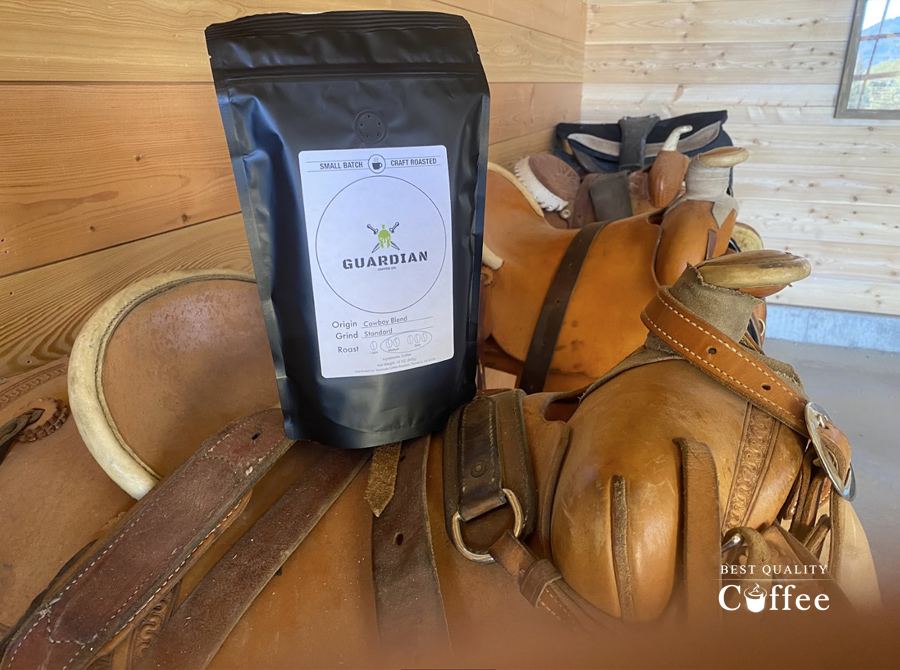 Any coffee lover knows that certain flavors lend themselves for certain occasions and moods. Some coffee lovers prefer a pumpkin spice coffee only on a brisk autumn morning while others will drink a good robust house blend to start the morning off right.
My thoughts about this coffee were that it would be perfect for any occasion. You can drink it at home, camping, in the office, on the ranch, or anywhere that you would want a cup of coffee. The flavor is nothing super fancy or super extraordinary, but, again, provides a very solid cup of coffee that keeps you coming back for another sip. I think that speaks to just how well balanced it is from the initial sip to the finish.
As I mentioned earlier, the Cowboy Blend is the perfect name for this coffee and showcases its versatility and simplicity. It's not flashy and is in fact, a delightfully understated coffee that delivers a flavor that's as full as it is balanced.
When I say the flavors are simple, I don't mean this is a negative thing. Sometimes you just want a simple and full cup of coffee and this Cowboy Blend provides this.
Packaging: Guardian Coffee Co
The packaging is also very simple but very functional. The bag itself is a black bag with the guardian logo and some simple call outs about the coffee. The top of the bag tears off and there is a resealable top to the bag to reseal and keep fresh for weeks. I really appreciate this as I often switch between different coffees frequently. This resealable bag ensures that the coffee stays fresh and lasts a long time. There really isn't much else to say about the packaging – it is functional, aesthetically pleasing, and has a simple design.
Aroma: Guardian Coffee Co
The aroma of the Cowboy Blend was excellent. The beans smell delicious and you can tell the company freshly roasted their beans before shipping them out.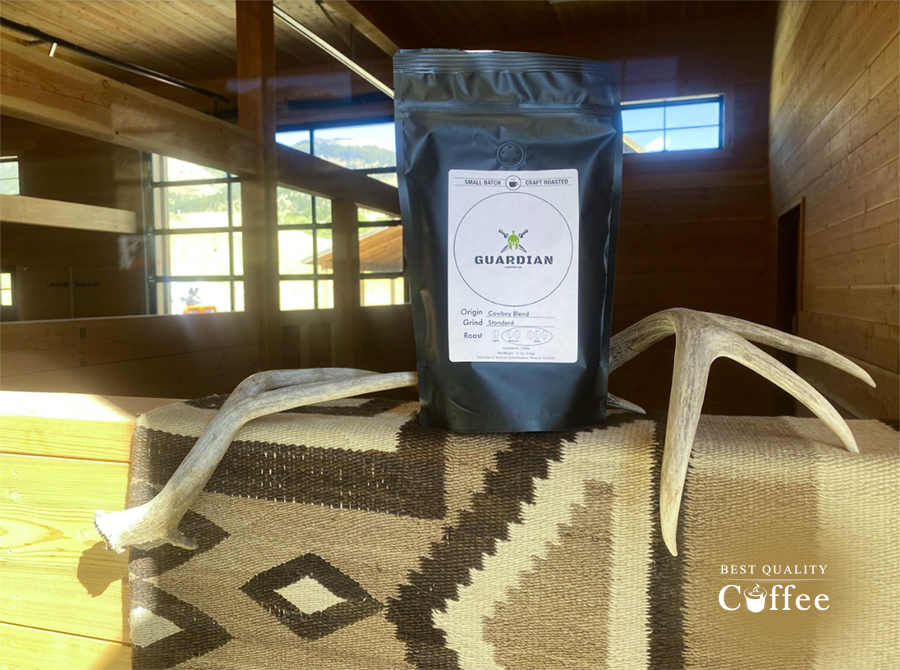 I brought this coffee out to our barn and the smell of the saddles and leather mixed with the aroma from the coffee created the perfect blend of aromas. It was a fitting moment to be drinking a brew called Cowboy Blend. The beans smell fresh and uniquely aromatic. The aroma is potent and carries through when you brew the coffee. There's nothing like smelling a great cup of coffee, taking a sip and savoring the multi-sensory experience.
Who is Guardian Coffee
Guardian Coffee was founded by Derek Pettus, a Marine Corps veteran fueled by both a love of charity work and quality coffee. The call sign of Pettus' artillery unit was "Guardian", hence the name of the company.
A portion of Guardian Coffee's profits go toward to the Conner T. Lowry Memorial Foundation. Additionally, they help secure college scholarships for kids in Chicago.
Guardian Coffee is a patriotic coffee company that is veteran owned, and proud to be American company. They roast their beans fresh daily and there's a definitive quality in the coffee that really shines with every bag.
They have a variety of roasts and sell their coffee in bags as small as 2.5oz in quantities of 30 and 75 packs and as large as 12lb orders of 2 x 6lb bags. The 2.5 oz packets make excellent holiday gifts, stocking stuffers, or corporate gifts.
Guardian Coffee Co Review: Final Thoughts
This coffee is best for coffee drinkers that just like a strong, bold, and no-frills cup of coffee. You could expect nothing less from a brew that's called the Cowboy blend.
If you're a coffee snob who is looking for a million and one different flavor notes in a single sip, you're better off trying single origin specialty coffee options. Guardian Coffee, I think, appeals to a different audience. It's direct, simple, and to the point. And in my world, that's a good thing. One of the things I appreciate most about Guardian Coffee Co is that they roast their coffee only after the order is placed. Freshness has a "HUGE" impact on your coffee experience, and this company does it right in this regard.