In our search for rare coffee finds, we received some fresh roasted coffee from a company called…..well, Fresh Roasted Coffee. They sent us some of their most popular brews in exchange for an honest review and assessment of their products. In this Fresh Roasted Coffee review, we'll take a closer look at their coffee to determine whether it's worth spending your hard earned coffee bucks on it.
If you want to skip right to the tasting notes of this Fresh Roasted Coffee review, click here.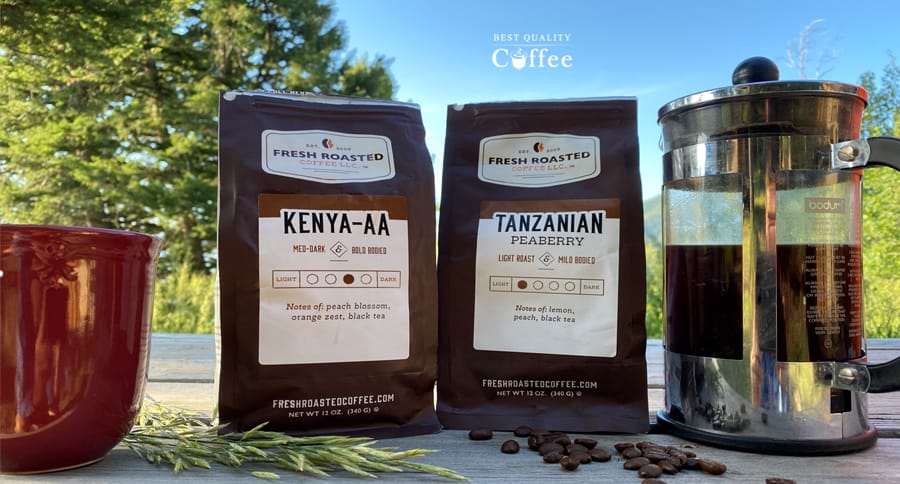 As a long time reviewer here at Best Quality Coffee, I've written a lot about why coffee appeals to me so much. Interestingly enough, I'm often drawn to the finer qualities of a coffee like its unique packaging, company's origins, and even coffee names. I also study the color of the beans, evaluate their shape and smell, find the perfect grind setting for a particular bean, and assess the specific roast level of a given bean. I love to appraise the brewing aroma just before slurping the first hot sip. I love coffee and have had the opportunity to taste exceptionally high-class beans in my lifetime.
Having said this, I admit that sometimes I get too caught up in all that stuff. Maybe I'm missing out on something when I neglect those companies that focus strictly on the product without worrying about flashy names or eye-catching logos and labels. I came to this conclusion after spending a couple of weeks with some premium roasts from Fresh Roasted Coffee LLC.
Now Fresh Roasted Coffee has been around for over a decade. Maybe you have heard of them, or maybe not. Either way, their growth and reach in the market is unquestionable. I would argue their growth is due to some foundational principles they adhere to when it comes to their overall approach to coffee. Fresh Roasted follows certain standards of quality when it comes to sustainability, sourcing, roasting, packaging, and shipping procedures. In fact, Fresh Roasted has attained such an astounding reputation for their ability to source the highest quality, certified organic beans that they now supply many other roasters with the raw bean product. However, this is not to say Fresh Roasted does not live up to their namesake. From my experience, Fresh Roasted uses an expert hand during their in-house roasting process that many a coffee lover will really appreciate.
Fresh Roasted Coffee Review: Highlights
USDA Organic
Fair Trade Certified
Direct Trade
Offers Roasted and Unroasted Green Coffee Beans
Selection of over 90 different brew options
Swiss Water Process (for Decaf Brews)
Of course I have some knowledge about how Fresh Roasted operates, but I came to the conclusion about their distinctively brilliant product during a recent vacation in Paradise Valley, Montana.
Fresh Roasted Coffee Review: Kenya AA and Tanzania Peaberry
For nearly a week I alternated between a medium-dark Kenya AA and light roast Tanzanian Peaberry, which provided a great evaluative range of Fresh Roasted's roasting abilities. Both of these amazing coffees would fall under the category of rare and exotic coffees. And I might add, I enjoyed each sip perched at 6500 feet elevation with a breathtaking view of the Absorka Mountains.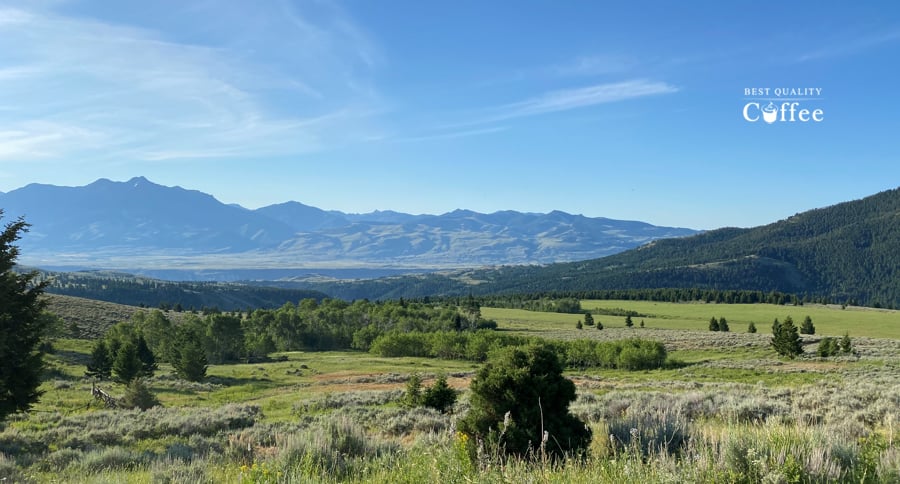 I could go on about Fresh Roasted's approach to origin, flavor profile, and quality, but given my newly adopted perspective, I'd rather talk about the experience I had with the two sample roasts.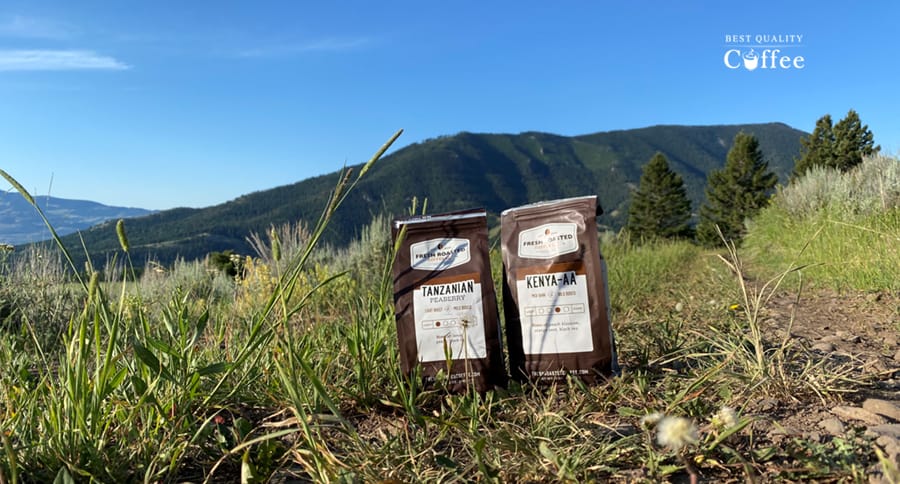 First, I find it representative of Fresh Roasted's craft excellence when they create in-between roasts. That is, the Kenya AA is labeled a medium-dark roast. Other roasters tend usually go with just medium or dark. Out of a French press brew I enjoyed the brew's initial robustness and I likened to fresh cut hardwood. I was then pleasantly surprised by a relatively light feel and texture in the mouth that smacked of wildflowers and citrus fruit. This is truly an amazing coffee that delivers a range of flavors. I only wish I new the full bean story from crop to package because the crafting is exceptional.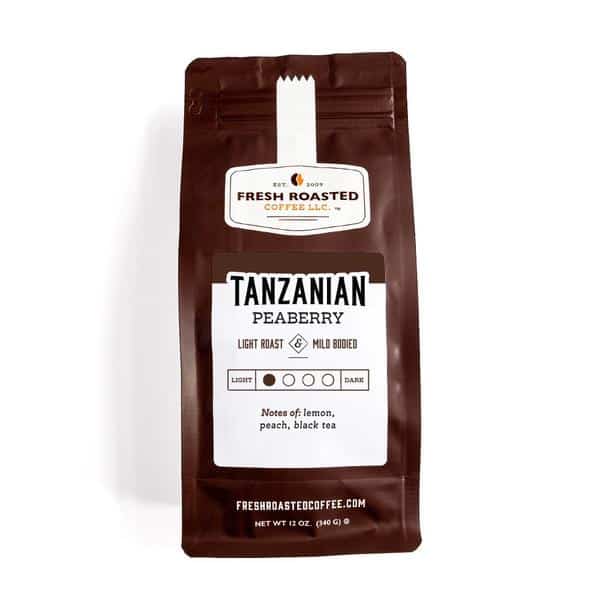 As good as the Kenya AA was, the Tanzanian Peaberry was even better.
Now as a light roast coffee, many might naturally expect a lighter or more minimal flavor…an afternoon or afterthought coffee. But my expectations were high given these were Peaberry beans from Tanzania no less. For those who may not know, Peaberry beans have a single cherry as opposed to two. This results in all the nutrients being concentrated into a single cherry (bean) and makes for a sweeter cup of coffee. This coffee ground was impressively smooth at a mid-medium grind. Even though the coloring was light and the aroma was non-intrusive, the flavor exceeded all expectations. I could probably be content drinking this coffee exclusively for the next year. And that's saying a lot for someone who is partial to medium / dark roasts. The flavors were complex, but consistently repeatable. I loved the sweet aftertaste with a hint of citrus in the initial sip. Even with those light flavors, there was a consistent and appropriate degree of vigor in the flavoring, which I believe was a direct result of a refined roasting process.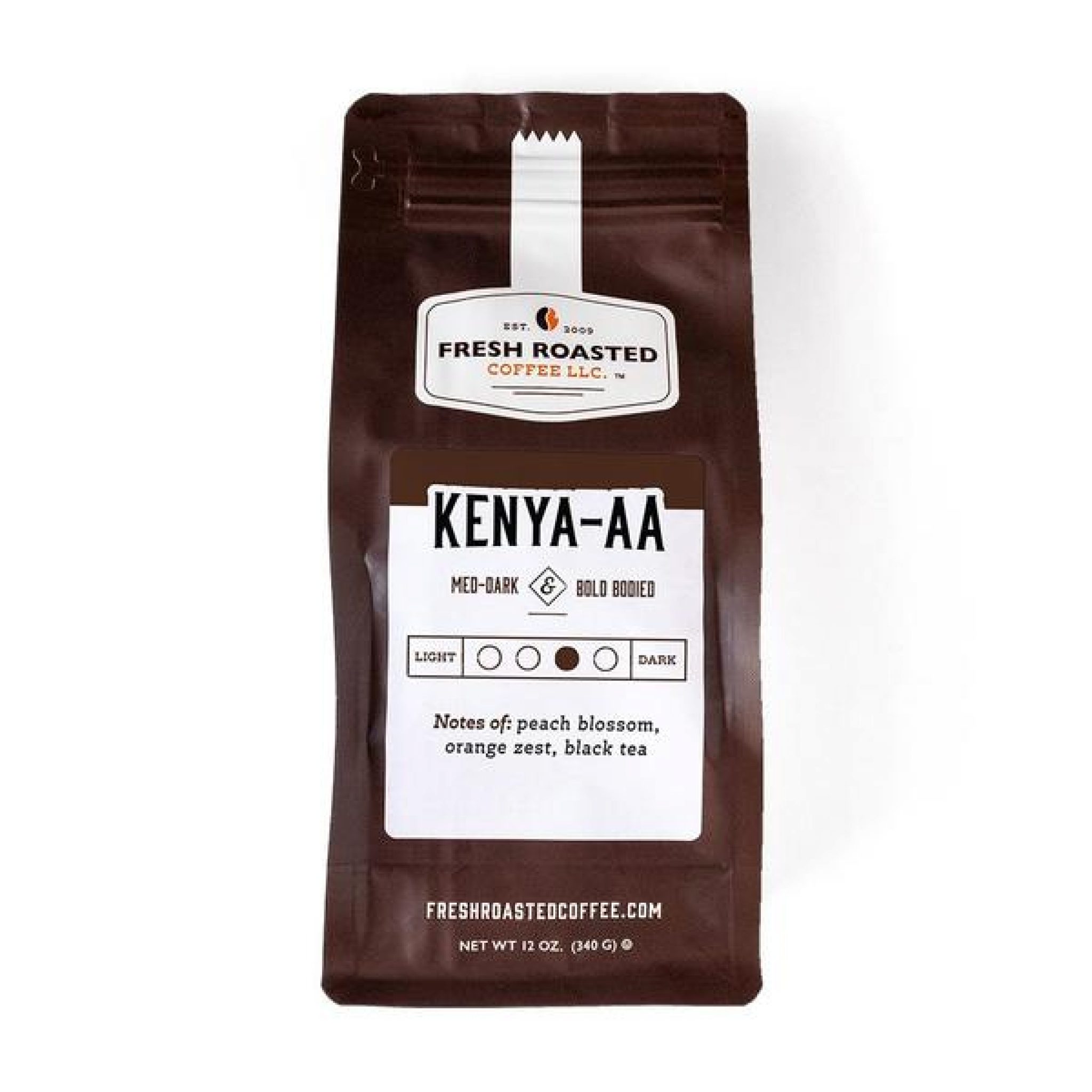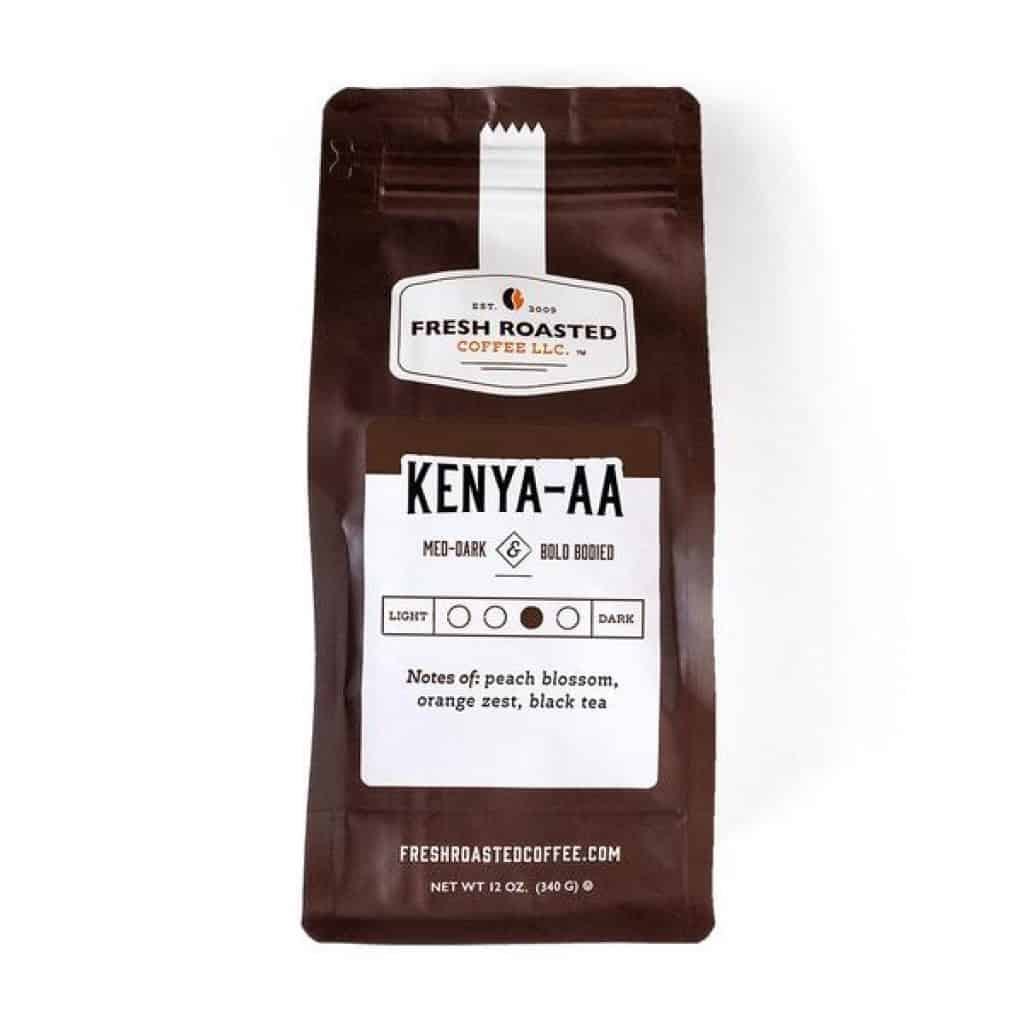 While enjoying these Fresh Roasted coffee selections I realized the plain packaging and non-descript advertising was a testimony to Fresh Roasted's diligent focus on quality. There was no fluff or unbacked claims of greatness. Fresh Roasted obviously knows their coffee is made at the highest levels and as such, don't need to overstate their products. Fresh Roasted let's their coffee speak for itself, sip after sip.
These two roasts are really just a small sampling of what Fresh Roasted has to offer. Hopping on there website will give you the opportunity to enjoy the very best from Bali, Costa Rica, Mexico, Haiti and many other countries all around the world.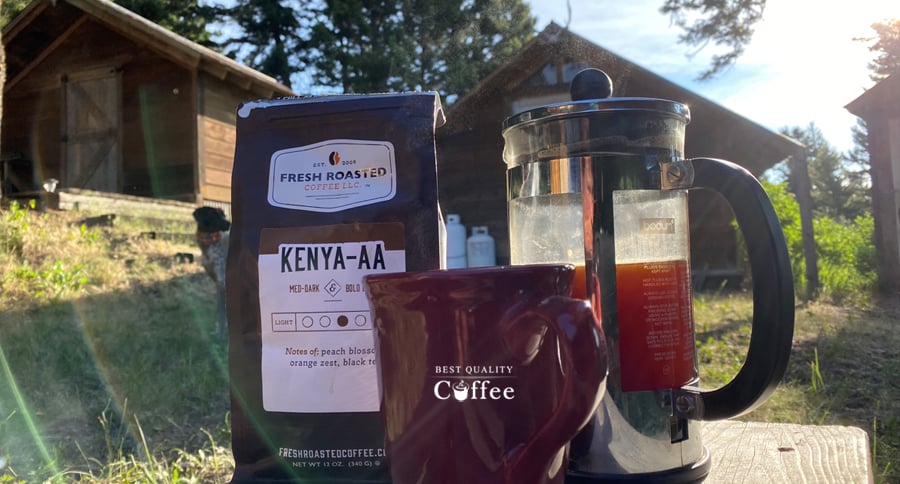 Fresh Roasted Coffee Review: Pricing and Selection
It's worth noting here that the price of this coffee is extremely attractive given its quality. You'll actually be hard pressed to find better value.
When it comes Fresh Roasted Coffee's selection, I was also very impressed. Currently, the company offers 90 different brews which should be more than enough to keep even the most uncompromising coffee lover busy. Their selection includes varying single origin, Fair Trade, organic, and decaf brews to choose from. Fresh Roasted decaf coffee is done using the Swiss Water process which is a natural process that helps to preserve the flavor of each bean while removing the caffeine.
While this coffee will not be at the absolute top of the specialty Third Wave coffee world (this isn't a negative as its not marketed as such), it certainly still holds its own amongst high quality beans. In concluding this Fresh Roasted Coffee review, it should be clear by now that I believe it's more than worth giving it a try. In fact, you owe it to yourself to order a few varieties today regardless of the type of coffee lover you are. You'll thank me later. They are a true coffee gem in every sense of the word.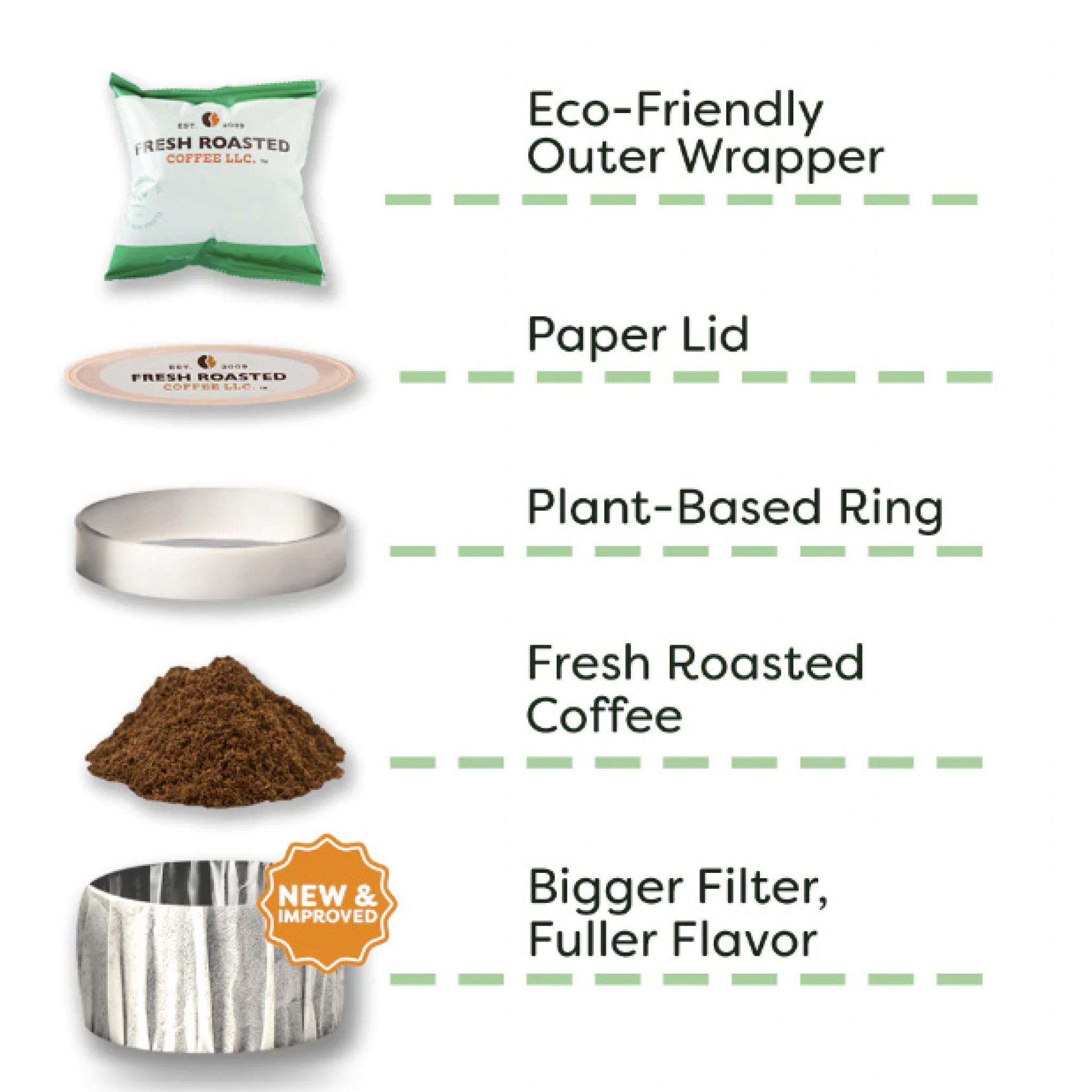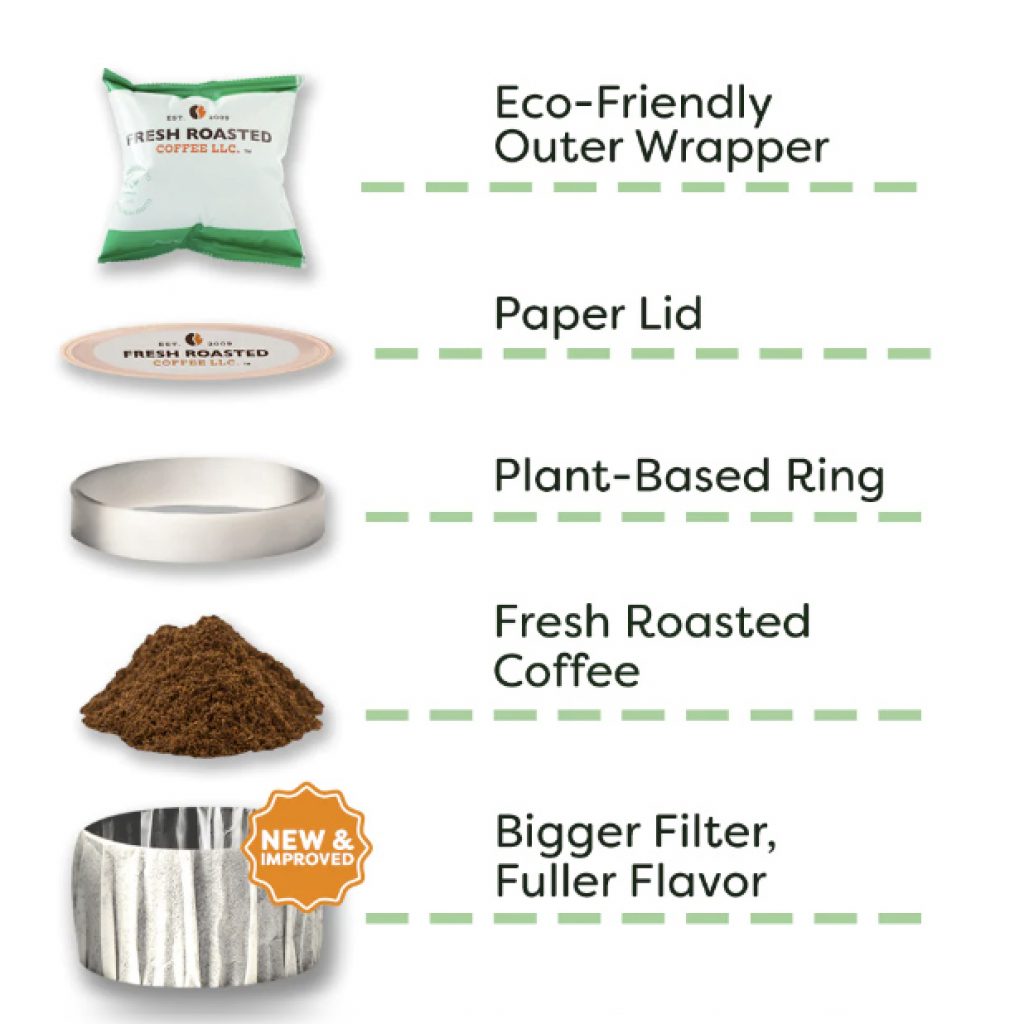 Fresh Roasted Coffee also offers their impressive brews in coffee pod and Envipods. You might wondering "What are Envipods". No, they are not coffee pods that are particularly jealous 🙂 Rather, they are the next step in the world of recyclable and environmentally-friendly K Cups. Envipods boast environmentally-friendly packaging, and a plant-based ring, filter, and lid. The end result is a coffee pod that leaves a much smaller mark on the environment when compared to standard plastic K-Cups.
As for the writing of this Fresh Roasted Coffee review, they are offering 10% off their organic brews. No code required. You can also save 20% off of your first order by signing up for their newsletter.
Best Quality Coffee Rating: 4.5/5