Coffee lovers with sensitive stomachs often have an understandable love / hate relationship with coffee. Enjoying a blissful morning brew at the expense of gastrointestinal discomfort is not a trade off that any coffee lover should have to make. In this Fabula Coffee review, I take a closer look at what literally might be one of the best tasting low-acid coffees on the market. But please don't take that statement alone at face value. Find out in the following article, exactly why I've come to this conclusion.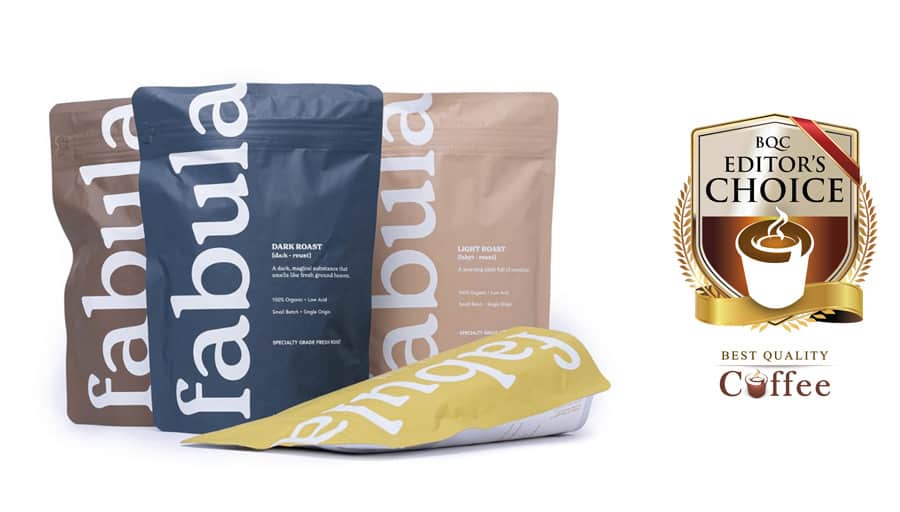 Incidentally, I recently started having trouble drinking coffee in the morning particularly on an empty stomach. Some may be surprised to know that coffee's acidic nature often contributes to heart burn, acid reflux, and general stomach pain. Being that I was already in the market for a specialty grade coffee that was easy on my stomach, the opportunity to review Fabula Coffee couldn't have been timed more perfectly. The company me some of their specialty brews for my honest assessment. It's worth mentioning that Fabula Coffee is very very high grade coffee that just happens to be low in acidity.
So in diving right into this Fabula Coffee review, let's do a brief overview of the company and its selling points:

Fair Trade Coffee
USDA Organic Certified
Low Acid (as you already know)
Single Origin Coffee (sourced from the same farm)
Mold Free
Specialty Grade Coffee
Additionally, Fabula Coffee offers a wide selection of coffee options and sources their high quality beans from some of the most prominent coffee-growing regions in the world. These include the high elevation farms in Peru, Papua New Guinea, Nicaragua, Jinotega. They even offer a medium roast from a lesser known region in South East Asia called Timor. Anyone who understands coffee knows that climate, soil, and elevation play a huge role in the resulting flavors of your final brew.
Based on the qualities above, it's obvious that the company goes well beyond the average standards when it comes to their coffee. But just like a resume doesn't always tell the whole story, allow me to go into more detail with my experience below.
Fabula Coffee Review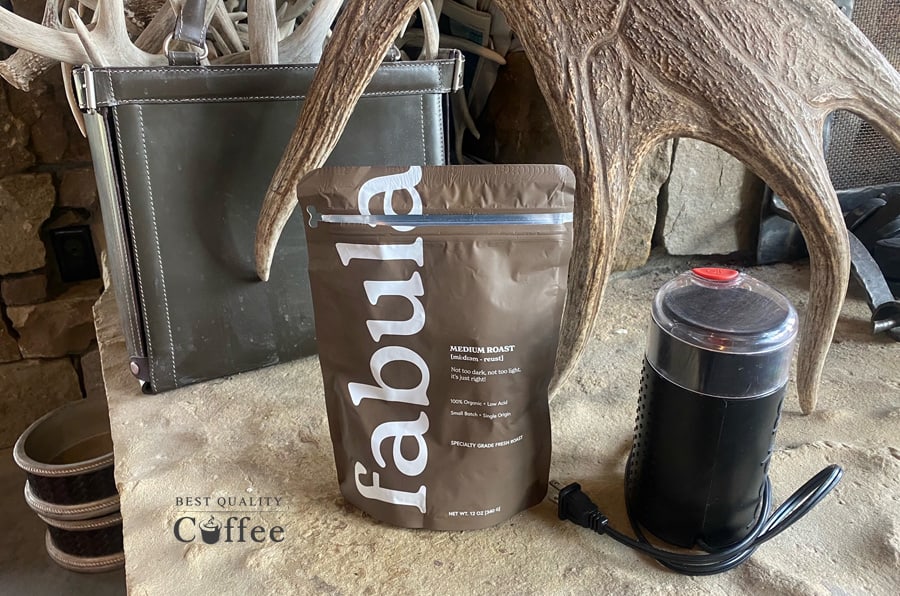 Fabula Medium Roast – The Taste
This coffee itself is truly special. And as someone who has drunk a lot of top-shelf coffee, I don't make that statement lightly.
Fabula Coffee's distinct flavor profiles in their coffee offer truly unique coffee drinking experiences that have to be tried to be fully appreciated.
I started with a bag of whole beans of their medium roast and grounded them up in my coffee grinder. I then brewed the coffee in my drip coffee maker and the end result was a delicious cup of coffee minus any of the stomach issues that I'd run into with higher acid coffee. The coffee itself is incredibly smooth and very sweet. I picked up lots of hints of chocolate and nuts, with the entire experience being very rich and robust. I was surprised at the depth and a balance of flavor in this low acid coffee. With a low acid coffee I admit to expecting the flavors to be lacking, but this coffee was surprisingly full and extremely rich.
This coffee also delivers a very clean and pure taste. This is likely to do with the fact that they use only organic specialty-grade beans that are tested for mycotoxins and mold. There are likely other factors that contribute to such a purified taste, but I'd imagine the reasons above played a significant role. The coffee is also medium roasted to perfection. The natural flavors of the Peruvian coffee beans expressed themselves in full while the robust flavor from an even roast were also present.
I drank this coffee early in the morning on an empty stomach and had no issues digesting the coffee whatsoever. This really enhanced my coffee enjoying experience and helped me fall in love with drinking coffee again.
I drank the coffee black to get the full profile of the beans in each sip. Once again, the smoothness of this medium roast really stood out as one of the highlights of the coffee. The flavors blended together to create a melody of flavors that came together like a well orchestrated symphony in my mouth while being gentle on my stomach. I really enjoyed this coffee and will definitely be buying more bags of it – it has helped me and my stomach enjoy drinking coffee again!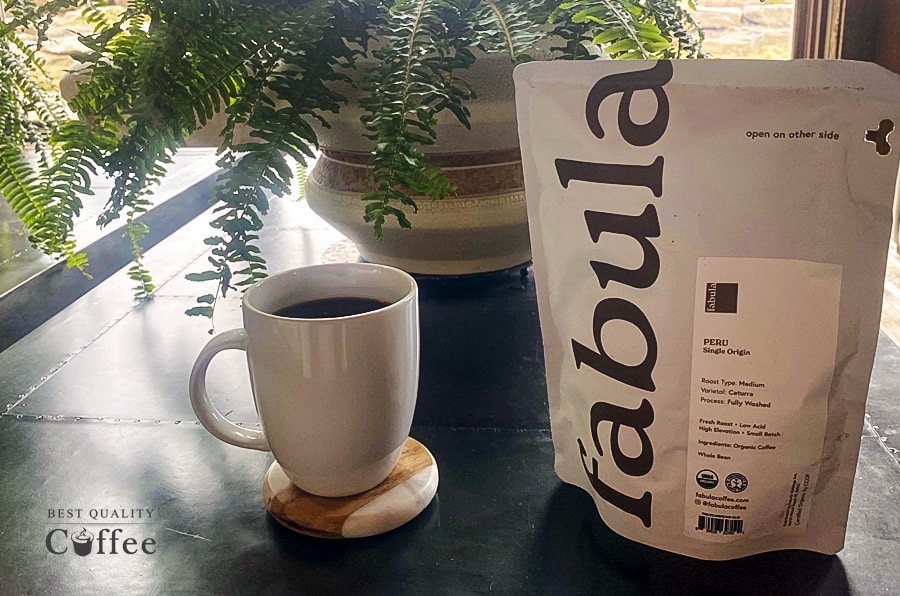 Fabula Coffee Review – The Packaging 
The branding and packaging of the coffee is first class. The simple yet sophisticated Fabula logo and imagery on the bag similarly reflects the company simple yet sophisticated approach to coffee. The packaging includes a resealable element to help ensure that the beans stay fresh well after you first open the package. This is extremely important and something that I look for in coffee that I purchase. I like to drink multiple types of coffee throughout the week and having the option to seal this bag for freshness until the next time I decide to brew this coffee is a huge plus. If I'm being honest, a lot of coffee brands cheap out on their packaging and don't include a resealable seal on the bag and it really limits the time that you have to enjoy the freshness of the beans. This is a well designed package with all the elements of a great coffee bag.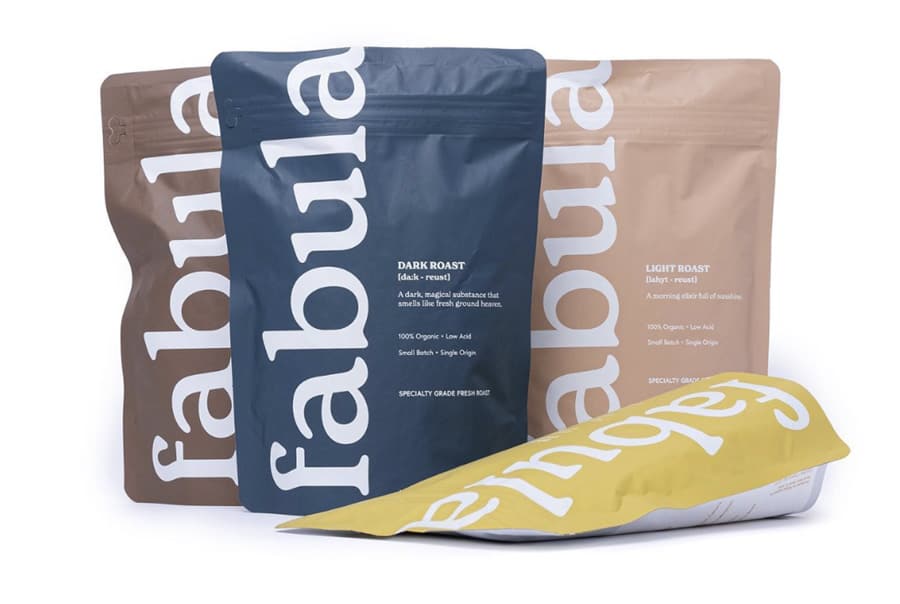 The Aromas
The beans themselves smell amazing. And after I brewed a cup of coffee, the aromas continue to impress. You can smell the sweetness of the coffee through a strong fragrance of brown sugar and fruity and nutty aromas. This really adds to the coffee drinking experience and provokes all of your senses when enjoying a cup of their coffee. To be honest, this was my first experience drinking a low acid coffee and I expected some compromises when it came to taste and aromas. However, this coffee delivers with its flavor and aromas at the highest levels.
Fabula Coffee Review: Conclusion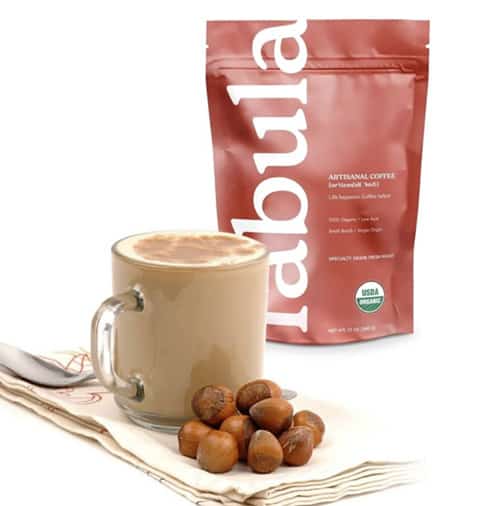 I was blown away by the depth of flavor, aroma, and complexity of this low acid coffee. Whether you are looking for a great low acid coffee, or just an exceptional coffee in general to enjoy, Fabula's medium roast delivers an unparalleled coffee drinking experience from beginning to end. It's a superior quality brew that's certain to appease even the most discerning coffee connoisseurs out there whether they have sensitive stomachs or not. I will certainly buy more bags of this coffee in the future and add it to my rotation of favorite coffees to enjoy early in the morning.
Being that this coffee is one of those rare coffee gems that gets things right on so many levels, we've awarded Fabula Coffee with our BQC Editor's Choice Award.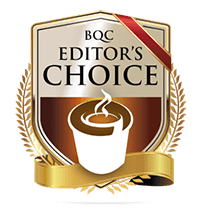 5/5 Stars
If you're interested in trying this coffee, use the following Fabula Coffee discount code to get 15% off your order.
20%
Coupon
Doesn't expire
Use this Fabula Coffee Coupon and discount code and get 20% off your entire order.
Who is Fabula Coffee?
Fabula Coffee is a brand that focuses on delivering the purest coffee experience possible. Their single origin brews are low acid, non-GMO, USDA Organic certified, and Fair Trade Certified. Each bag of Fabula Coffee is filled with specialty coffee beans sourced from high-altitude, small-batch farms. One of the big appeals of this coffee is that it's non-acidic and low acid. It's gentle on the stomach but deliciously strong on the taste buds.
More
Less