We received a selection of Cooper's Coffees best barrel aged coffees in exchange for an unbiased assessment of their coffee. The following Cooper's Coffee Review was conducted by Big Sky Pedro, one of our resident and long-time coffee reviewers. As a coffee aficionado, he favors a dark roasts that are bold in flavor but still offer a wide range of subtle notes.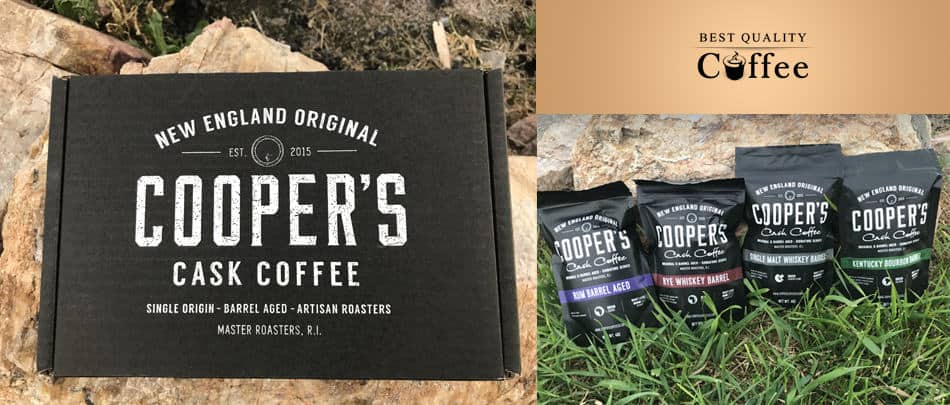 It seems we as human beings are never satisfied with our stuff. Always tinkering and tampering, mixing and matching. Sometimes with success – sport utility vehicles and capri pants. Other times not so much – Segway's and muscle pants. It's sort of a relentless mindset where we feel like we must combine two things to get one thing that's greater. Perhaps it's this line of thinking that is fundamental to pioneering coffee companies like Cooper's Cask Coffee. Or maybe Cooper's is using science, precision, and a little experimentation to produce a really innovative brew. Let's take a closer look so you can decide.
Cooper's Coffee is an artisan roaster who sources single origin beans from all over the world. They emphasize quality through small batch roasting of top notch or Grade 1 beans. This sounds like the foundation of a gourmet coffee company right? Well, Cooper's also sources used whiskey, rum and wine barrels as part of their process. The premise behind producing some of the best barrel aged coffees involves leveraging the porous nature of coffee beans which allow them to absorb flavors and fragrances from the surrounding environment. Coffee beans are left to sit for months in these freshly emptied barrels that once held spirits of some kind. These beans are given plenty of time to absorb the characteristics of the the vessel's previous contents. The end result is a coffee bean that's been infused with incredibly deep and enticing flavors and a brew that more than justifies this time-consuming process.
Now can you see how maybe combining two things can make one great thing? I recently tasted four samples from Cooper's: Rum Barrel Aged, Rye Whiskey Barrel, Single Malt Whiskey Barrel and Kentucky Bourbon Barrel. In short, Cooper's Coffee ages its beans, prior to roasting, in used spirit casks. The above flavors represent the type of cask used.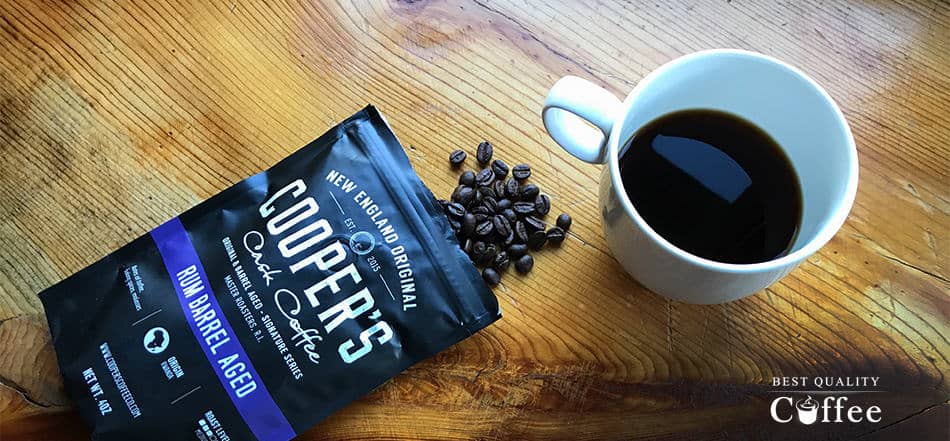 I, for one, enjoy a nip of bourbon or whiskey occasionally, but am no connoisseur. Nonetheless, the combination of coffee and spirits was very appealing to me. Right from the start I was blown away by the strength of the aroma. It was so distinct an aroma, I could smell the sugary rum on the Rum Barrel and toasty sweetness on the Single Malt Whiskey Barrel (all this from outside the package). In fact, each time I ground beans from any of the varieties, the experience was all-encompassing. The whole household was somewhat drawn to the kitchen because the aroma was so present. It was something special that I hadn't really experienced with my coffee before. I think anyone who picks up any barrel-aged beans from Cooper's will certainly agree.
Can you taste the rum and bourbon in the coffee?
Some companies use the idea of "barrel-aged" as more of a marketing ploy than an actual product reality. I can say that Cooper Cask Coffee is true to their claims as the bourbon and rum flavors are very distinct.
Cooper's Cask Coffee Reviews: Best Barrel Aged Coffees
Cooper's sources this single origin bean from Rwanda. The beans are aged in molasses rum barrels from a distiller on the east coast and then medium roasted to perfection. I noted that all the barrel-aged beans appeared slightly oily to some degree. That is my preference, as I believe it aides in getting the perfect grind. During the brewing the aroma from the grind lingers, but seems to come alive with a complexity of flavors. It seemed the sugary rum smell subsided to a hint of spice and wood. Throughout an entire cup those flavors were simply enriched, adding back caramel and perhaps fruit. The brew was light in the mouth, but heavy on the smell.
Buy Rum Barrel Aged Coffee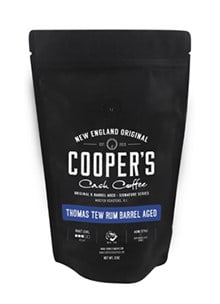 Cooper's uses an Ethiopian bean that is aged in oak whiskey barrels. The roast is slightly lighter than the Rum version above. This was the least oily bean, but it ground to my medium-fine liking without a hitch. While I generally prefer darker roasts, this coffee had a distinct flavor of creamy chocolate followed by summer fruit that really appealed to me. Maybe it was the consistent aroma that carried from grinding through sipping that made this my favorite. Cooper's explains how this Ethiopian bean is initially dried under the sun, which adds intensity to the flavor. I'd have to agree, and that flavor was right on the money for me. Maybe even my favorite light roast to date.
Buy Rye Whiskey Barrel Aged Coffee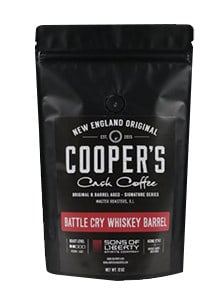 The Single Malt is a Sumatra Island bean also aged in oak whiskey barrels and then medium dark roasted. Again the aroma from grind to brew is just fantastic. I want to emphasize what a lasting experience it really is. The designation of Single Malt made me think of high-end Scotch whisky and the coffee flavor certainly found similarities with the spirit. That is, I tasted much more earthy notes and less fruit or sweetness. Think a slightly humid day in an oak grove. Any sweetness in this brew may actually come from the whiskey barrels rather than the bean. A great dark roast that I would enjoy as a dessert in the evening.
Buy Single Malt Whiskey Barrel Aged Coffee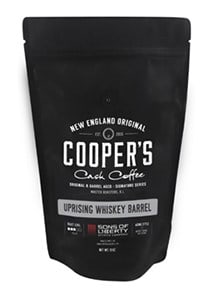 Cooper's made a match in heaven with this one. They took a single origin Colombian bean and aged it in Kentucky Bourbon barrels. The bean is then medium dark roasted to perfection. This is an all around traditional coffee with superb class. Great flavor pallet with the right amount of sweetness flowing to a nutty finish. Robust enough to make me reach for it on a regular basis, but smooth enough to have that third cup. My preferred adult drink is small batch bourbon, neat. This bean fits that profile as a preferred coffee. Great job!
To close this Cooper's Coffee review, I noted that various food and drinks are often adding flavor combinations that sound right, but seem to always fall short. Maybe too much huckleberry glaze on the roast or not enough Siracha in the pasta to really know there is Siracha there. Well with Cooper's, you absolutely know from the start that each bean was aged in a spirit barrel and imbued with a distinct flavor. However, that aroma is not masking any quality because upon the first taste, there is no mistake that the bean is genuine quality and the roaster's hand is truly expert.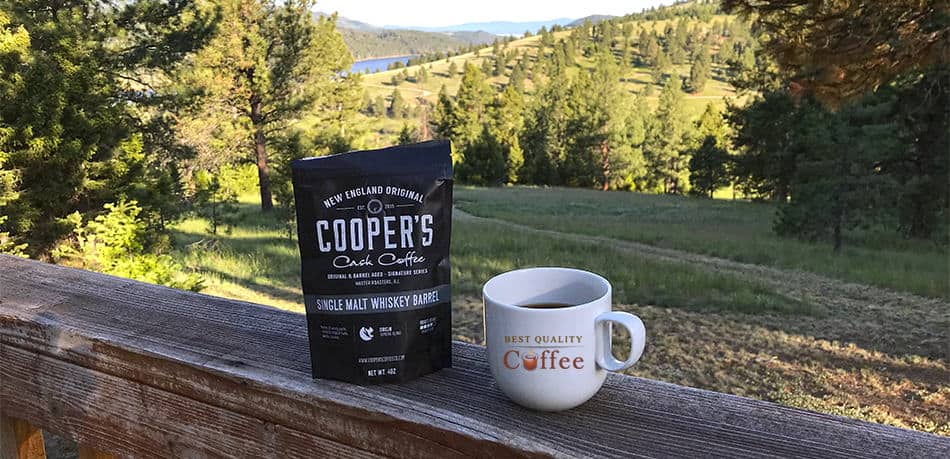 Without question, Cooper's Coffee has helped usher in some of the best barrel aged coffees available. They offer their flavors in a convenient K-Cup / Coffee Pod delivery form as well. Thanks Cooper's Coffee for bringing new levels of quality, innovation, and flavor to the coffee game.