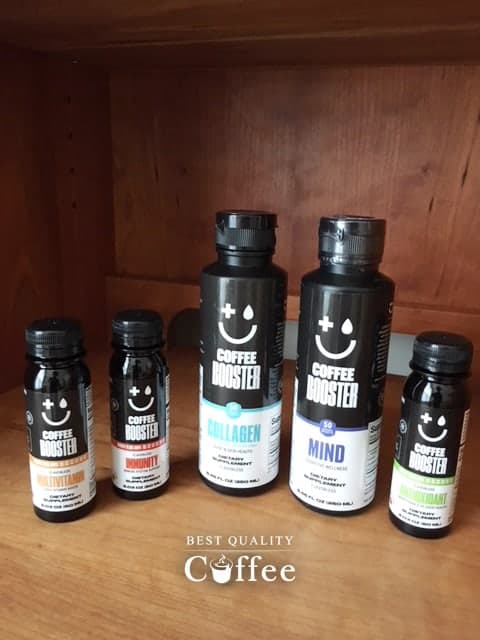 Over the past few years, the healthy coffee industry has seen tremendous growth. What was once arguably a fad has become one of the most significant trends in this global market. From vitamin-infused coffees such as VitaCup to new formulations pioneered by companies such as Bulletproof coffee, coffee drinkers now have a wealth of options for super charging their morning brew. We recently came across Coffee Boosters (not to be confused with the high-fat creamer with the same name). It's the first flavorless liquid health supplement designed specifically for use with coffee as its name suggests. We were intrigued to say the least. The company agreed to send us some samples in exchange for an honest and unbiased Coffee Booster review.
When it comes anything "health" related, it's always wise to do your research and due diligence. Coffee Booster is a Canadian company that's focused on fulfilling a specific need within the healthy coffee industry. They've been approved by Health Canada which is Canada's federal department responsible for helping to maintain and improve health of its citizens. It's worth mentioning that this is not an easy designation to obtain as there are rigorous standards that must be met. These liquid supplements offer a natural and highly convenient way of improving your health by continuing to drink something you already love. Coffee Booster supplements are dairy, gluten, and soy-free. Being that this supplement is designed for use with coffee, it's also been formulated to remain stable and effective at high temperatures.
Coffee Boosters offers 5 different supplements each formulated to address specific health issues. These include the following: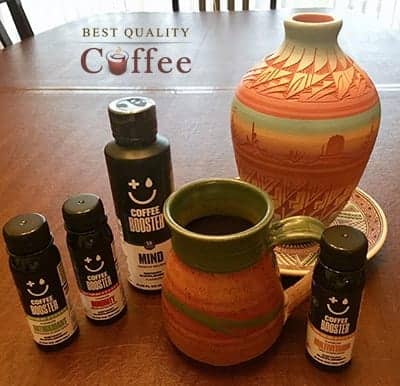 Coffee Booster review – by The Coffee Pen
For this particular Coffee Booster review, I tried their Collagen offering as joint lubrication was an area of high interest for me. I used this supplement for about 30 days in order to get a more accurate gauge of its effects. As a health-conscious and active senior, I play tennis regularly with the occasional game of golf. Anyone who plays sports can appreciate the value of stretching and having relaxed joints and this particular Collagen blend seemed right up my alley. It also goes without saying that I'm an avid coffee lover and I take my coffee black. This fact is especially relevant when reviewing an additive that claims to be flavorless. It's a lot easier to test these claims when you don't have sugar and cream.
First things first for this Coffee Booster review. Let's talk taste. Often times a company's claims of being flavorless fall short. I've been told more than once that I have super sensitive taste buds that can detect even the subtlest hints of foreign flavors. So when I took my first sip of a Coffee Booster-infused cup of Joe, I was excited to discover that it tasted exactly like my usual coffee. Coffee Booster really is flavorless. This is a major selling point for me as I wouldn't have been keen on using these supplements if they altered even the slightest bit of my coffee's flavor. I was very pleased with the flavor…or in this case, the lack there of.
I found that adding Coffee Booster to my coffee each morning was very convenient and easy to maintain. I place it right next to my coffee maker each morning so I don't forget. Per the recommended dosage, I use 2 teaspoons a day.
The last month has been particularly active for me. From traveling across the country, golfing, and playing in my tennis league, this was actually the perfect time for me to do this Coffee Booster review.
Whenever reviewing health supplements of any kind, I'm always mindful of making sure not to overstate the results. There are many factors such as diet, sleep schedules, and exercise that contribute to health and it wouldn't be realistic to say that Coffee Booster alone yielded these results. However, having said all this, I experienced a marked improvement in my joints (particularly my knees). They've felt loose and lubricated to a point where the stiffness I used to experience from sitting for long periods of time has gone away. My body has felt like a well-oiled machine. In full disclosure, I had also been using an TENS electrode device as part of my therapy but I believe Coffee Booster played a part in speeding up the healing. It's no surprise that these looser and healthier joints have had a positive impact on my mobility when playing tennis and more importantly, life in general.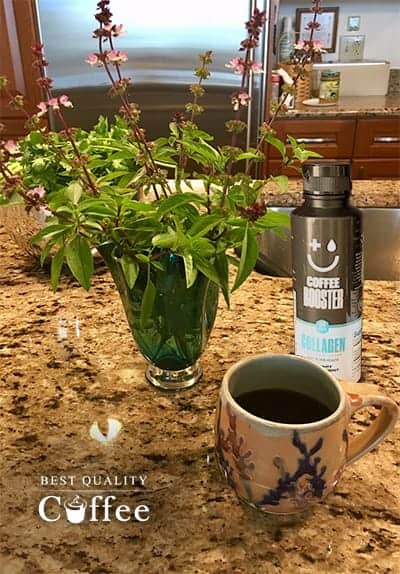 I felt like I've had a extra boost of energy since adding Coffee Booster coffee. This in turn has improved my mood and left me feeling "better" about the activities I'm participating in whether it's swinging a club or a racket.
All said and done, I've been impressed with the Coffee Booster Collagen supplement and am eager to try their other offerings. If their Collagen supplement is any indication of the company's commitment to a natural approach to health, their products will quickly become a regular and integral part of my daily routine.
Note: We will periodically update this Coffee Booster review as we continue to test their products