As an active coffee-loving woman in her late 60's who still plays competitive tennis, I'm always looking for natural ways to maintain a healthy lifestyle. I had heard many positive things about the medicinal benefits of CBD (Cannabidiol) and even have a number of family friends who've benefited from CBD cream and oils. So when I heard that you could take your coffee with CBD, this seemed almost too good to be true. Having never used CBD, I was extremely intrigued when the opportunity to do a Green Roads CBD coffee review presented itself. Green Roads sent me a generous 16 oz bag of their CBD coffee for me to test out.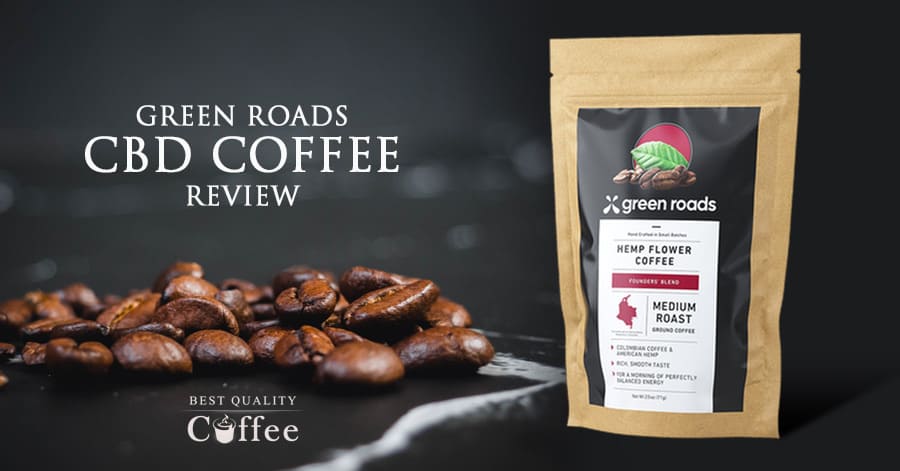 Below is my CBD coffee review which I'm hoping will help you determine whether this is the right product for you.
Update 2023: If you're not interested in the details, I'll just offer a simple spoiler alert for you. Since originally doing this review back in 2018, I've tried dozens of CBD coffee brands with Green Roads CBD coffee earning its place as my hands-down favorite. As such, I've given it the BQC Editor's Choice award. But don't just take my general word for it, read on to see why I believe this coffee brand is worthy of such a distinction.
What is CBD
CBD is a compound found in the cannabis or marijuana plant. Known by many as a natural remedy used for both common and more serious ailments, CBD confers a range of medical benefits including relief from anxiety and physical pain. It's important to note the distinction between THC (the primary psychoactive component found in cannabis responsible for feeling of getting 'high') and CBD.
CBD isn't psychoactive and thus an ideal option for those looking to reap the medical benefits of cannabis without its mind-altering effects. There's a wealth of research available on CBD and its natural health benefits. However, in the interests of keeping this CBD coffee review relatively brief, I won't cover it all here.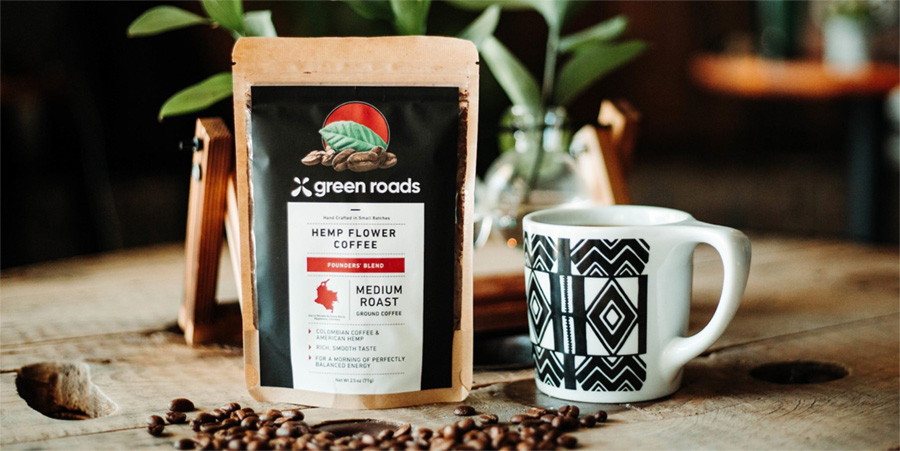 The Green Roads CBD Coffee Review – The Basics
Green Road's CBD Coffee uses premium Excelso EP Colombia coffee beans which offer a delicate yet distinctly bold taste profile. This is a 100% organic medium-roast coffee that's also fair trade certified.
Although it's active ingredient is CBD, it contains no THC which as mentioned earlier is the psychoactive property in marijuana. CBD that doesn't contain any THC is known as broad-spectrum CBD. Green Roads uses CBD extracted from 100% industrial hemp and has taken the extra step to remove all traces of THC.
Green Road's CBD Coffee uses pharmaceutical-grade CBD formulated by a licensed compounding pharmacist and is third party lab-tested. This point is particularly important since not all CBD meets these qualifications.
CBD Coffee Review – The Taste
In era of 'smart coffee' and 'healthy coffee', many people are willing to compromise on their coffee flavor for added health benefits. I'll be the first to say when it comes coffee, taste is the most important factor to me. You could put the healthiest coffee in the world in front of me and I'd pass on it if it didn't taste good. Whether that's the most mature perspective to come from or not is debatable 🙂 But like I said at the beginning, I'm a coffee lover first. I'll admit to being a little uncertain about what to expect as far as taste goes. I've been told one more than one occasion that I have a very sensitive palette and so I'd be likely to detect even the slightest deviations in flavor.
One of my own personal quirks (or skills) when it comes to coffee is that I'll typically try and smell the coffee through its packaging. Call it strange but it gives me a gauge of how potent the aroma is. The aroma of this coffee was so pungent that I could clearly smell it through the bag it came in.
When I opened the seal, I was greeted with a bold and incredibly aromatic scent. In all my decades of drinking coffee, I've found one of the best indicators of taste is smell. I immediately prepared my French Press and started the brewing process. As the coffee was steeping, I started pondering how quickly the CBD would work in my system. I poured the brew into one of my favorite mugs while enjoying the still ever-present aroma of rich Colombian coffee.
I'm pleased and relieved to say that Green Road's CBD coffee delivers the genuine gourmet coffee taste, body, and flavor. Even though the label says the coffee has medium acidity, I had a different experience most likely due to the fact pH levels on each person's tongue are different. Based on my profile, it's low on the acidity and high on the smoothness which is exactly how I like it.
What stood out most for me about this coffee was its balanced intensity. By that I mean its bold flavor didn't mask any of the subtler coffee notes that I enjoy tasting. My biggest concern was whether the presence of CBD would have any negative affects on the flavor. Fortunately, Green Roads coffee not only stays true to the genuine gourmet coffee experience, but also delivers a quality brew that rivals even the best specialty coffees on the market .
Green Road's CBD coffee is one of those rare examples where you can have your cake and eat it too. I don't make that claim lightly. This is without a doubt a coffee I'd recommend to coffee connoisseurs and regular coffee drinkers alike.
Green Roads Coffee Review: CBD Coffee Effects
No CBD coffee review could be complete without talking about the actual effects of the CBD.
When it comes to measuring how effective the CBD was, the best I can realistically offer is my personal experience. Whether it was a product of a placebo effect or other variables is scientifically undetermined. What I do know is that I felt an distinct and unique calm within me as I went about the day running errands. It was relaxing but in no way sedating and I felt very lucid and clear-minded throughout the day.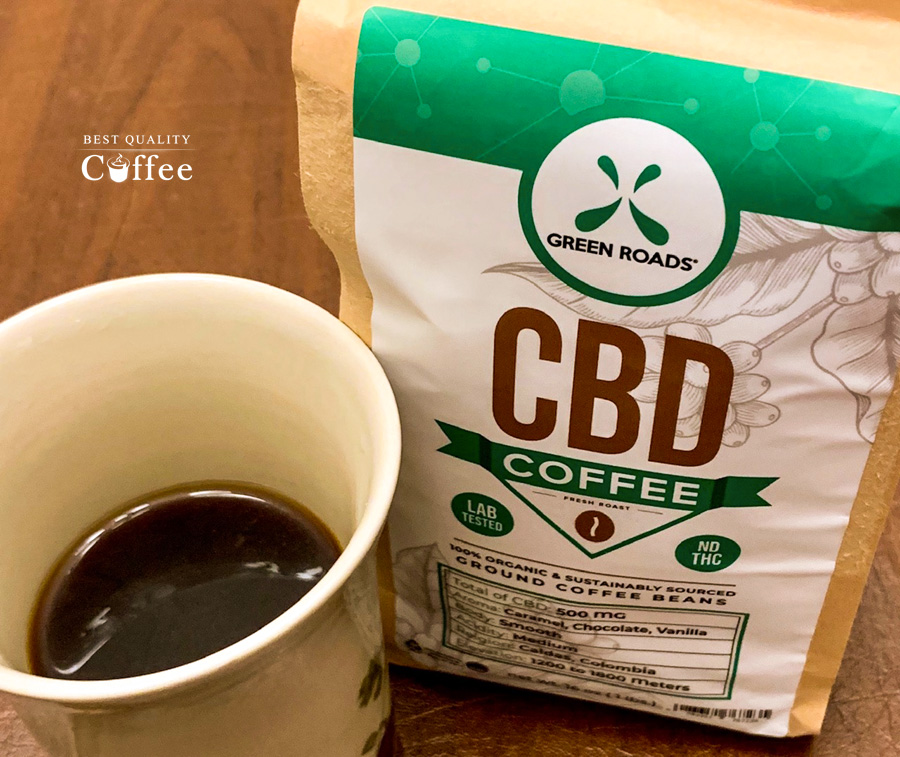 On my first day of taking this CBD coffee I had an experience that I think captures what I mean. Near the end of the day, I drove to a shopping center and started backing in into a parking spot. A few seconds later midway into backing in, a police car with sirens flaring came zooming through the parking lot. As fate would have it, the parking lot was pretty narrow and the police officer couldn't get around my car. In the past, the added pressure of the circumstances might've had me flustered.
However, this time was different. I saw the urgency of having to get out of the way and proceeded to swiftly yet calmly finish my parking job. Some may not personally resonate with this story, but it was nonetheless a new experience for me and one that I attribute to the effects of taking CBD that morning.
As far as any relief from any joint issues go, I honestly haven't taken this coffee long enough to draw any conclusive statements. I did feel overall improvement in my knee over the week but it's likely the result of a combination of factors (including the coffee.) I'd imagine it takes some time for it to work and I'll be observing any changes as I continue to drink this coffee. I'll update this article as I move forward. One thing is for sure. I will be buying this coffee on a regular basis as the taste and calming effects alone are worth it to me.
Green Roads Coffee Selection
Green Roads Coffee comes in three different flavors:
Green Roads Coffee Pods
Recently, Green Roads released a new line of nootropic coffee pods that were formulated to help with cognitive function. Unlike the rest of Green Road's coffee products, these do NOT contain CBD. Instead, they use the same premium Colombian Coffee beans and infuse them with Lion's Mane compounds which are known for their brain boosting effects.
Just a few weeks ago, my husband and I had an opportunity to do a review of these nootropic K Cups. This was my first time trying nootropic coffee and I was thoroughly impressed with this Green Road's product as well.
If you happen to be a coffee lover who is also interested in improving brain function, check out this list of the best nootropic coffees.
Green Roads Coffee Review: Final Thoughts
In concluding this CBD coffee review, I can sum up my review by saying it was everything I had hoped for and everything that I didn't even know to hope for. I'm so very pleased with the impressive coffee experience Green Roads delivers.
While I still need more time with this coffee to speak about its physical benefits, I can confidently say the implementation of this Green Roads CBD coffee is outstanding. Having tried dozens of high grade CBD coffee, it doesn't surprise me that Green Road's product is considered on of the best CBD coffees on the market.
Green Roads Discount Code 10% off
Green Roads is offering their CBD coffee at a 10% discount. Use this Green Roads Discount Code.