Let's talk about the phrase "best of the best." You know, those personal crazes you and your love ones categorize as "to die for". For instance, my family always pre-orders the best prime rib from Van's Grocery for Christmas dinner. A special weekend morning is often celebrated with the best scone from Cottontop Bakery. And, I know the best make of Highland Scotch Whisky to share with my good friend Pat when he visits Big Sky Country (also known as Montana for those who may not know). Likewise, if I wanted to sip the best cup of coffee it would be a medium roasted Kona Peaberry coffee bean from Big Island Coffee Roasters. In this Big Island Coffee review, I explain in detail why this is the case.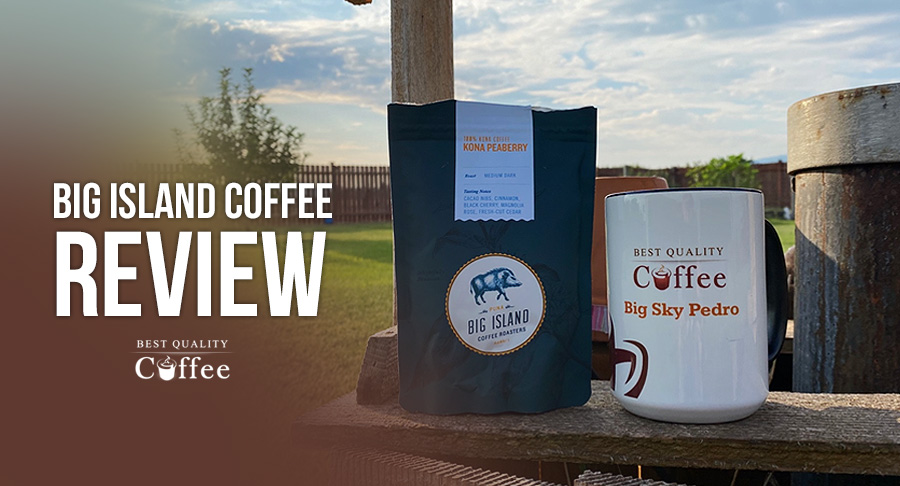 If you're not in the reading mood, I've provided a summary of my experience with Big Island Coffee. While its 5 star rating is a reflection of the quality of this coffee, I still encourage you to read the full review to appreciate the nuances of why this coffee deserved such a rating.
As a note, Big Island Coffee sent me some samples of their coffee for an honest review of their award-winning beans. Anyone who's read my past reviews will know that I like doing a brief overview of the brand itself before diving right into the coffee.
Who is Big Island Coffee Roasters?
Big Island Roasters has a pretty remarkable story of turning a small, dilapidated coffee farm into an award-winning roastery. In fact, this company has won more awards than any other craft roaster in Hawaii. And given the state's reputation for producing exotic coffee, that's no easy feat.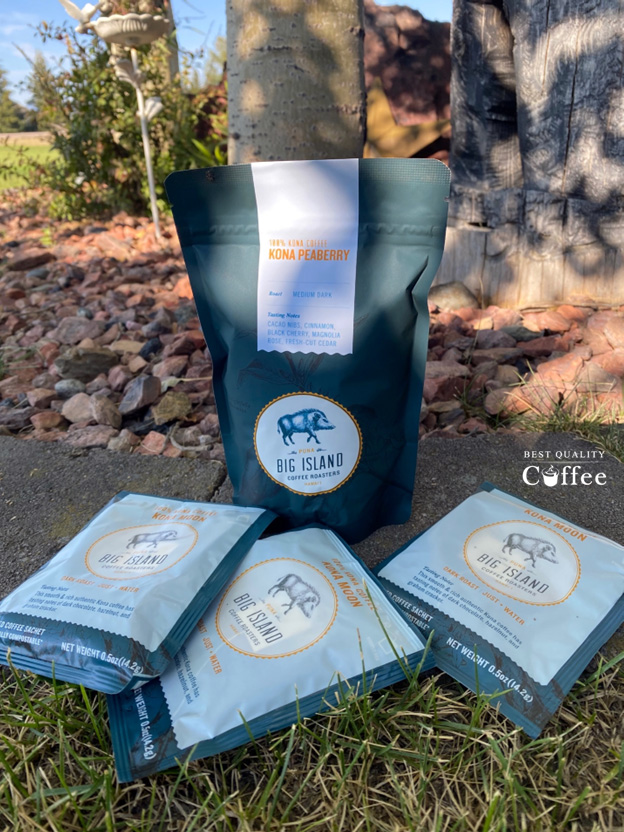 Located in the Puna region of the big island, founders Kelleigh and Brandon started this venture based on a model somewhat common to those producing the finest coffees the world over: milled in small batches, roasted to order, and grown as specialty grade beans. However, the road to producing quality coffee likely involved a great deal of trial and error along with a bit of headache and heartache. A decade later Big Island Roasters has been given such accolades as 'grand champion' and 'top coffees of the year.' The full list of awards is listed at the bottom of this review. Sure, there are similar stories in the coffee industry; small scale growers and roasters producing top coffee. Yet, there is something a little more unique about Big Island Coffee which elevates to simply another level of quality.
How's the Coffee?
I have only had the pleasure of tasting Big Island's Kona Peaberry coffee.
However, it's a safe bet to infer from my Big Island Coffee review below that all of Big Island's varieties are worthy of your time, taste buds, and money.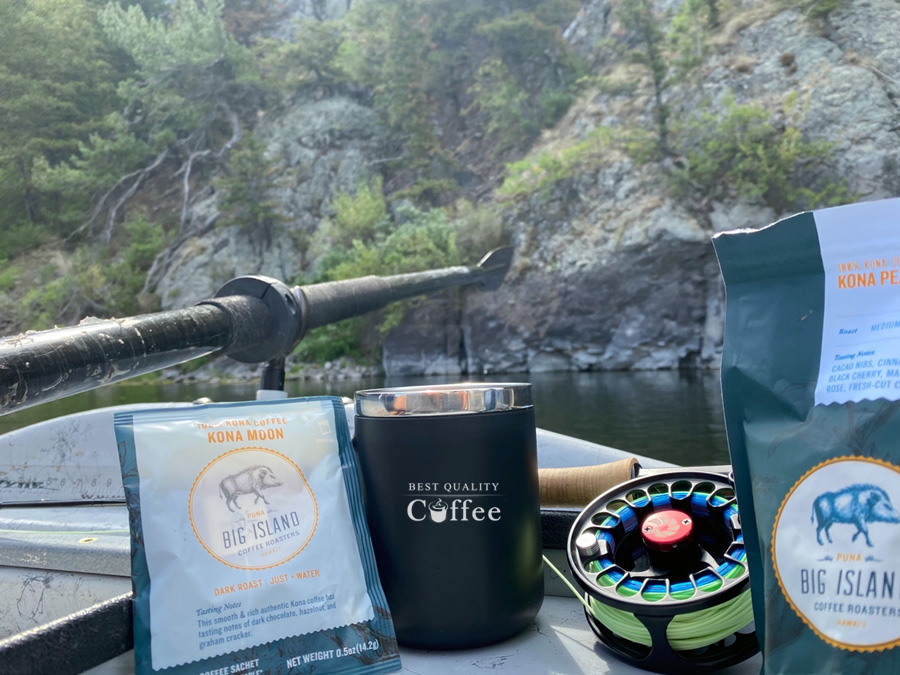 Kona + Peaberry
For those who may not know, Kona coffee is literally one of the most exotic coffees in the world. Kona coffee beans are rare and unique as they only grow in a small microclimate region on the big island of Hawaii. A great deal of care and attention to growing detail, often passed down from growing generation to growing generation, contribute to the exclusiveness of Kona coffee beans. Big Island Coffee Roasters sources Kona beans that are rated Extra Fancy which unsurprisingly is the highest grade of Kona coffee bean available.
I have also written about the peaberry coffee bean before. But as a brief overview, a coffee bean is usually comprised of two seeds. However, the peaberry bean is a natural mutation that occurs when only one coffee seed is fertilized while the other fails to grow. This results in all of the plants nutrients being invested solely into this single seed yielding a sweeter and more unique flavor. On the outside, the bean itself is denser and smaller than usual. Not surprisingly, it's a bean that's highly prized and coveted within the coffee world.
The peaberry is a bean that makes up a very small percentage of a crop (about 3% – 7%) but contributes to a most distinct and full flavor profile. Now are you seeing what I mean by best of the best? So when you combine two extreme rarities into a singular brew, we're talking a new level of best of the best. Kona and peaberry, oh ya.
I'll be the first to admit that just because something is labeled as Kona Peaberry doesn't mean it's automatically a preeminent brew. Not all Kona and peaberry beans are created equal. But having tasted Big Island Roasters take on this exotic combination of rare beans, I can say they are worthy of being called the "best of the best".
The Kona Roast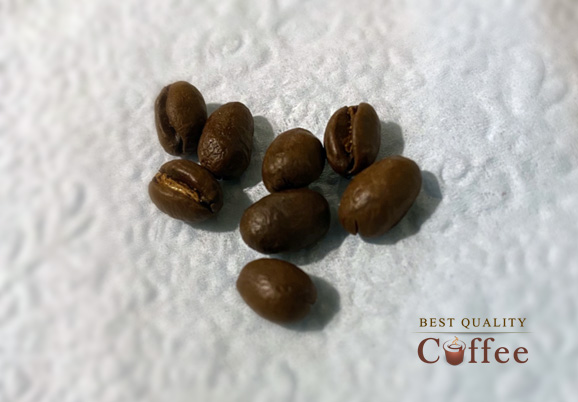 Big Island expertly roasted the Kona bean to a medium dark level. Now, my expectation (although I have absolutely no roasting experience) was that a Kona peaberry bean would likely be roasted at a light or medium level at most, leaving the bean dry, oil free in order to avoid any threat of a bitter aftertaste. However, the medium dark roast of this bean was a wonderfully pleasant surprise for me being that I'm a fan of medium dark roasts. The natural flavors of the bean still expressed themselves in full while being infused with the refined smoky flavor that dark roast lovers often appreciate. I think this speaks volumes of just how fine-tuned this company's roasting process is.
As someone who appreciates a good Montanan steak, this is like cooking a premium filet mignon medium well while preserving all of the beef's pristine flavor. It's not something that just anyone can do.
I mean, check out this bean and all its perfection. You literally could snack on these like cocoa chocolate candies. I have done it. The raw flavor is amazing.
Note: Interestingly enough, Big Island Coffee Roasters has come out with Espresso bites which fulfills my instinctive urge to eat coffee beans. I got my hands on some and published a Espresso Bites review for those who are interested.
Kona Peaberry Tasting Notes
I won't even tell you how I chose to brew these beans. I know that's a weird thing to say in a coffee review. But it almost doesn't matter because the whole bean is just too complete to be negatively influenced by a drip, pour over, or French press brewing preference. I did measure my beans to my standard and I used fresh, cold Montana water.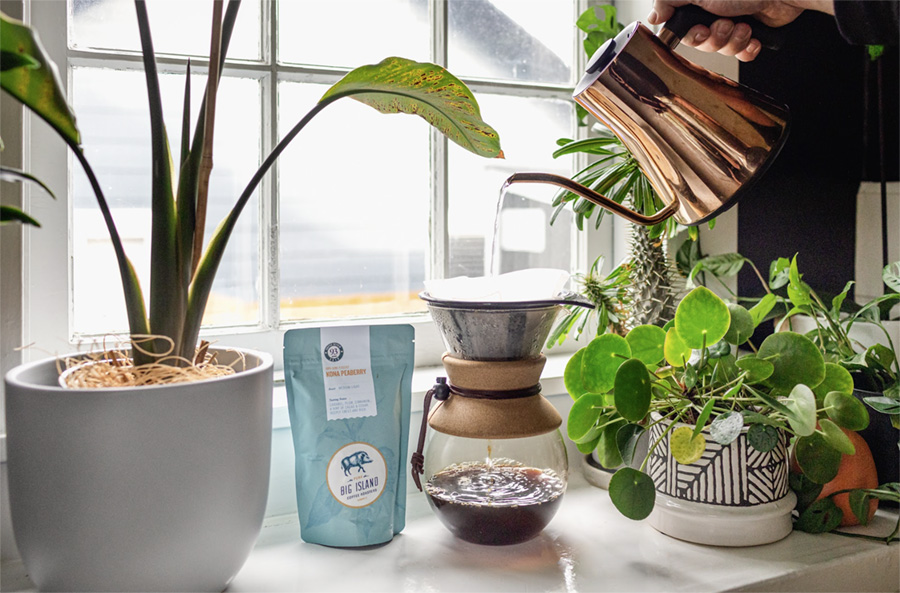 The brewing aroma itself kept me at the carafe waiting until I could fill my cup. Upon pouring, I noticed a slight oily swirl as the steam wafted off my mug. Perhaps a result of the darker roasting technique, I cannot say. Even with all the anticipation and high expectations, the taste did not disappoint. I can go on with descriptions of rich-toned ripened berries, rhododendrons in full bloom, and blue stain pine wood, but I won't. The flavors are so complex, subtle, yet full that I imagine different coffee lovers will taste different things. The sweetness is deep but not overwhelming. But in short, this coffee was light in the mouth, it held a wide flavor palate that shifted pleasantly upon post-sip exhale, and offered a finish free of any bitter aftertaste. It was a joy to drink.
Related Article: Best Hawaiian Coffees
Everything about this coffee was the epitome of excellence. I guess I am struggling to explain what I think this coffee represents. It takes the smallest fraction of the coffee bean industry and applies a methodology of producing and roasting beans known only to true artisans. This coffee along with the process of producing it is flawless and you can taste this fact in the final cup.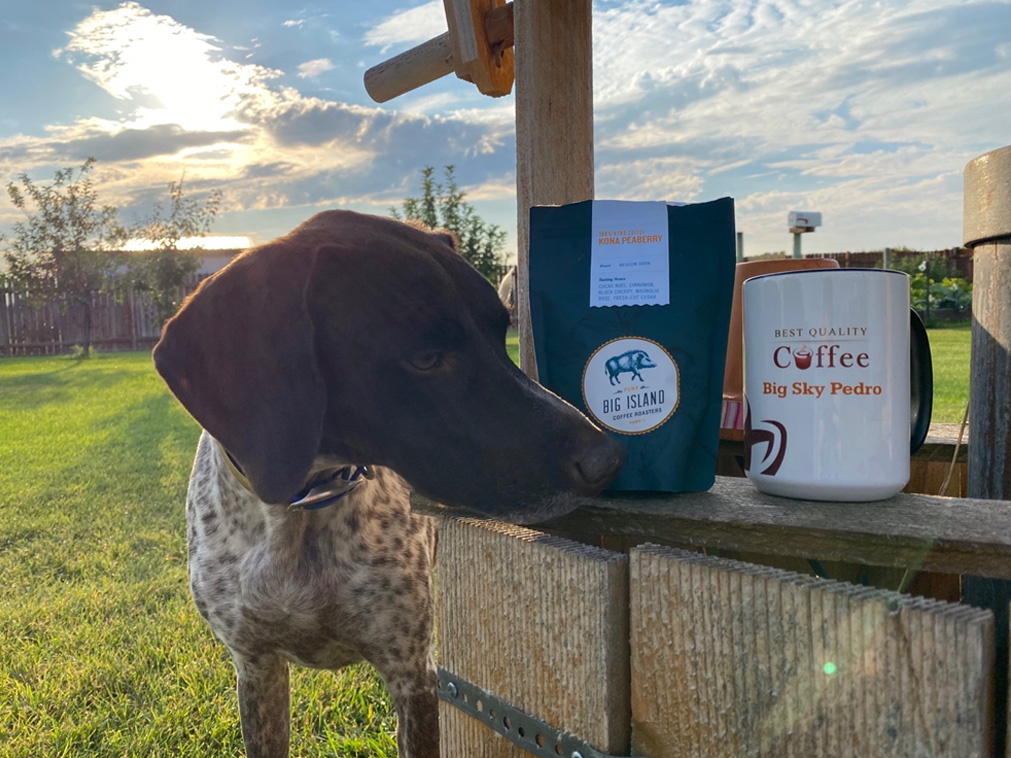 Big Island Coffee Roasters Subscription
Big Island Coffee Roasters also offers a fantastic subscription option. Members of their Hawaiian Coffee of the Month Club enjoy more than just the benefit of convenience. When you sign up for this premium coffee subscription, you get instant access to exclusive brews that are unavailable to the rest of the coffee-loving public. To be honest, given this roaster's standard of quality, being able to taste these special brews is enough reason alone to subscribe. You can customize your roast level grind setting as well.
You can sign up for a 3, 6, 9, or 12 month coffee subscription.
Additional Offerings
Big Island Coffee Roasters also offers coffee sachets which are better known as coffee bags or steeped coffee bags. The brewing method is similar to how you would make tea. You steep the bag in hot water for about 5 minutes. The longer you steep the coffee bag, the fuller the flavor will be. As a general rule, whole bean will always offer the best coffee experience possible. But I was pleasantly surprised to see the company offer an alternative delivery form which still lives up to the brand's high standards.
I'd recommend keeping a handful of these coffee sachets on hand for when you're on the go. As someone who spends much time outdoors, these fit my lifestyle perfectly. I also appreciate that these coffee sachets are 100% compostable making them a product that's very eco-friendly.
Big Island Coffee Roasters Review: Final Thoughts
In closing this Big Island Coffee review, I'm quite certain there are many other impressive coffee companies out there capable of producing a brew that's as grand as ones made by Big Island Coffee. Nonetheless, I found this brand and this particular brew to be my personal "best of the best" coffee. And that's saying a lot given how many exceptional coffee beans I've reviewed over the years. Now I just need to link a special occasion to this coffee to give it intrinsic meaning. Maybe a classic Montana drift boat day as pictured below will be it.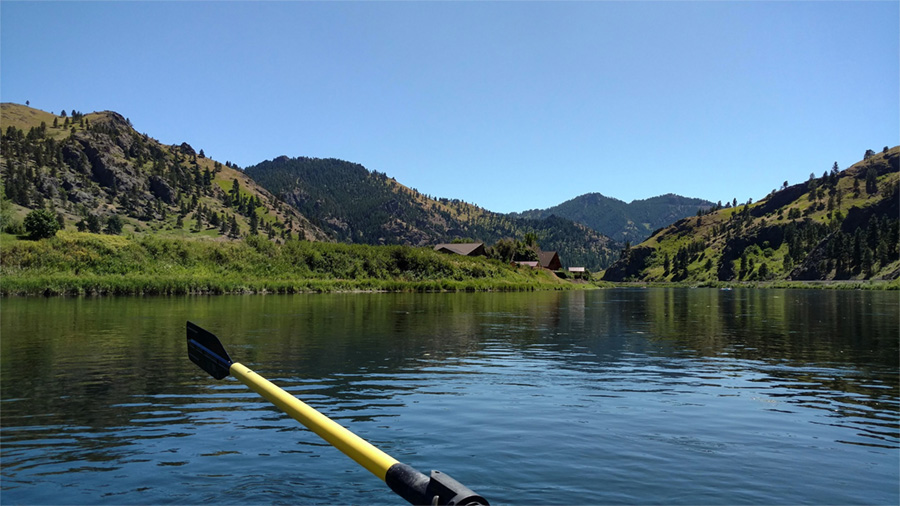 Or Wednesdays. Yes, Wednesdays will be my special reason to enjoy this Kona Peaberry. Actually, Wednesdays and Saturdays will be my reasons….wait, maybe every other day could be occasion enough. Either way, I encourage you to get over to Big Island Coffee Roasters and find your best of the best. You might just start a special occasion too.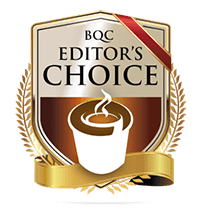 Big Island Coffee Roasters, as has hopefully been demonstrated in this review of the Kona Peaberry, is no ordinary roaster. Their coffee is certainly worth your hard-earned coffee dollars no matter what type of coffee lover you are. Their coffee has earned a well-deserved spot on our best Hawaiian and Kona Coffees of 2023. Moreover, it hits the mark on so many different metrics that we also couldn't help but award this coffee our BQC Editor's Choice Award.
If you're interested in purchasing this coffee, use our Big Island Coffee roasters coupon to get $10 off your purchase of over $125.
$10
Coupon
Doesn't expire


Big Island Coffee Roasters' Awards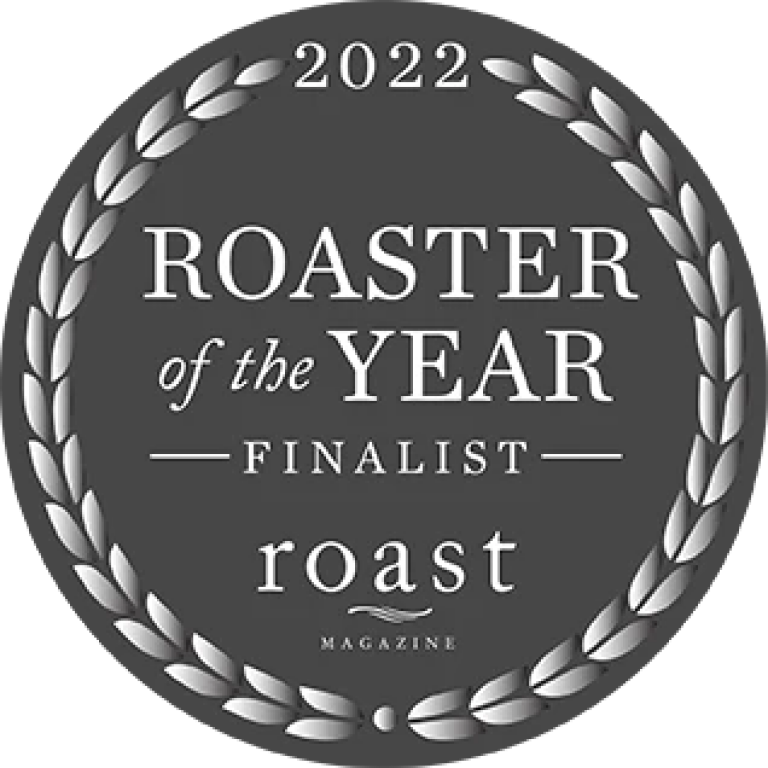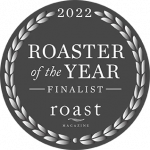 2021 Best Beverage/Coffee Company, Honolulu Magazine
2021: Small Business Editors Choice Award (Hawaii Island), Hawaii Business Magazine
2020: Hawaii Entrepreneurs of the Year, CPG Category
2020: Coffee Review "Top 30 Coffees" list for Ka'u Maragogipe
2019: Coffee Review "Top 30 Coffees" list for Barrel Aged Puna
2019: AllRecipes.com "Best Gifts for Coffee Lovers"
2018: $25,000 HI Plan winner for Espresso Bites!
2018: Forbes "Top 12 Roasters in the USA"
2018: Forbes "Worlds Best Hotel Coffee is at the Four Seasons Hualalai"
2017: Hawaii 40 Under 40
2015: Voted "Hawaii's Favorite Artisan Beverage" by edible Hawaii Island readers.
2014: Earn Hawaii Senate Certificate
2013: Puna Honeyed Yellow Caturra in Coffee Review's "Top 30 Coffees of 2013" list
2013: Grand Champion coffee in the state of Hawaii